Hi, foodventurers!
I'm sharing my ultimate post today and it's the new establishment that offers the experience of American Korean Steakhouse! The name is AB Steak and it's by the well-known Chef Akira Back!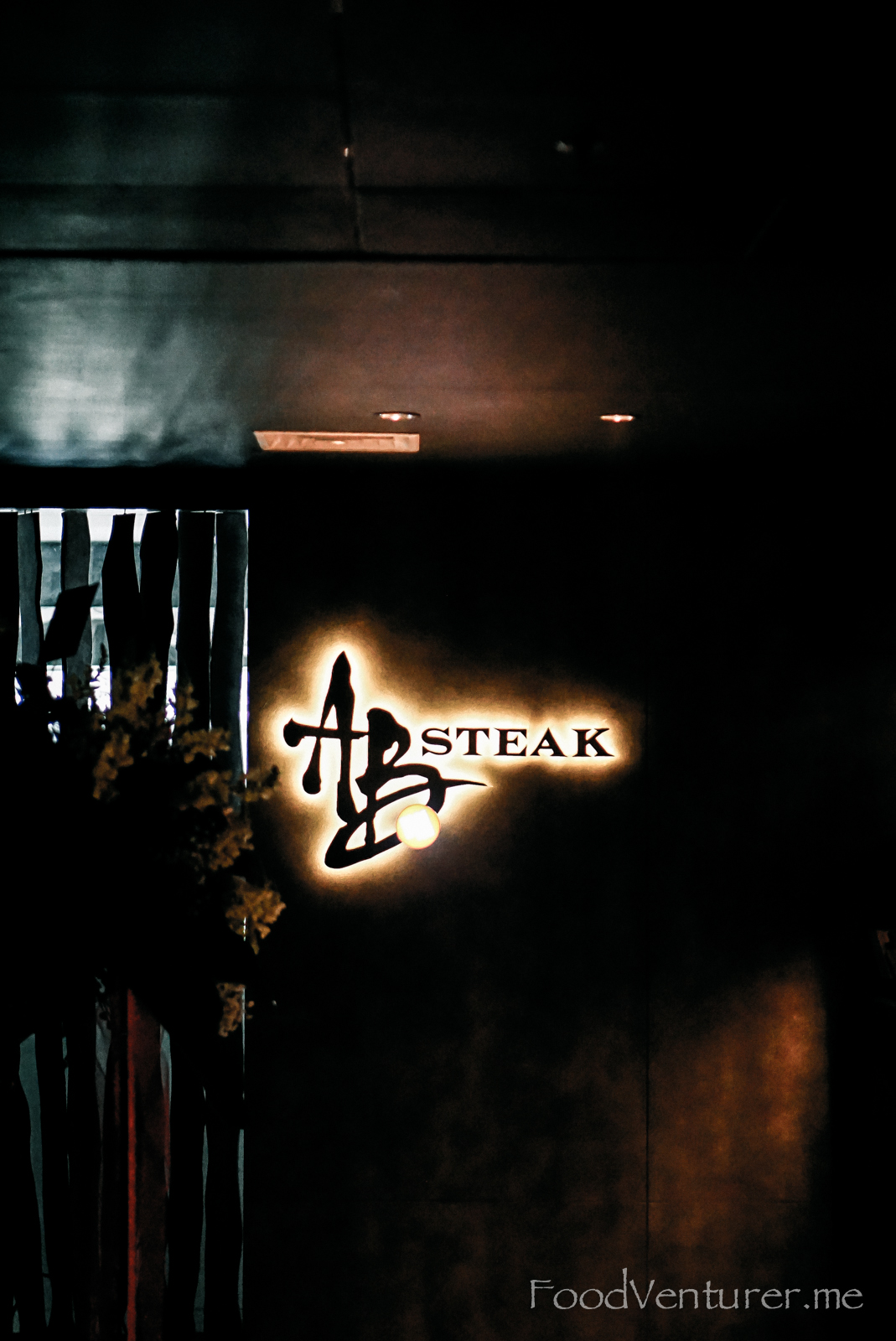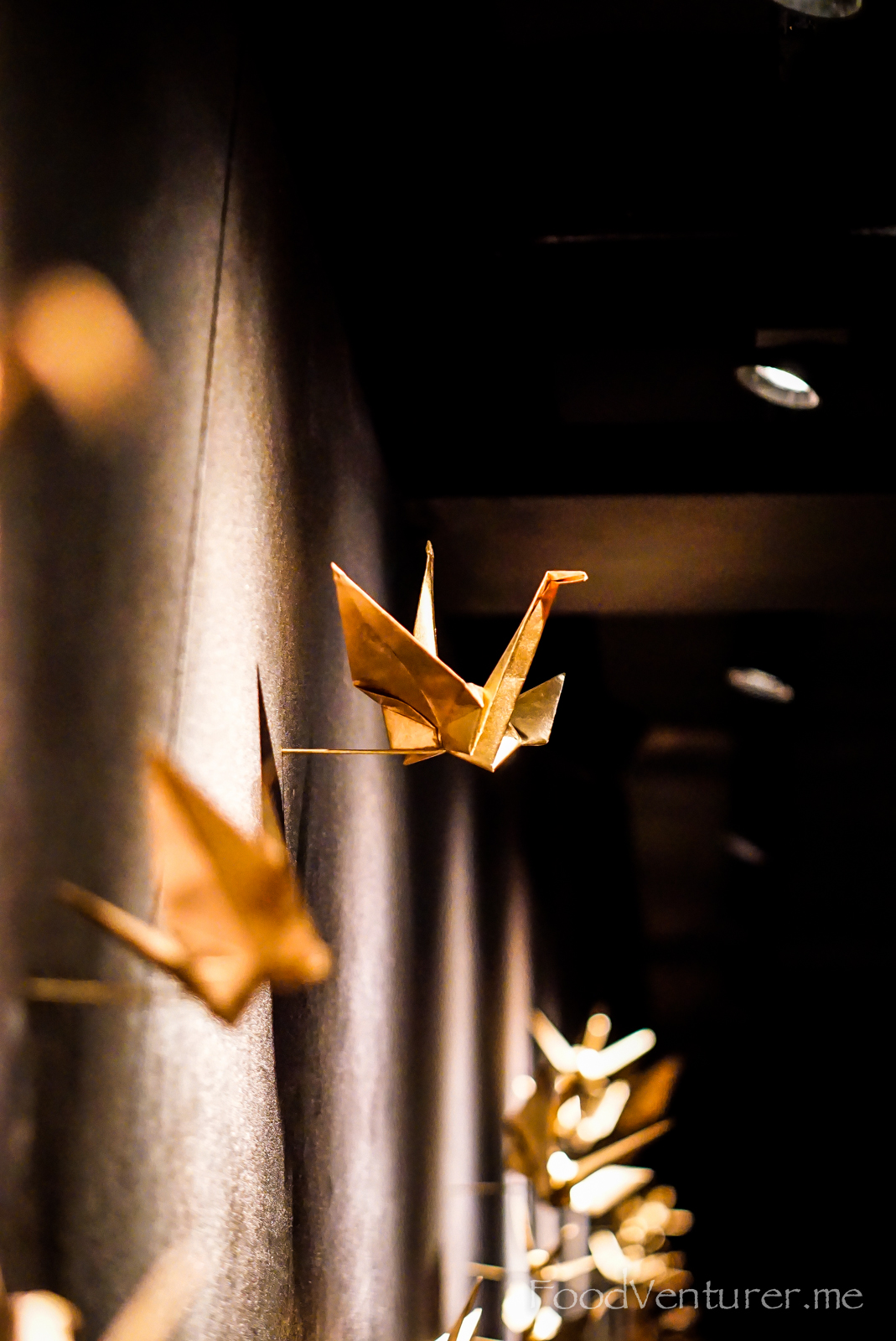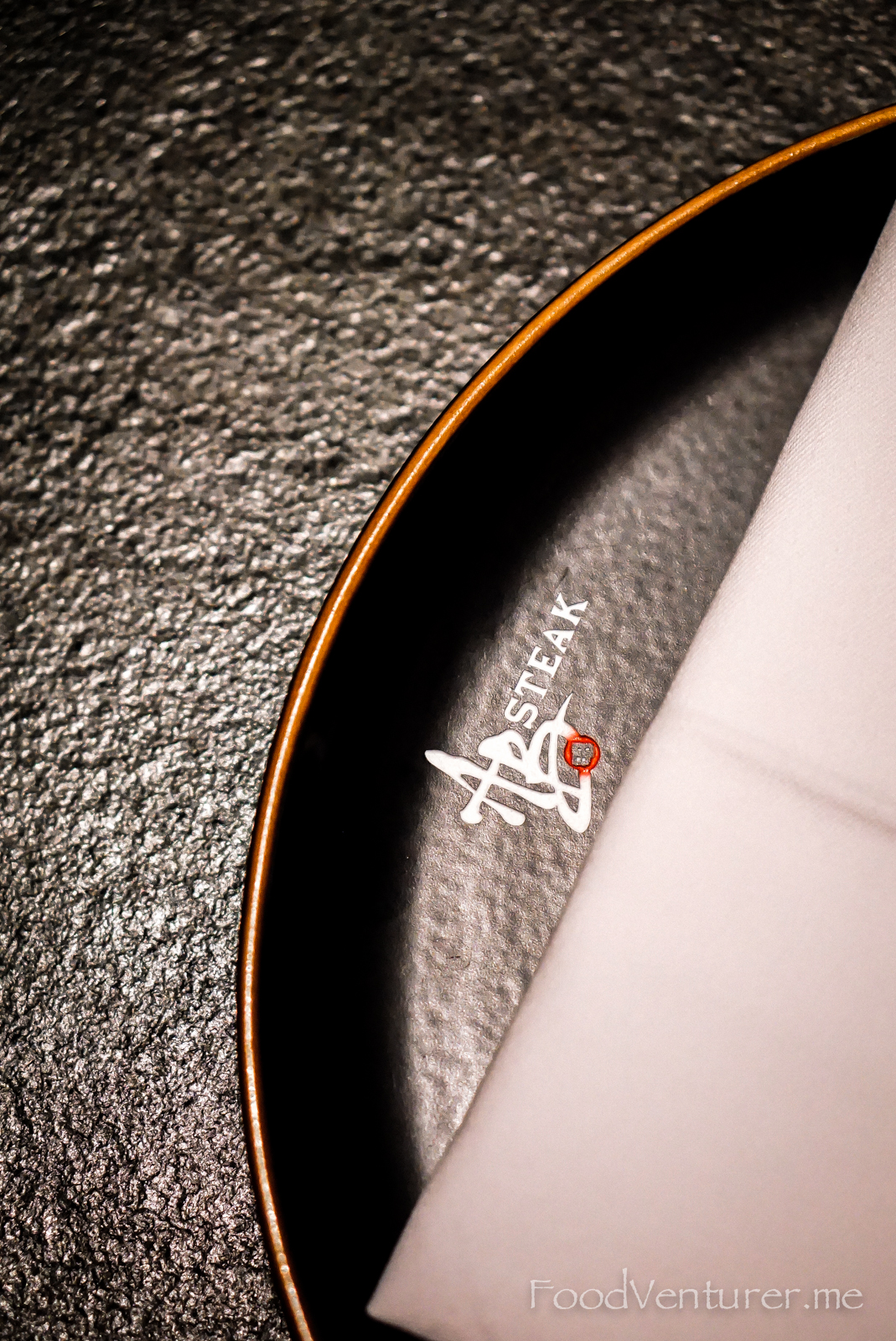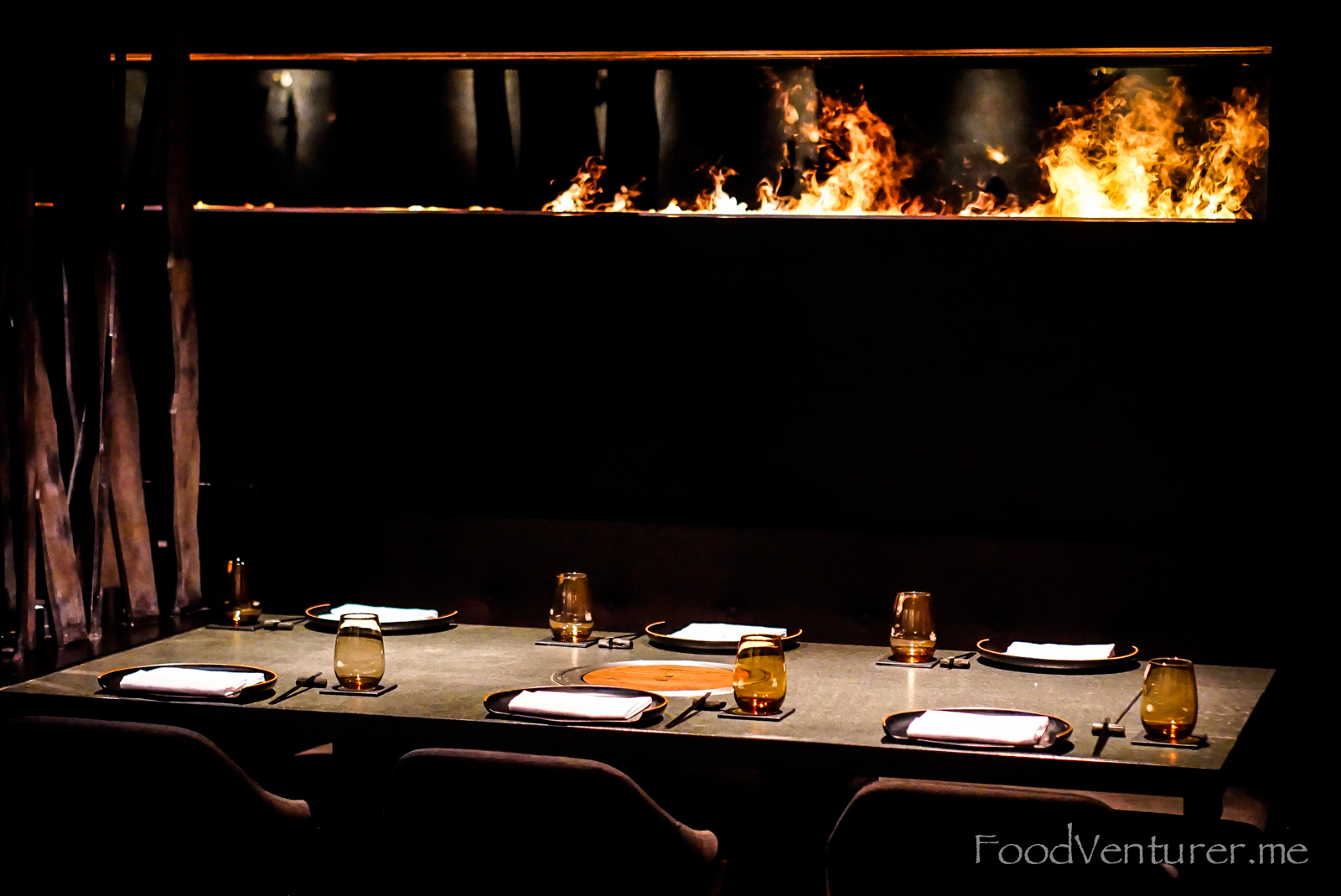 Before officially opening a few weeks ago, I got to have a preview tasting and it was madly awesome! I met Ms. Astrid Suryatenggara who is not only beautiful, but friendly in person. I also got to know Chef Andri Dionysius, who is the one that backs up the kitchen here with his mad skills and professionalism. I saw him slicing up some meat in the meat chamber and it was awesome to be able to witness him in action.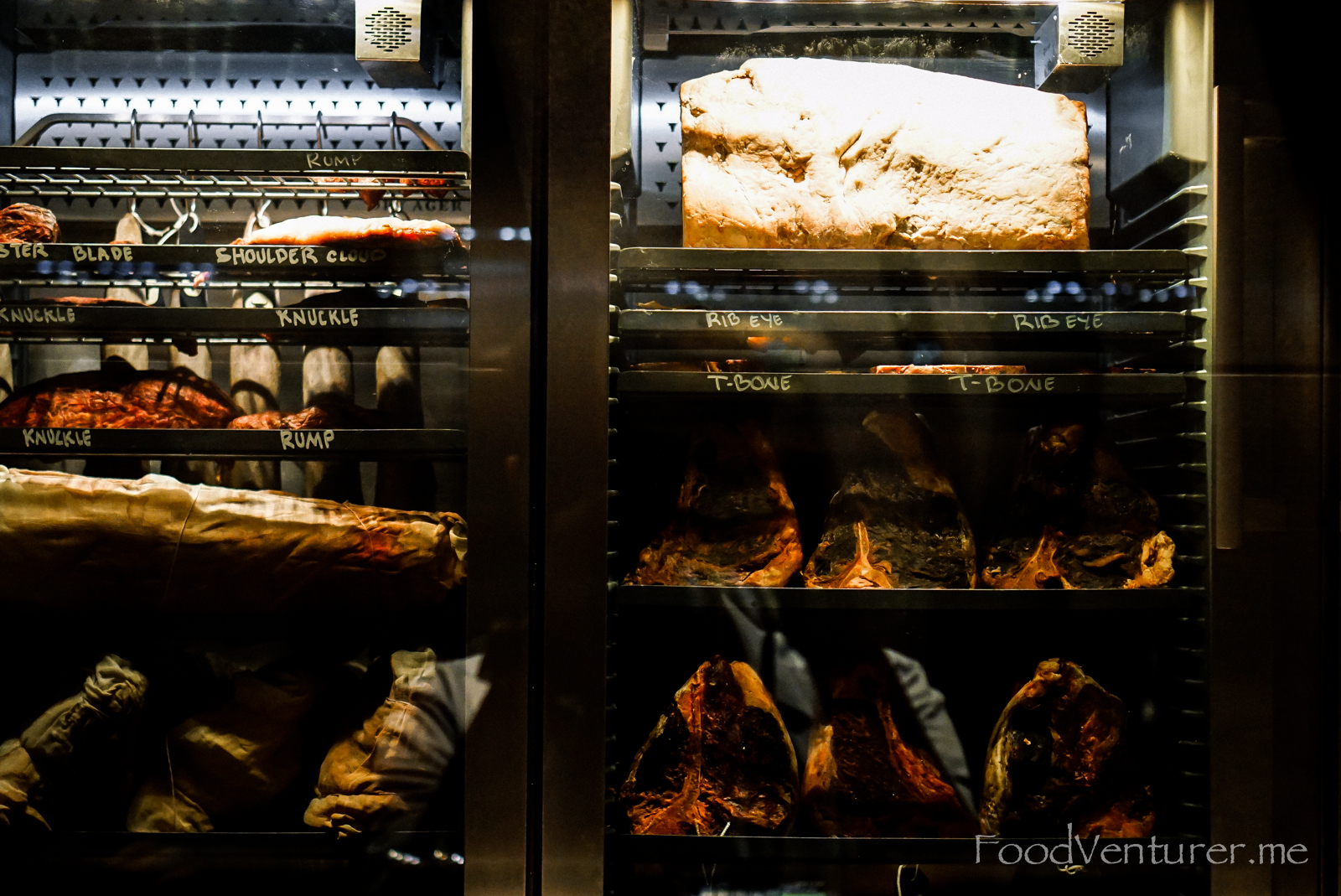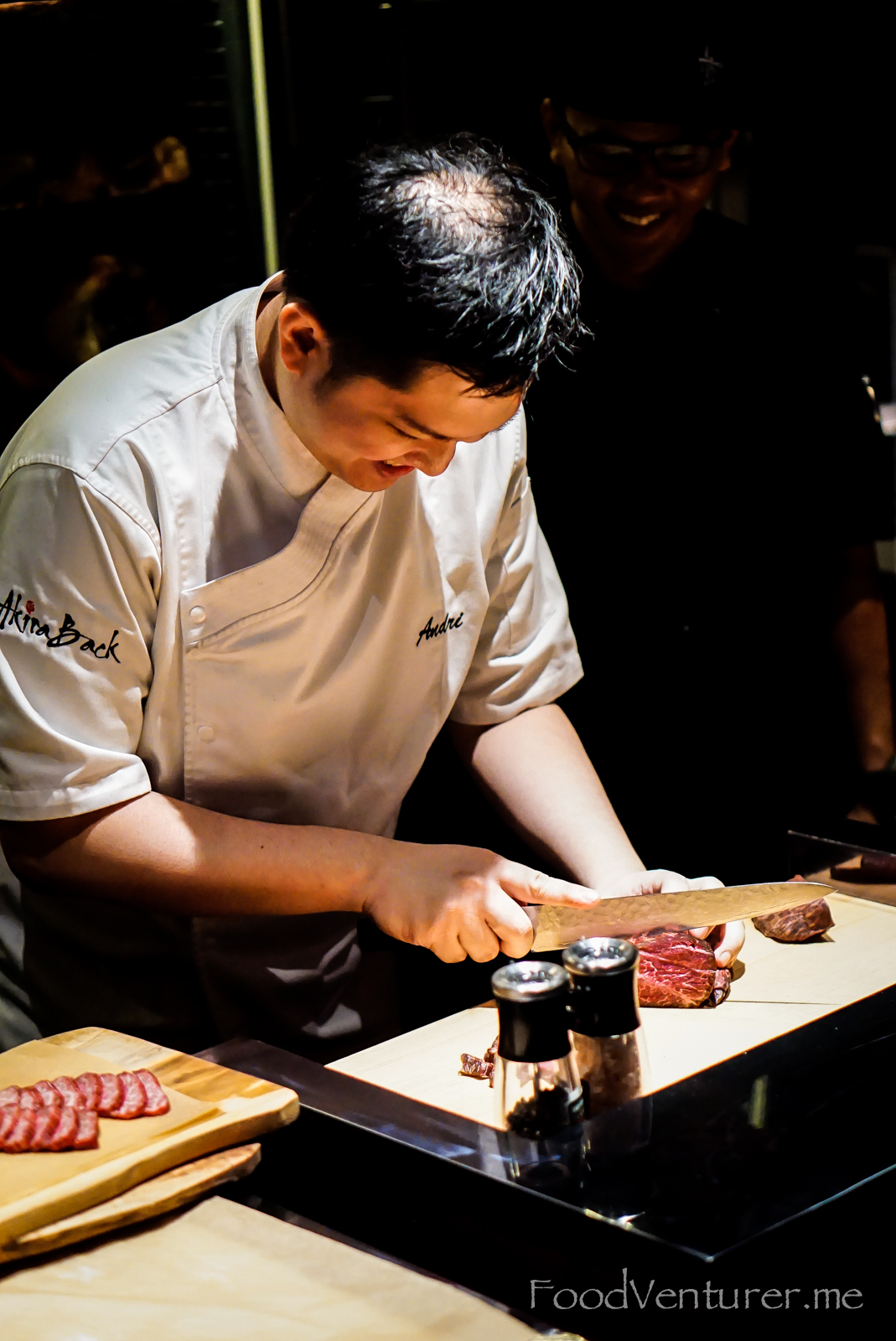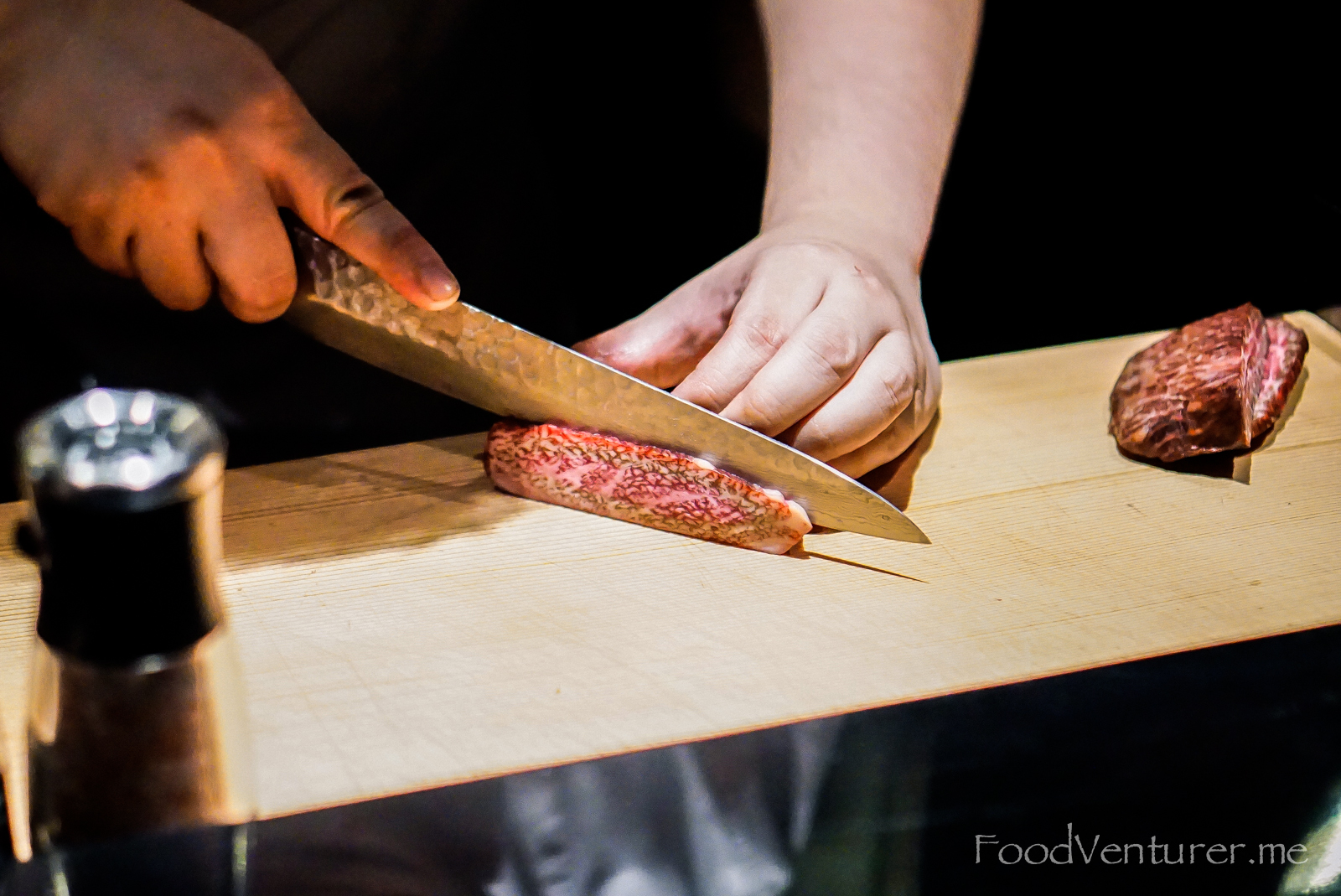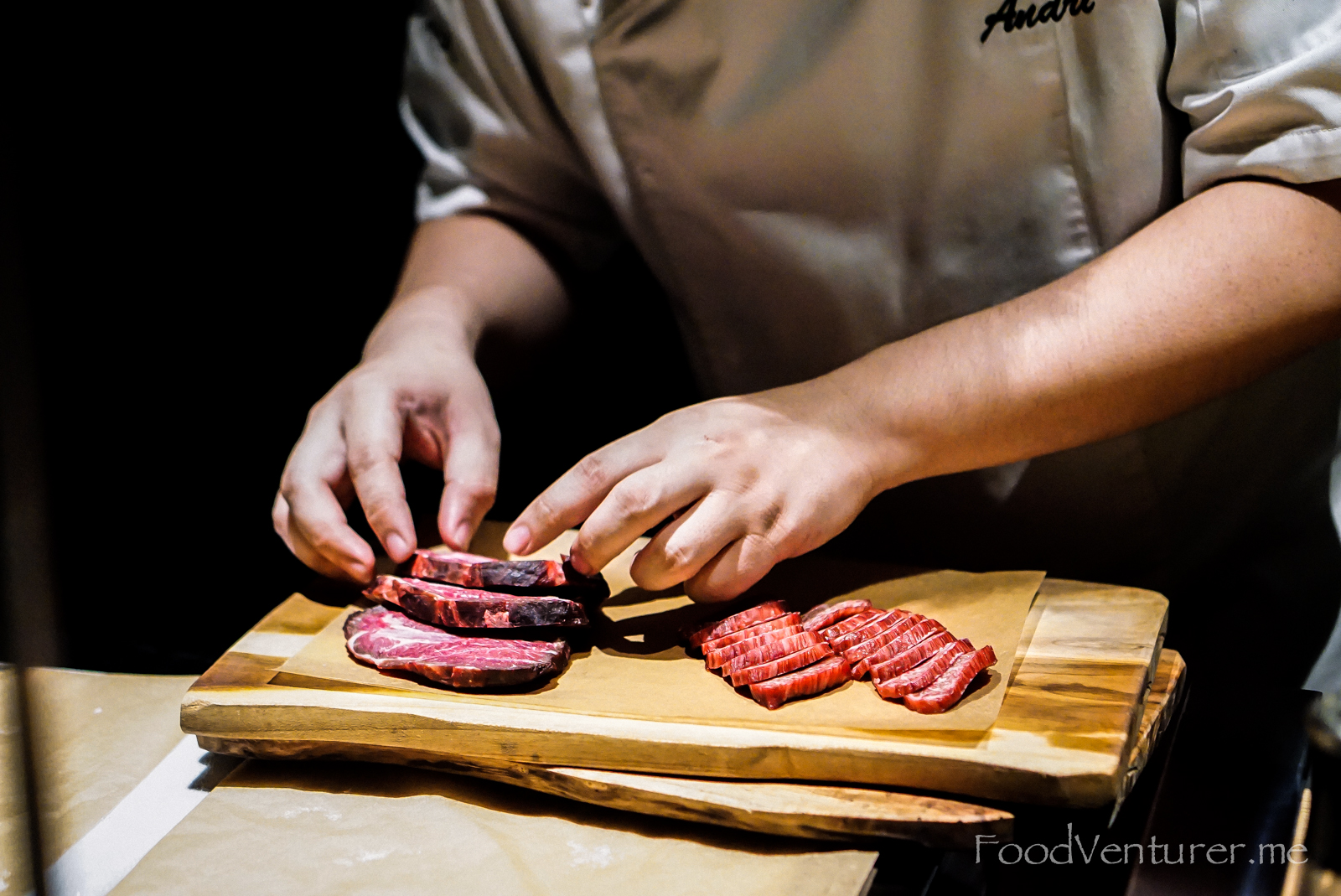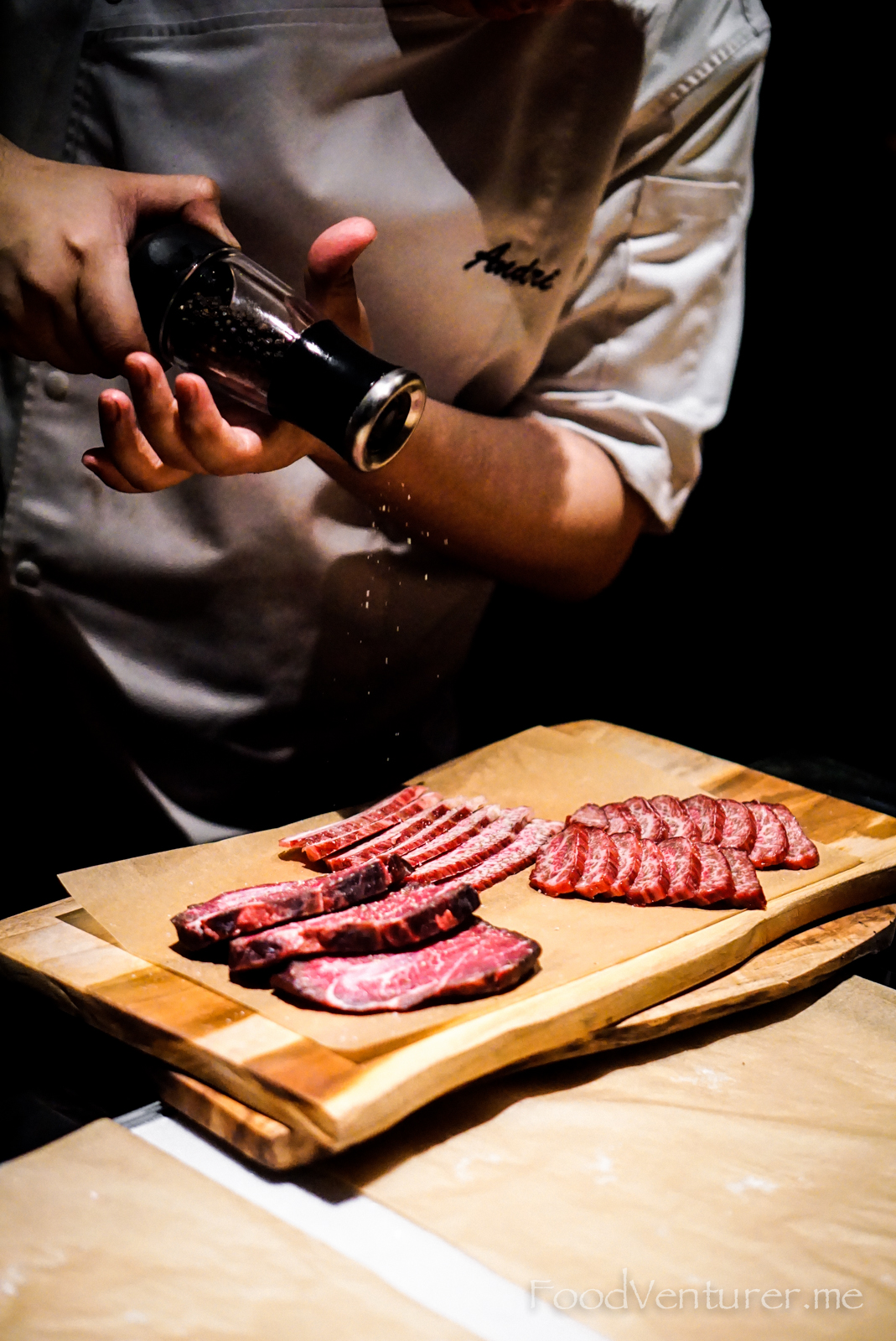 For a brief introduction, AB Steak is the latest brainchild by Chef Akira Back. The concept of AB Steak is pretty straight forward. It's a revolutionary modern American Steak House with Korean flairs that brings not only elegance and quality, but also an out-of-the-world experience.
Chef Akira Back has been very successful with his 'Akira Back' restaurants, expanding from New Delhi, Jakarta, Singapore and opening soon in Dubai, Toronto and Hanoi. Chef Akira's fine dining restaurant in Seoul, Korea, named 'DOSA' opened in 2016 has also been receiving rave reviews. Then comes this innovative concept that merges American-styled Steak House with his Korean origin, and gladly, Jakarta has been chosen as the first city to open AB Steak.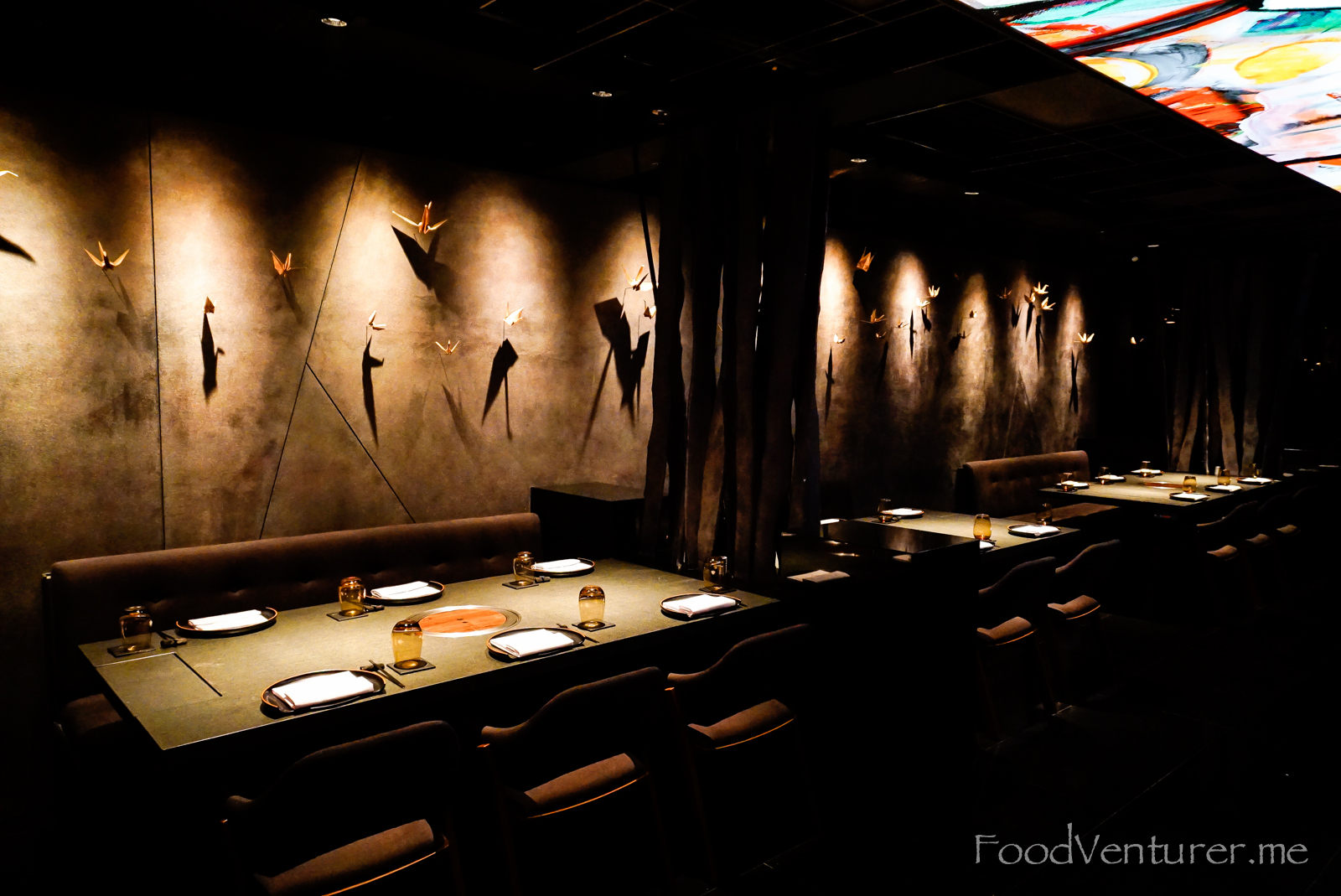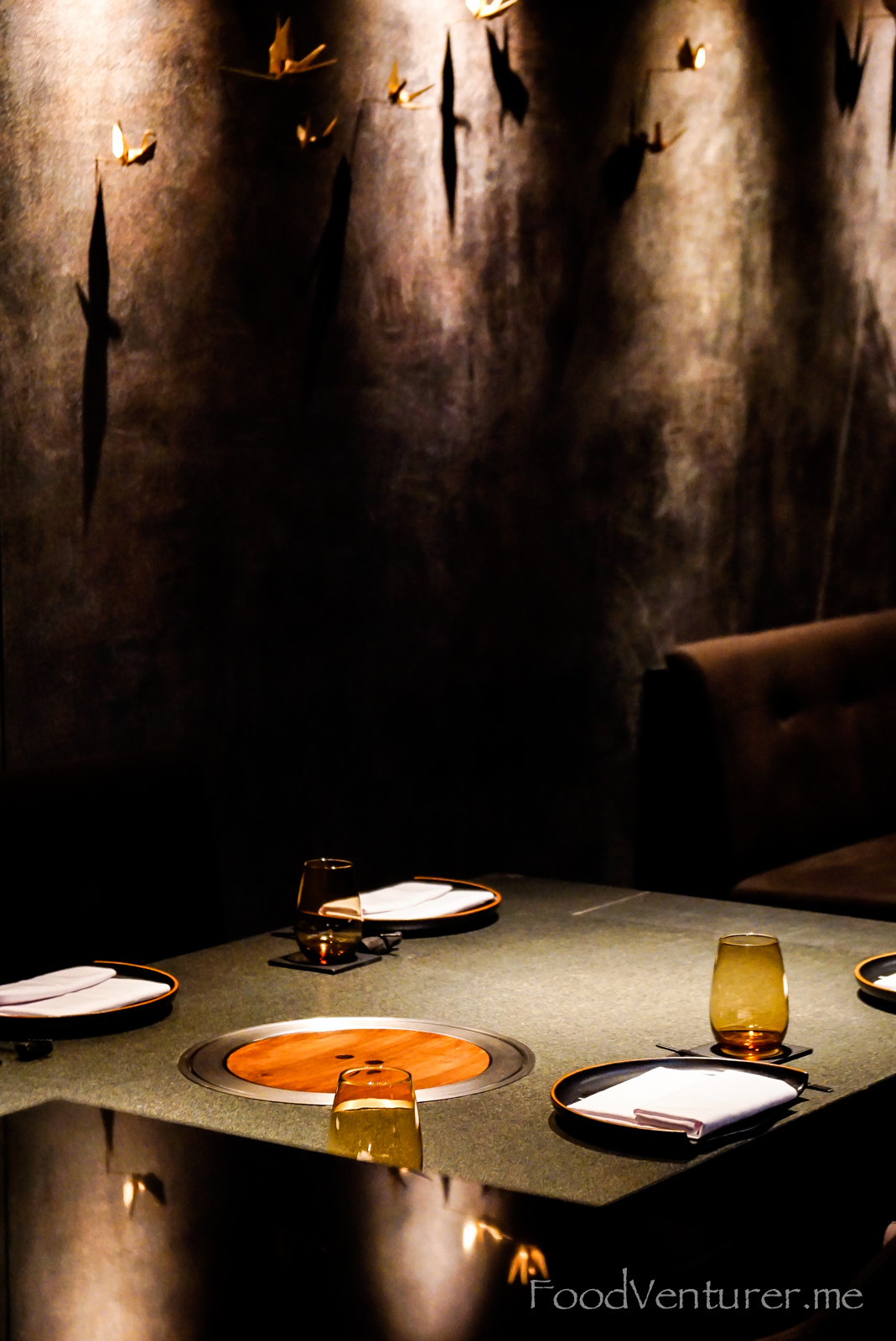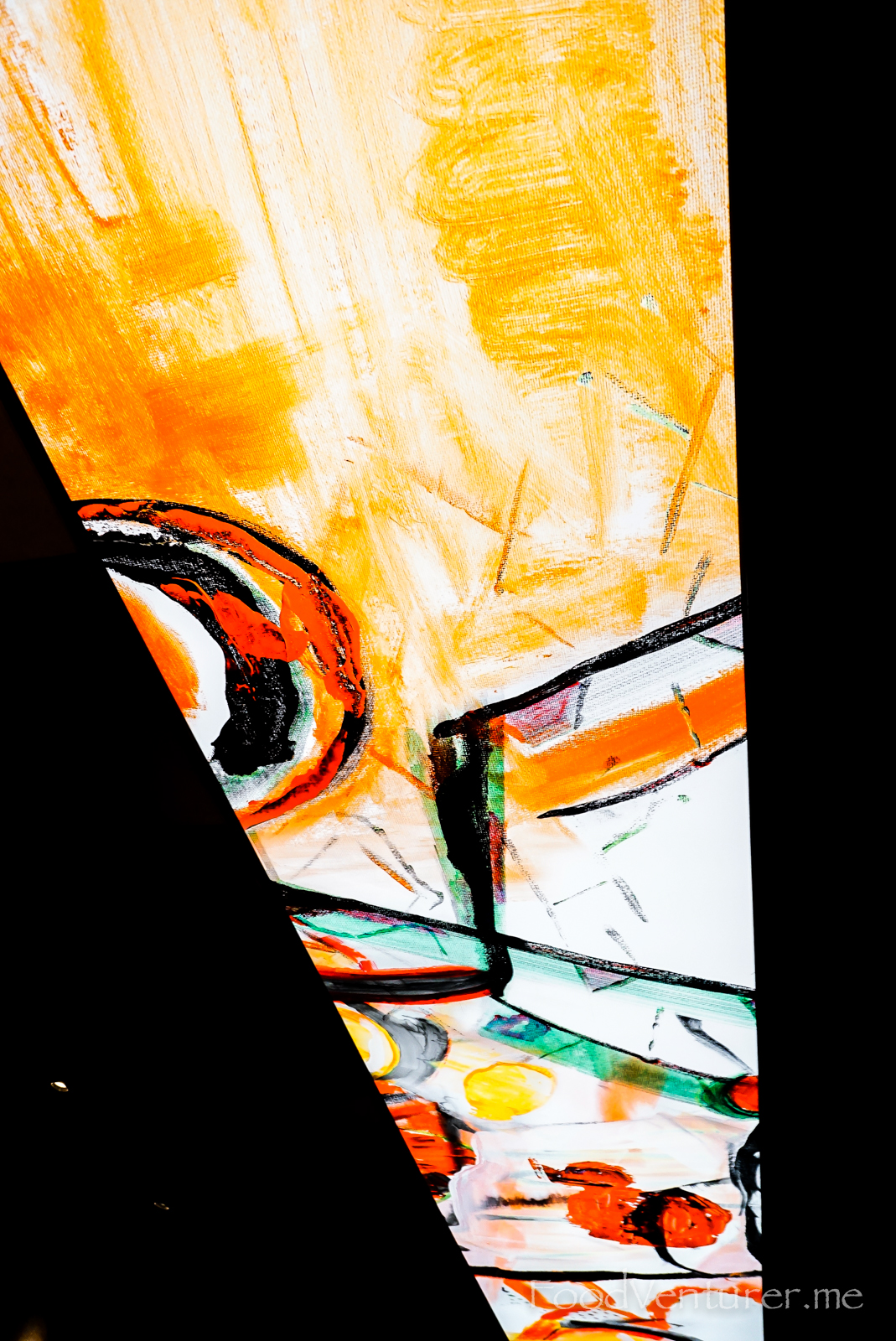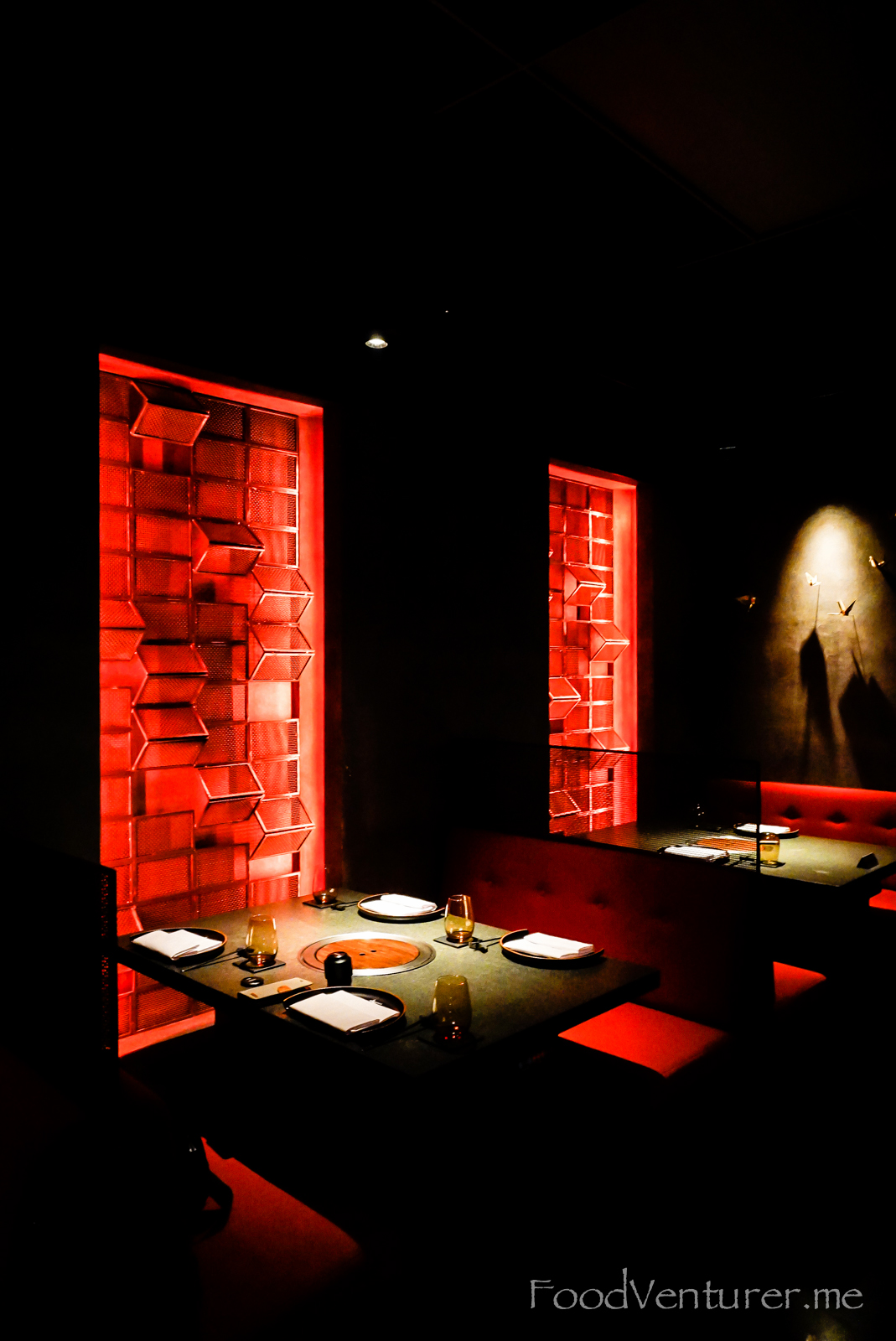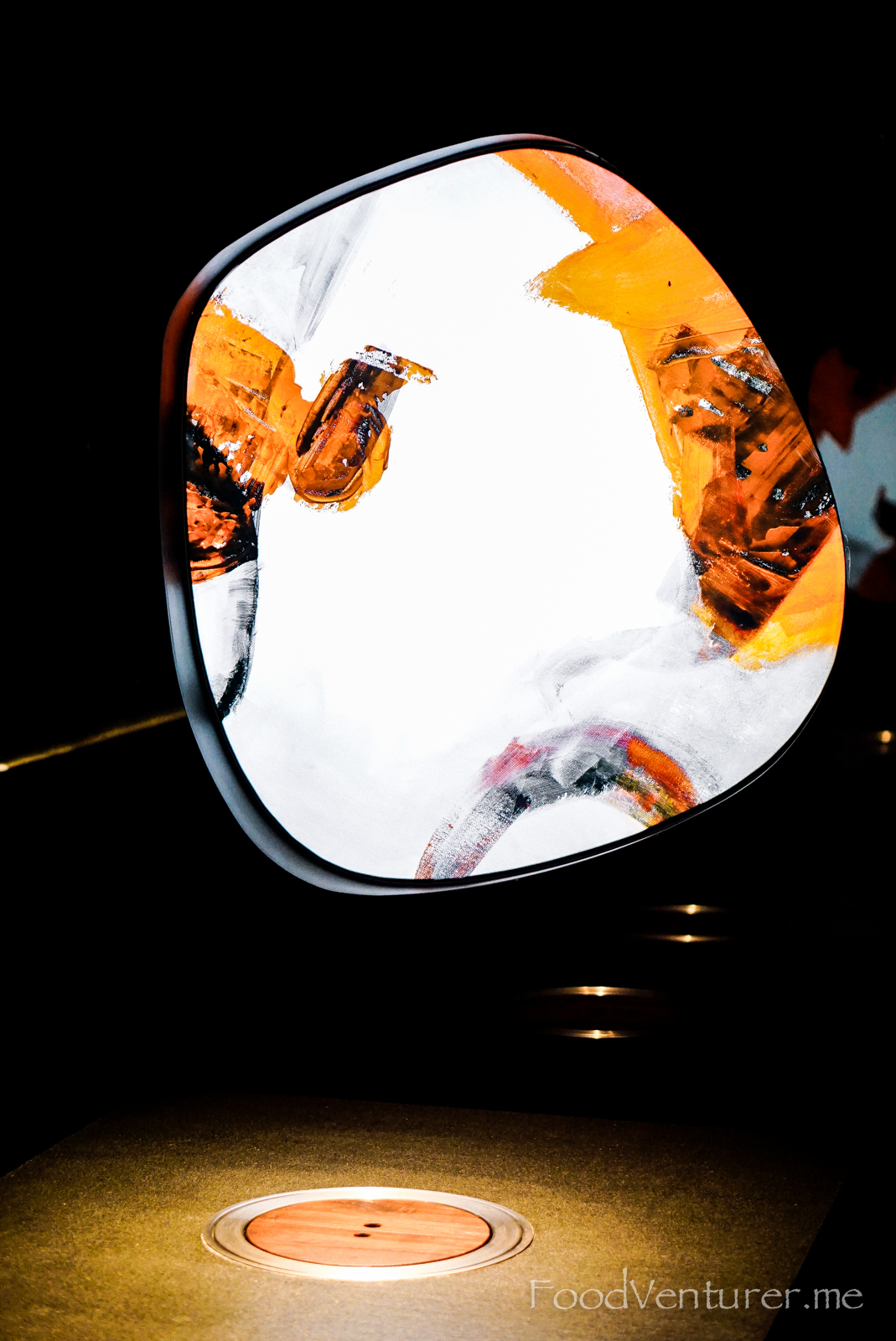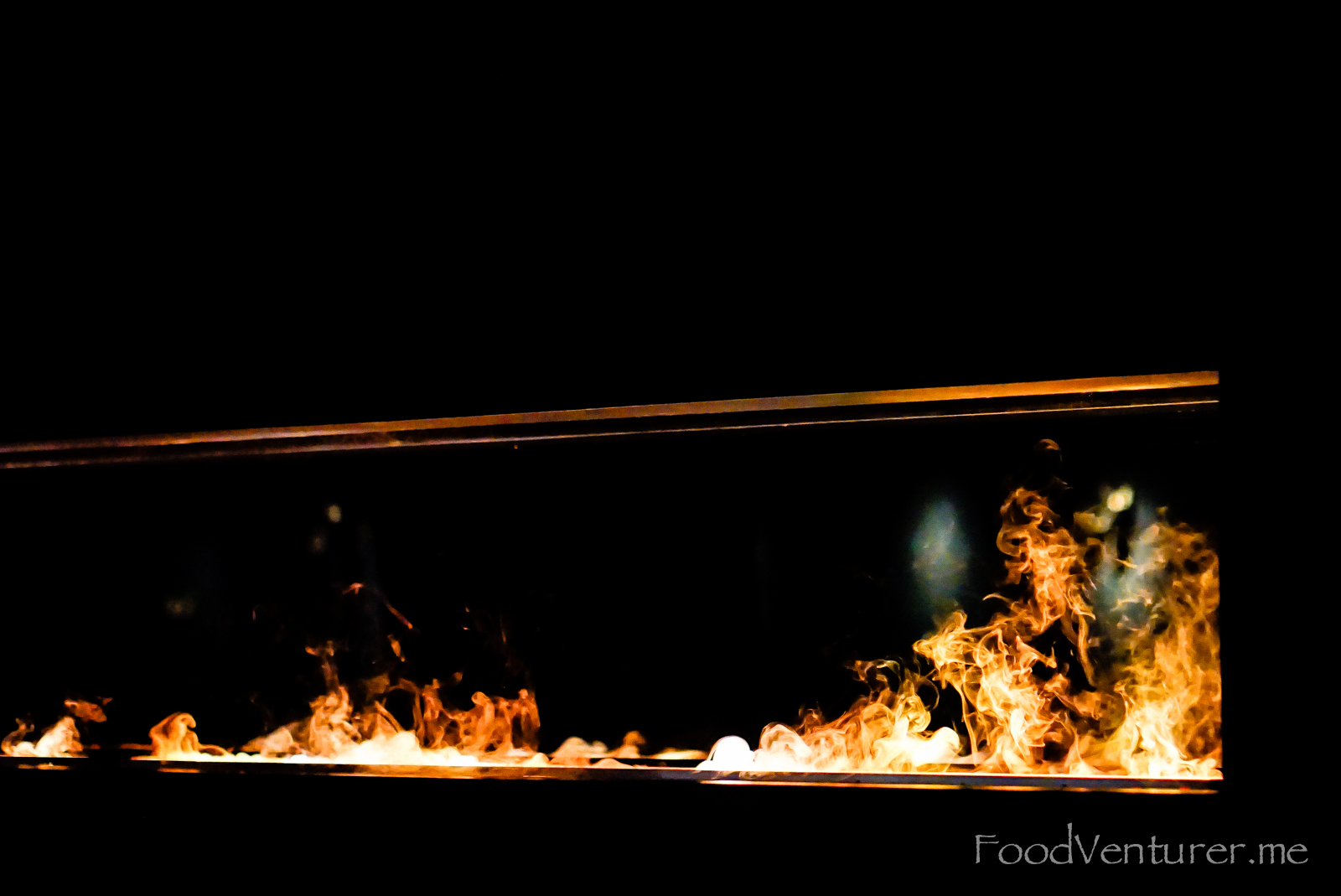 The ambience of AB in MD Place was excellent. The designed of the whole place was carefully crafted, from the lighting and unique sights of artwork across the ceiling and walls. The artworks are by Chef Akira's mother. Somehow, to me, the artwork on the ceiling looks like a multidimensional galaxy.
The most important part is that AB Steak offers real House-Aged Meat and they're the first to actually do that in Jakarta. Beside house-aged meat, they also offer premium cuts and special Japanese Meat.
AB Steak itself has their own meat chamber where they dry-age the premium meat. In this particular chamber too, they store their meat in a very controlled condition. Everything is under excellent quality control by AB Steak's team. And that is what ensure quests to experience the amazing taste when dining in. This is also where live action of meat cutting is hold.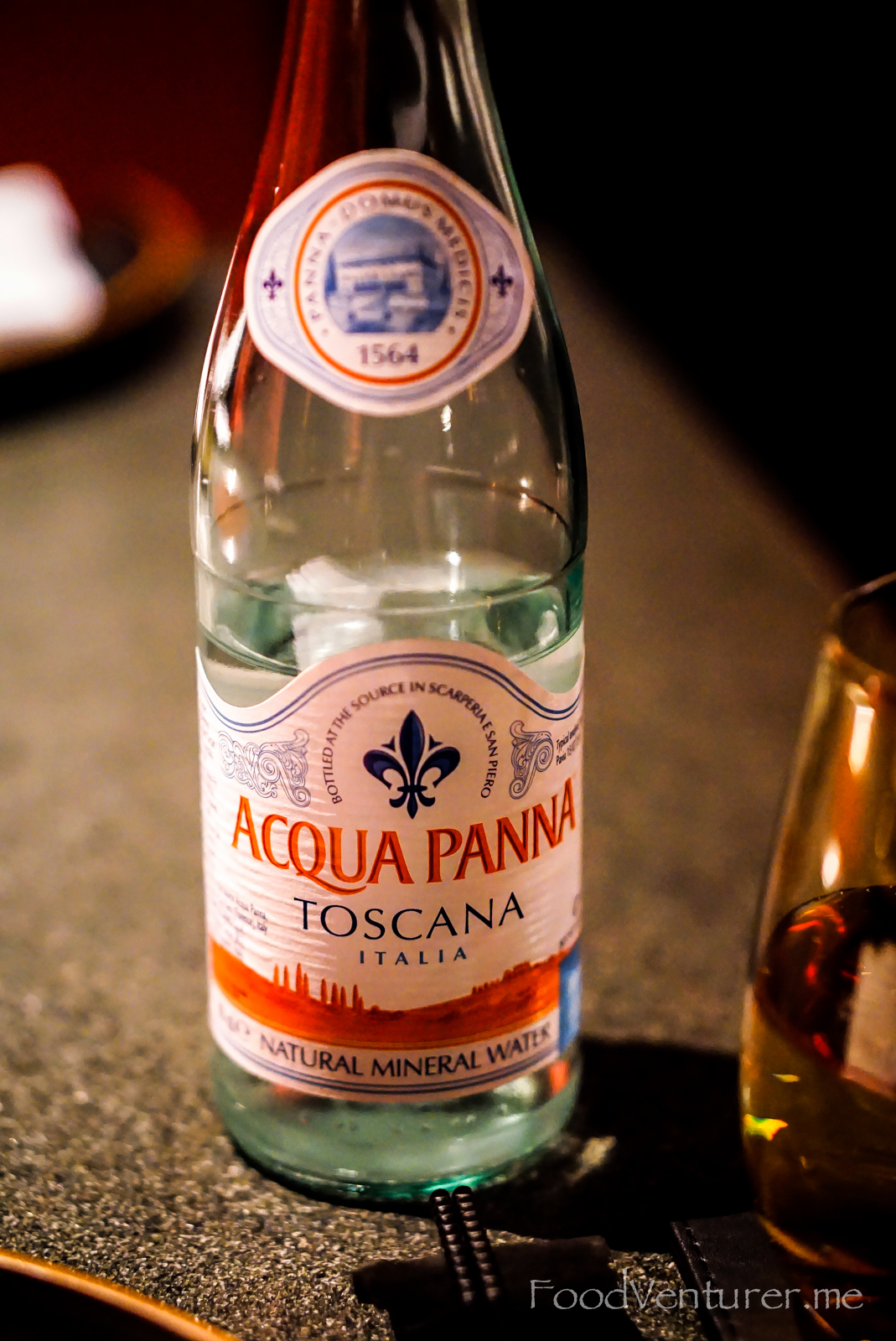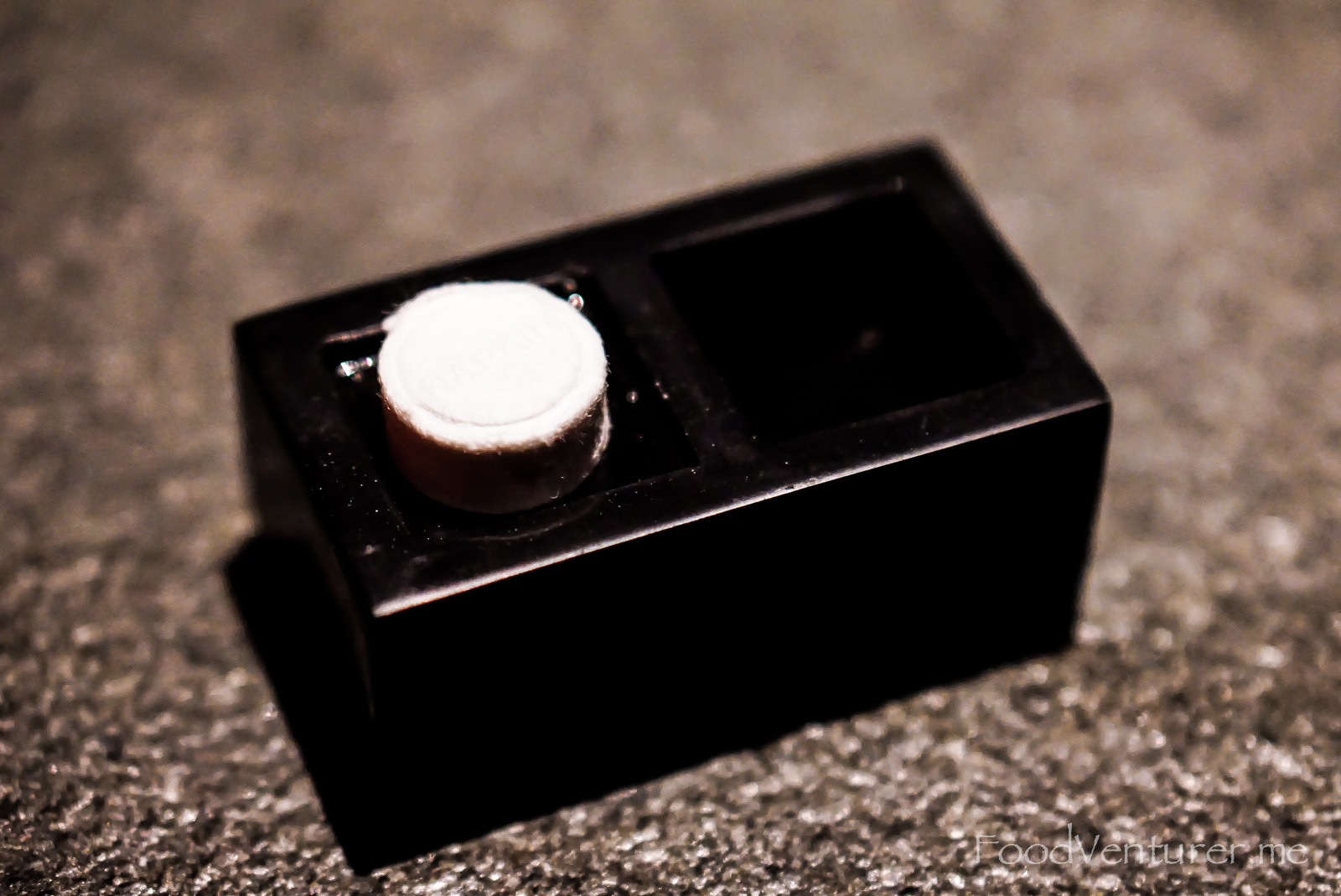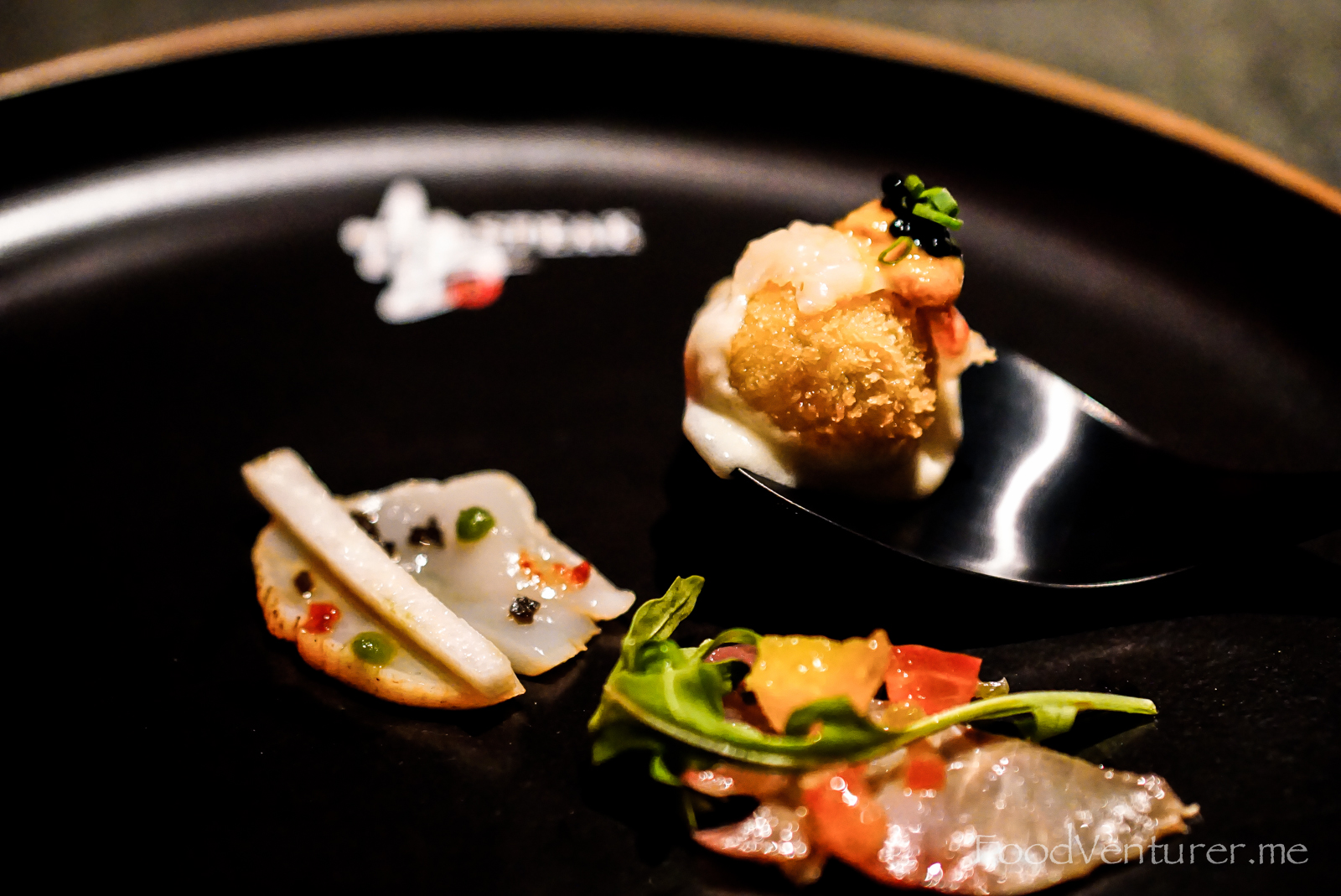 Let's talk more about the amazing meats below.
# Shitake Croquette w/ sea urchin, sweet shrimp kejang, smoked potato foam, caviar (IDR 195 k)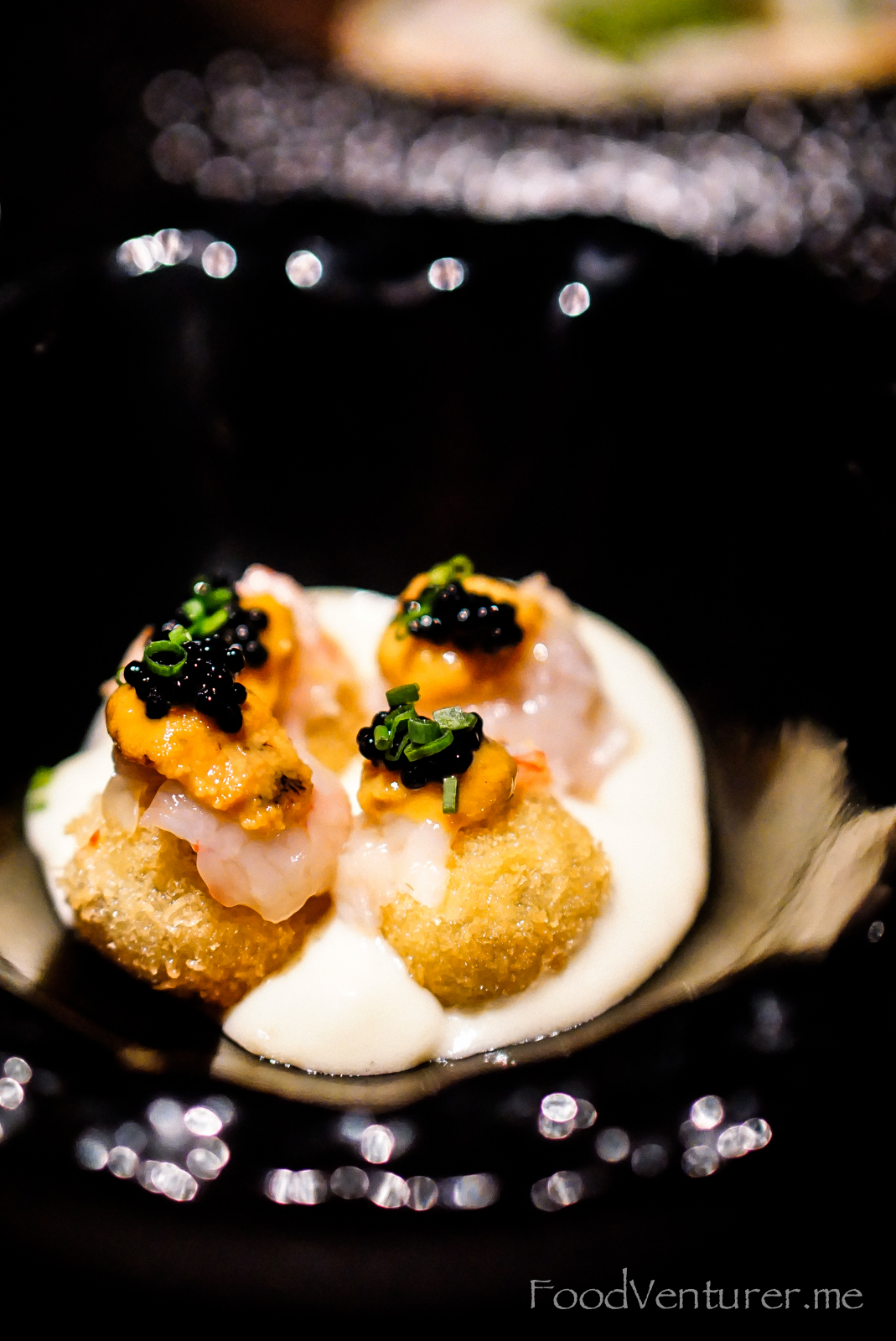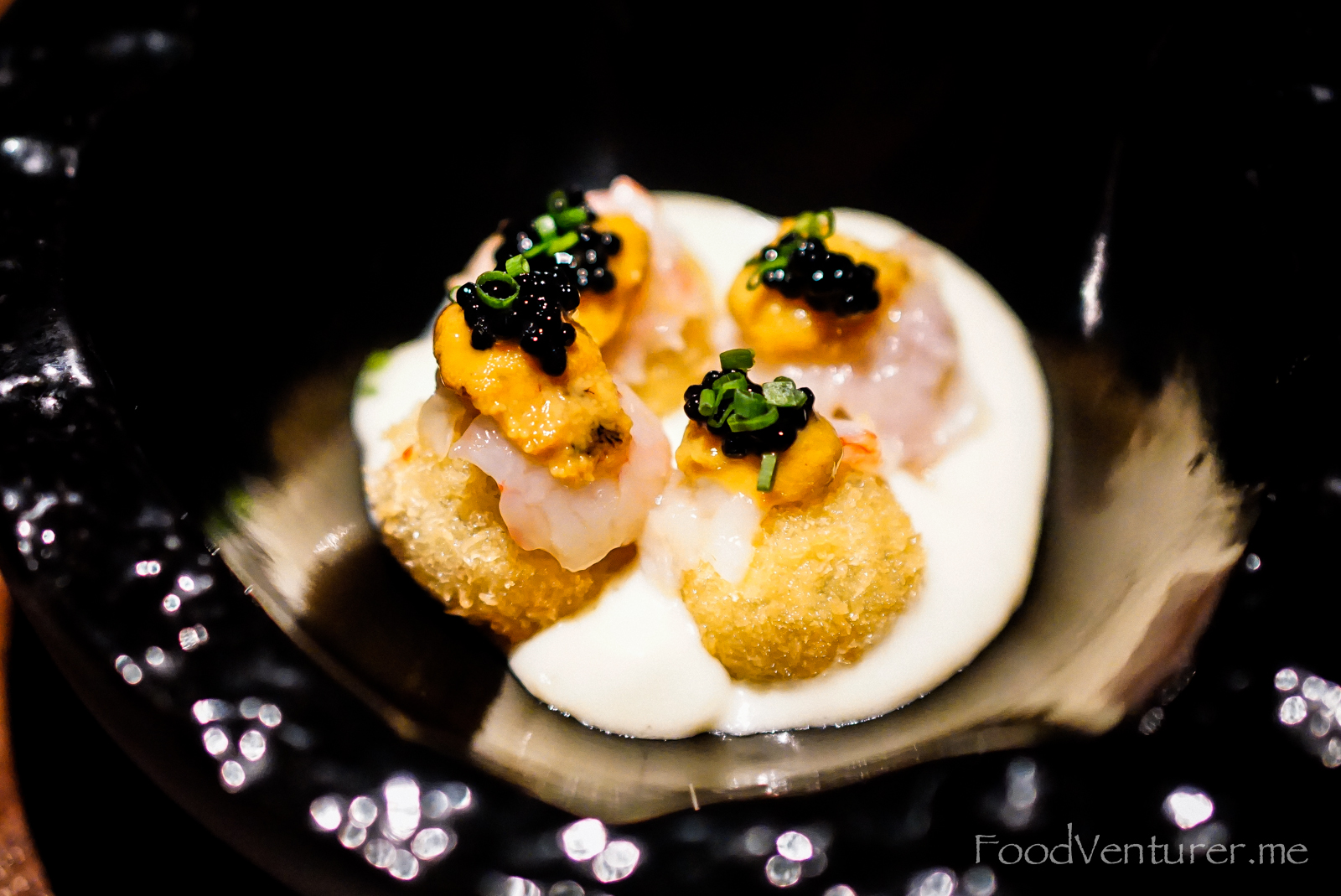 The starter of the day is Shitake Croquette. One could only imagine how this Shitake Croquette can be any different than the other croquettes. The difference is vast. The premium ingredients are unbeatable. How so? The croquette is topped with ultra fresh sweet shrimp kejang, smoked potato foam, buttery sea urchin, and exotic caviar. The result is a blasting explosive taste that blended so well inside the mouth. I had a complete mouthgasm just in a bite. Well, it's love at first bite.
# Amberjack "Carpaccio" w/ roasted japaleno salsa, oranges, blood orange soy (IDR 195 k)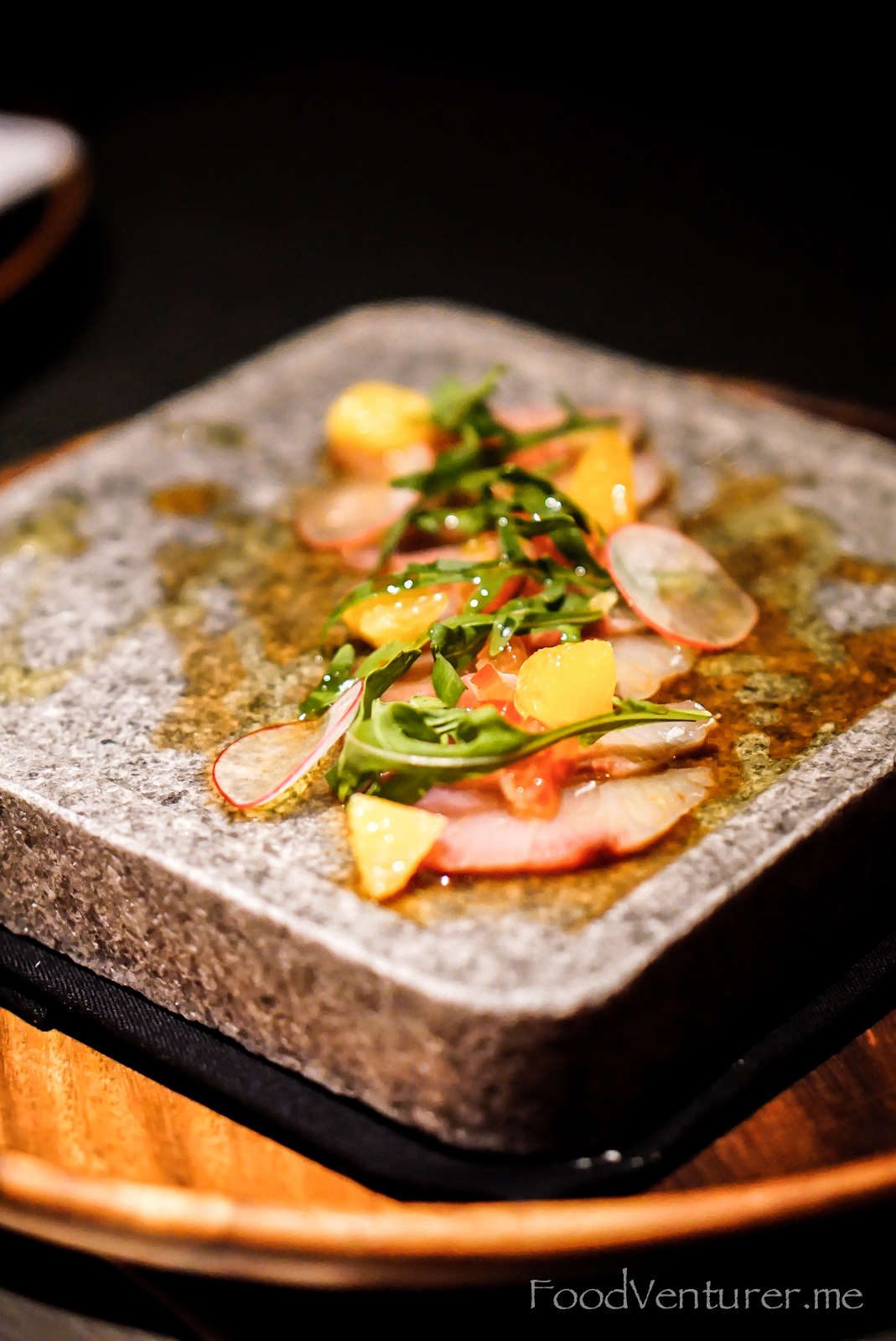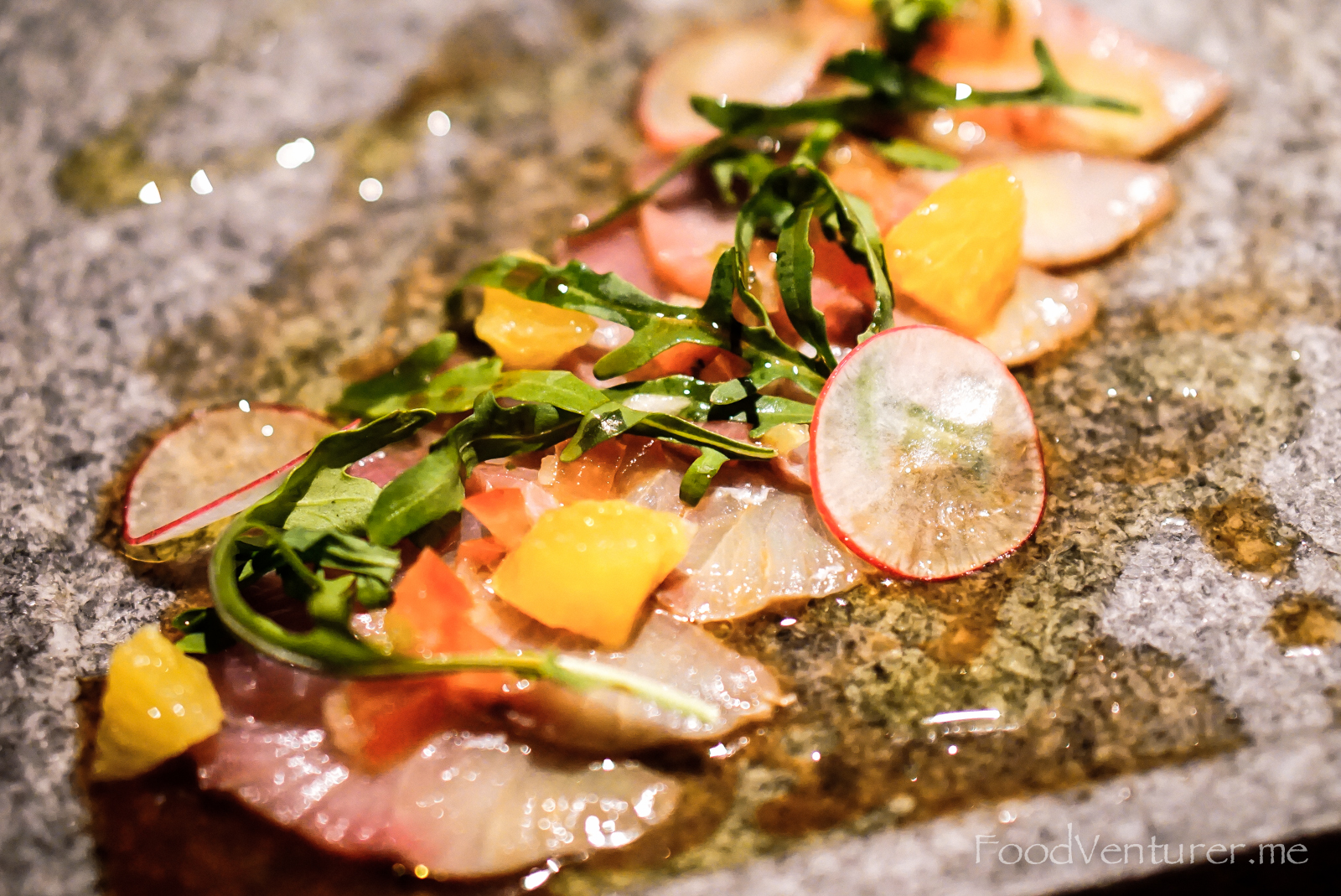 Presented on top of Salt Block, this fresh amberjack slices are topped with roasted japaleno salsa, oranges, and blood orange soy.
The result was pretty exotic. The tender texture and blood orange soy fragrance were the highlights. Oh remember, since it's on salt block, the longer you let it sit there, the saltier it becomes.
# Scallop Crudo w/ chive & kimchee gel, jicama, truffled yuja soy (IDR 135 k)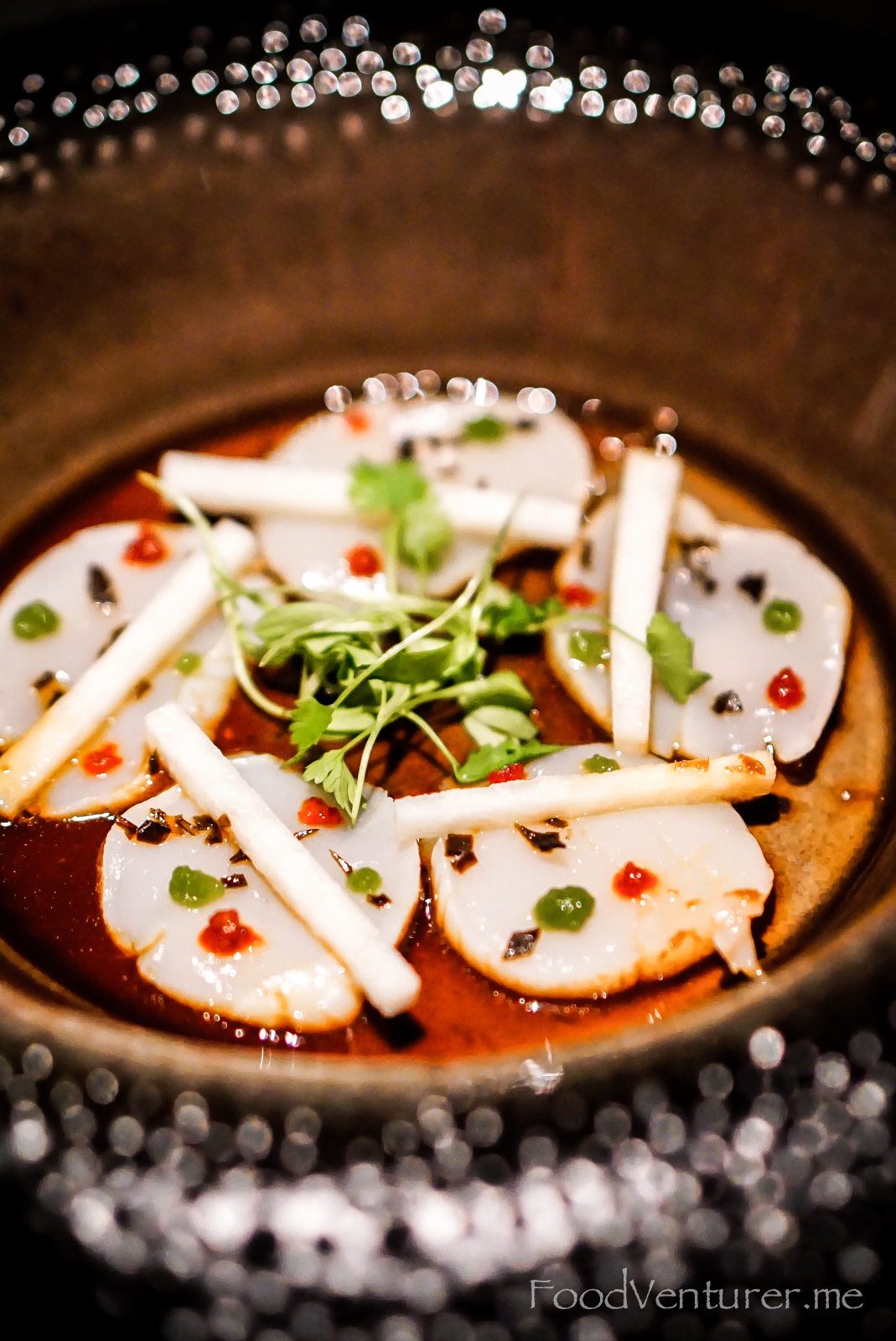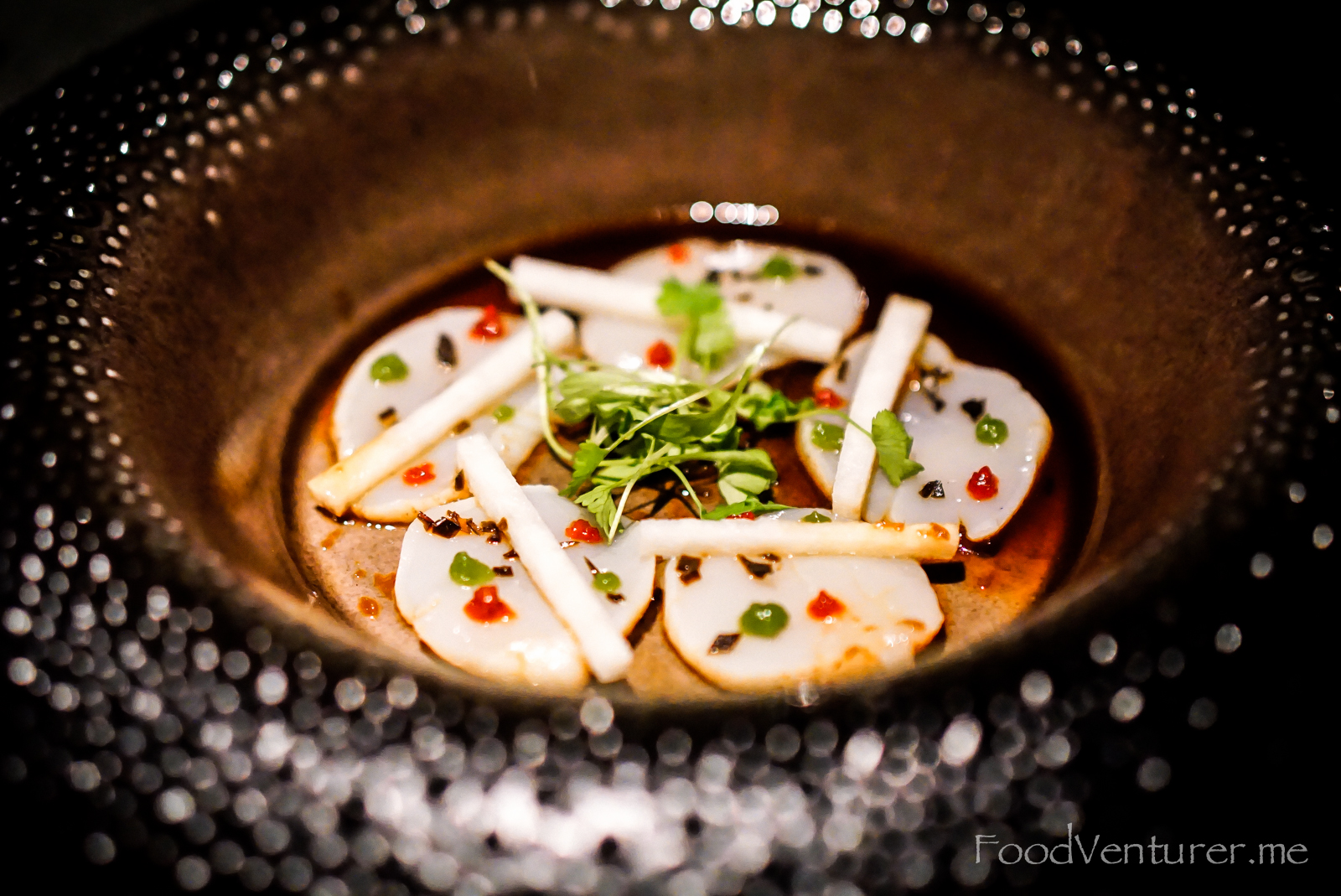 Scallop at its best. I love the fragrant smell of truffle along with its citrusy touch. Just love.
# Steamed Bun w/ BBQ Duck, seared foie gras, pickled vegetable stew (IDR 150 k)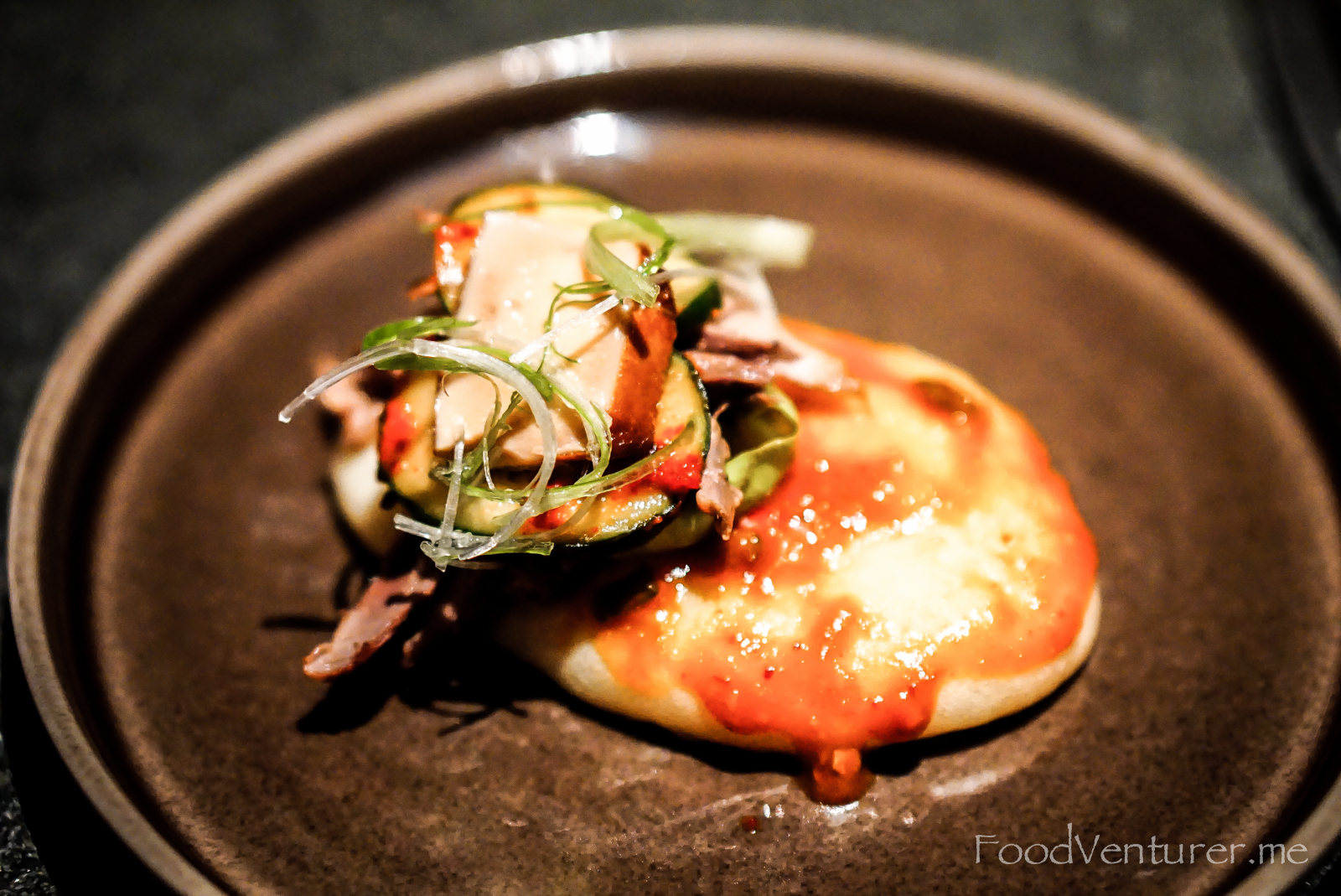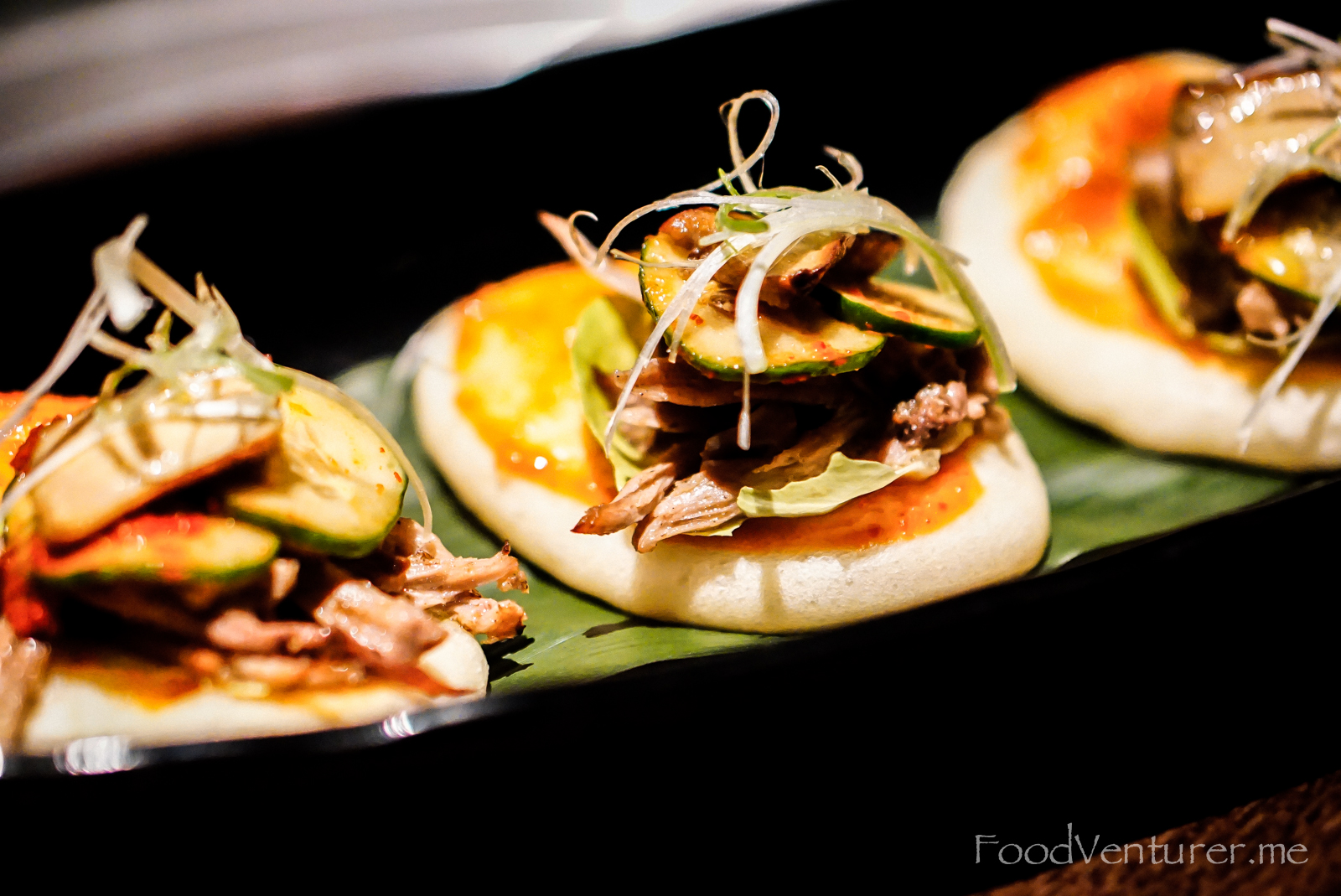 When fluffy bun meets duck and foie gras. The overall taste was quite good. The duck was amazing and the foie gras just delivered!
# Black Mussels w/ meatballs, crispy rice cake, kojhucang butter sauce (IDR 135 k)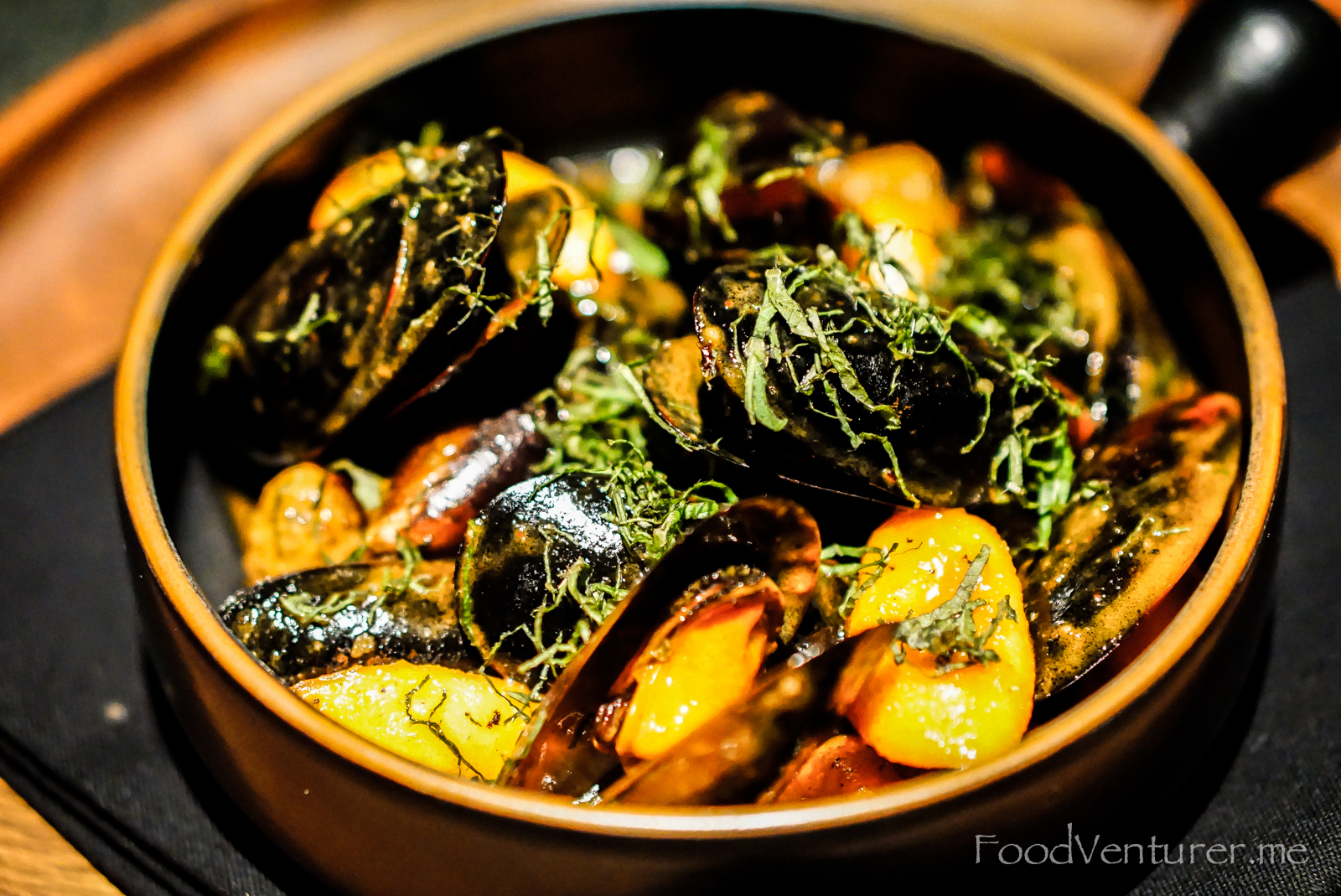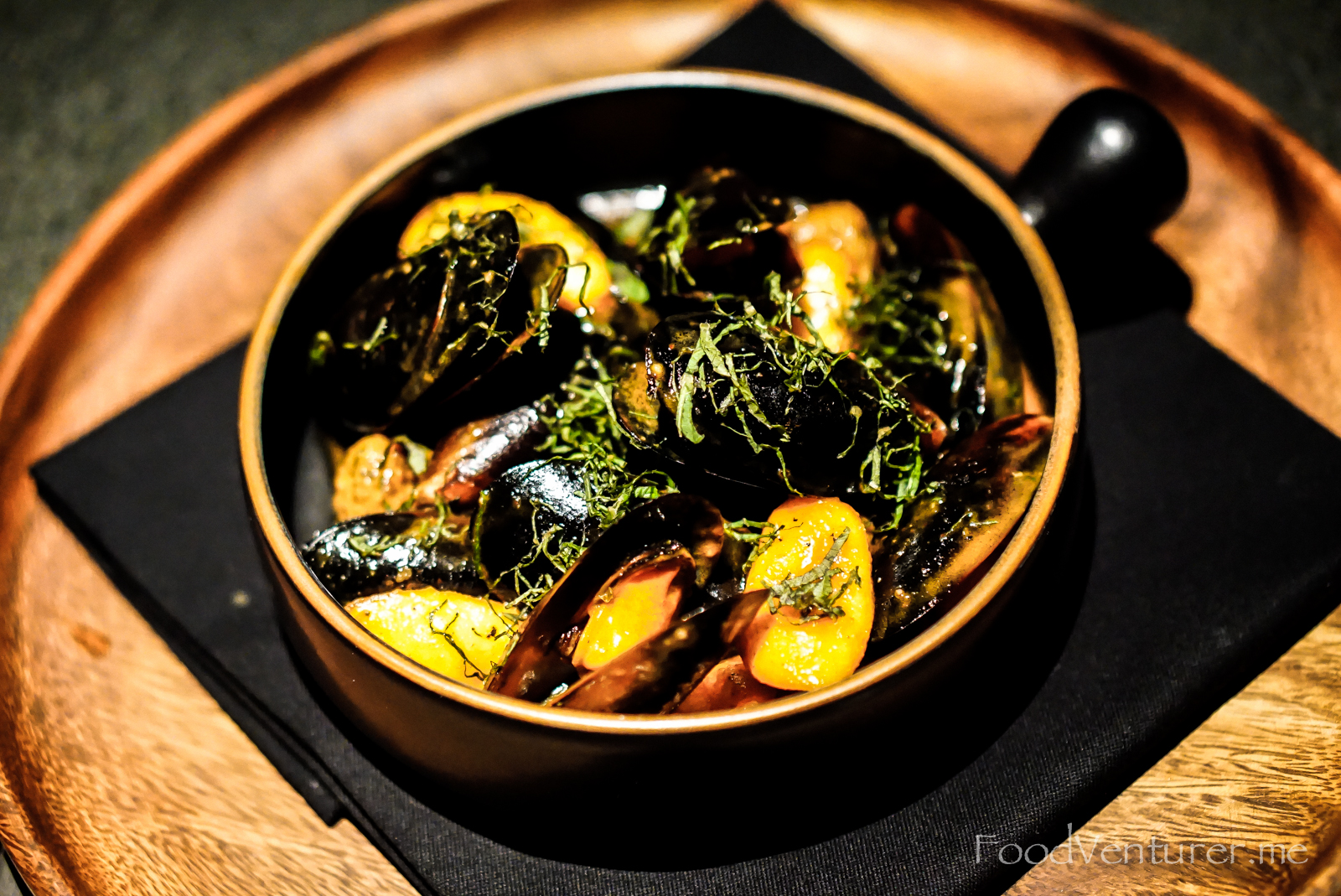 I never really like mussels because first, I think it is always too fishy and second, I hate the idea of opening the mussels with my hands. But well, I totally threw away my thoughts and got my hands on those beautiful mussels. I ain't regretting it because those mussels were so so good, it had this intense and rich creamy kojhucang sauce. As a cherry on top, there were meatballs and tteobokki. The meatballs were delicious, but the rice cake aka tteobokki was an amazing addition to the black mussels! The tteobokki was a very different one because it was deep fried and had crispy texture! Ah, I felt amazing eating this.
# Tuna Yukke w/ cucumber, sesame sauce, scallion muchem, seaweed bugak (IDR 95 k)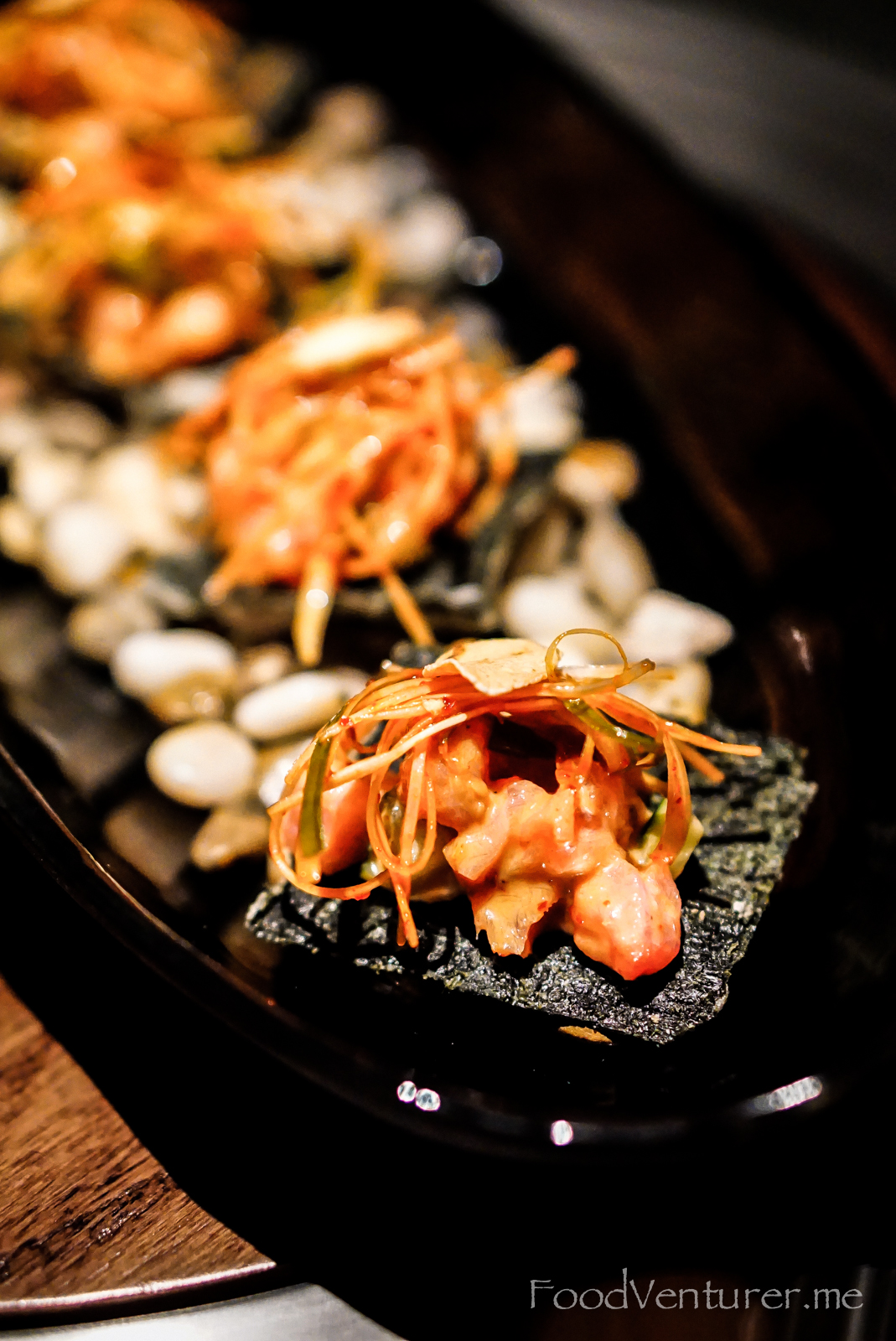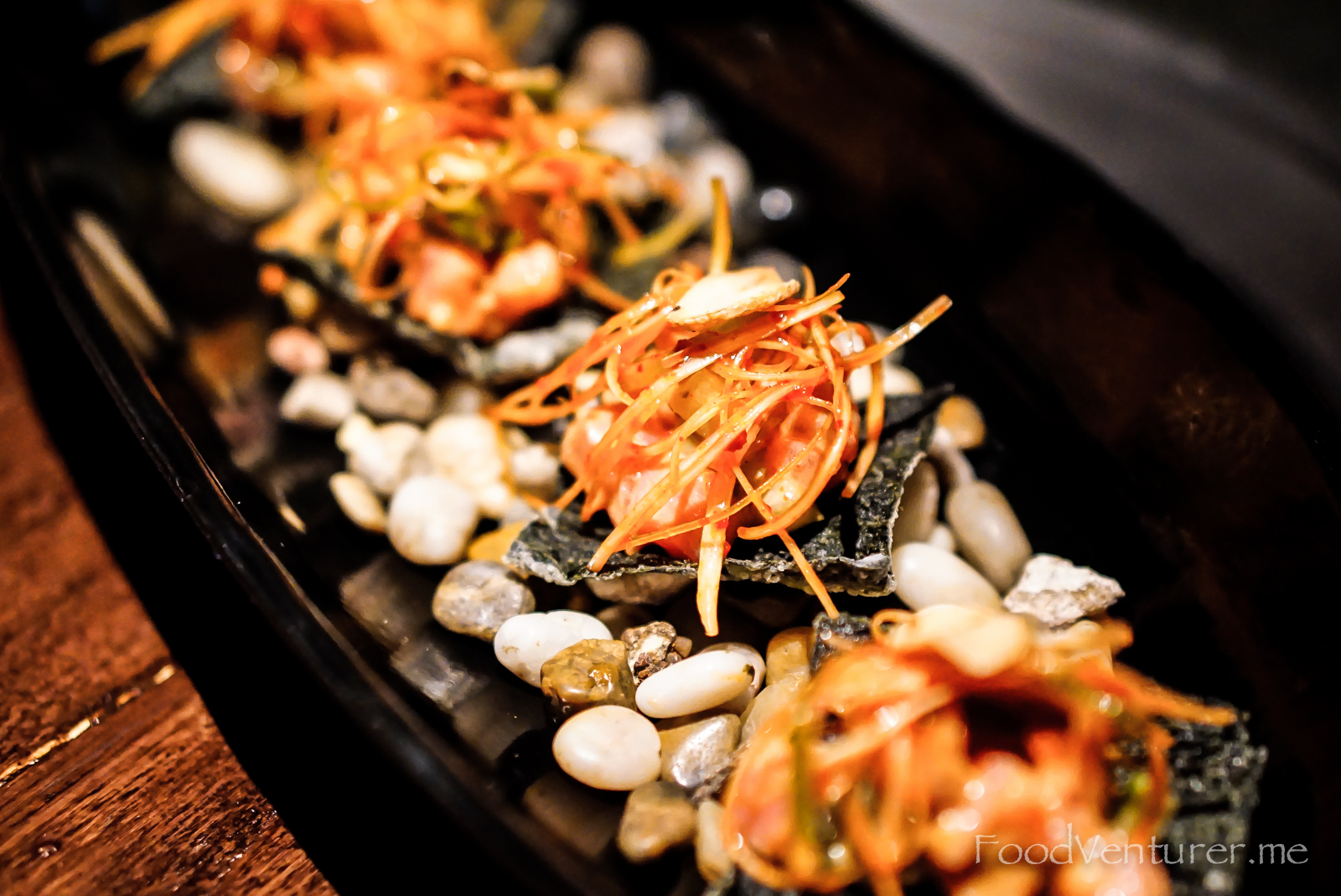 Definitely a satisfying appetizer, combining contrast textures (from the shreddy soft tuna and crispy seaweed) and complete umami. So far, not even one appetizer was disappointing!
# Rump A4 100 grams (IDR 325k per 100 grams)
# Shoulder Clod 100 grams (IDR 325k per 100 grams)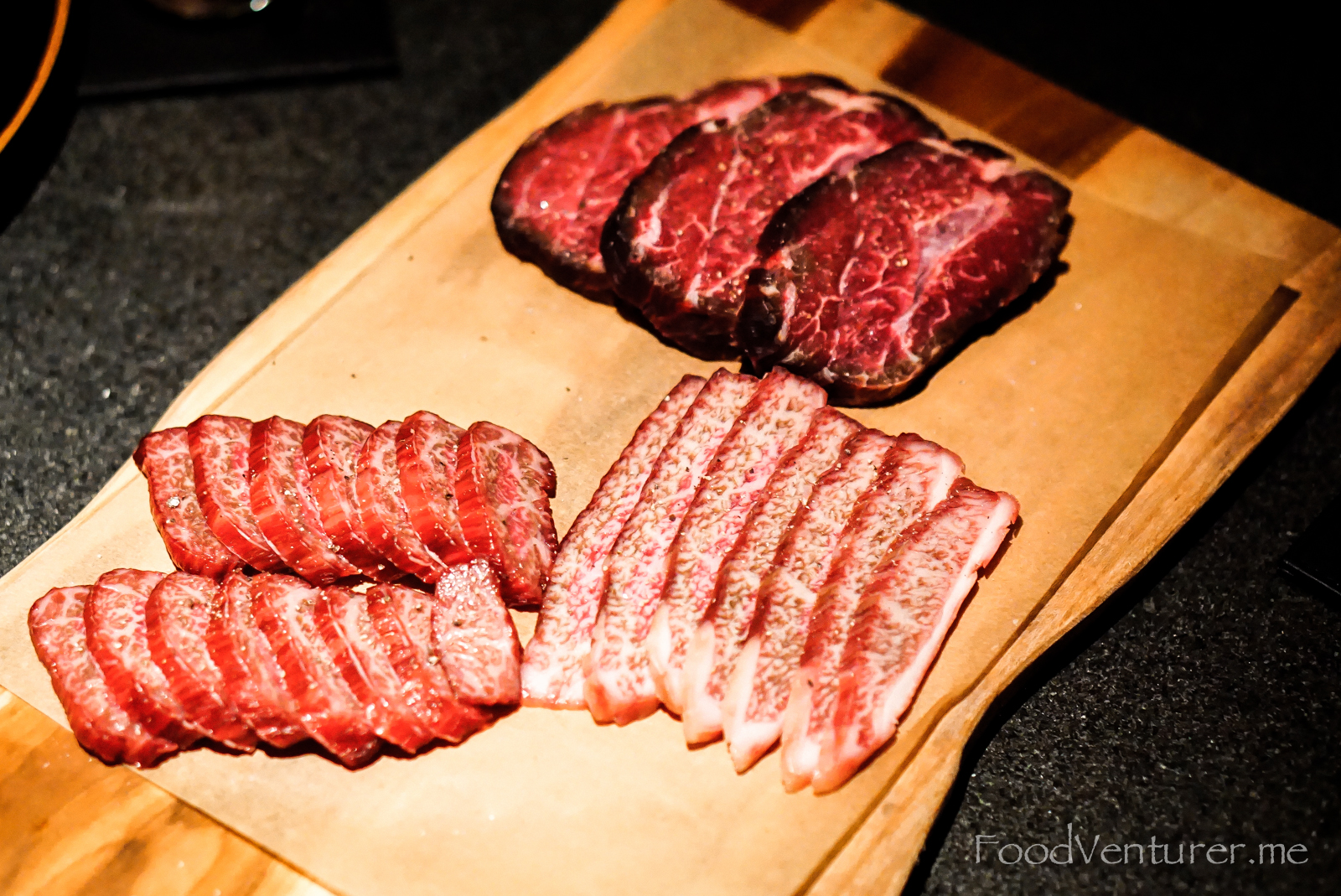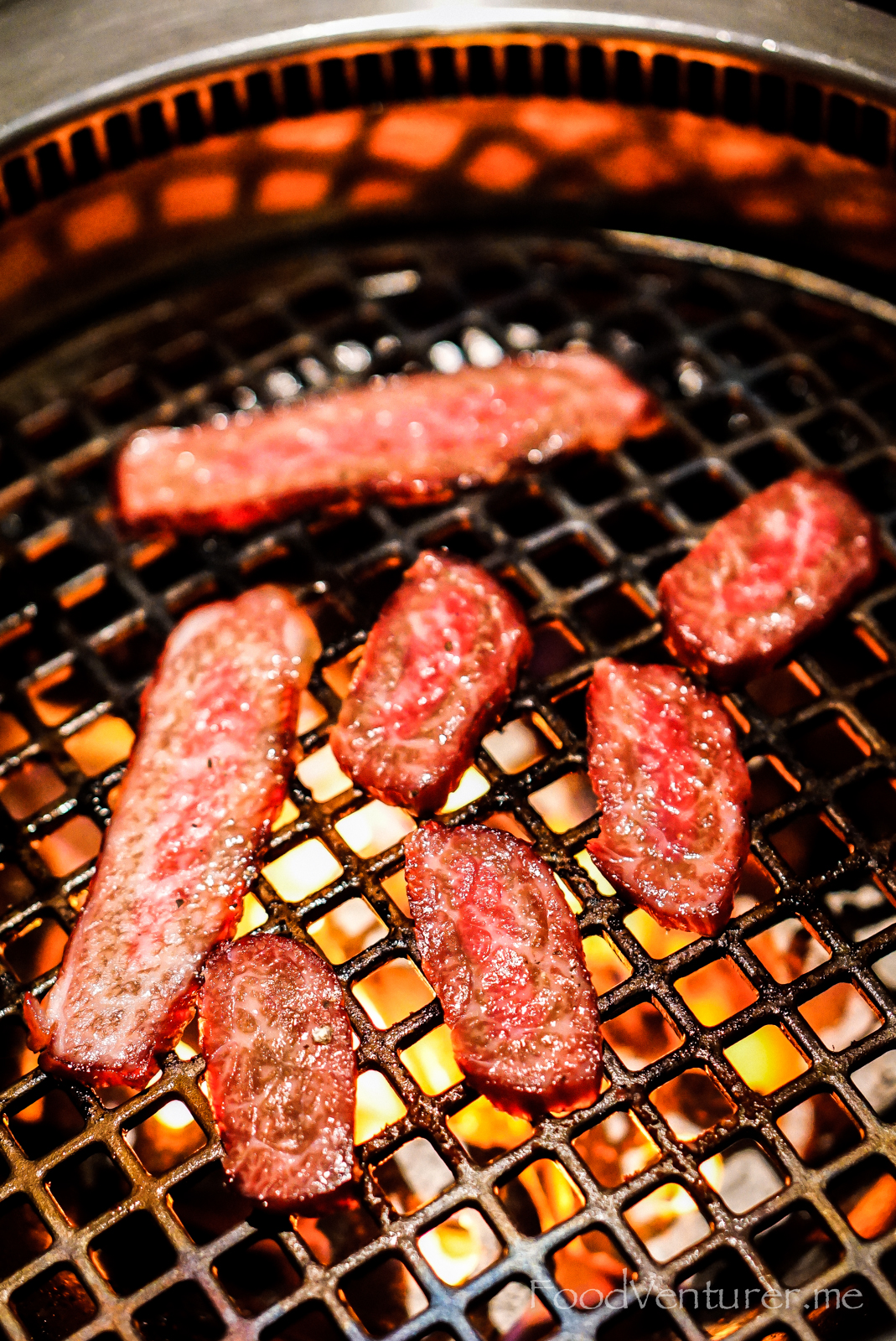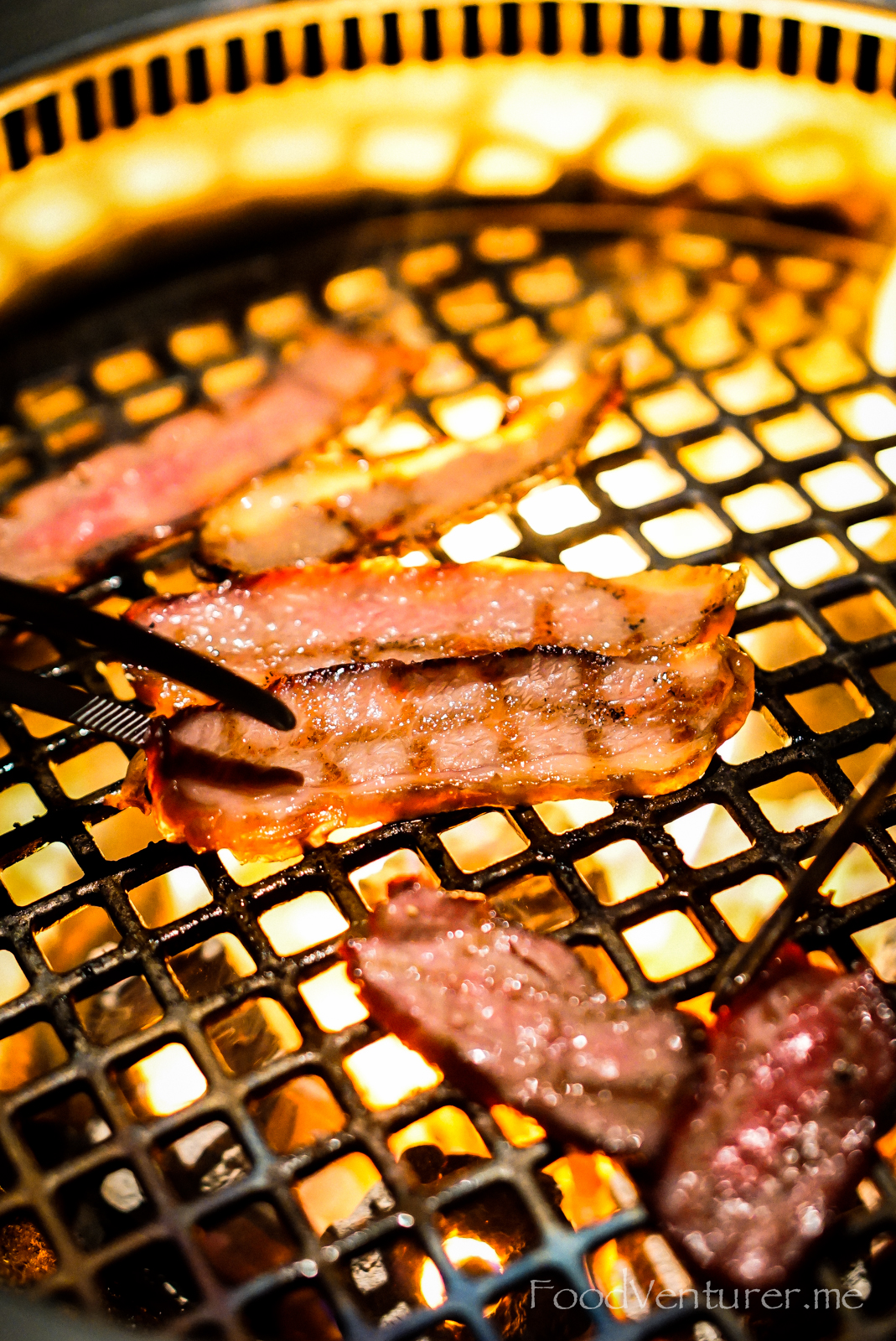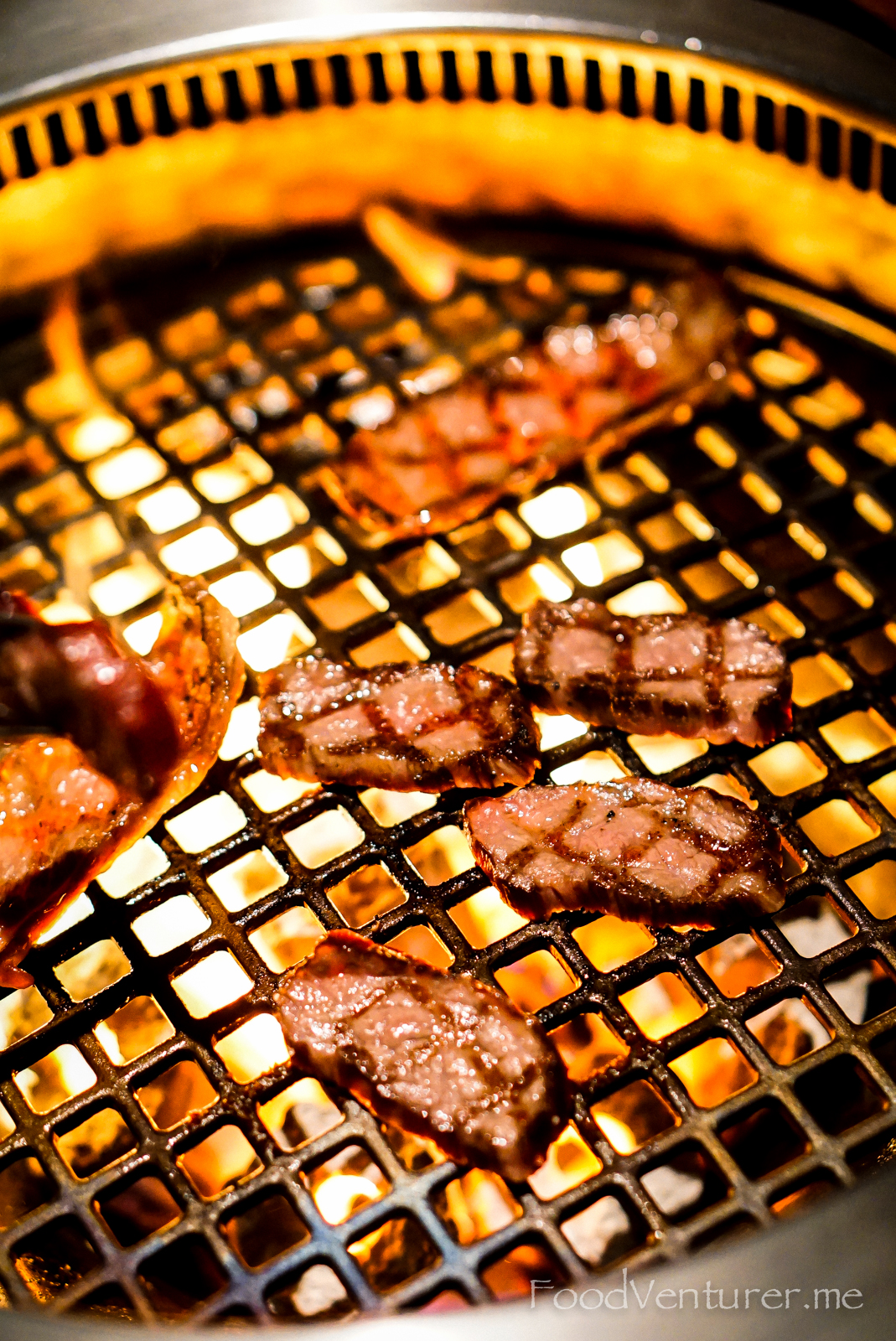 Our orgasmic meat experience started with these two, Rump A4 and Shoulder Clod. Both were amazing in their own ways, and to be honest, I could really just eat both while having my eyes closed. They both tasted equally amazing, with amazing soft and tender texture. The intense cheesy note (the effect of aged-meat) was perfect. This was actually my first time enjoying aged-meat and I truly loved and enjoyed every bite.
On every table, there will be salt (yuzu, truffle, kimchee, himalayan, yuja and garlic) and sauce (sesame oil with sea salt and black pepper, soy and grated wasabi, ssamjang, chimichurri, and bulgogi) selections that you can use as desired.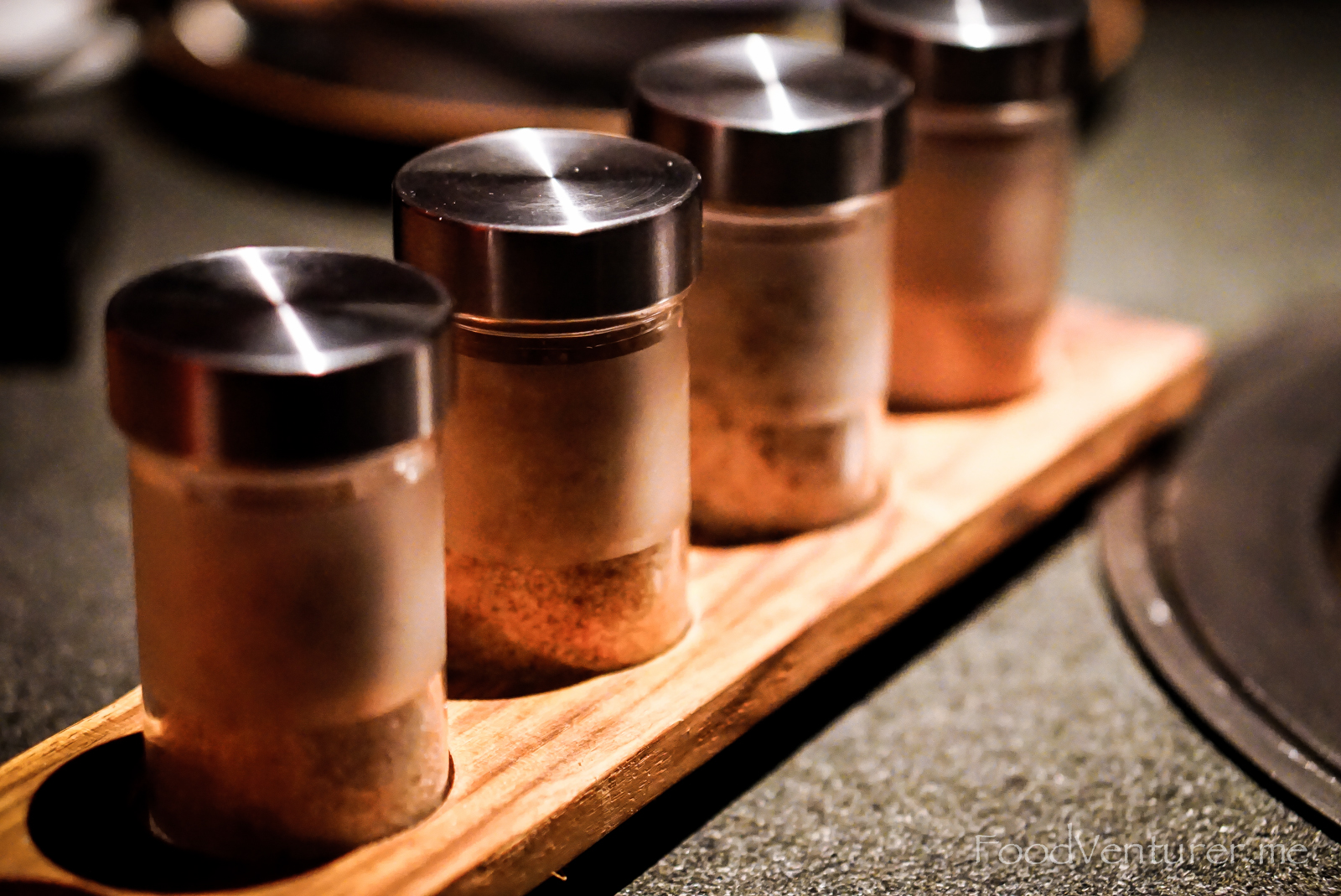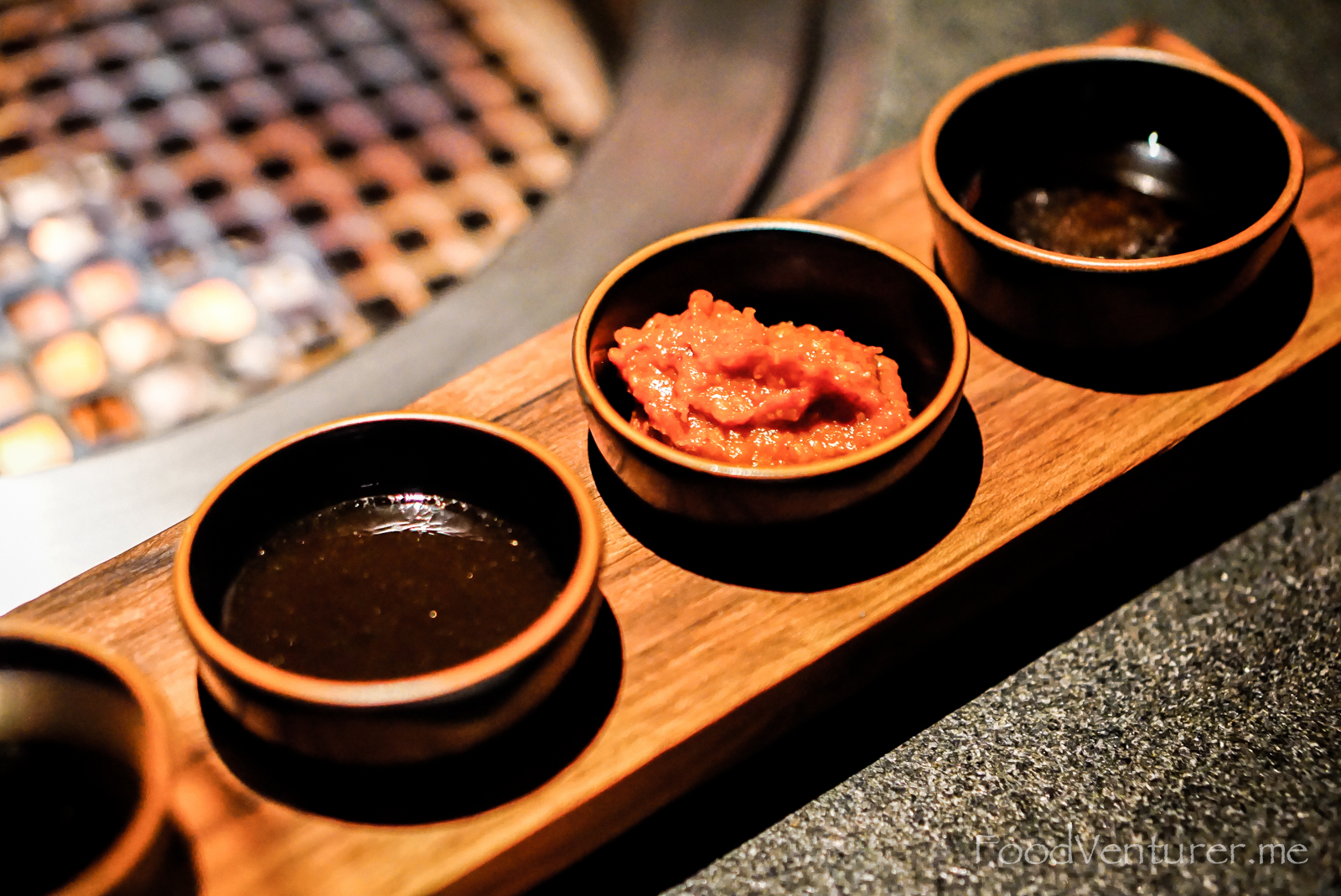 I dipped each meat into every dipping sauce and salt selections. And I loved the bulgogi dipping! Yuzu and truffle salt were really good too, but if I had to pick, the truffle would surely be my first choice!
# Wagyu 9+ Flat Iron 200 grams (IDR 245k per 100 grams)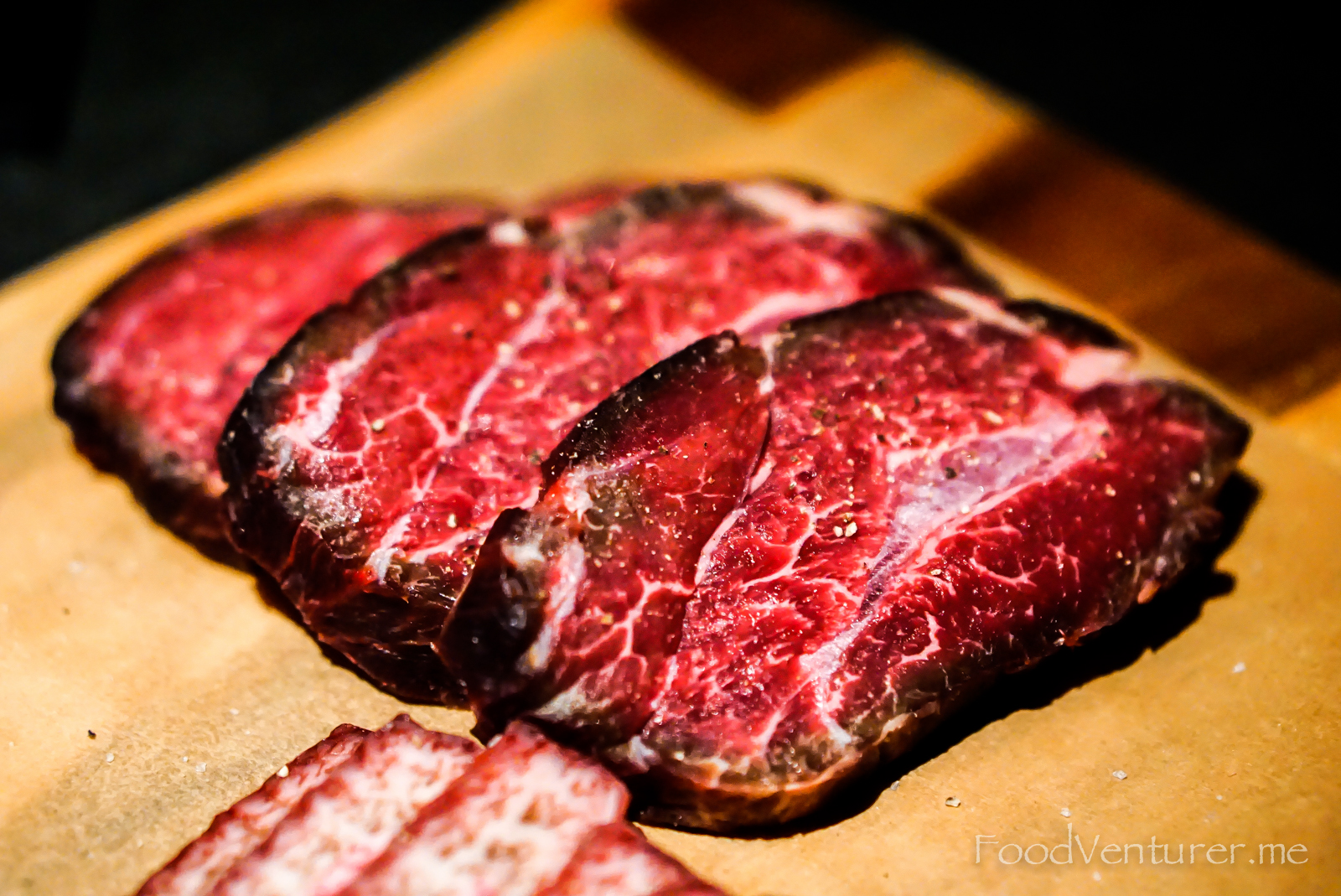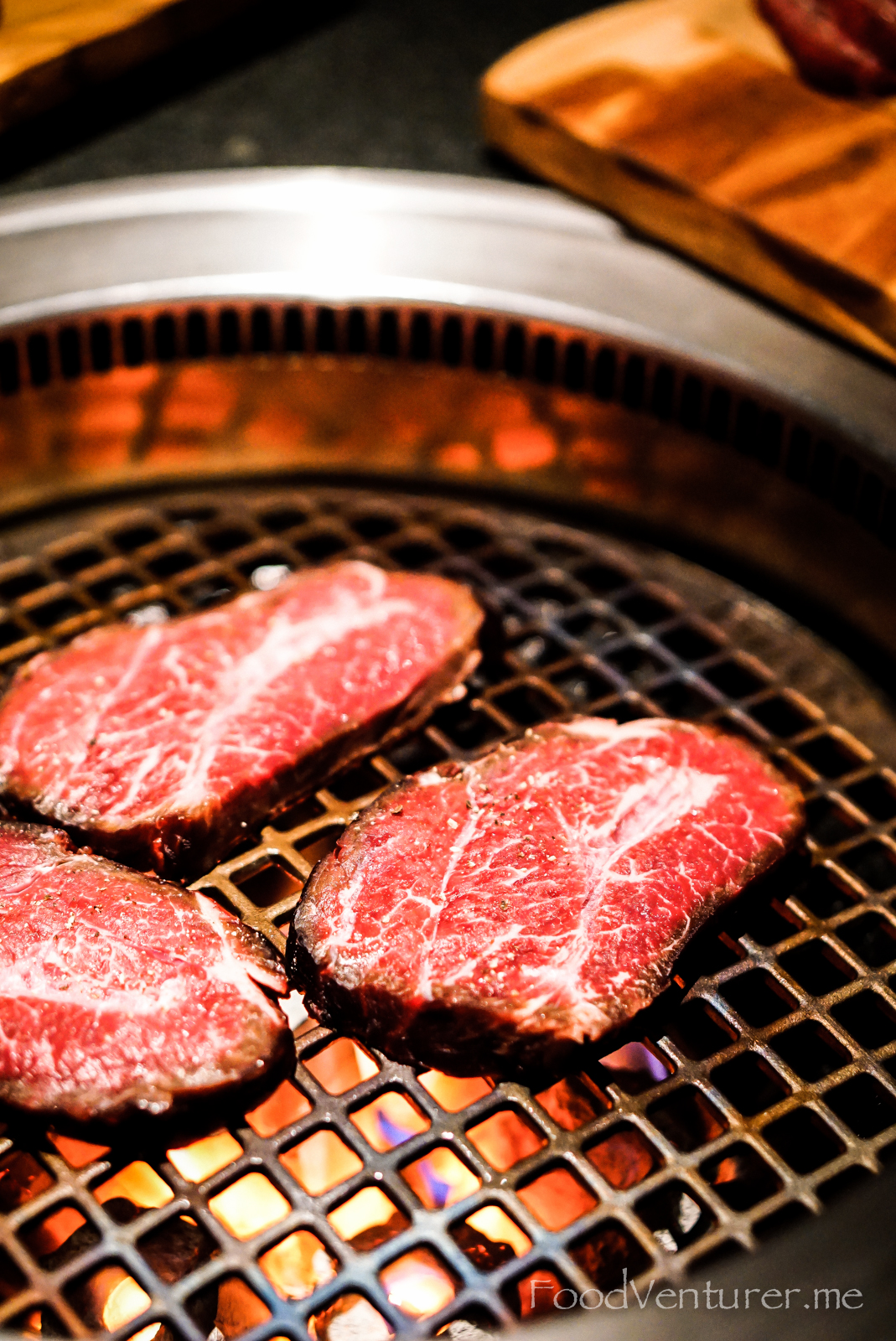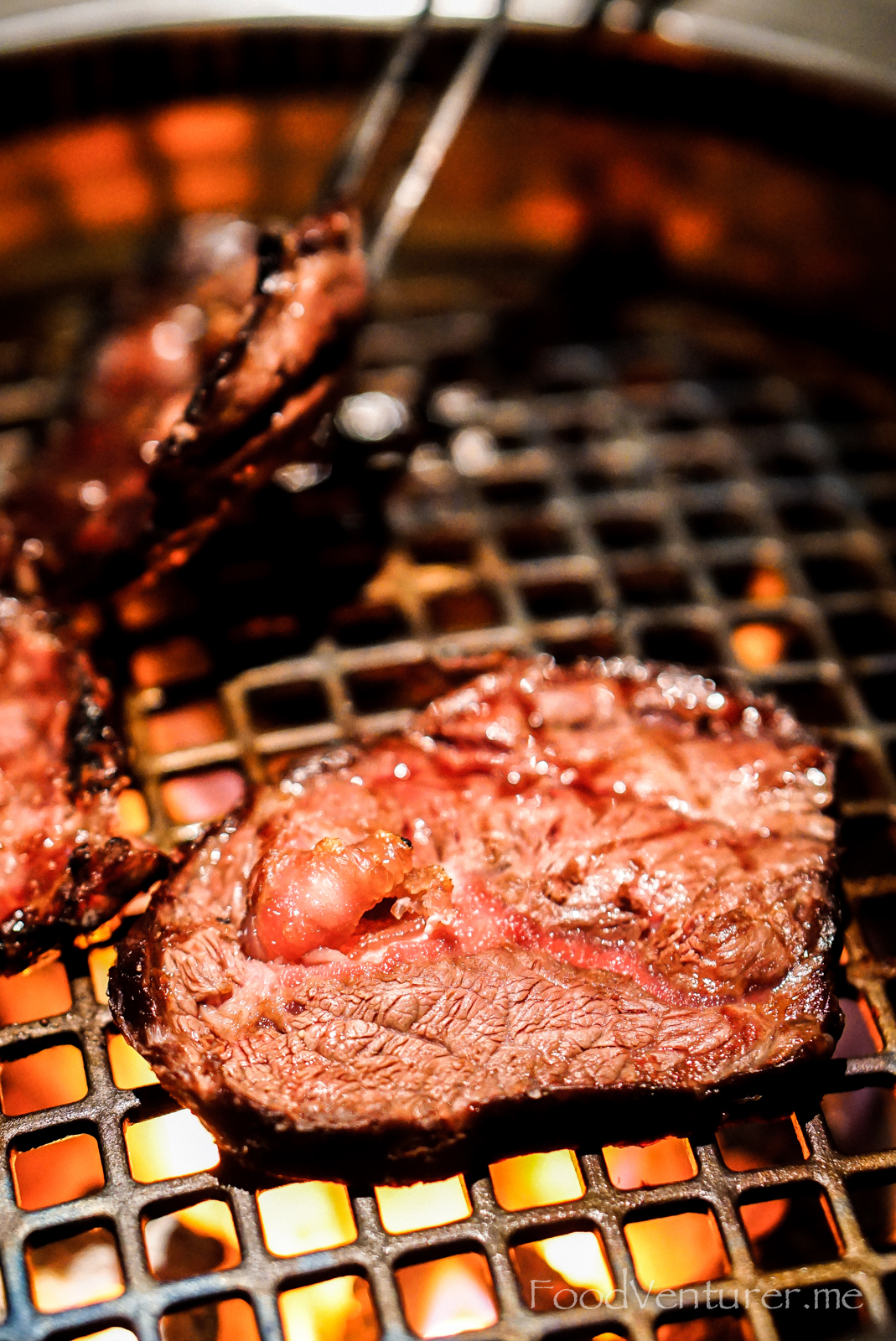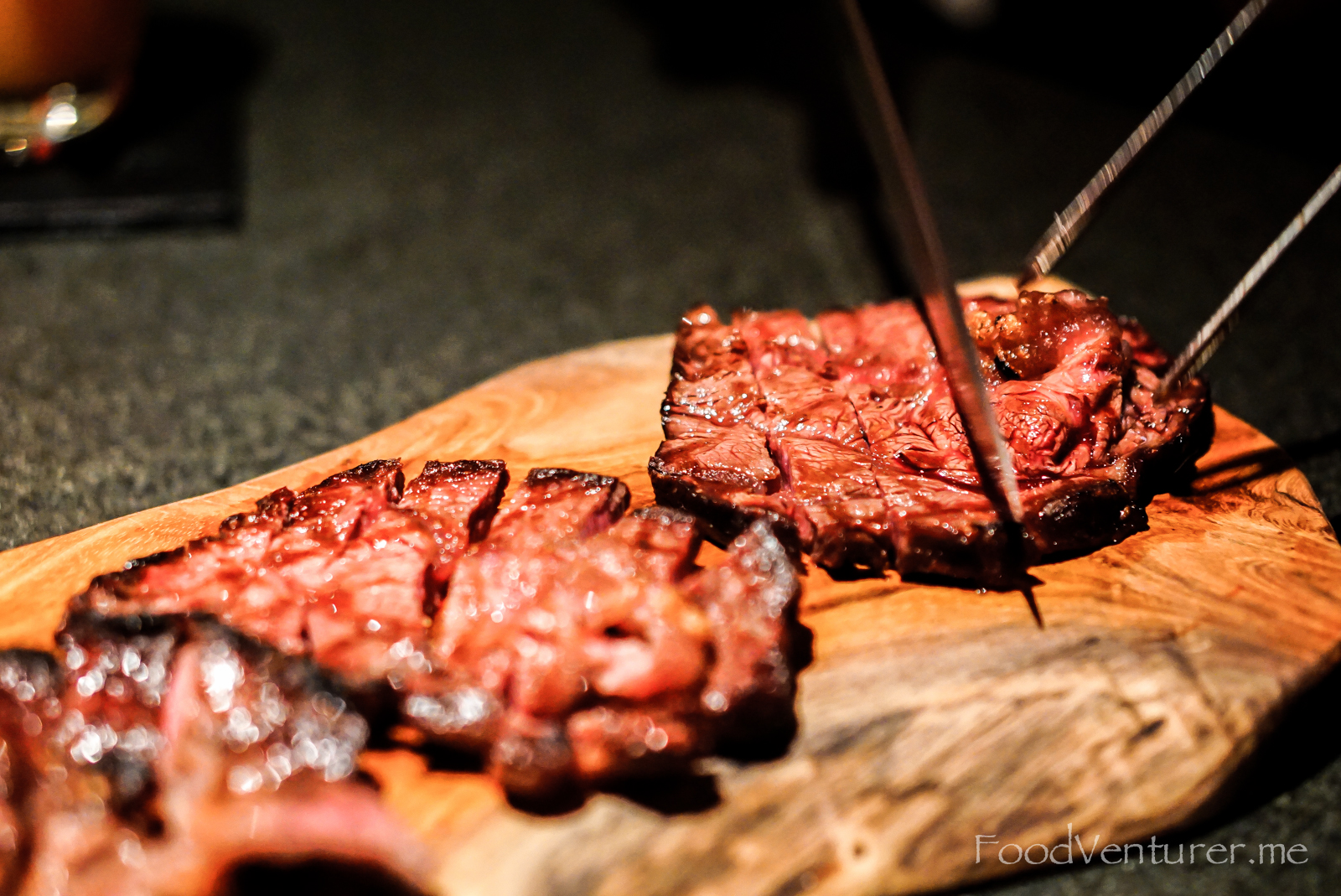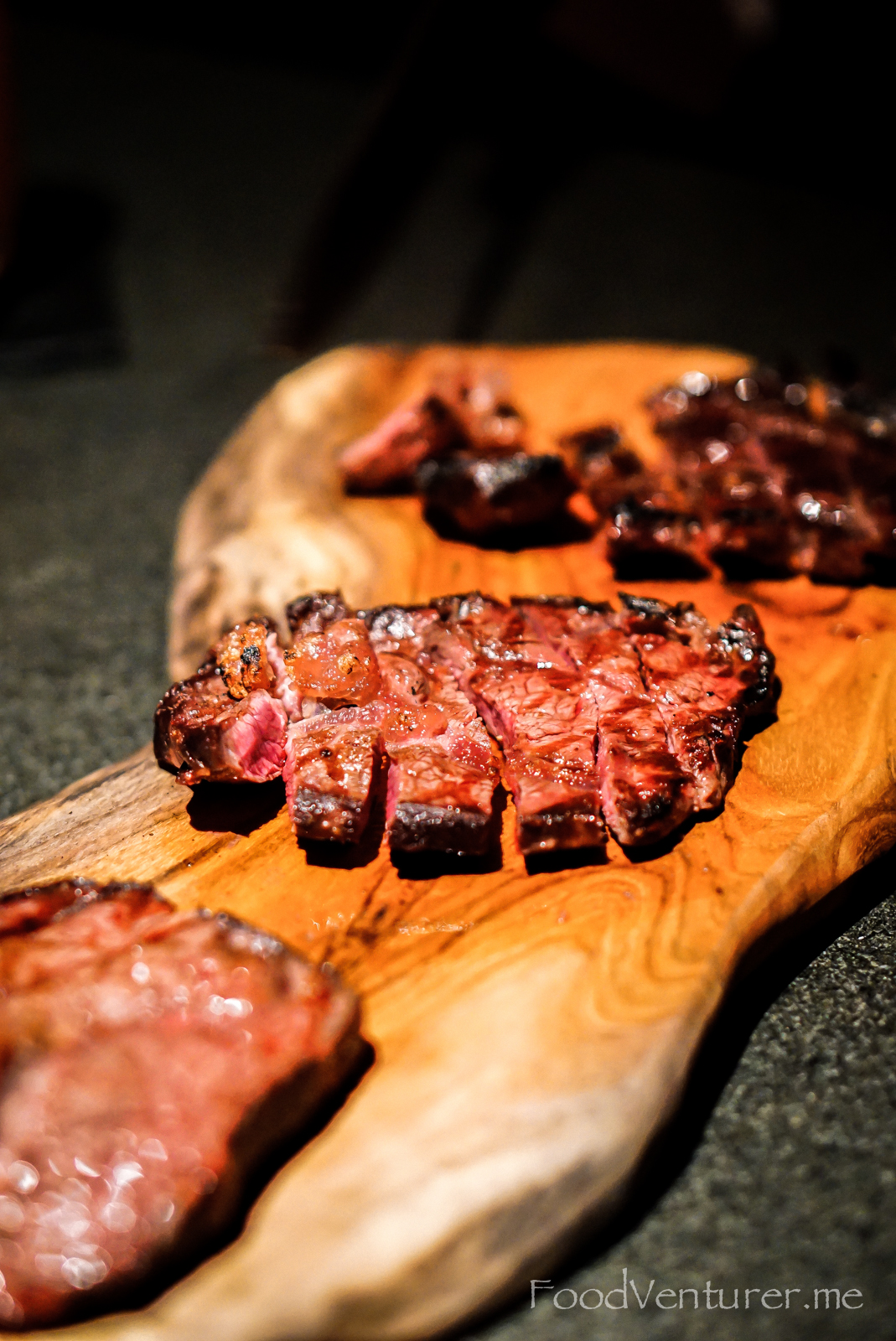 After enjoying the rump and shoulder clod, here came fine thick slices of Flat Iron. After a hot grill, the Flat Iron was ready and we just started trying the gorgeous pieces. The meat was really good and it has this gorgeous texture. At this point, I experimented each bite with each of the salt selections. Still, the truffle salt turned out to be the best here. To be honest, even without any dipping and salt, the meat itself had already had a distinguished taste with its smokey attribute.
# 45 Days Porterhouse – 200 days grain fed (IDR 185k per 100 grams)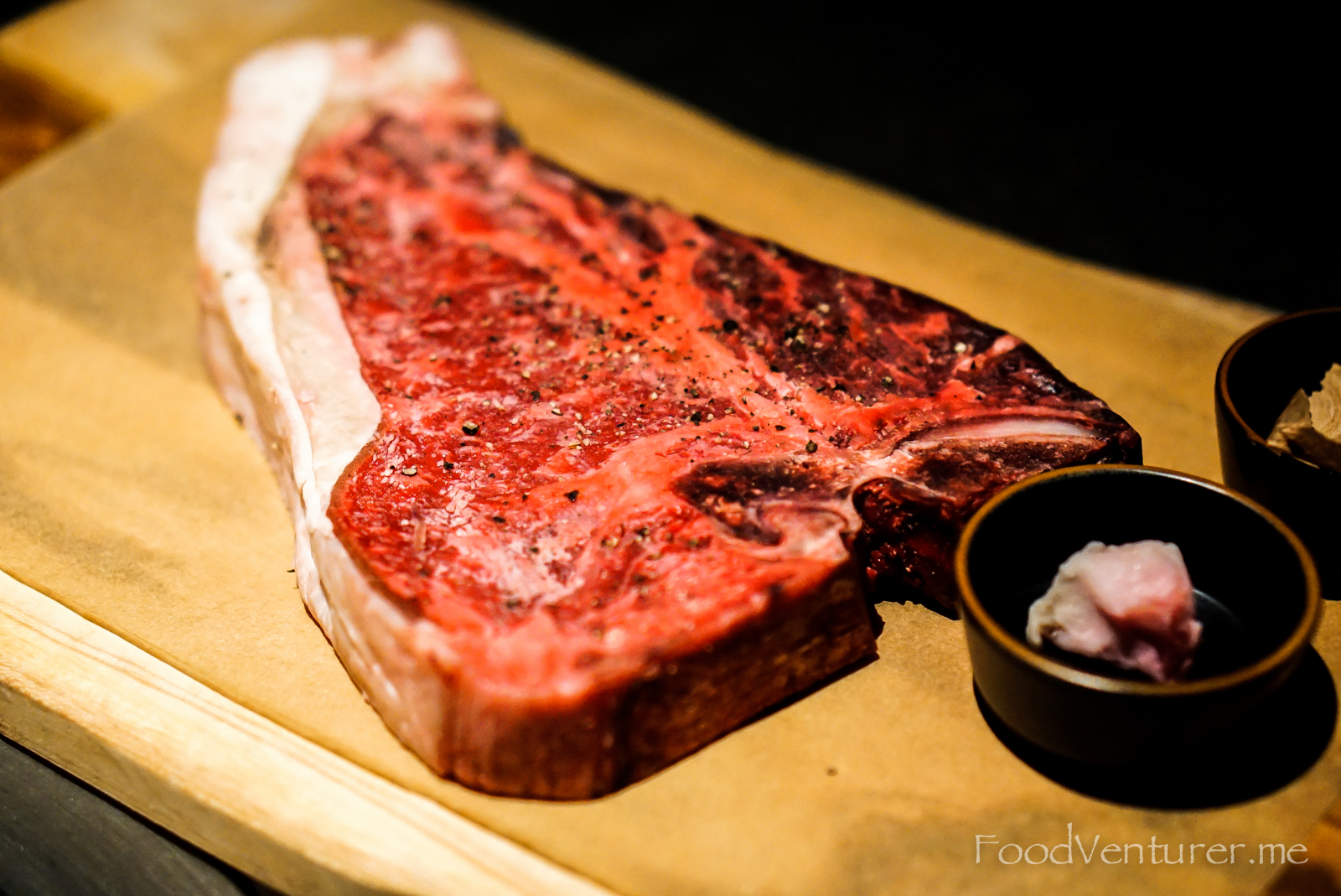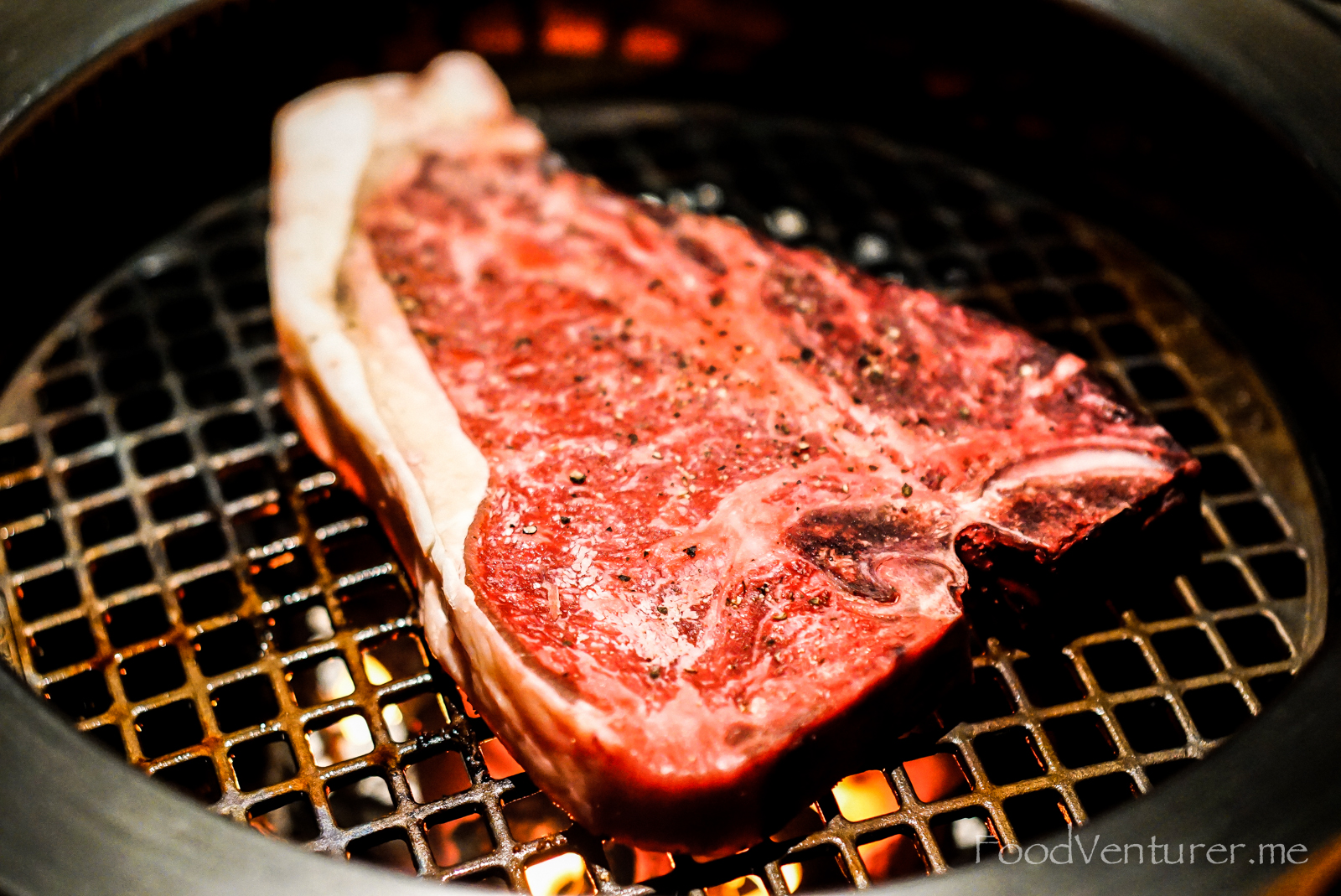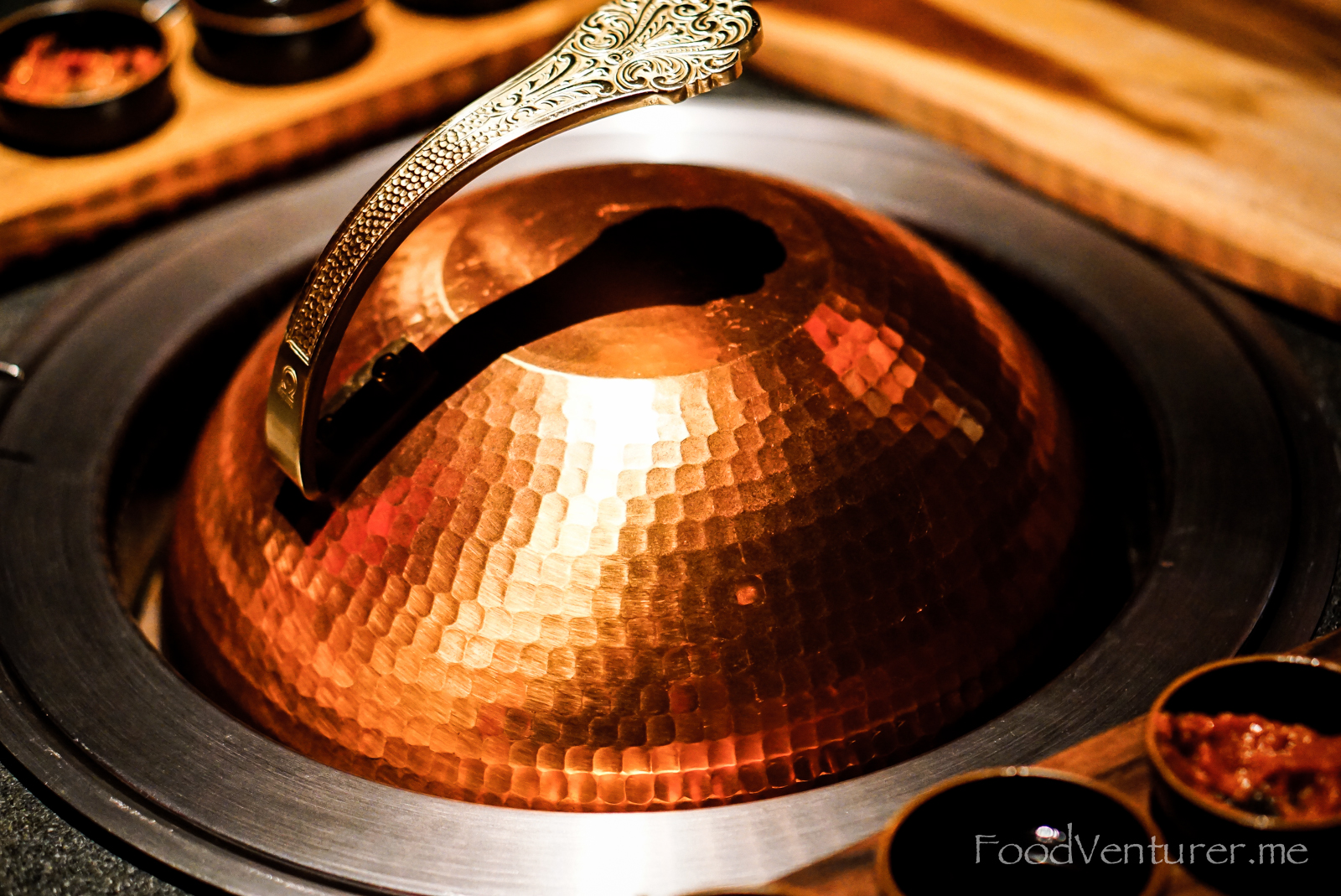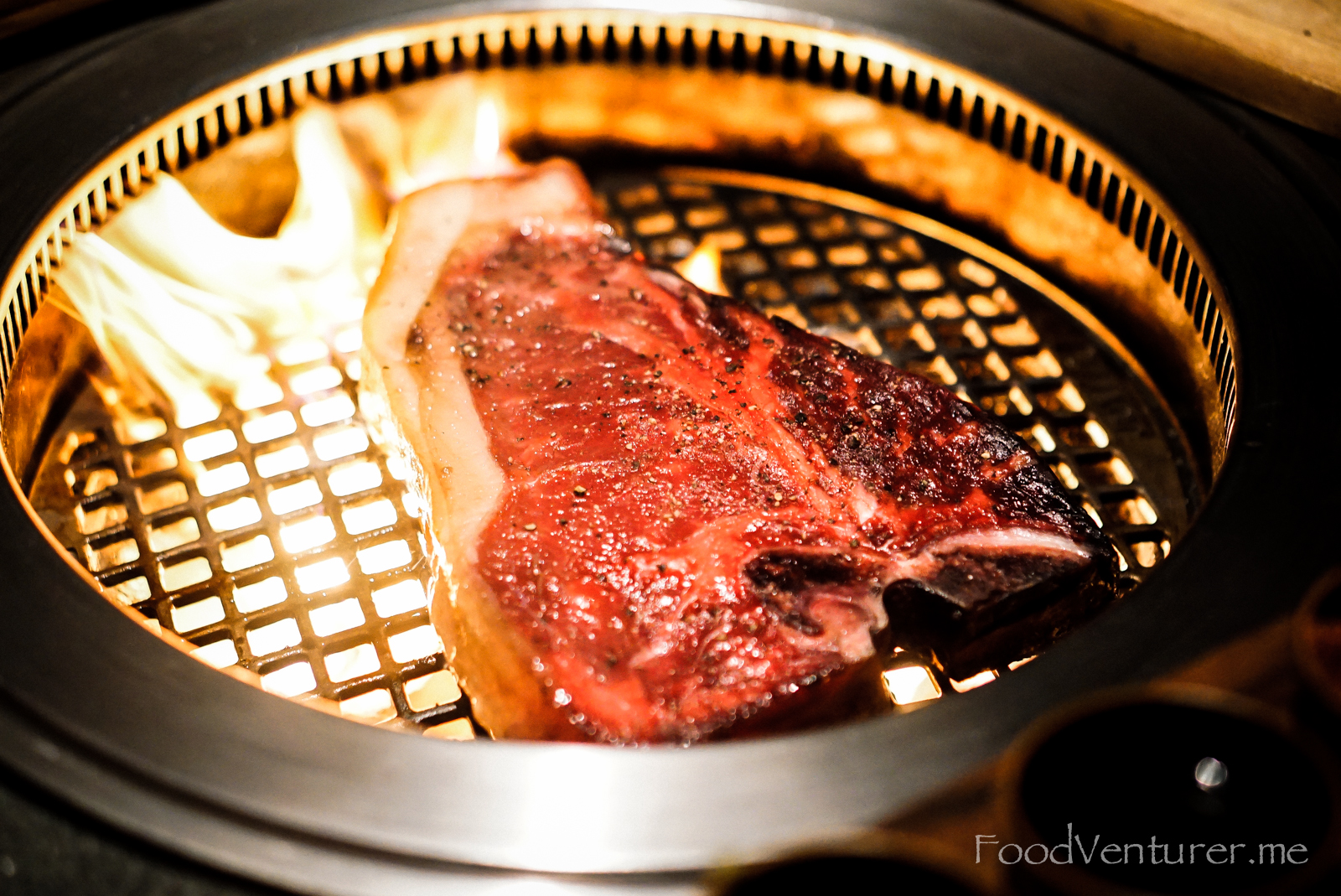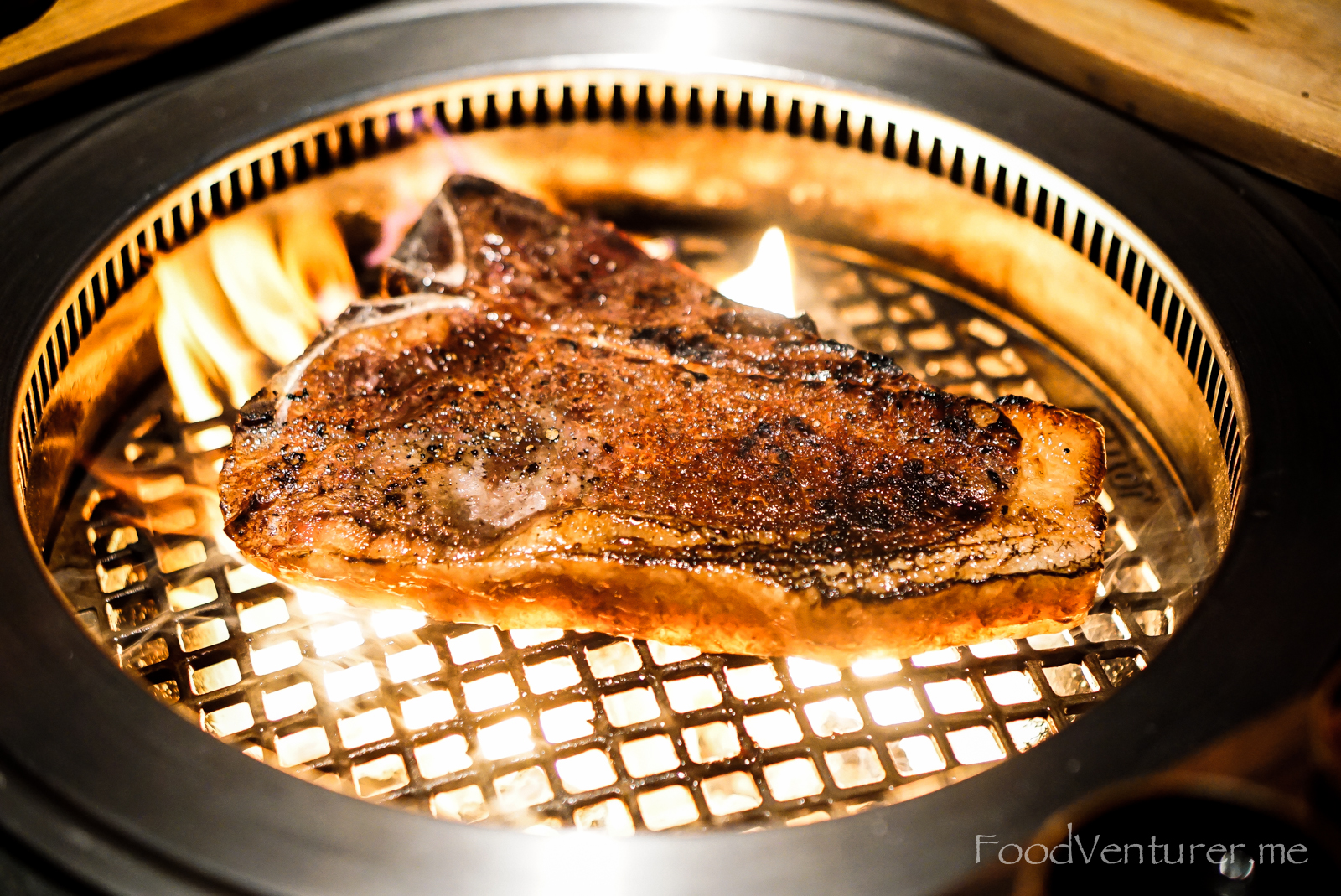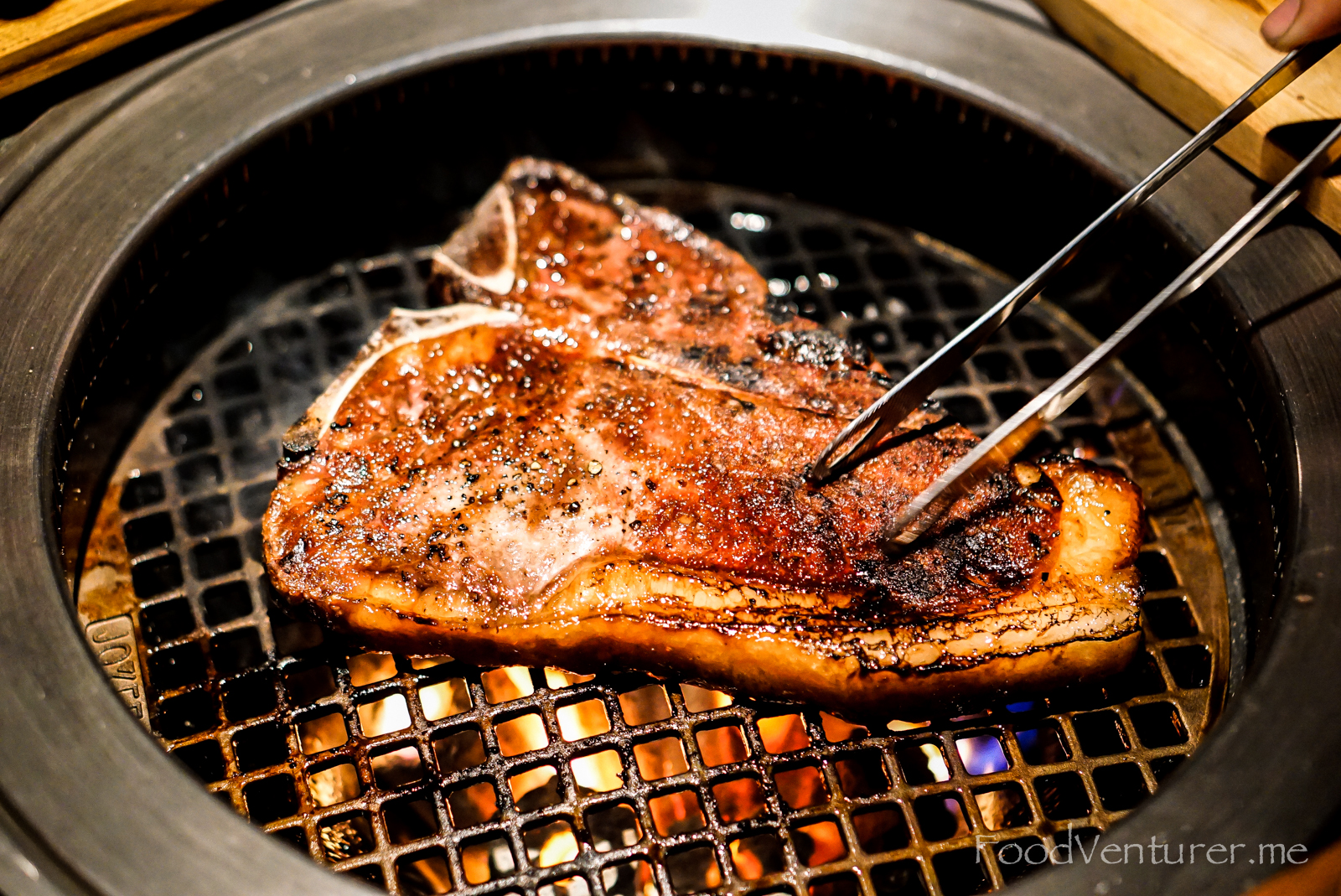 Our main course continued gloriously. With a burning flame below, this porterhouse (600 grams) was grilled to perfection. They added apple wood chips to spark a more smokey attribute to the porterhouse. Grilled above the glorious flame, I could actually see the changing texture and colour very quickly. In no time (but with impeccable technique of grilling), the porterhouse was ready. It was cooked medium rare.
When first tasted, I was quickly in love. I couldn't actually stop munching the steaks! Some parts featured a really tender texture, and some parts were really just melting inside the mouth.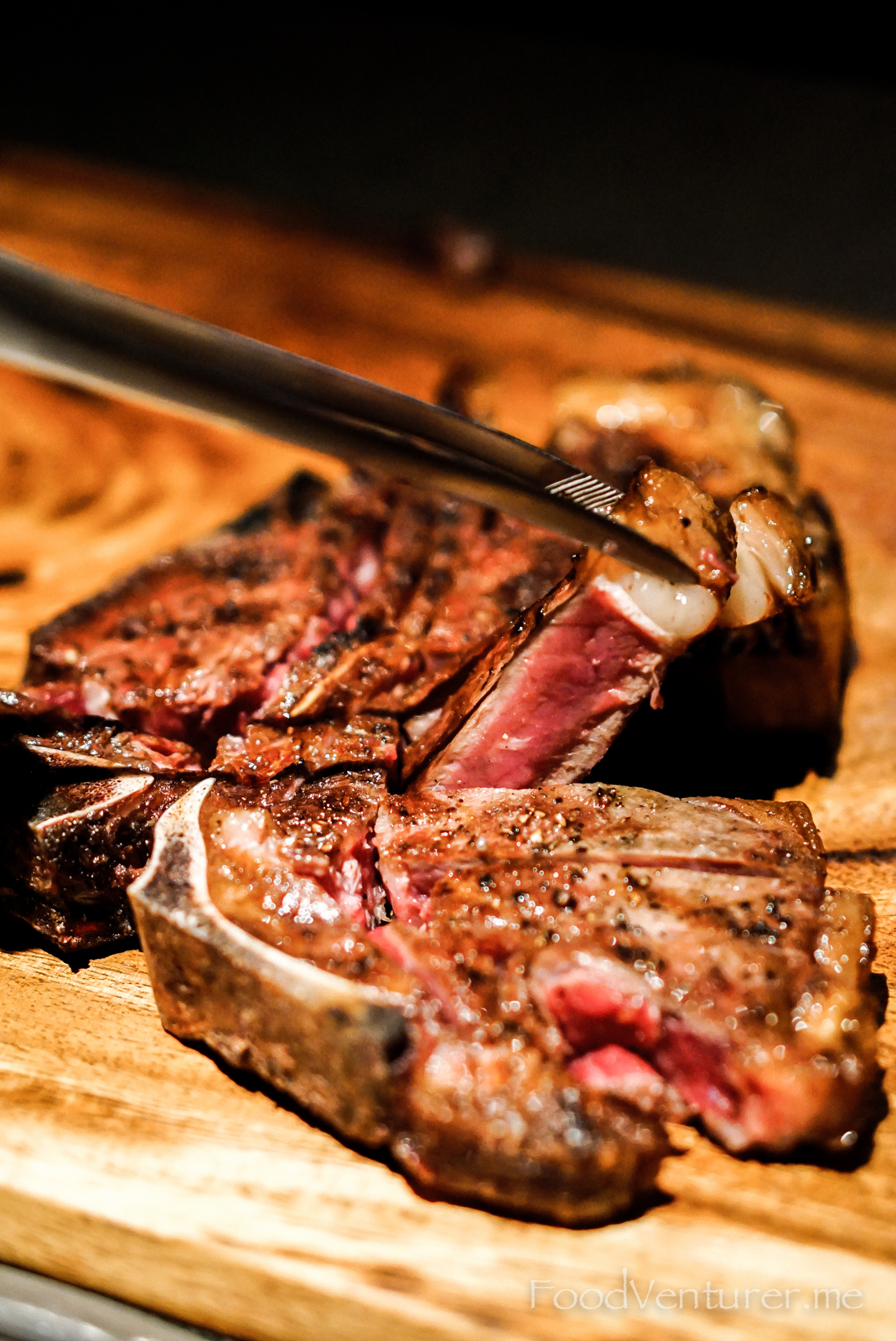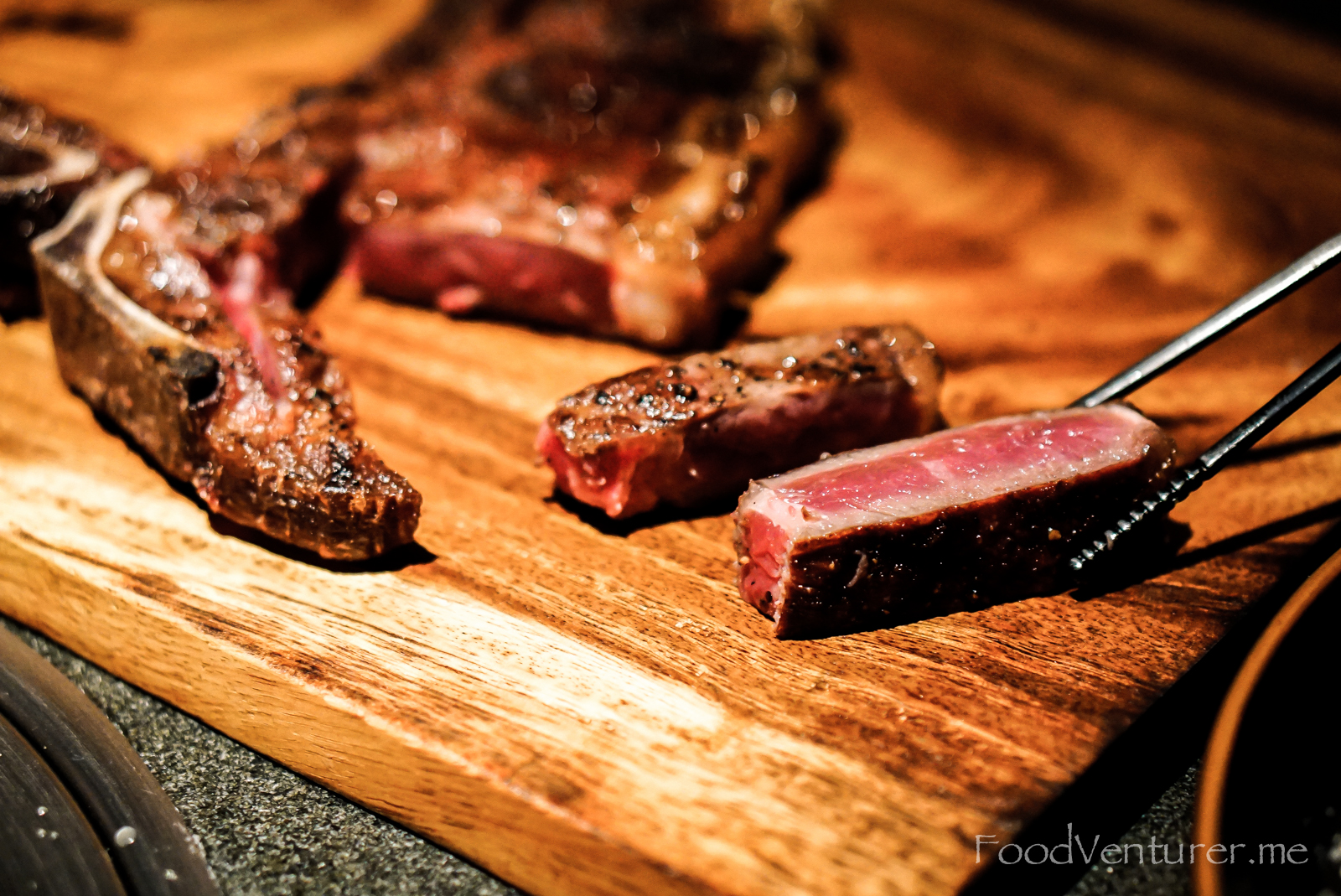 And also, at this point, I found out that dipping the meats with my favorite bulgogi sauce and ssamjang sauce simultaneously made the meat even better in my mouth. The spicy, slight heat and sweet taste added complex layers to the meat, hence the addiction, like I kept on wanting for more.
I'm totally drooling right now!
# Wagyu 5+ Bone In Short Rib (IDR 385k per pc – 300 grams)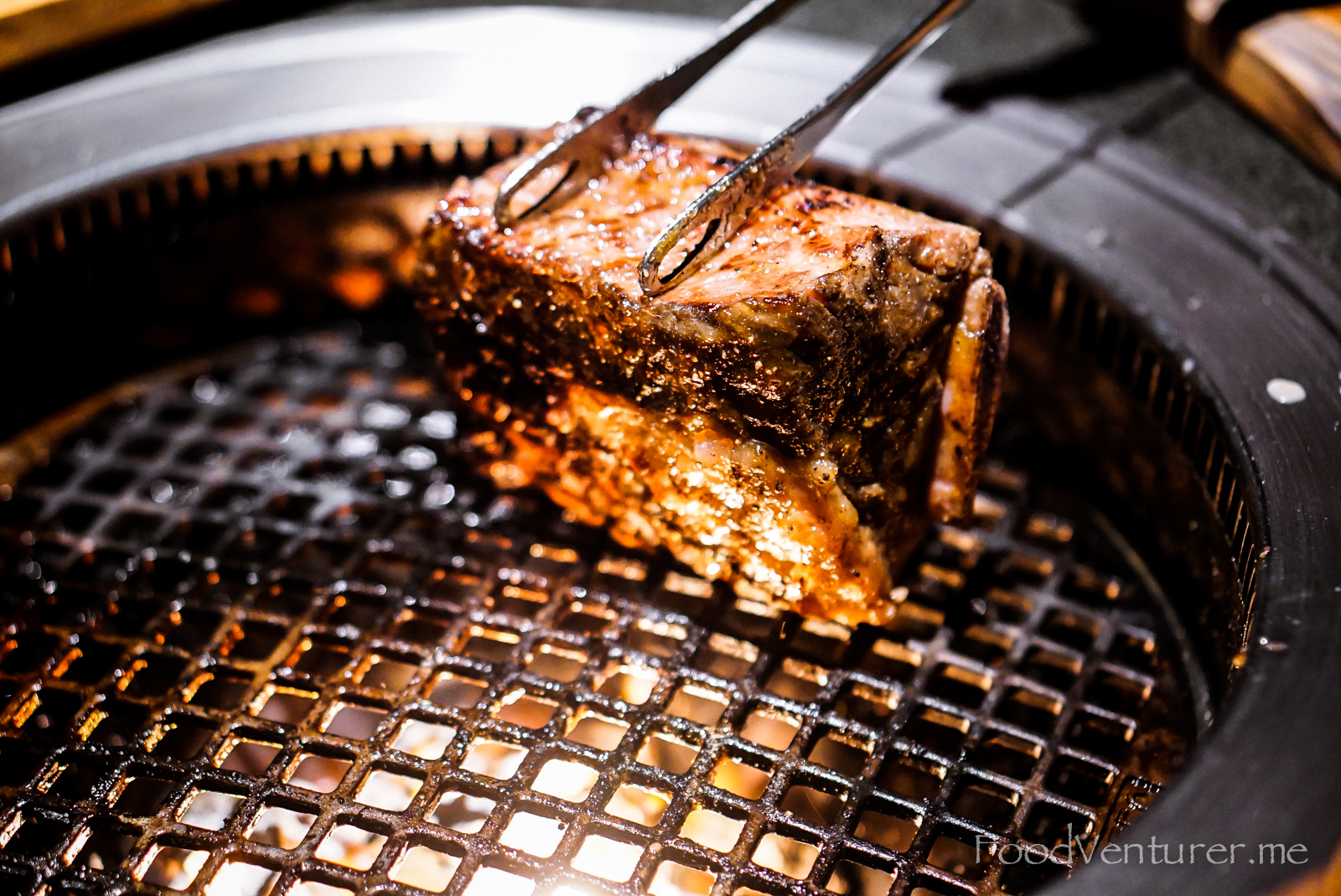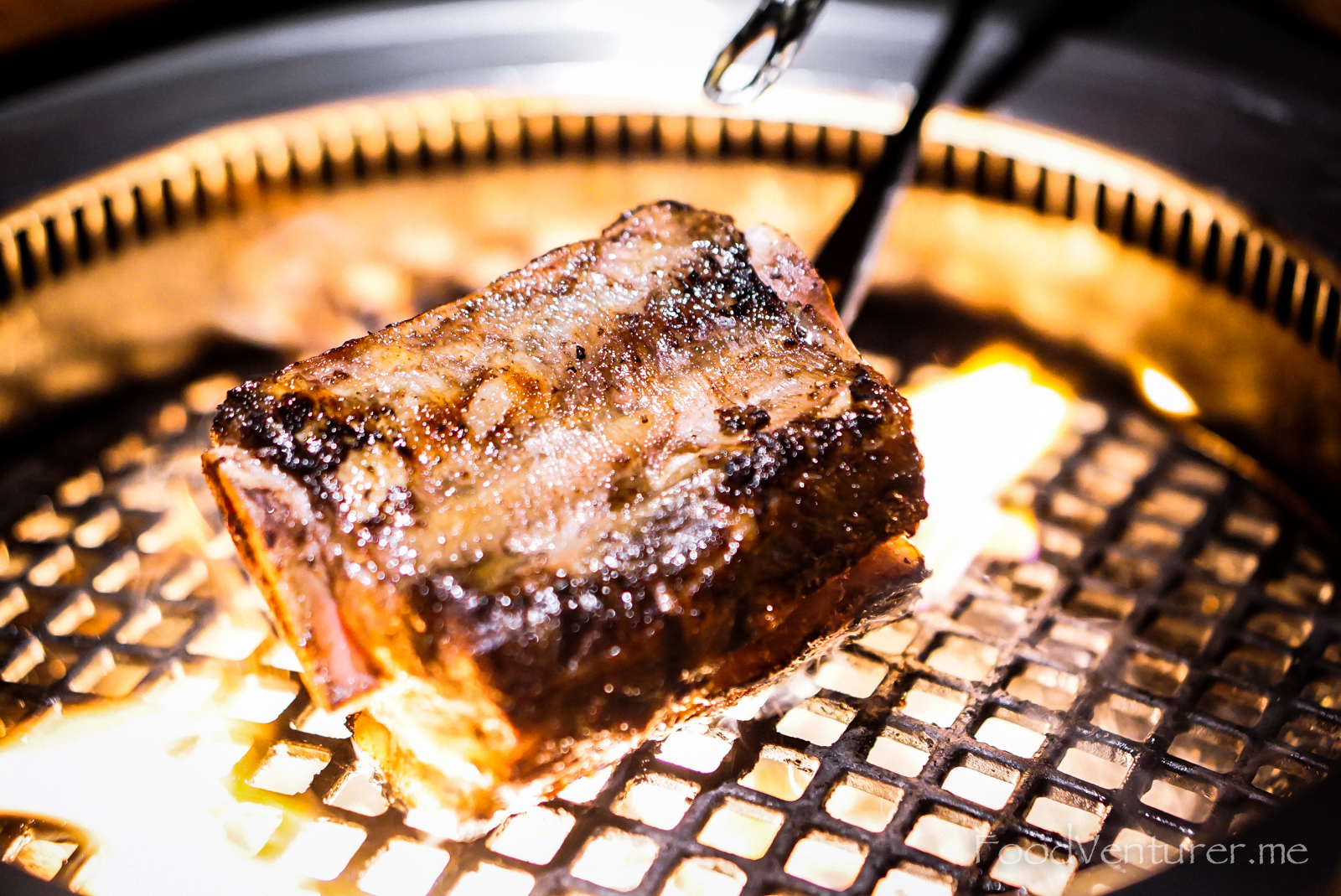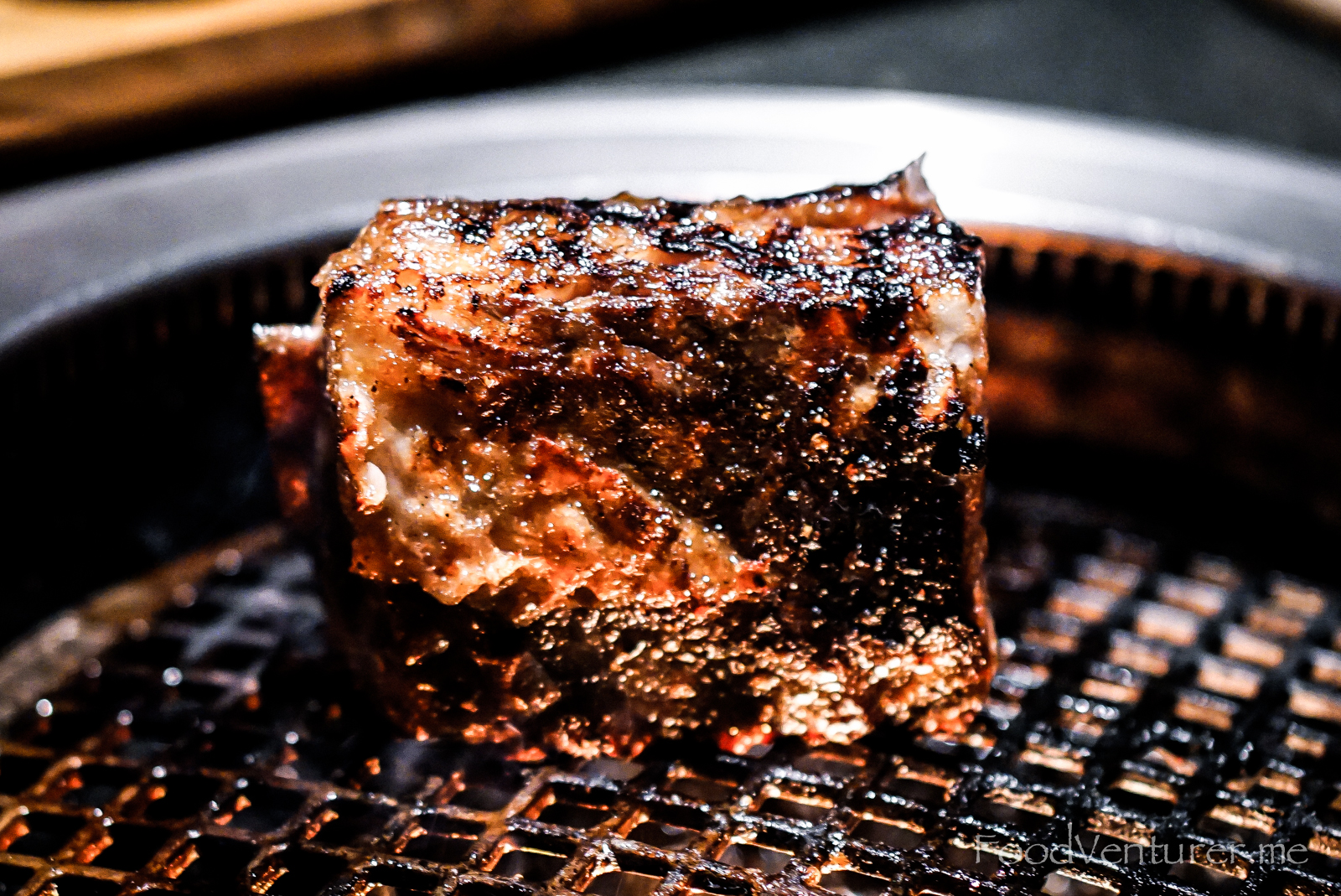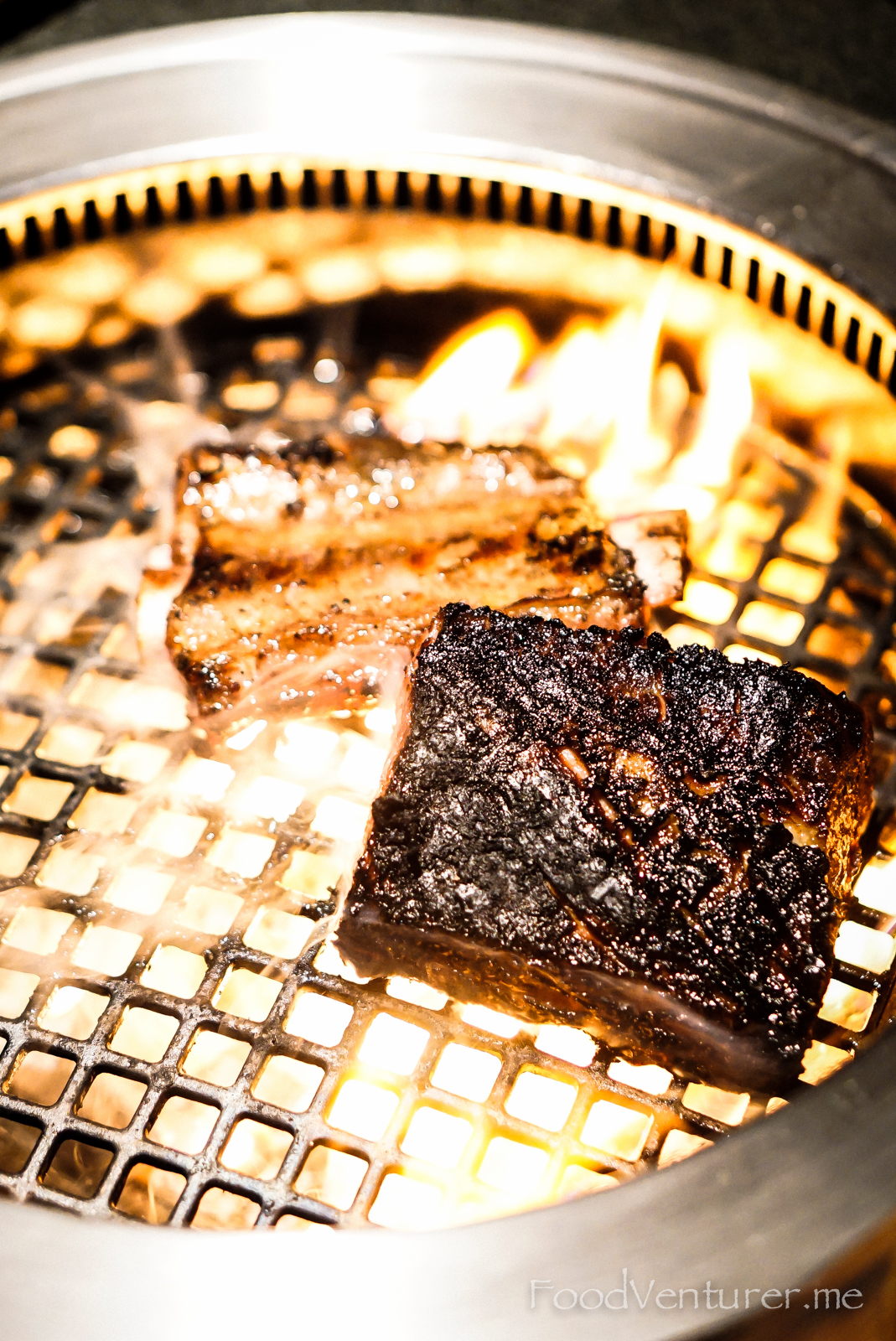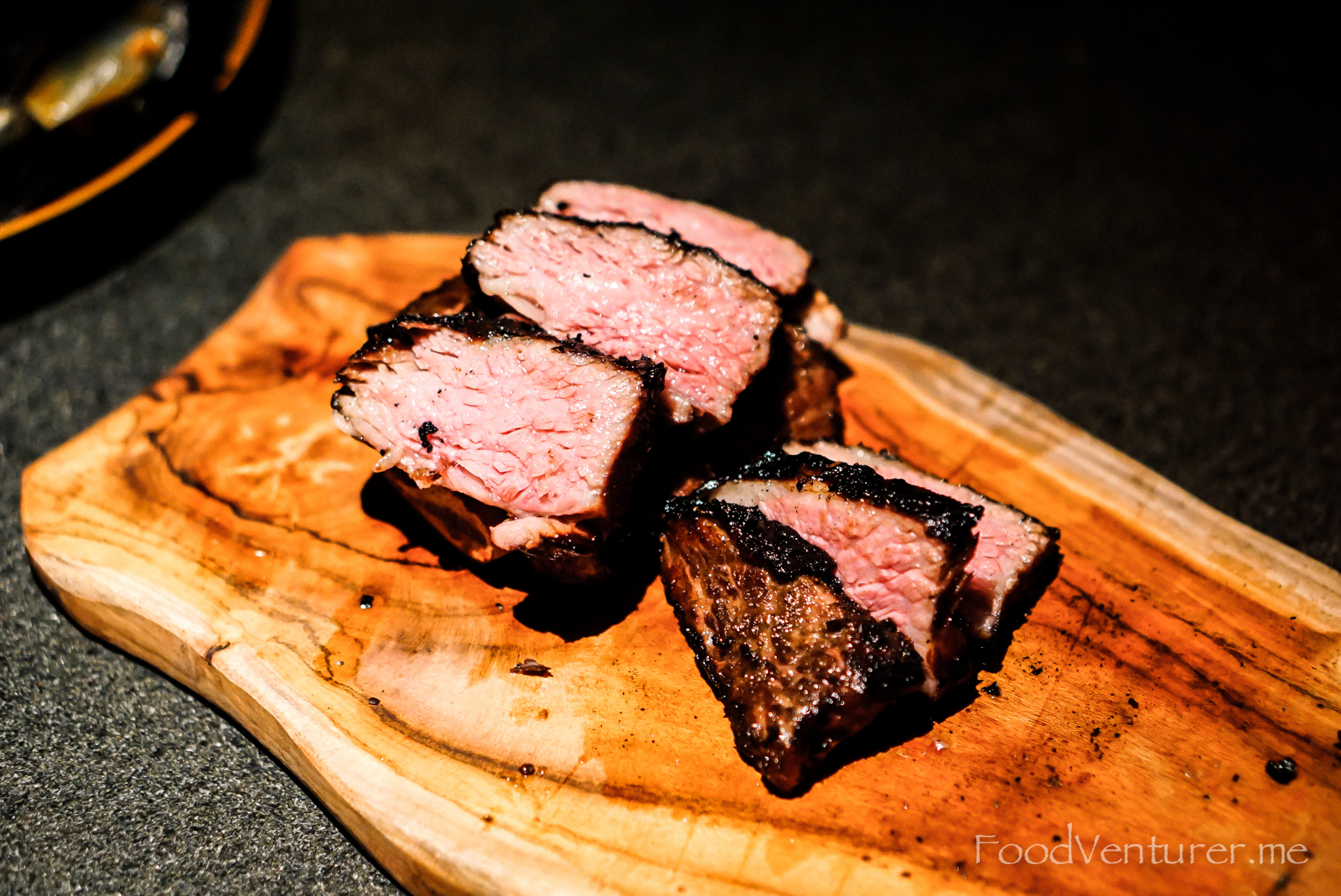 To cover a more down-to-earth meat, here is Wagyu 5+ Bone In Short Rib that has been slow-cooked for 20 hours.
IMHO, taste-wise, it could actually compete with the other meats above! It might actually be just me, but I felt that this Short Rib was almost as tender, and really good in its own way. The slow-cooking process makes it super tender and with a quick grilling process, the meat just absorbs the smokey note effortlessly. This is definitely a gorgeous option for a more economical alternative.
# Alaskan Halibut w/ ricotta, kaenip and sun-dried tomato relish (IDR 220k)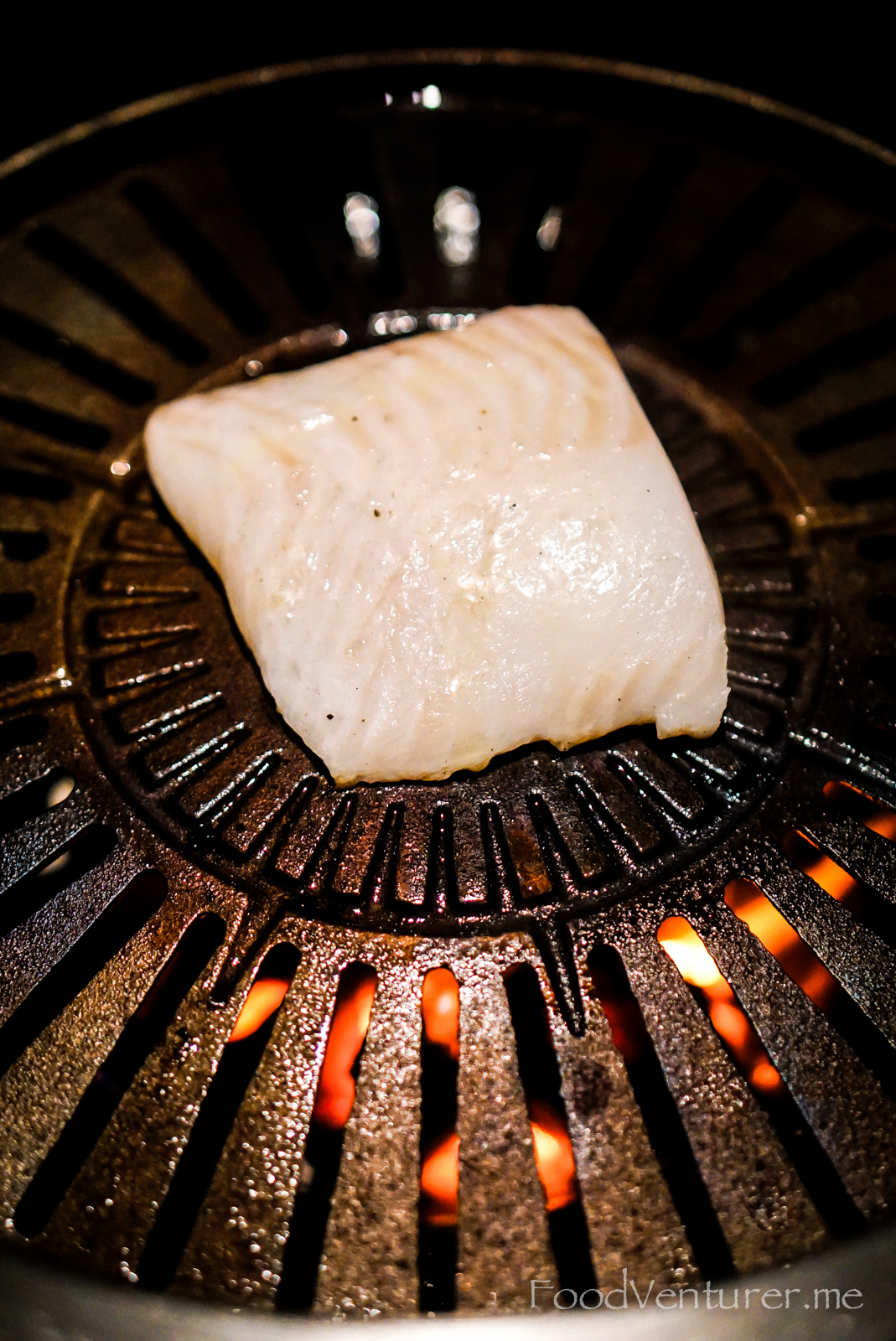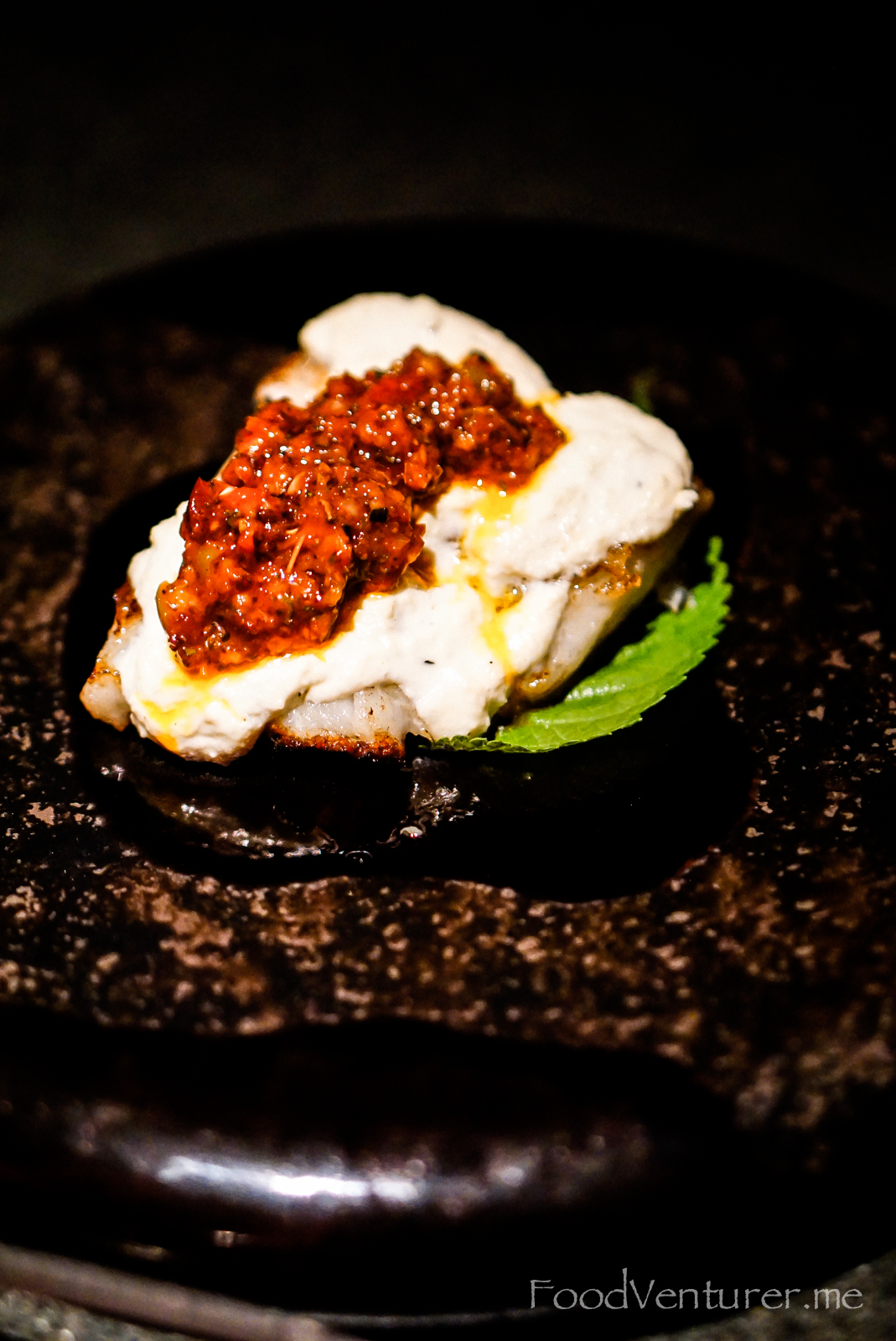 Even AB Steak has premium seafood options! This halibut was as delicious as it looks. The buttery texture and fragrant ricotta brought out the best of the halibut!
# Coconut Mochi Cake (IDR 65k)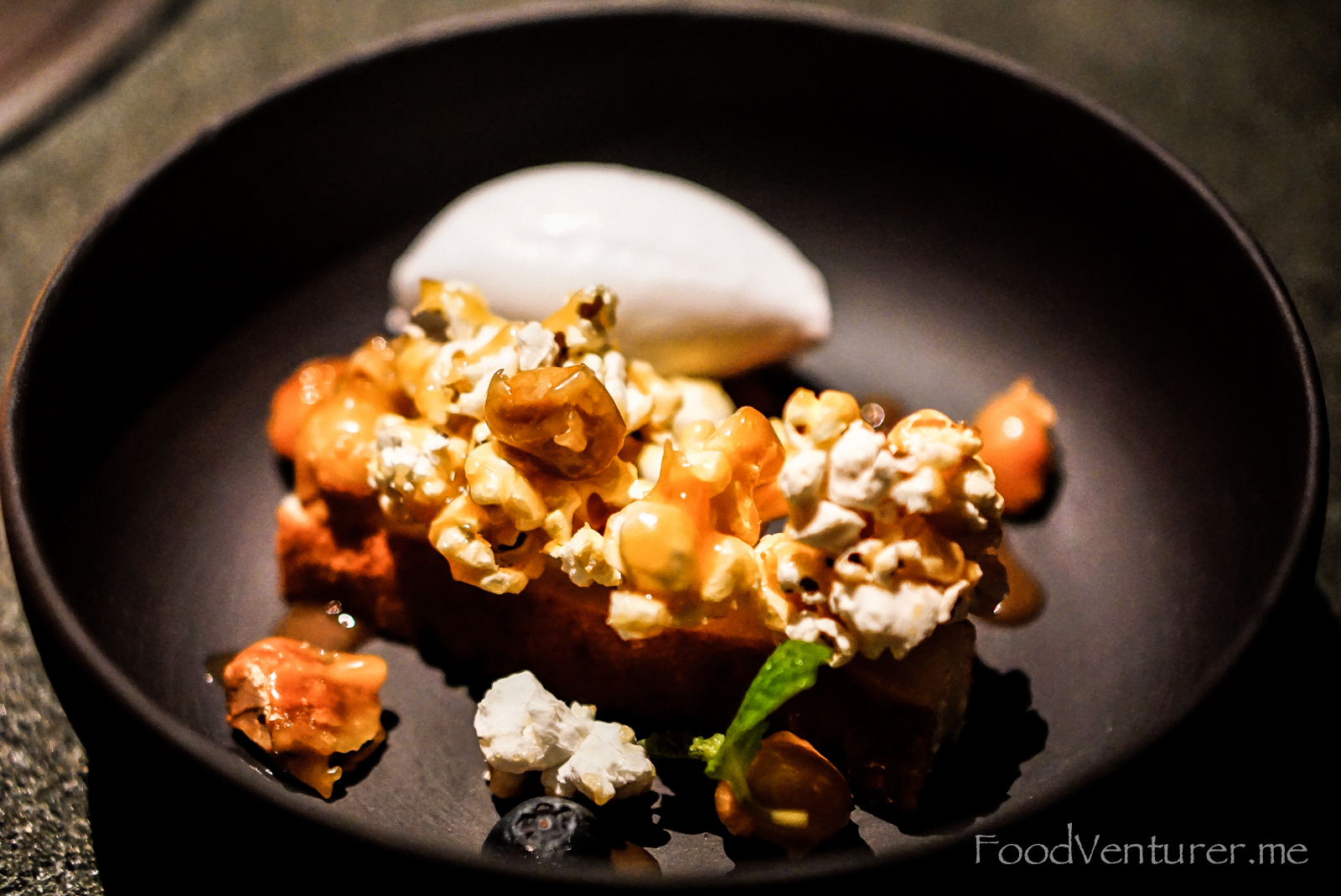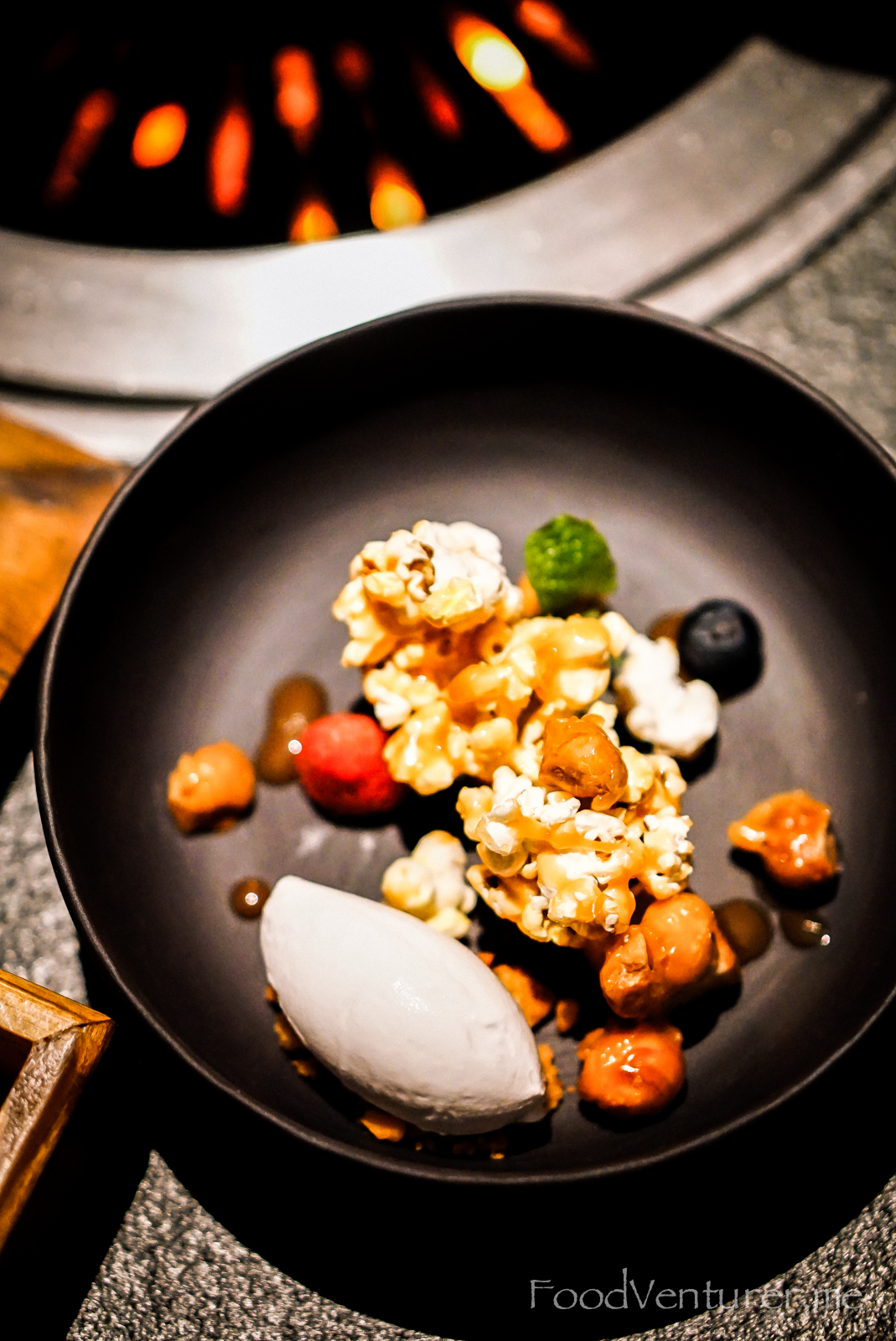 I was actually in a hurry that day, but I was extremely curious with the dessert! Then I waited and it just paid off. This was an exceptional dessert to close the whole lunch experience. The house-made butter mochi cake had a character with amazing chewy-ish texture. The salted caramel popcorn, macadamia and coconut sorbet really complemented the mochi cake so well, it just turned to a flavourful fest. Recommended!
My experience in AB STEAK By Chef Akira Back is so far, officially the best this year. From the start of stepping my foot inside the elegant room, meeting with the beautiful Ms. Astrid, meeting the uber-talented Chef Andri and tasting perfection from the start to finish. I could not even think of a single complaint, even if I really had to. I was just charmed. It's just like AB Steak knows how to spoil tastebuds.
At the moment, AB Steak By Chef Akira Back is only open for dinner. This is in order to maintain the quality of serving guests with detailed attentiveness. If you wish to visit AB Steak, reservation is strongly advised so that AB Steak can maximise their quality in serving you.
AB STEAK BY CHEF AKIRA BACK | JAKARTA
MD Place Mezzanine Level
Jl. Setia Budi Selatan No 7, South Jakarta, RT.5/RW.1, Setia Budi
Daerah Khusus Ibukota Jakarta 12910, Indonesia
Phone: +62 877-7227-8325
Instagram: @absteakjakarta
Website: www.absteakjakarta.com