About a year ago, I visited Seminyak Kitchen in Courtyard by Marriott and pretty much thrilled to have a lovely lunch there with Natasha and Je. This time around, I found my way back and apparently, they had a new establishment named Seminyak Meat Shop, focusing on best quality meats supplied by Stockyard, the infamous beef supplier from Australia. All the beef used here is Black Angus 200 days+ Grain Fed.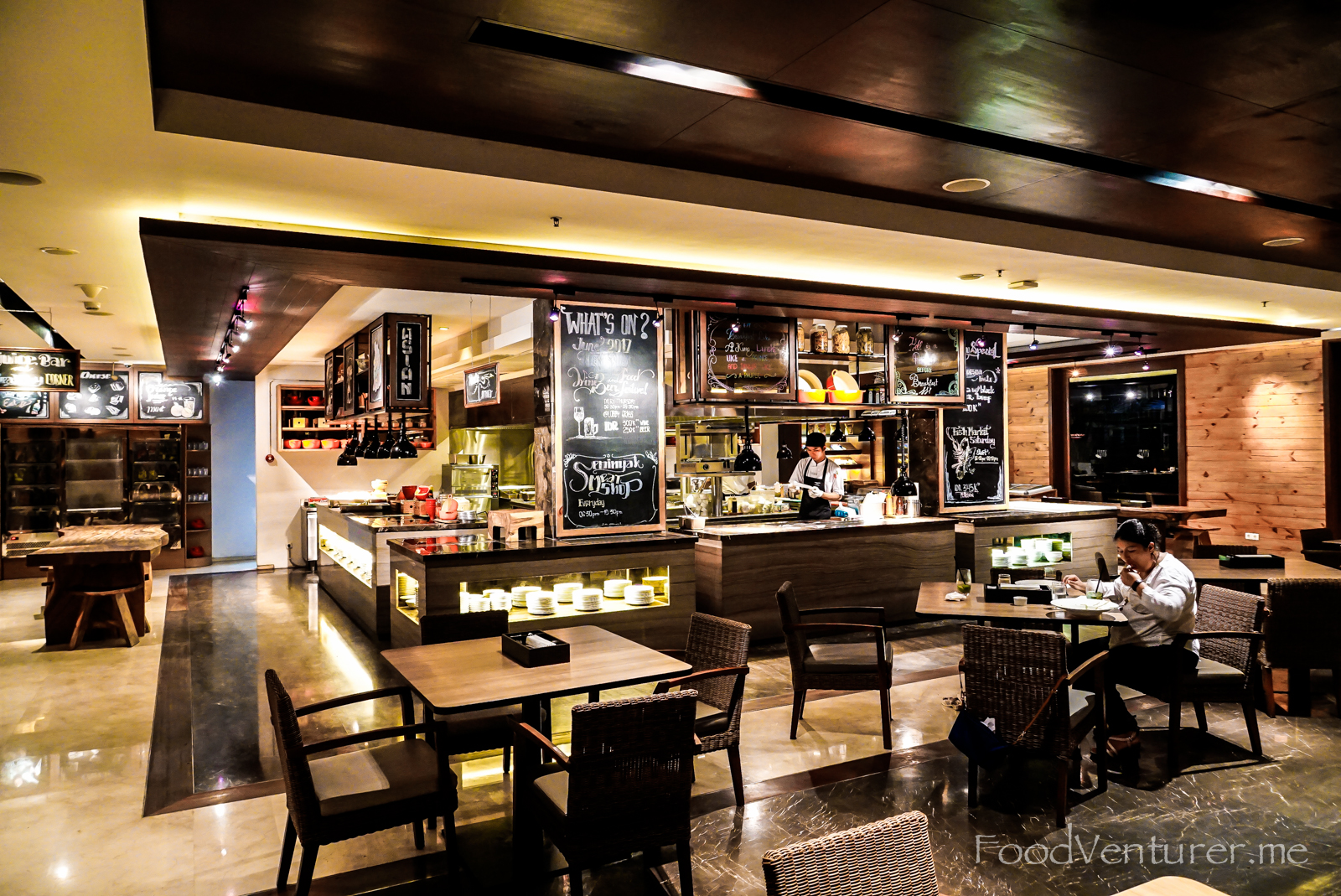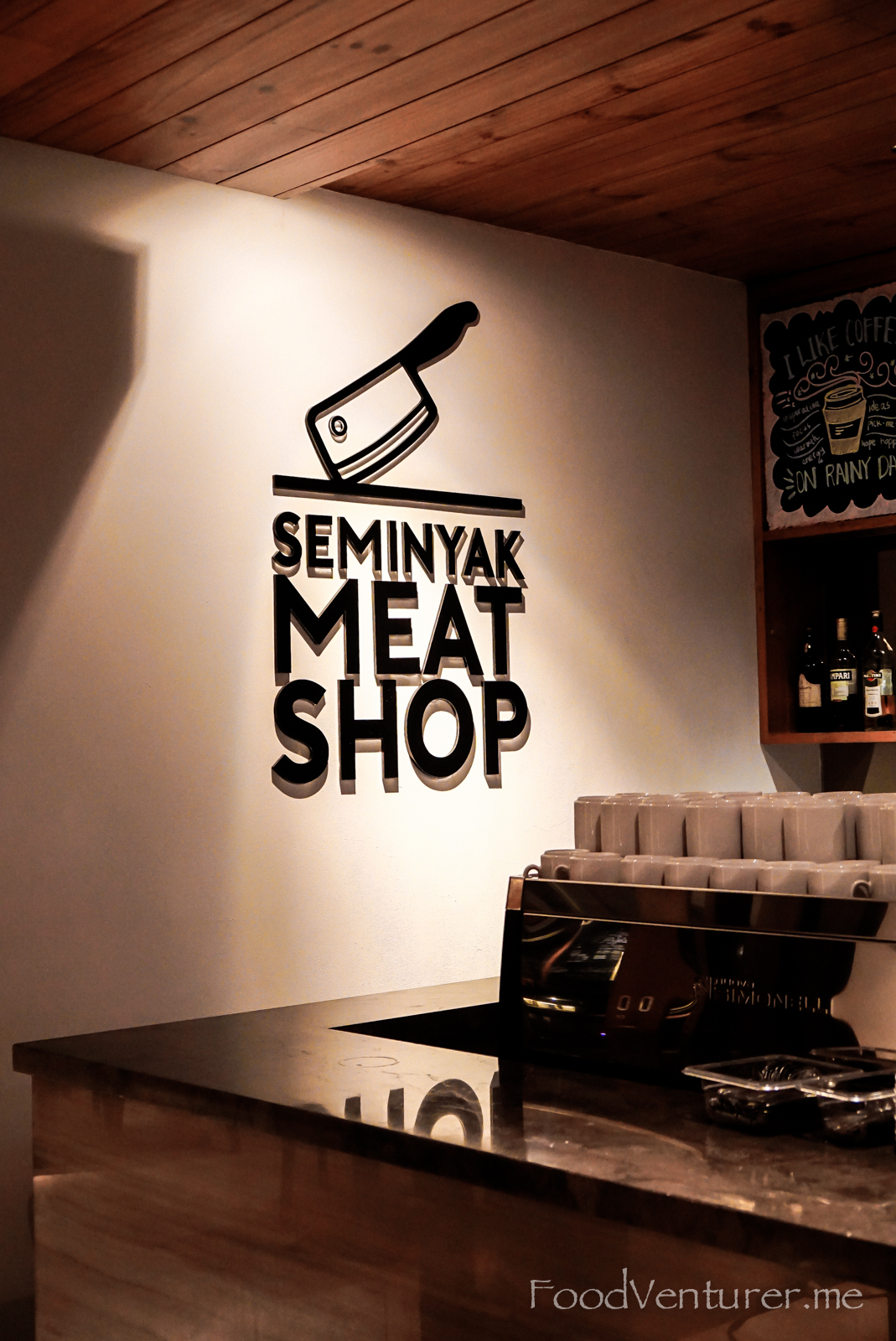 Seminyak Meat Shop (in short, SMS) offers a private dining experience, with a rather small space inside the Seminyak Kitchen and very limited seats up to 30 persons. SMS itself seems to be focusing more on patrons' intimate experience both with their heart-warming ambiance and food taste. It certainly seems very appropriate for a romantic dinner with spouse or family.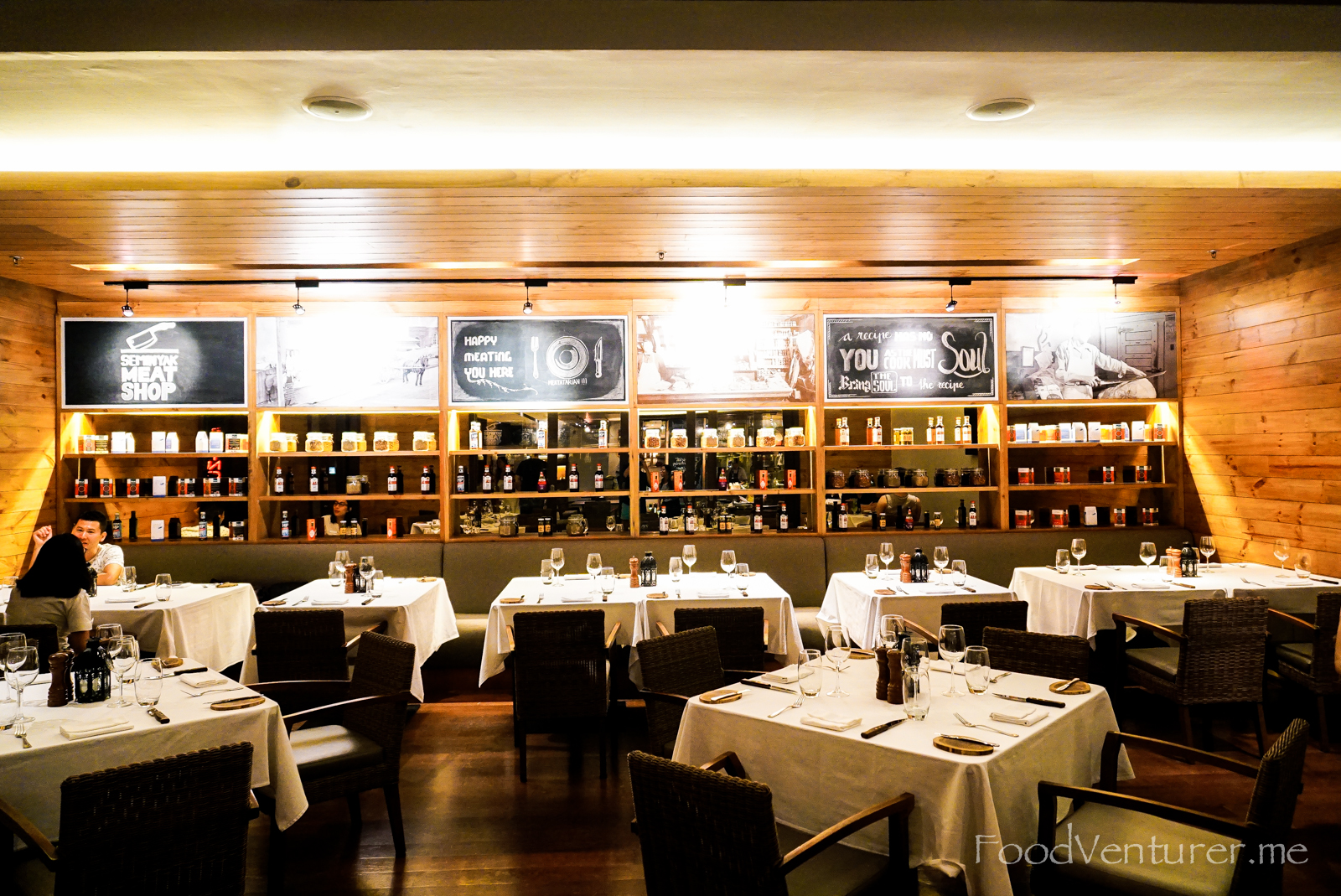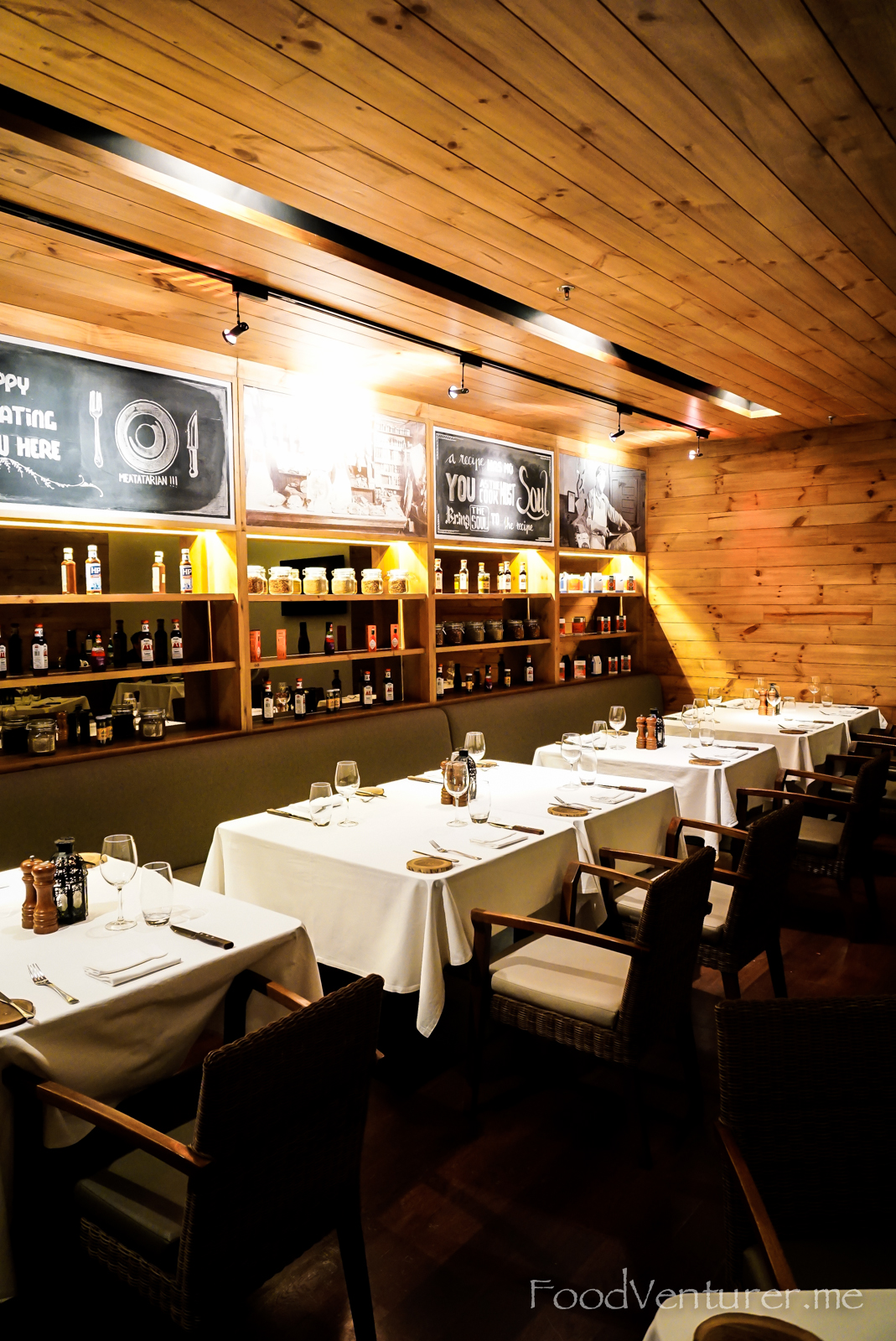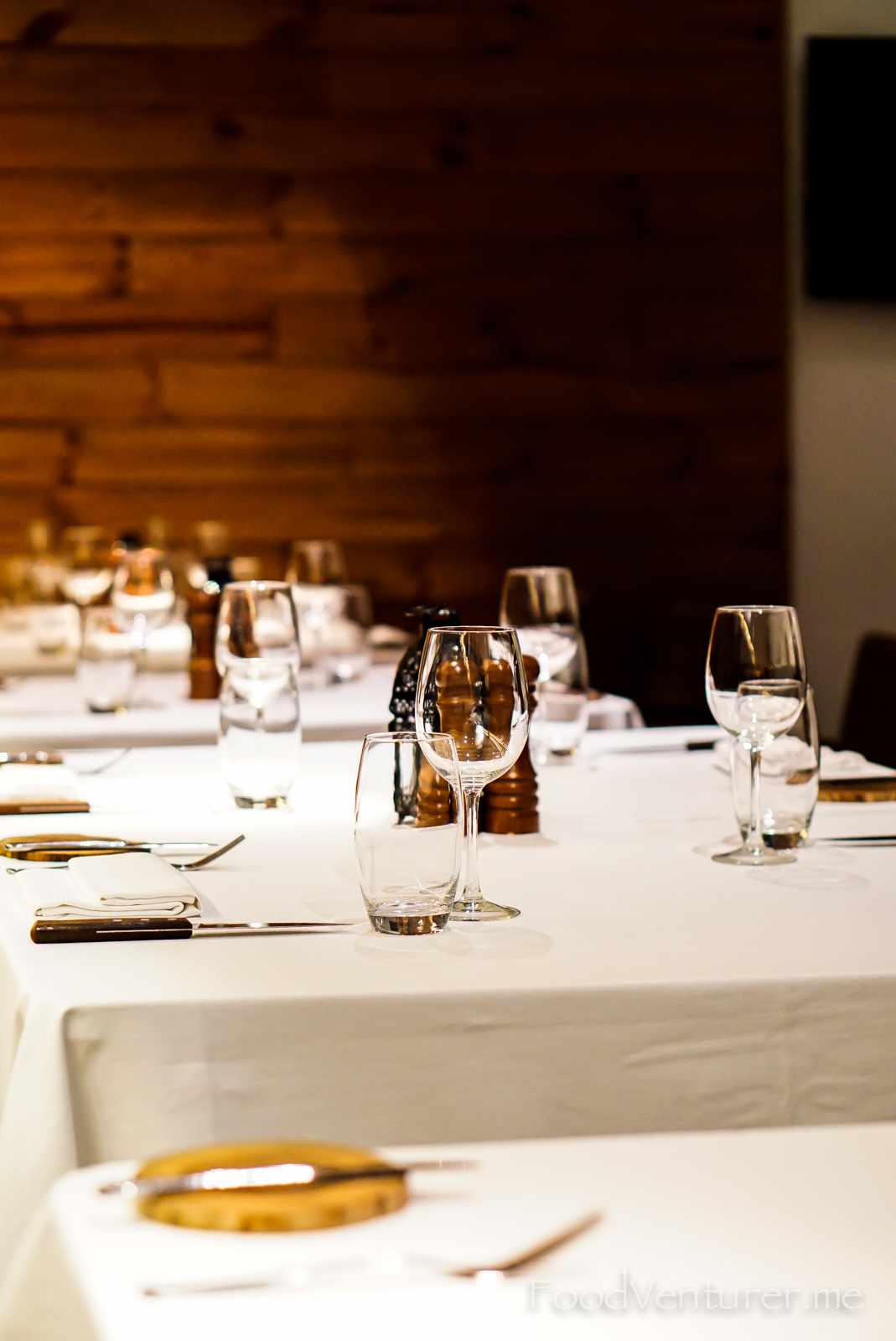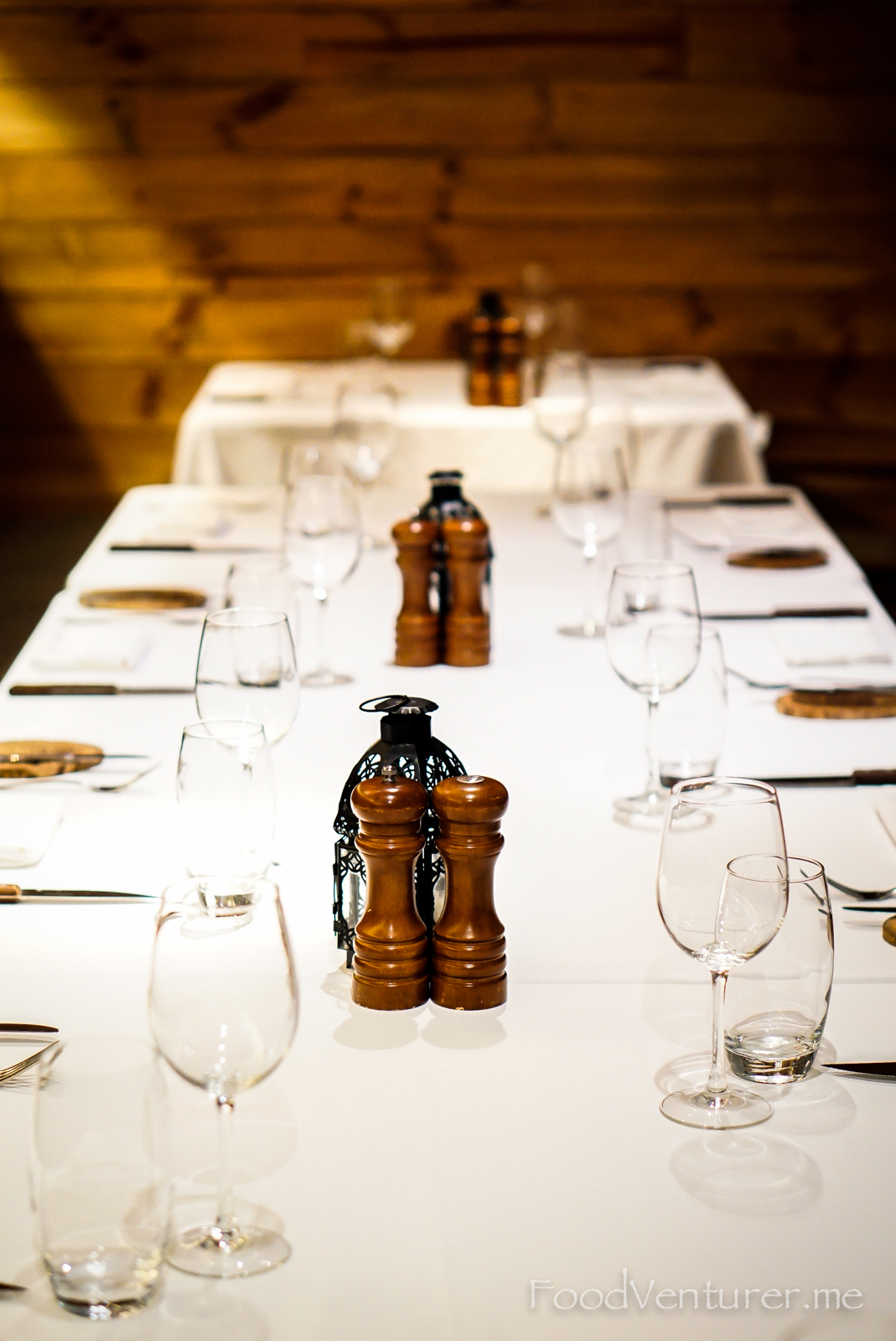 SMS opened its door for public earlier this year. Their menu choices are not many, ranging from Filet Mignon, Rib Eye Steak, Striploin, Lamb Cutlets and Roasted Baby Spring Chicken. Sound great, but nothing really special, right?
Wait till you eat those fine meats with Sambal Uleg, Green Chili Capers or Sambal Matah! You read right. SMS brings an Indonesian touch to the table and gosh, it was great, like surprisingly!
I had my dinner a portion of fine 300g Filet Mignon (IDR 385 k) (medium doneness) and I picked Sambal Uleg for the sauce. For a side, I had sauteed mushroom (extra IDR 45 k for any choice of side dishes).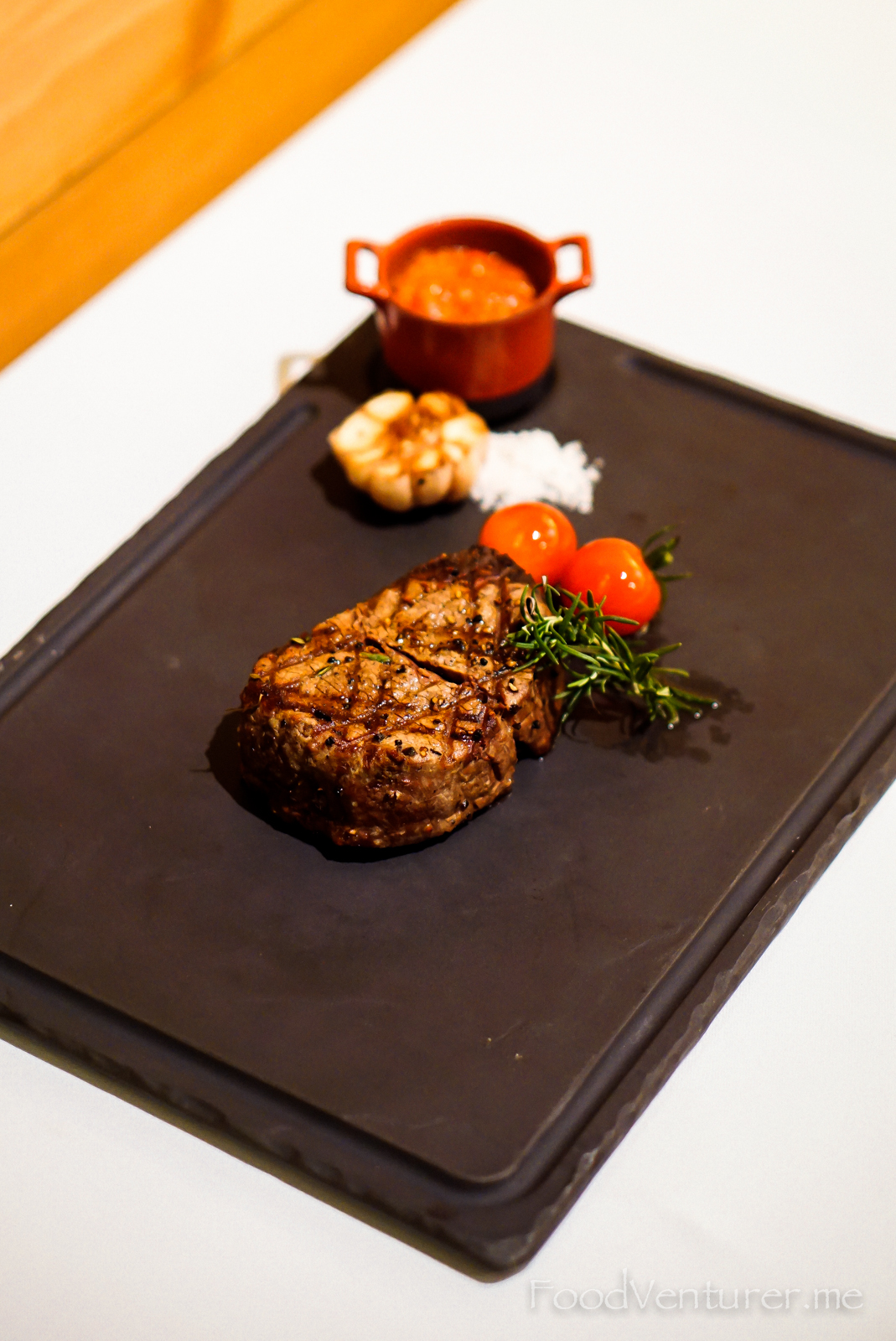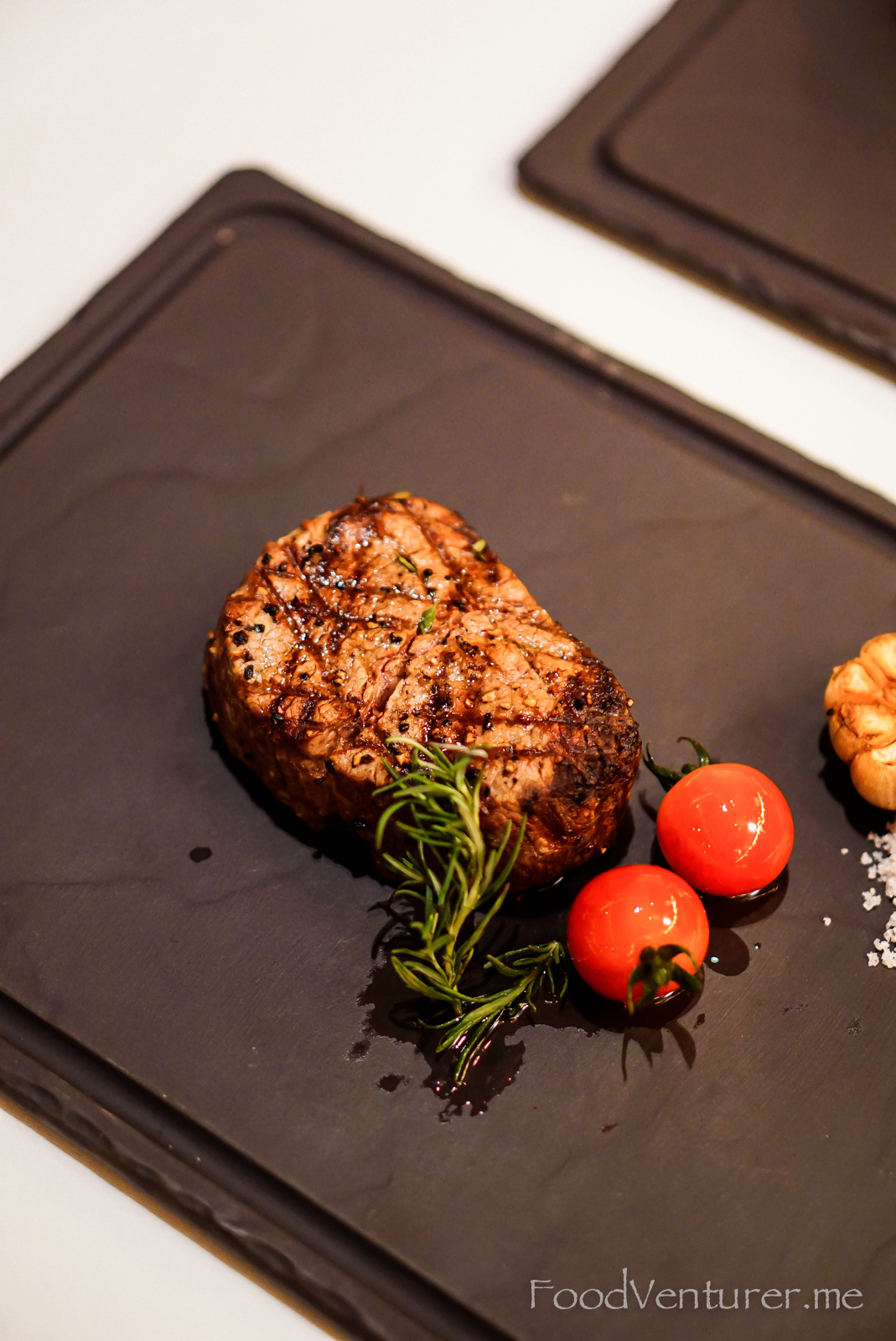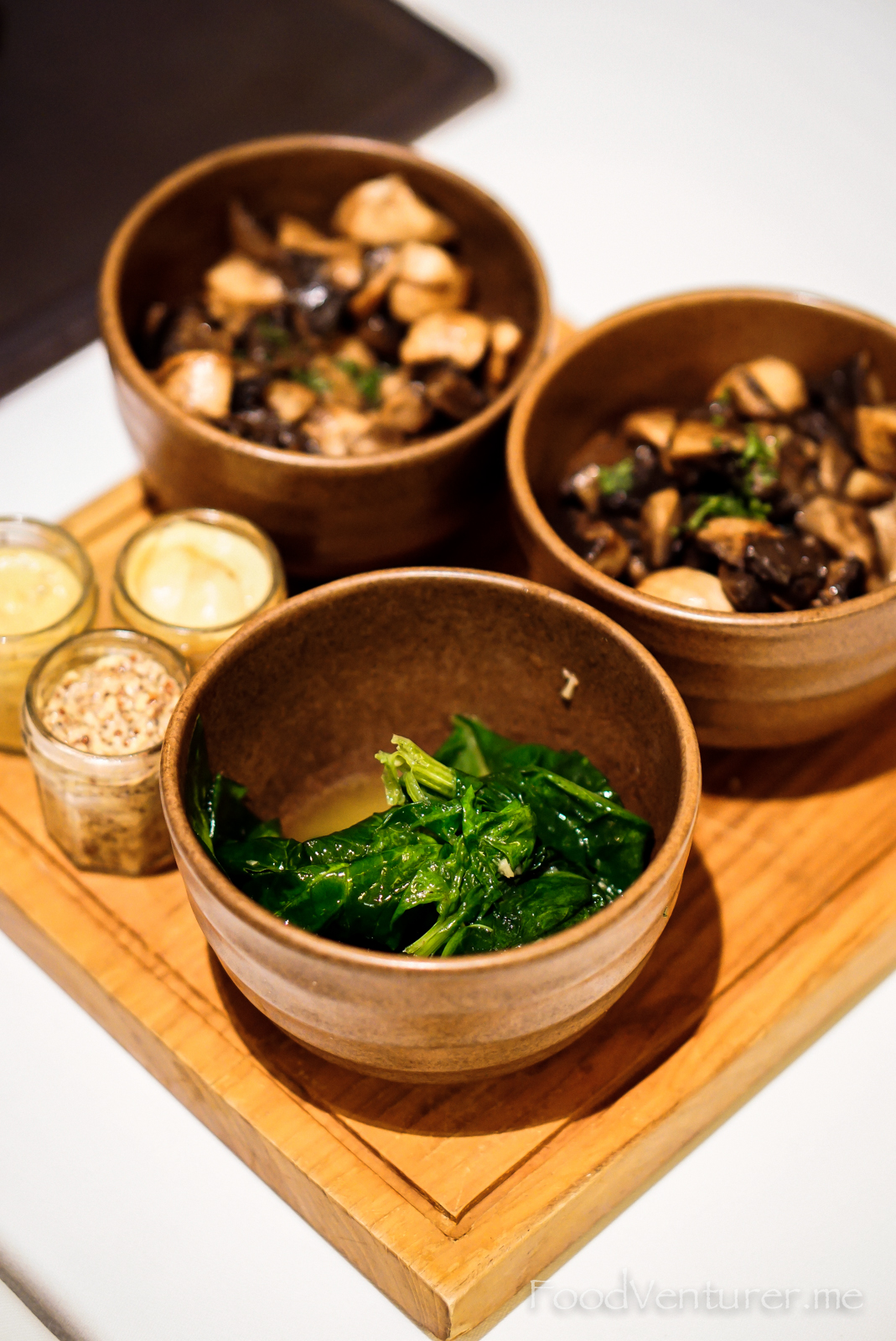 The Sambal Uleg and Filet Mignon turned out to be amazing. The filet mignon was a fine piece, and this I assured you. The doneness was perfect as requested, with a rather pinkish inside. The whole meat was juicy, very tender, and effortlessly good inside my mouth. Without the sauce, it actually tasted delicious already, but once I tried it with the Sambal Uleg (which is some kind of Indonesian-styled crushed chili), the whole perspective of eating the filet mignon changed. The blending of the spicy twist and filet mignon, worked like magic. It added a layer of complexity to a simple cuisine such as this.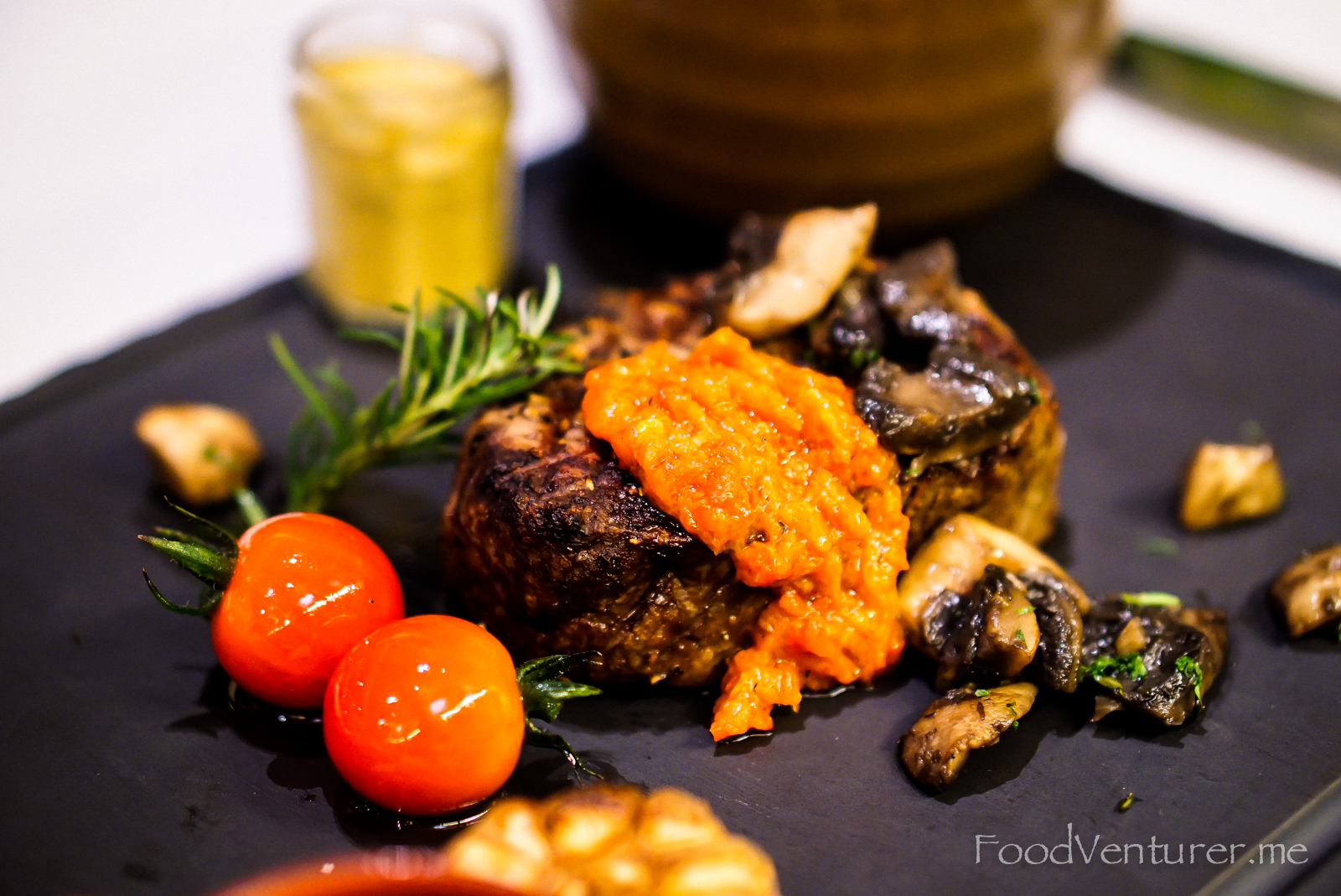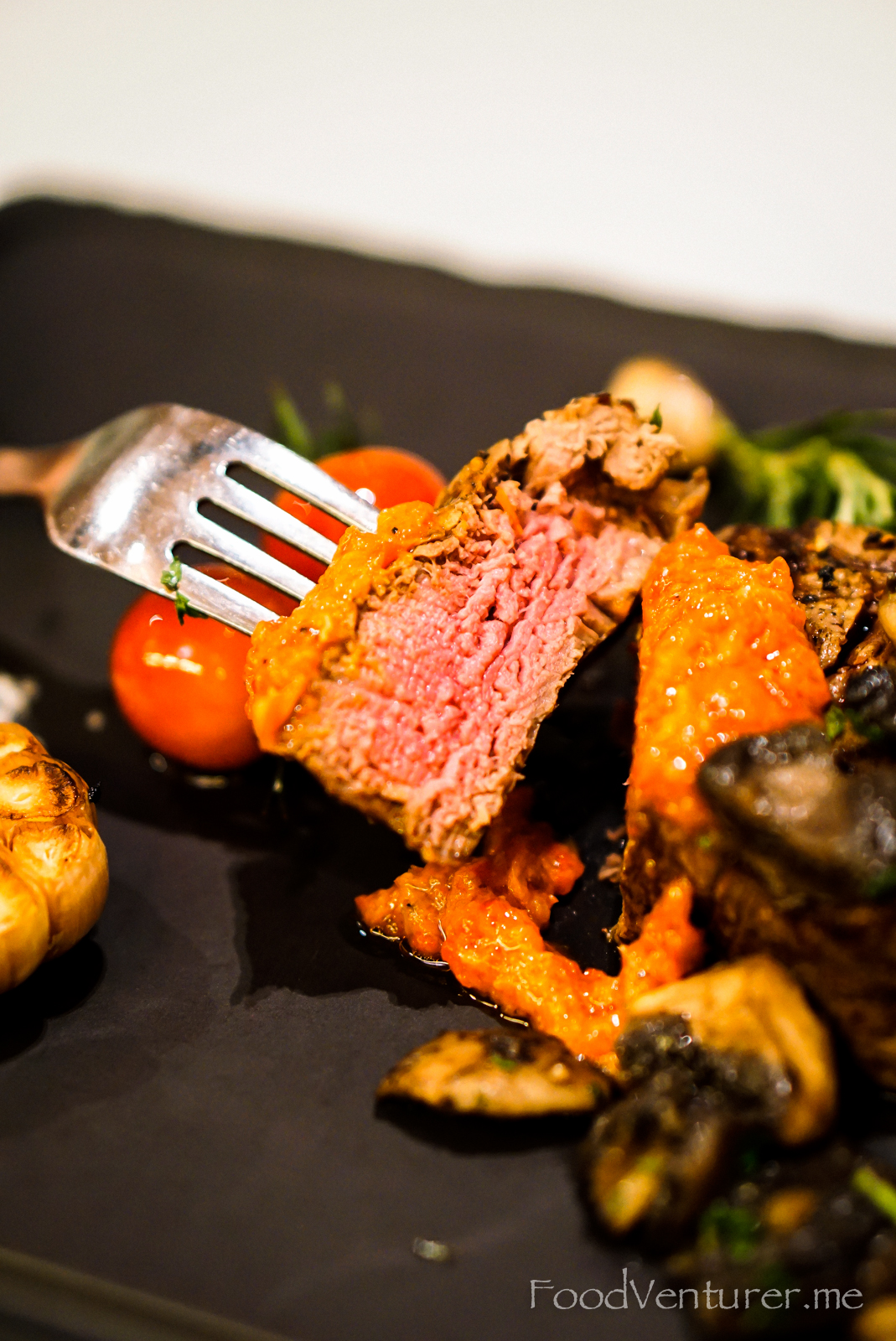 Well, lemme add that you can also pick the usual suspects such as black pepper and mushroom sauce, but trust me, sambal uleg is a much wiser choice here.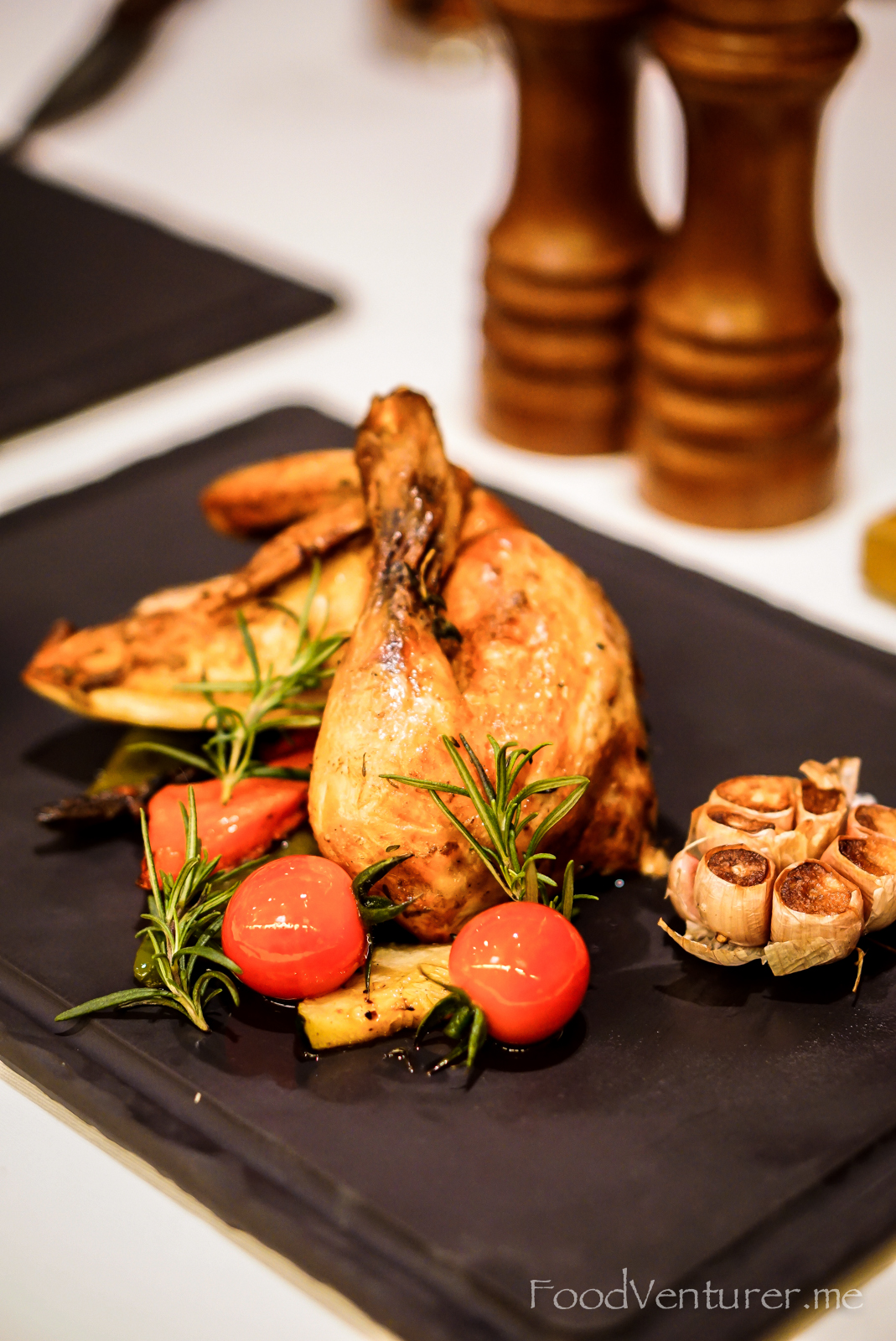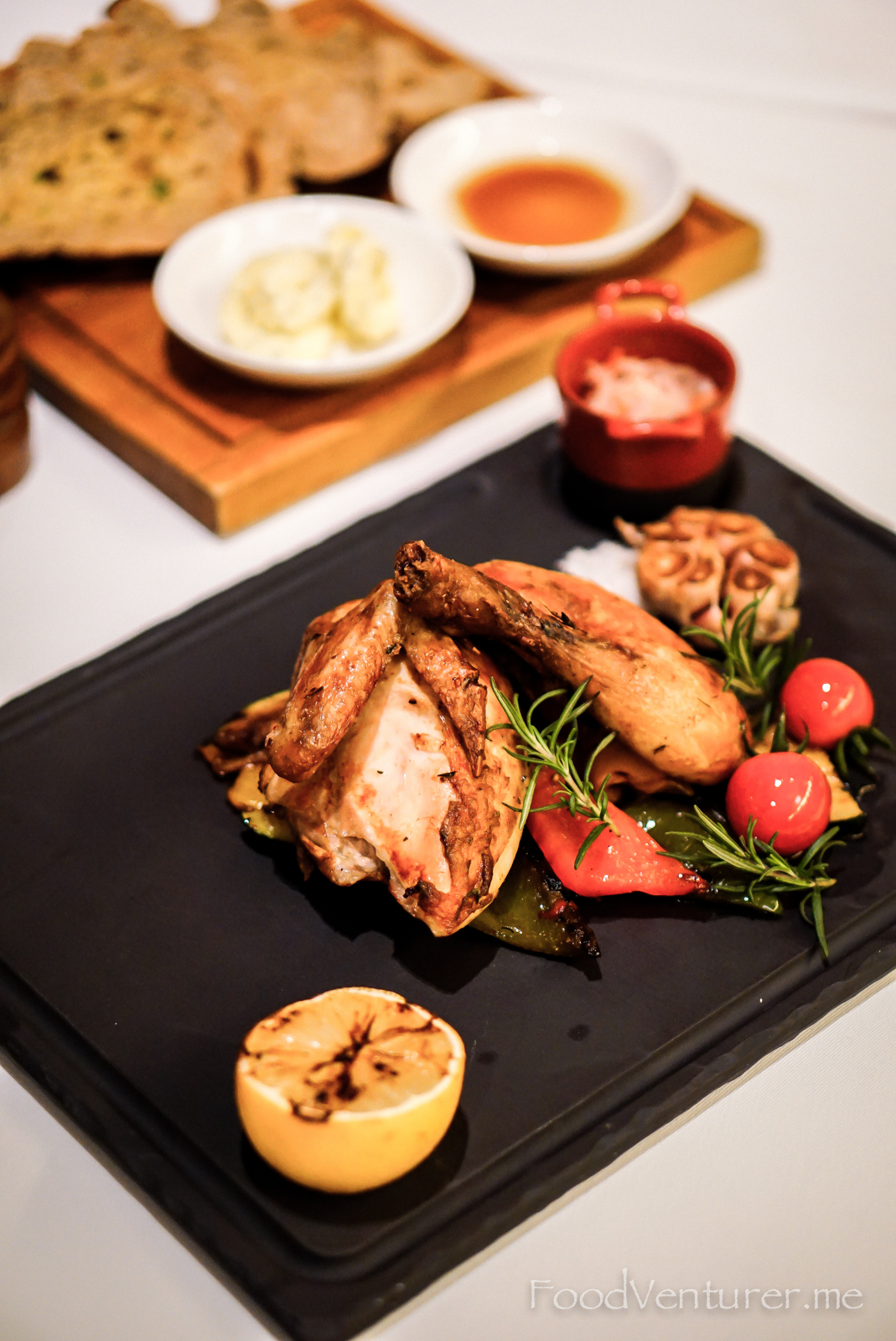 My partner had Roasted Baby Chicken with Sambal Matah (IDR 150 k). I did try it and it was good, but nothing extraordinary. The sambal matah was delicious nonetheless.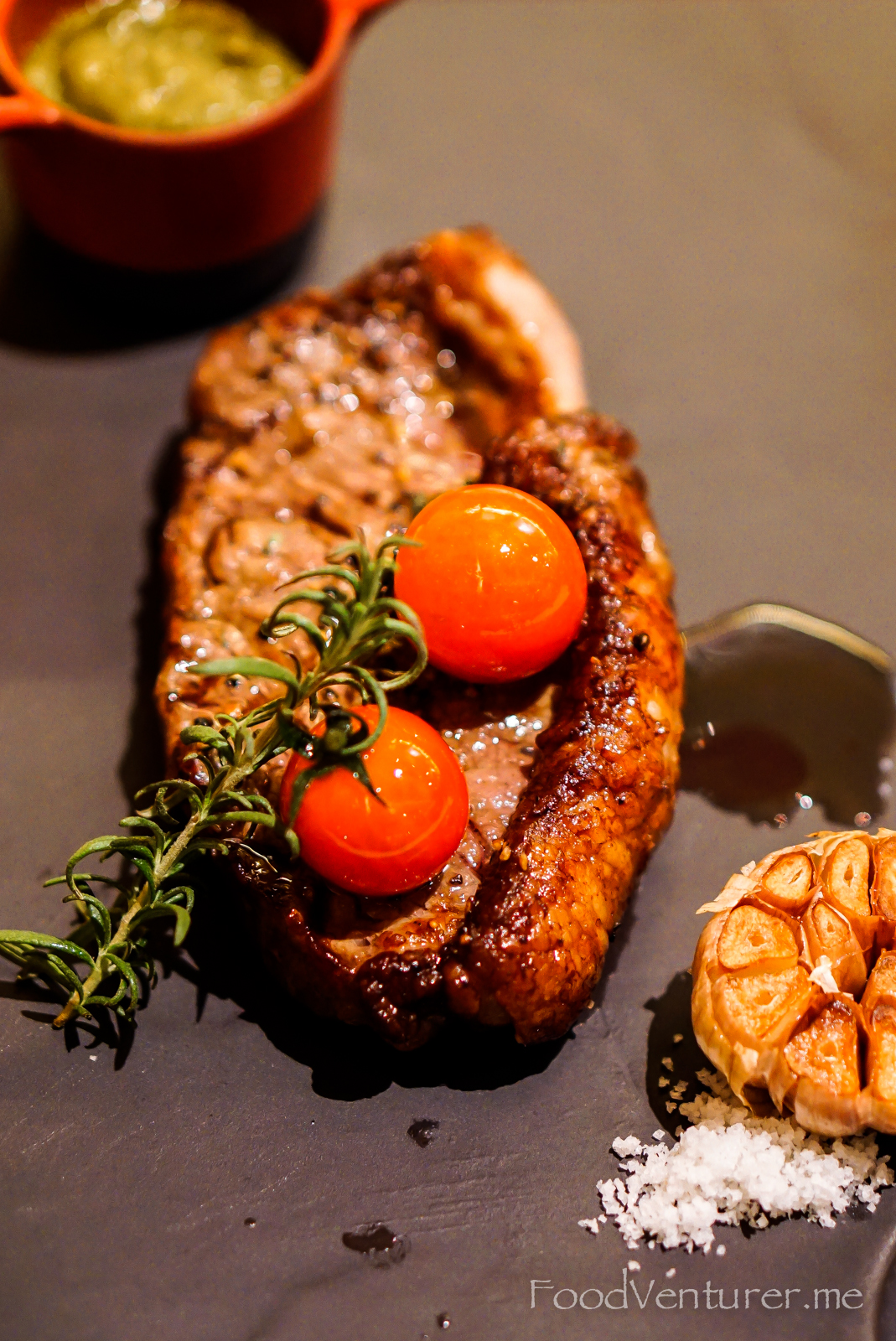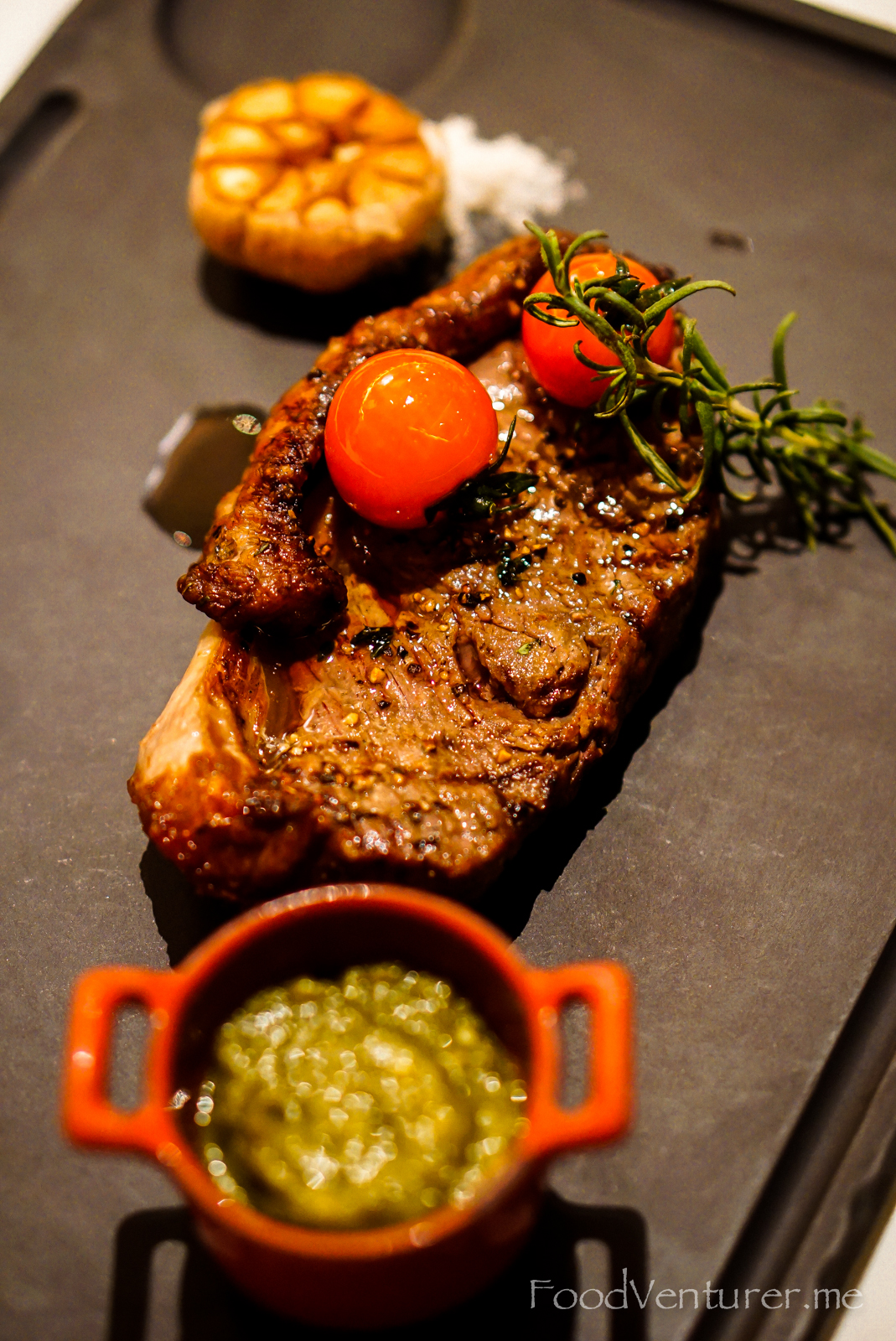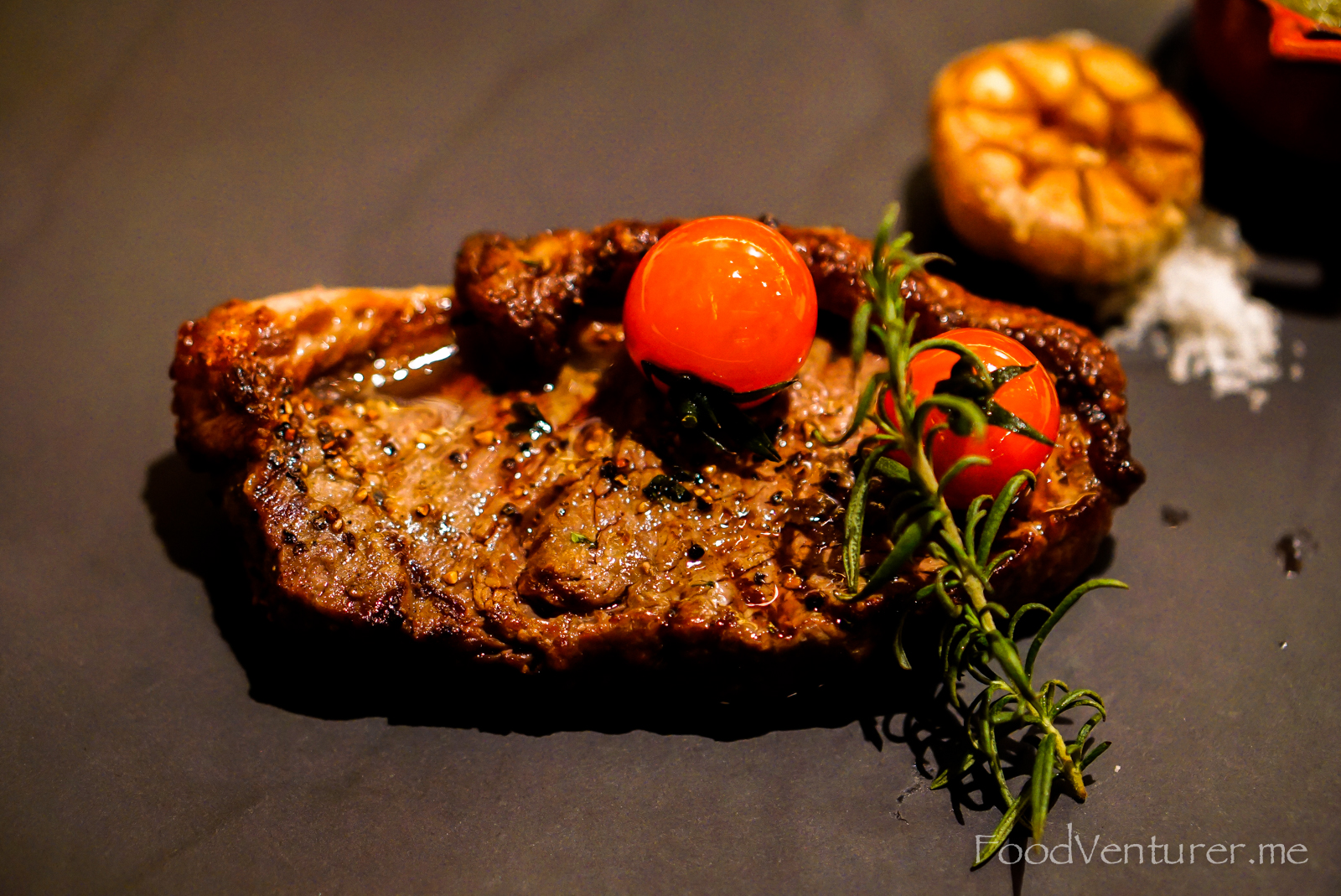 The Striploin Steak (IDR 270 k)looked good too, but I didn't try it. I tried the Green Chili Capers tho', which was refreshing with a fragrant note. I still loved the Sambal Uleg the most.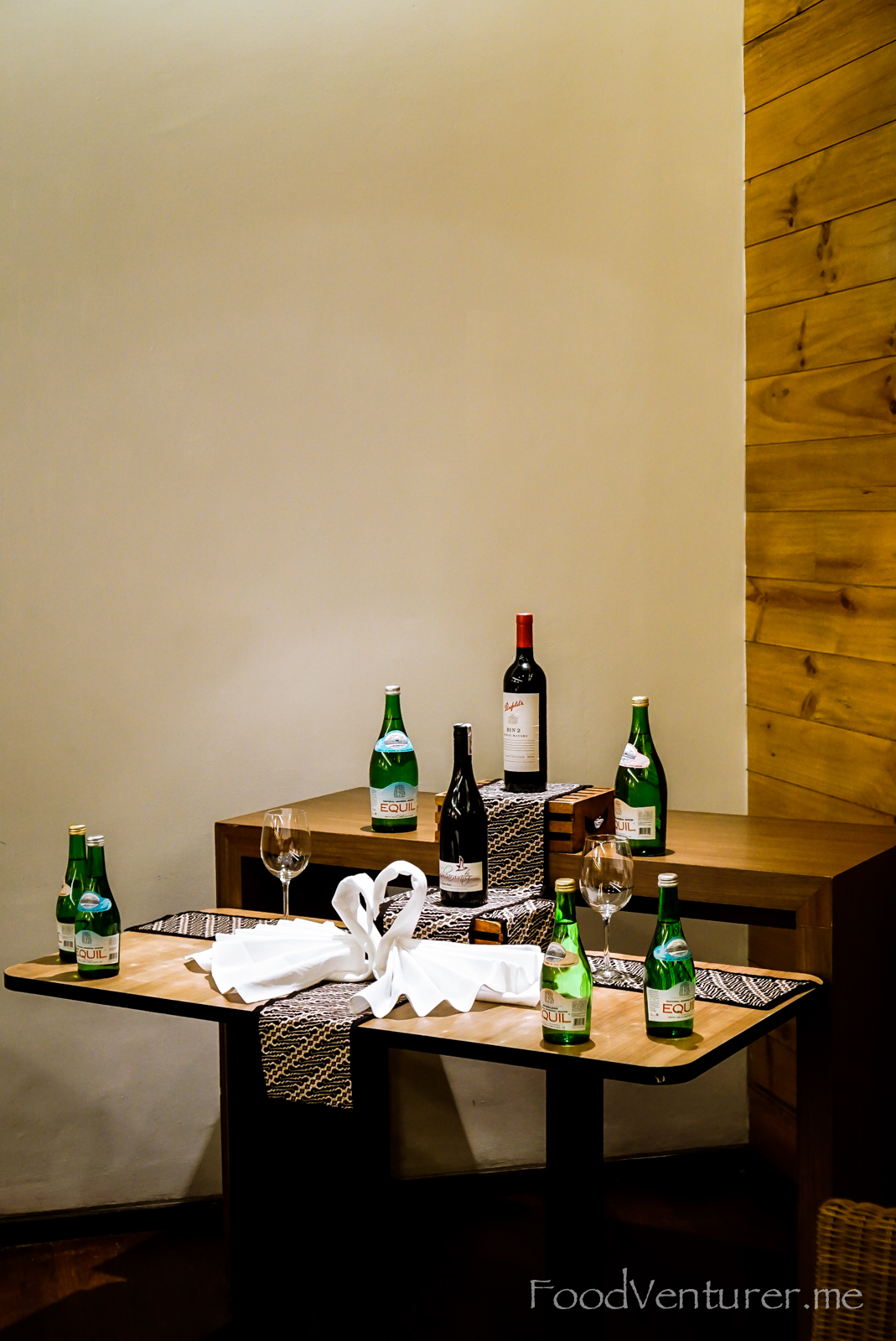 Well, what is a better way to enjoy this steaks? Some cocktails or wine?
Yep. But me, I can't drink, so I had a glass of mocktail, Seminyak Jam (IDR 50 k), a combination of Mango Syrup, Lime Wedges, Orange Energy Drink, Mint Leaves, and Lemon Lime Soda. Certainly tasted refreshing and sort of like a tropical version Mojito with bright sparkling sensation.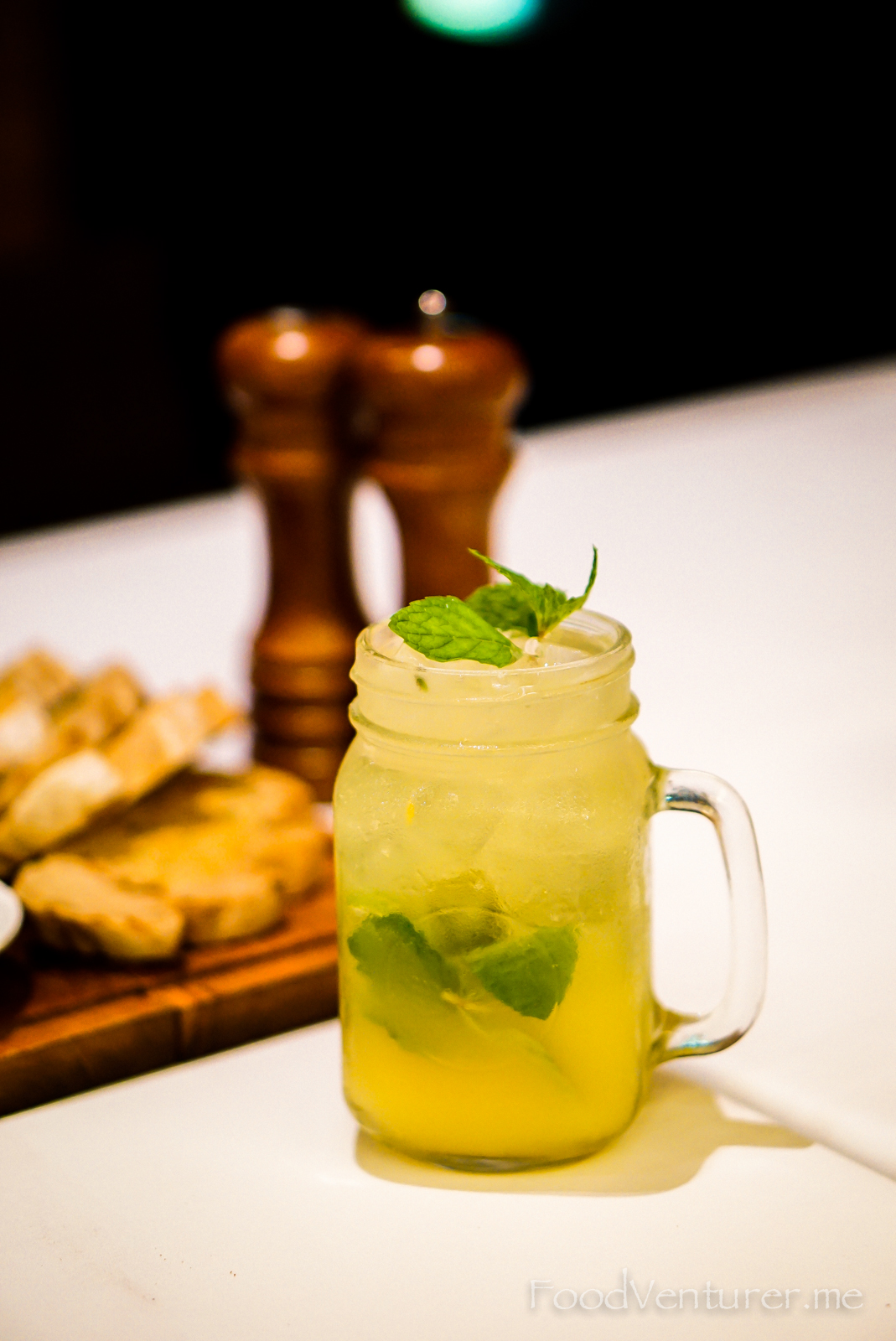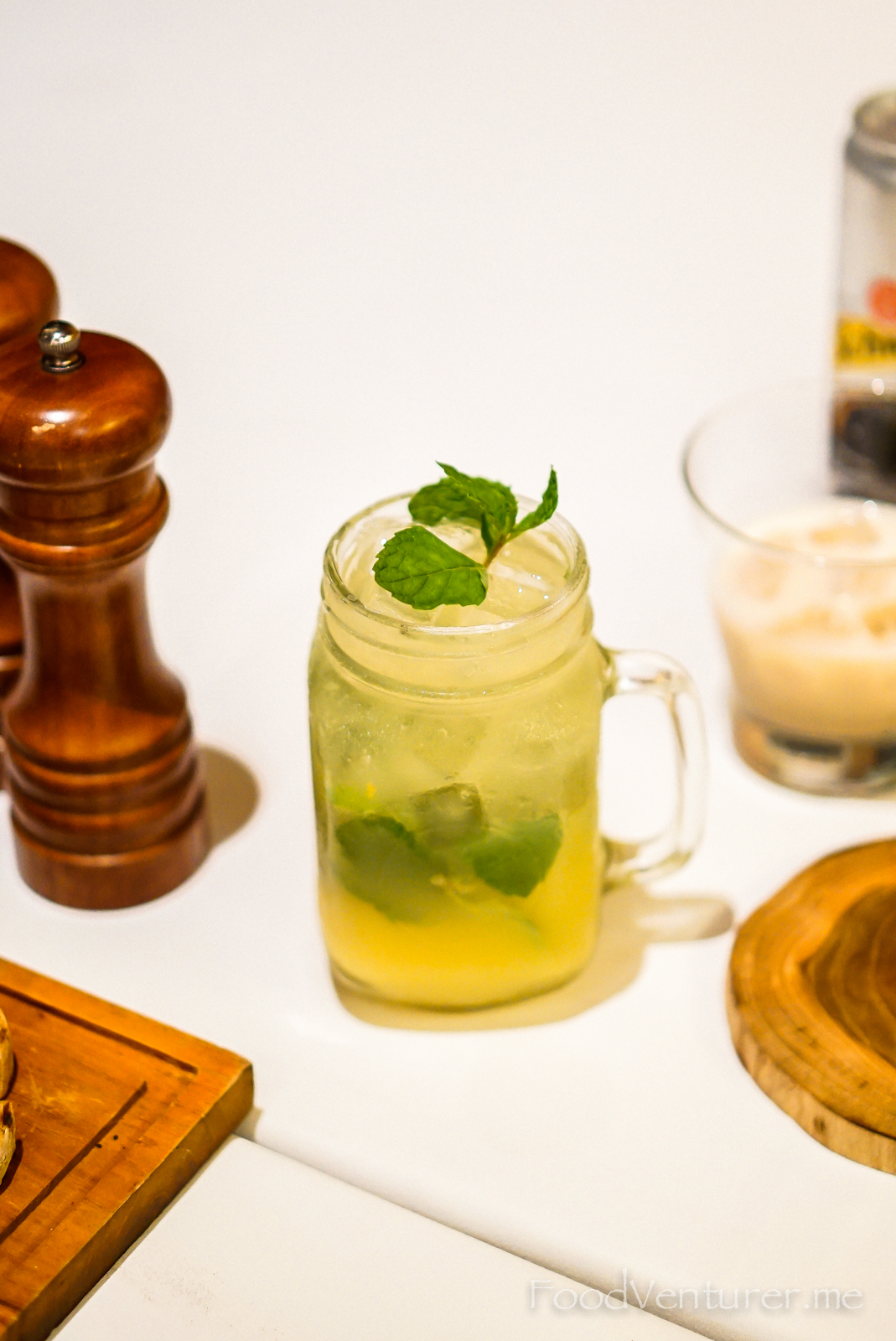 My partner had a mix of Baileys and Soda. He said it was great, very light and milky.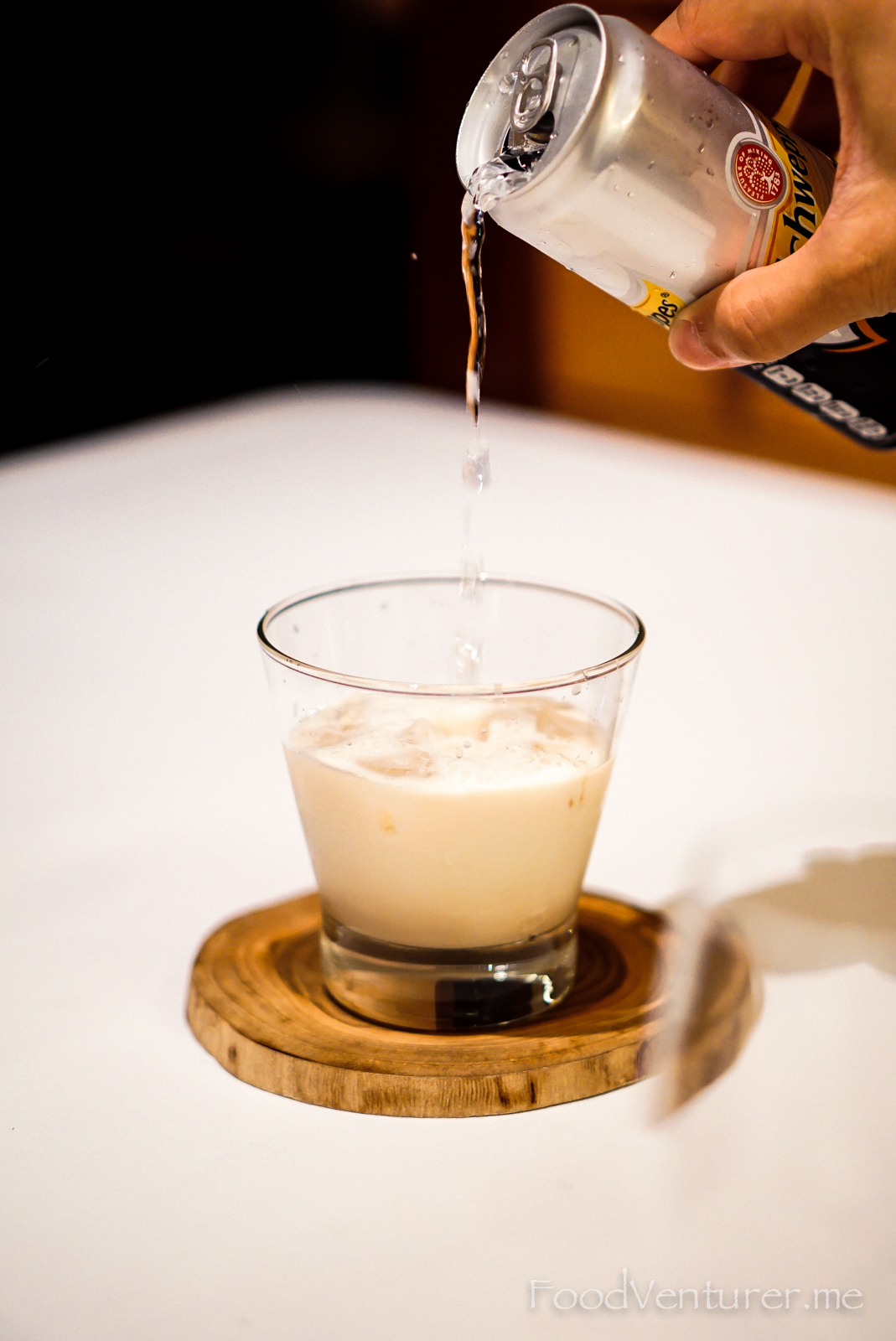 Here was the complimentary breads.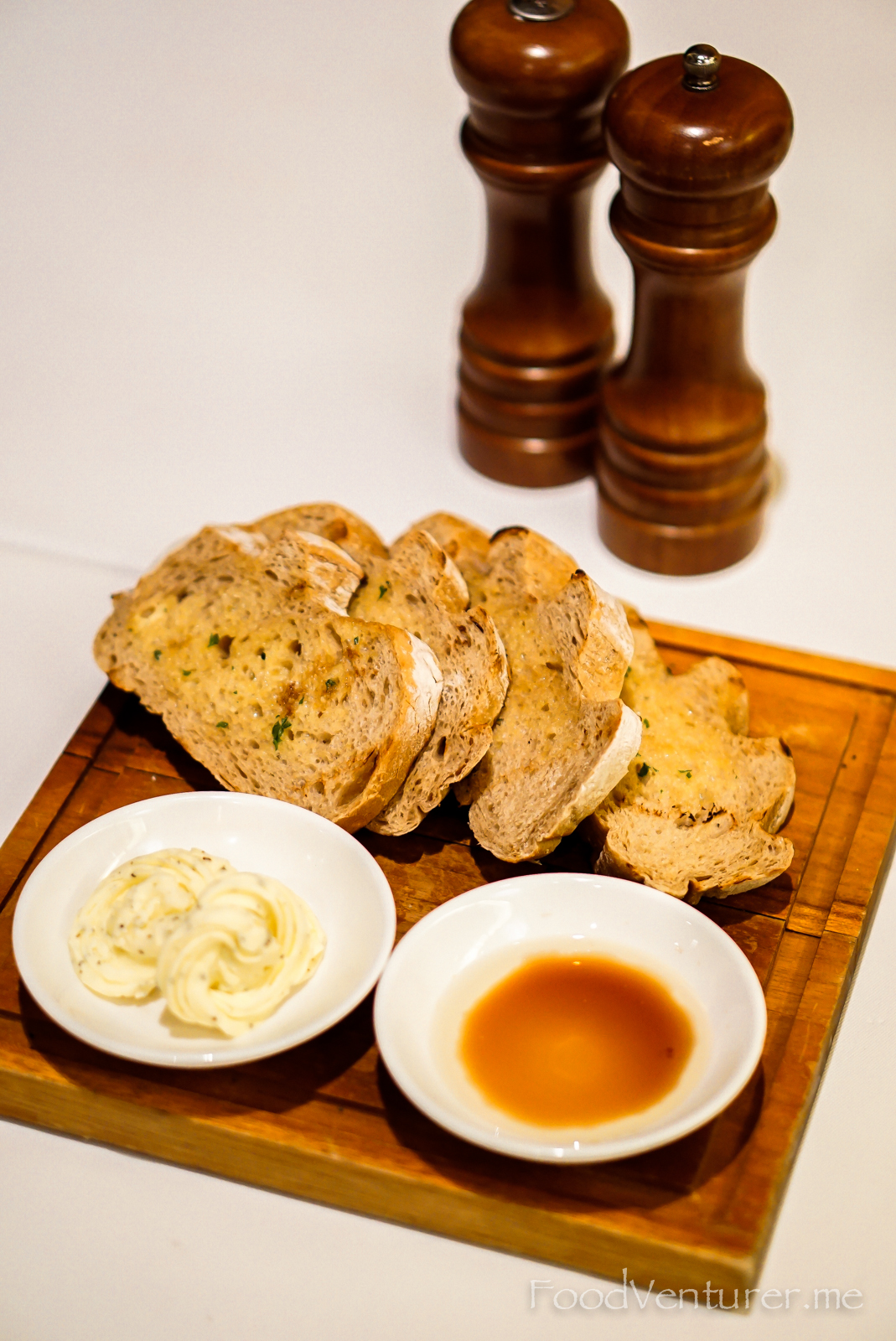 The experience dining in at Seminyak Meat Shop was lovely. Especially with the company of Ms. Synthia, we talked much about almost everything, especially how nice Bali had been to us for the past 10 days. I am glad we went here to Seminyak Meat Shop and urge you to do the same.
Recommendations: Filet Mignon/Striploin (striploin usually has more fat content) and Seminyak Jam.
PS. Anyway, before coming here, I was in Discovery Beach waiting for the sunset. It'd been days of cloudy weather and on that day, I got to see one of the most stunning views during the trip. This is it.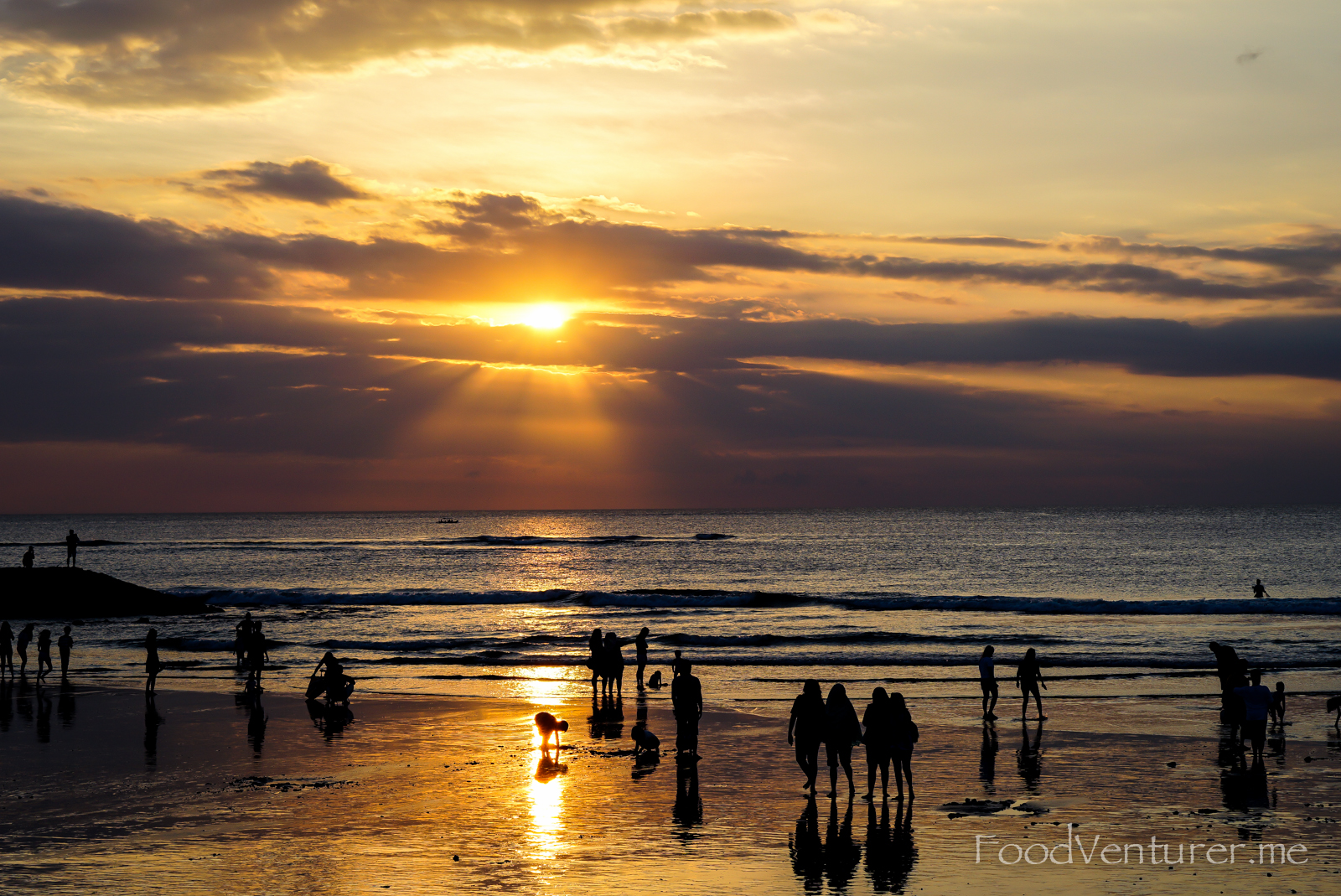 And I can't help but post a beautiful thematic BBQ dinner that Seminyak Kitchen held on certain days. Details for this kind of events can be inquired directly to Seminyak Kitchen or Courtyard Seminyak.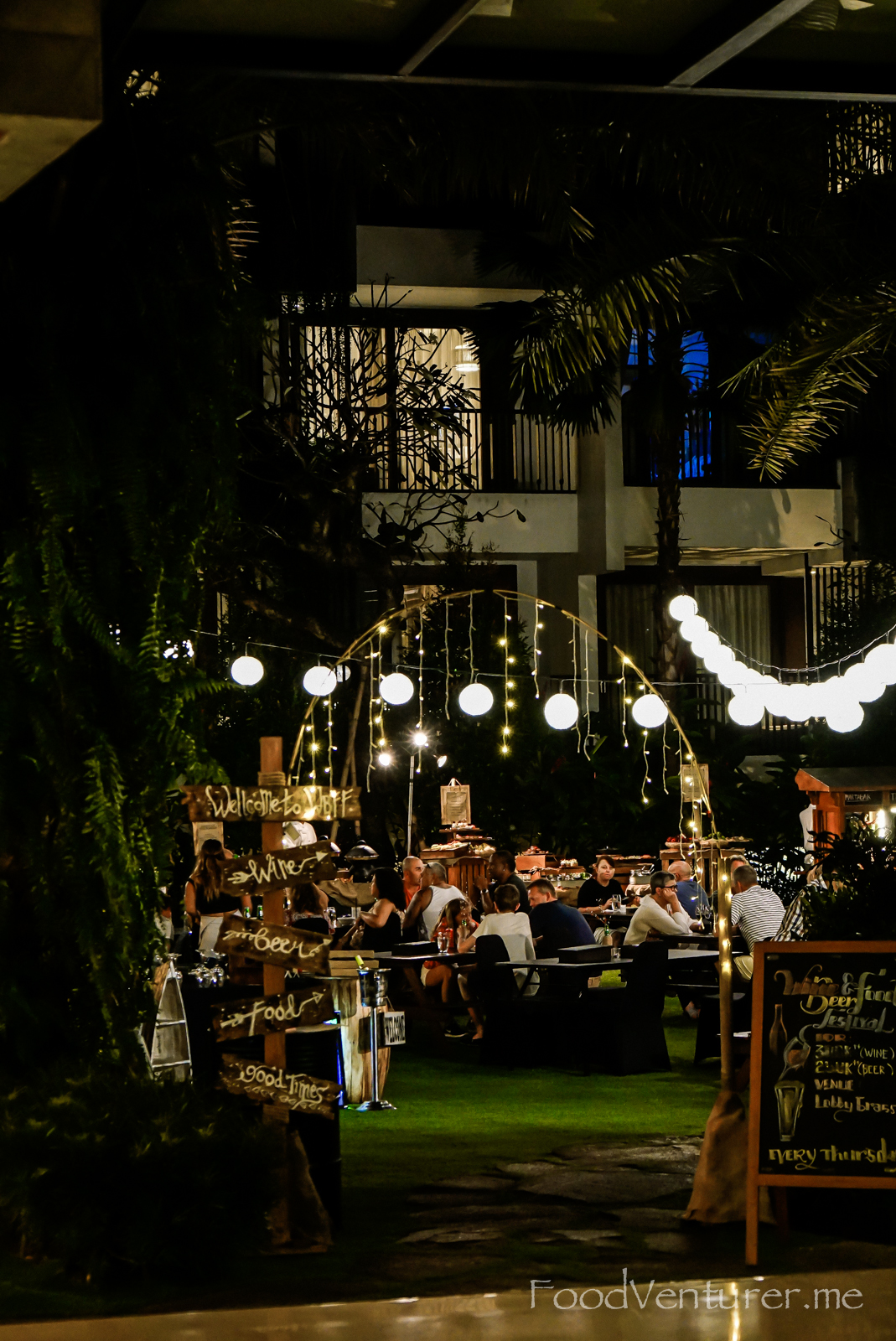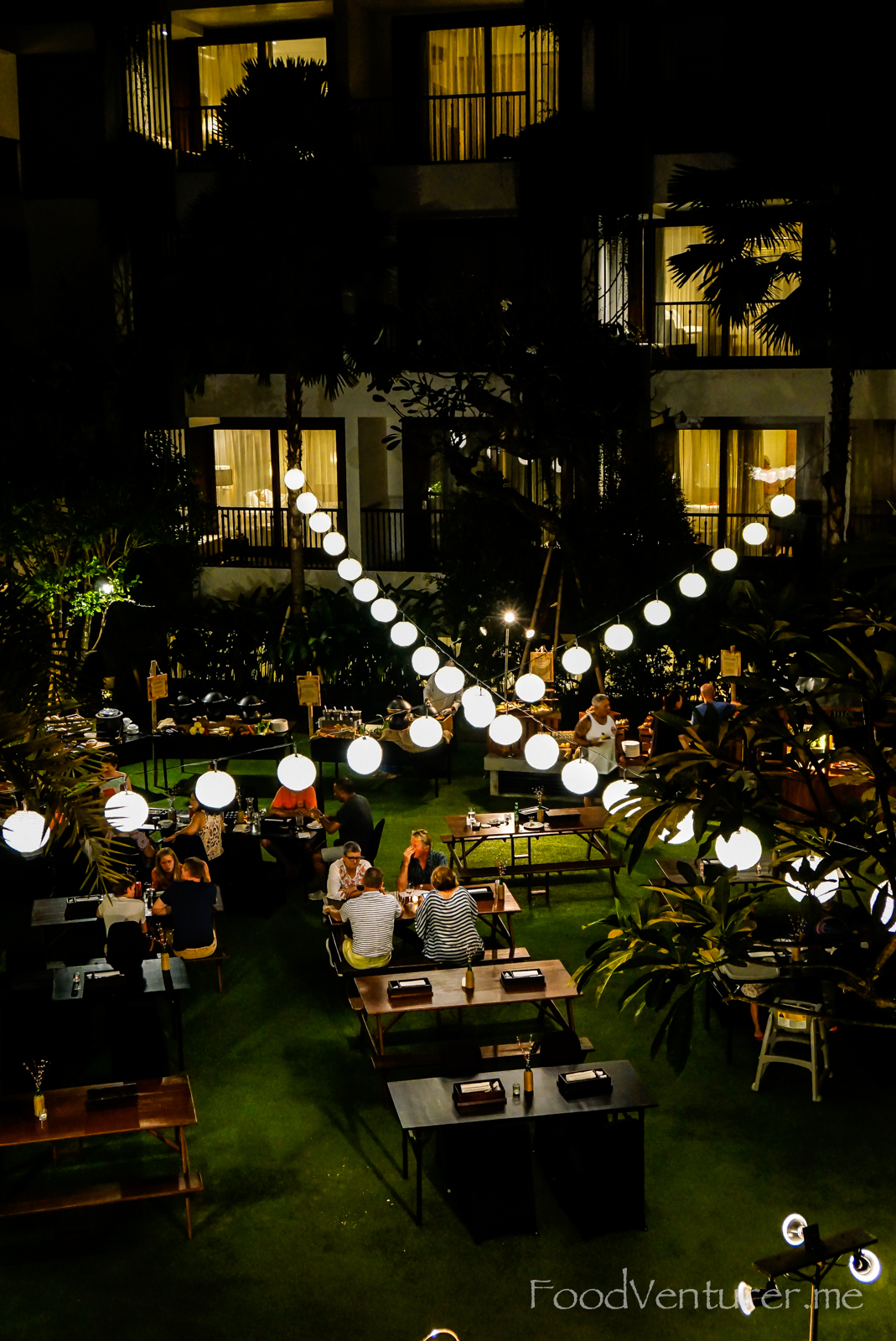 SEMINYAK MEAT SHOP | BALI
Courtyard by Marriott Bali
Jalan Camplung Tanduk No 103 SP, Dhyana Pura, Seminyak, Kuta, Seminyak, Bali
Phone: +62361-8499600 ext.1961
Website: http://www.marriott.com/
Instagram: @courtyardseminyak