On my last day in Bali, I made a lunch visit to Spice By Chris Salans which was freshly opened in Seminyak area. I am glad that our hotel was so close to the restaurant, we could easily walk there by foot.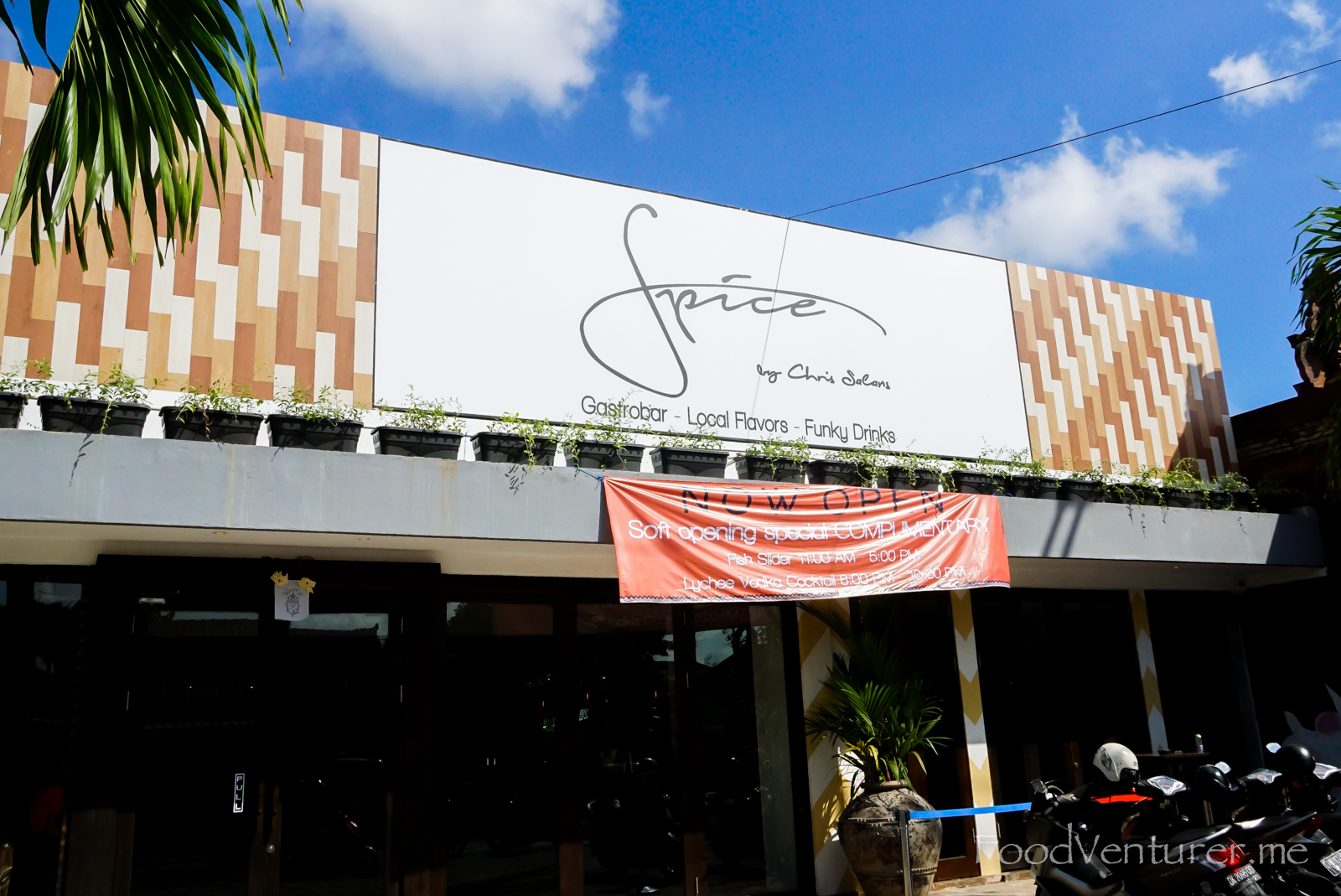 Spice itself has a total of 3 outlets. The first two restaurants are in Ubud and Sanur. The newest one is here at Seminyak, precisely at Jalan Batu Belig. The design looked pretty much the same with a chic and modern touch, while retaining some traditional decors that seemed to go hand in hand with the concept of Spice that is rooted deeply with the utilisation of local ingredients.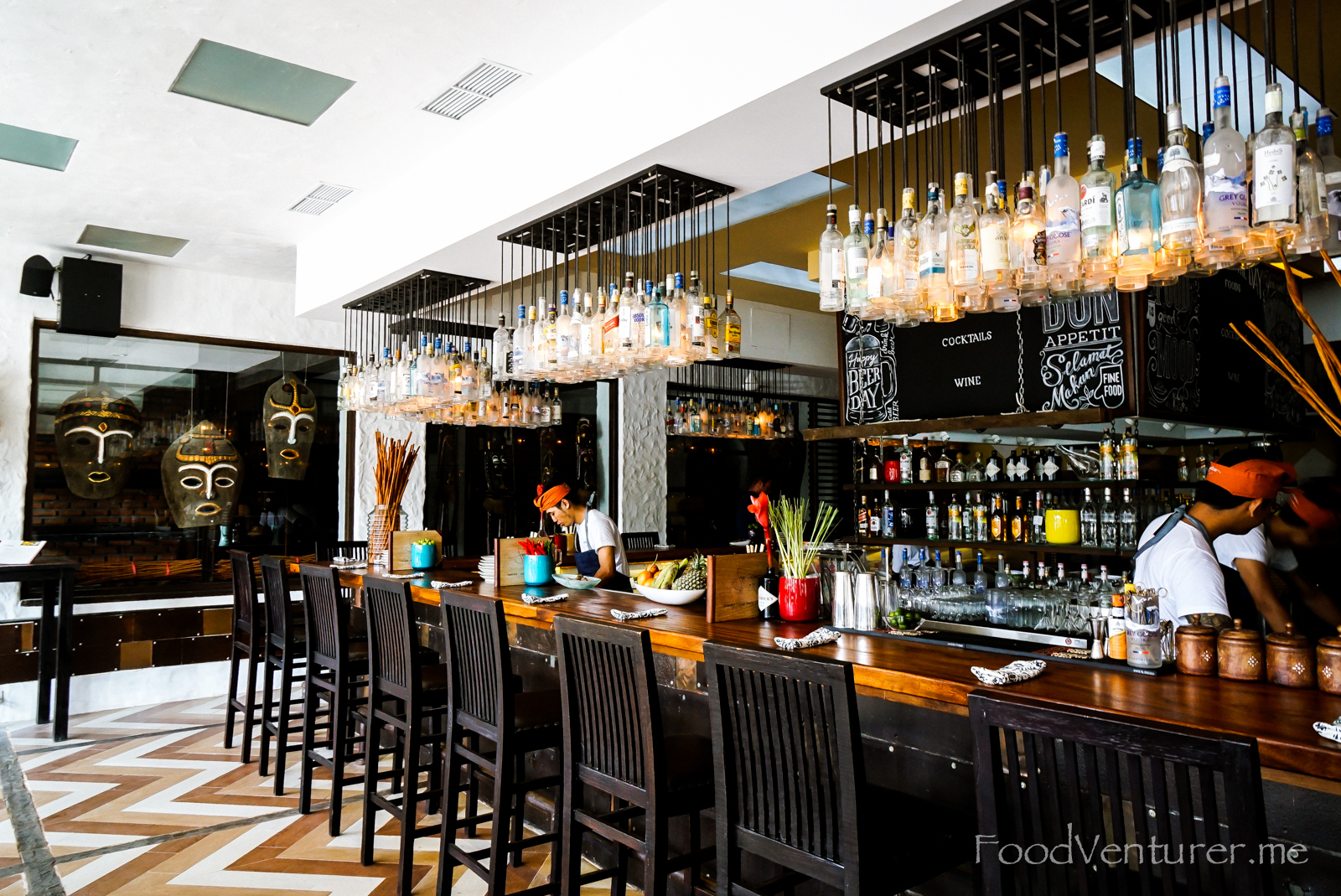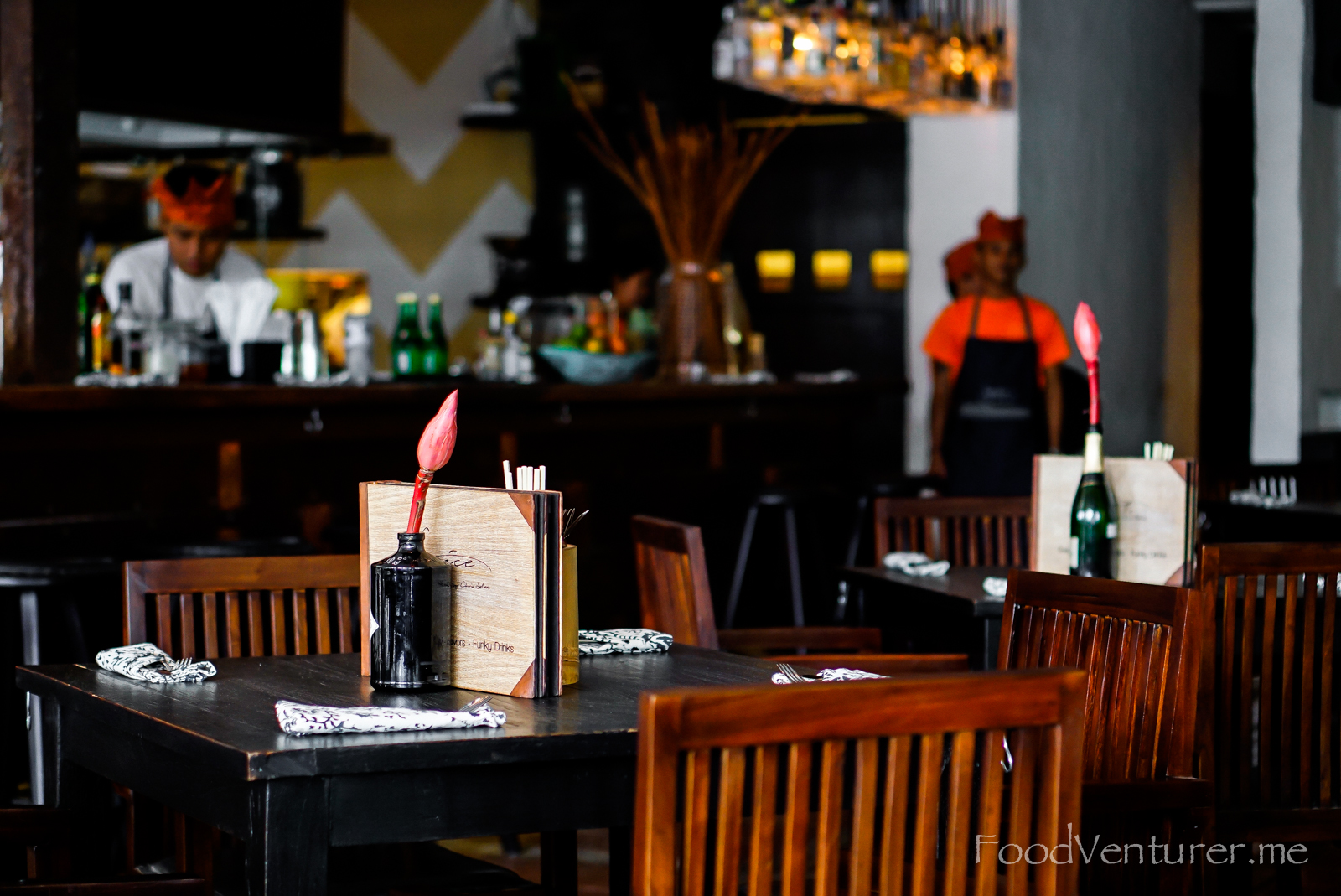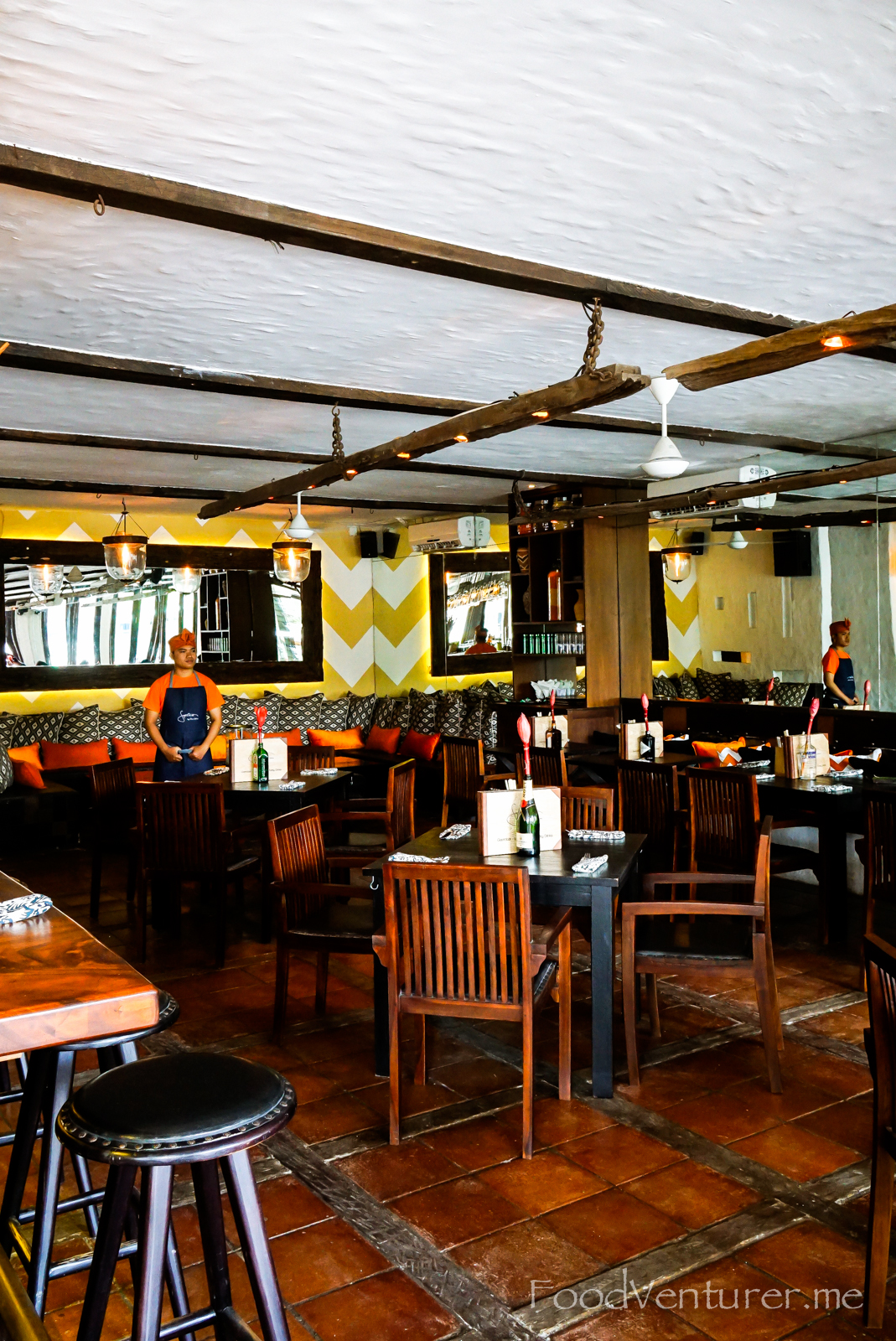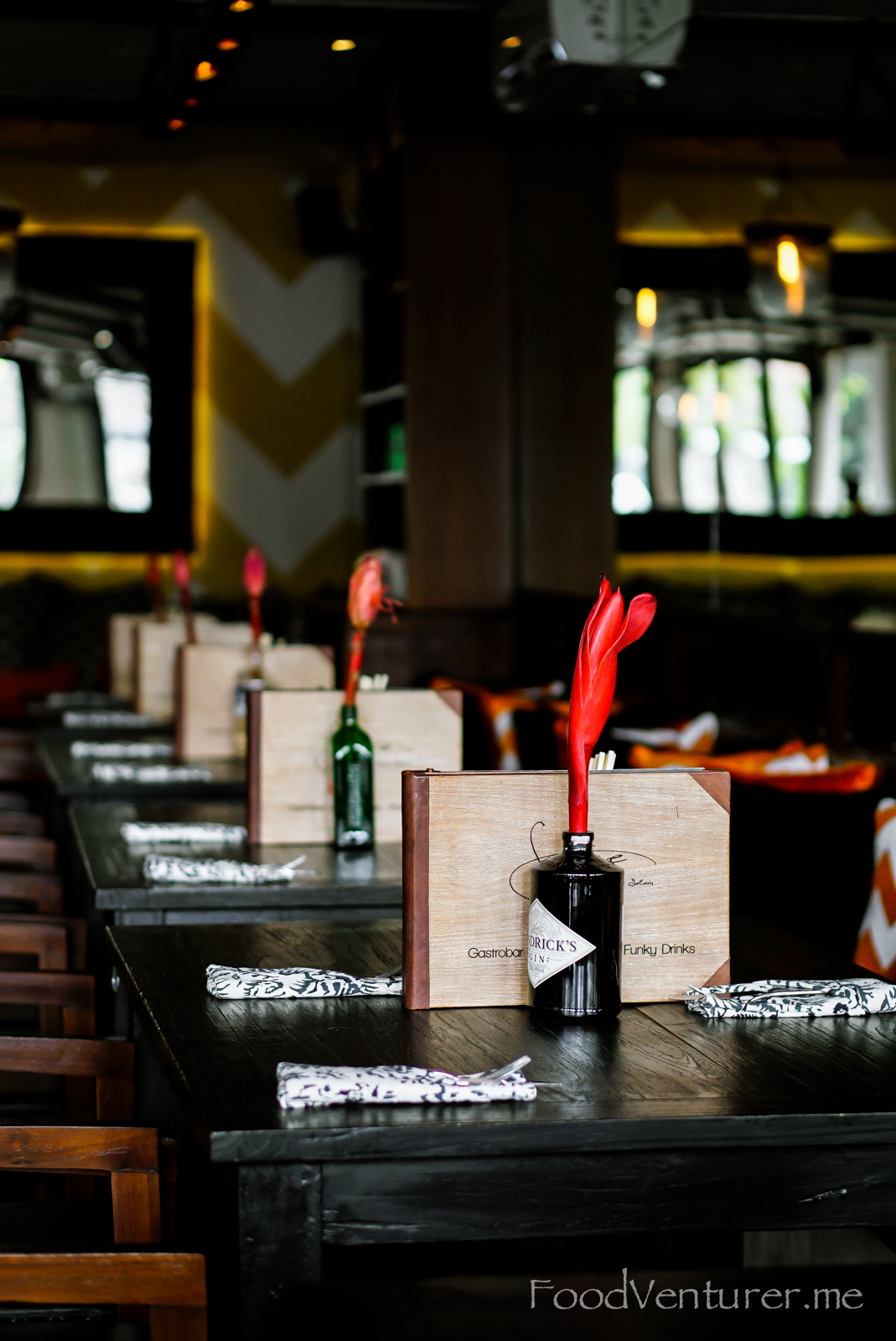 Spice By Chris Salans, is a gastro-bar that brings out a surprising contemporary experience which appears to be beyond the border of traditional and modern perspectives. The result, based on my experience, is a seamless creation that easily proves how brilliant Chef Chris Salans and team are.
Let's stop with my non-sense and let's head direct for the food and cocktail that we enjoyed here.
# Fish Sliders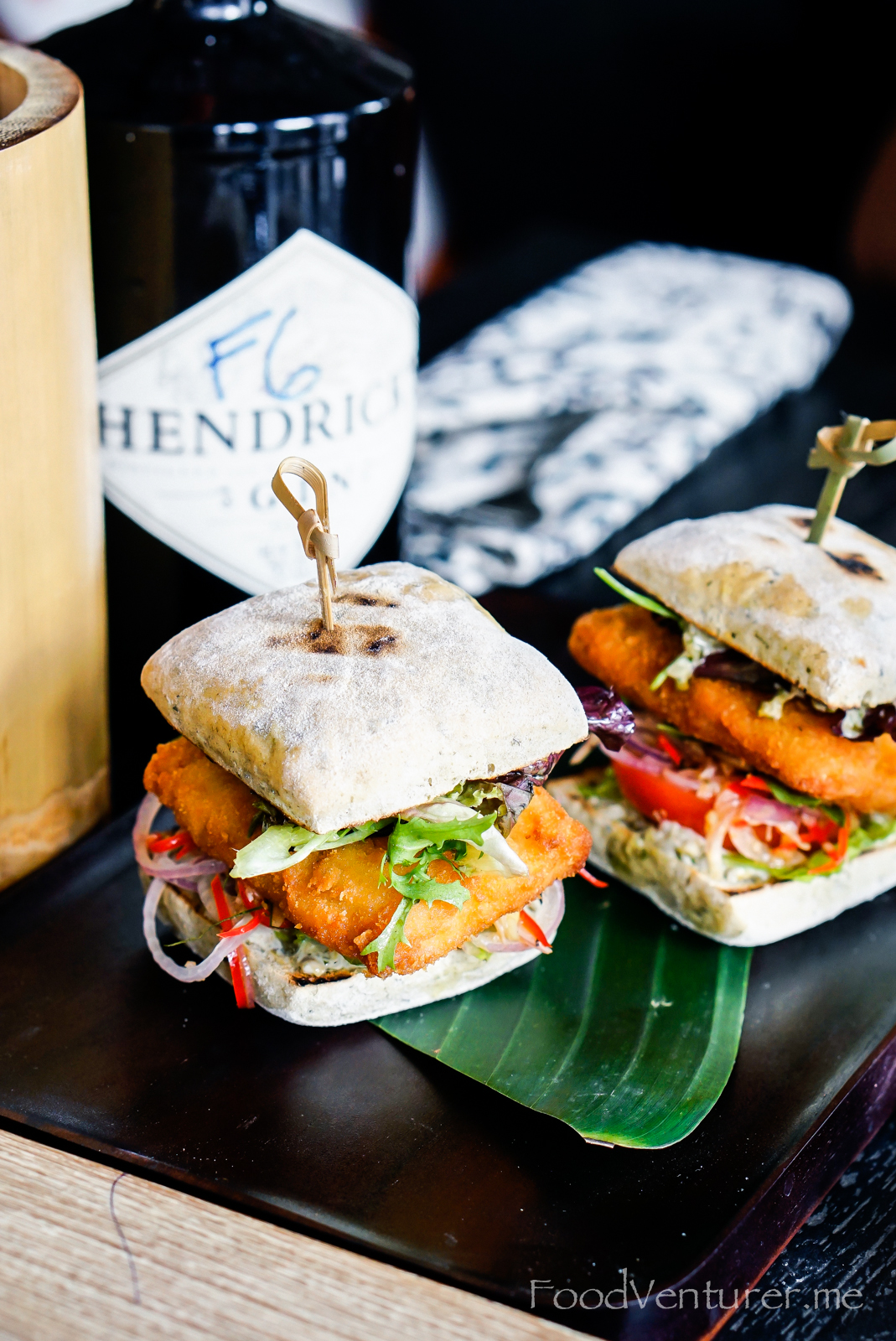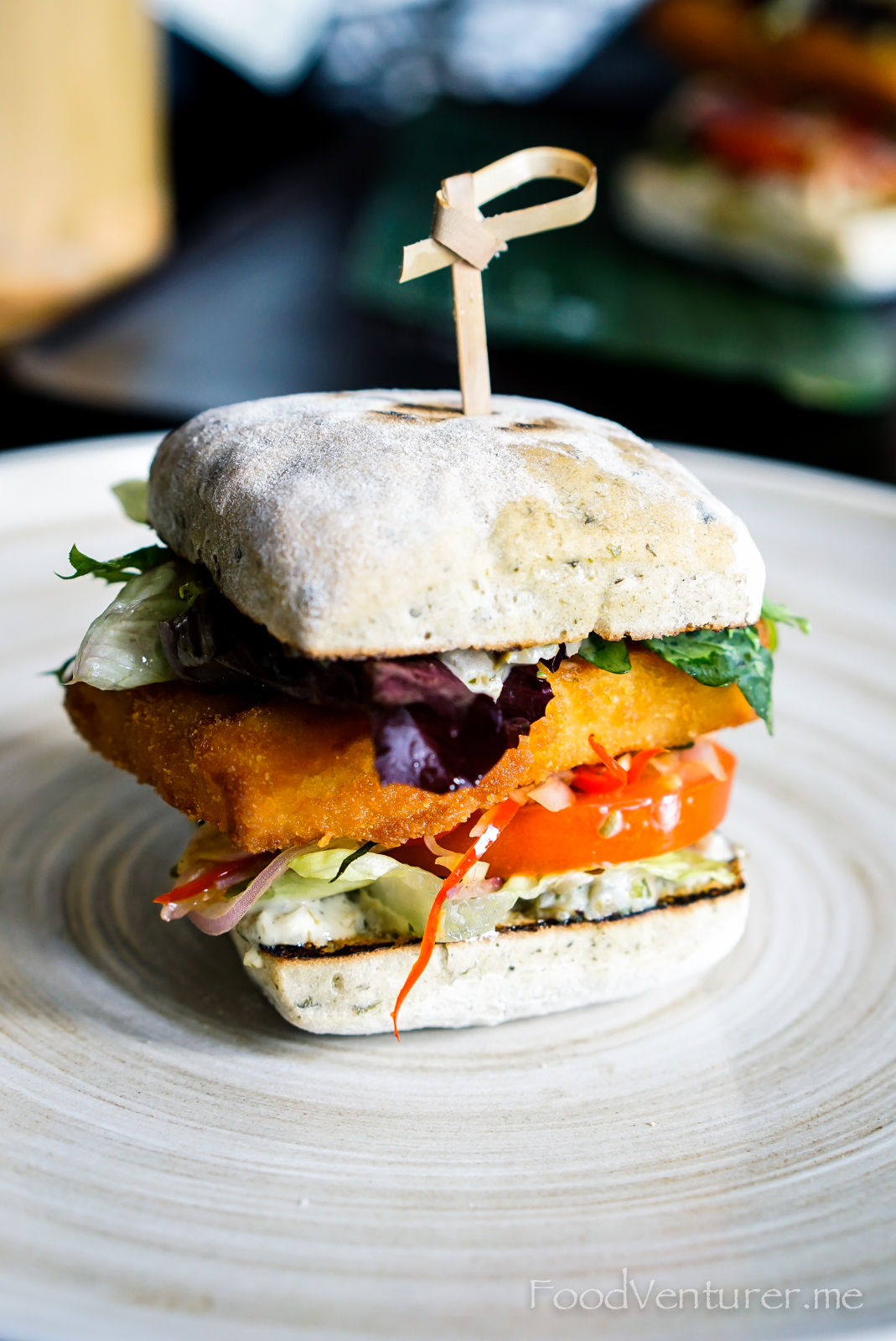 During the soft opening days, there was a promotion for free complimentary Fish Slider starting from 11 AM – 5 PM. The fish slider turned out to be a really good especially when the breaded white fish fillet collided with fragrant Balinese sambal matah.
# Jackfruit Bourbon Cocktail (IDR 95 k)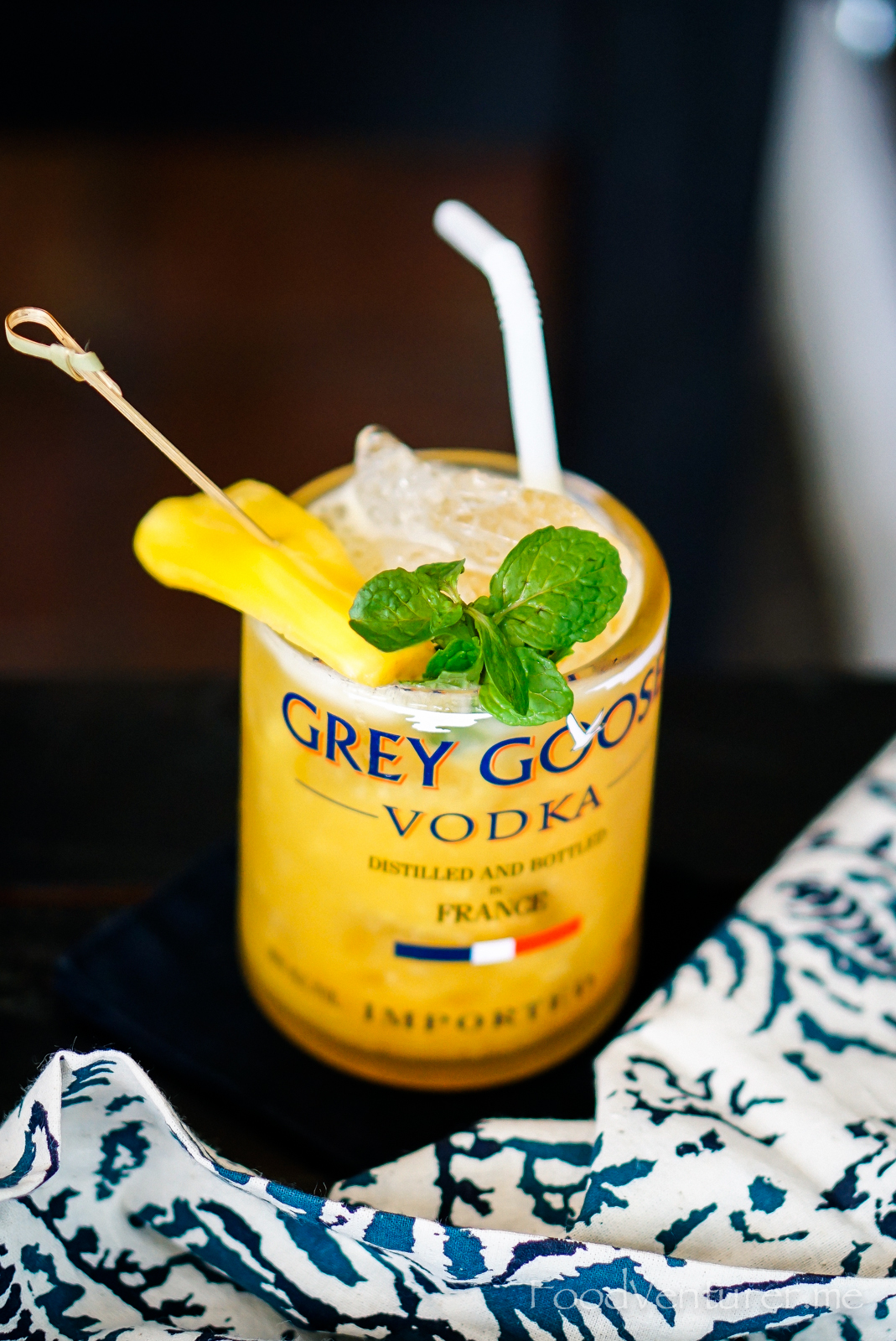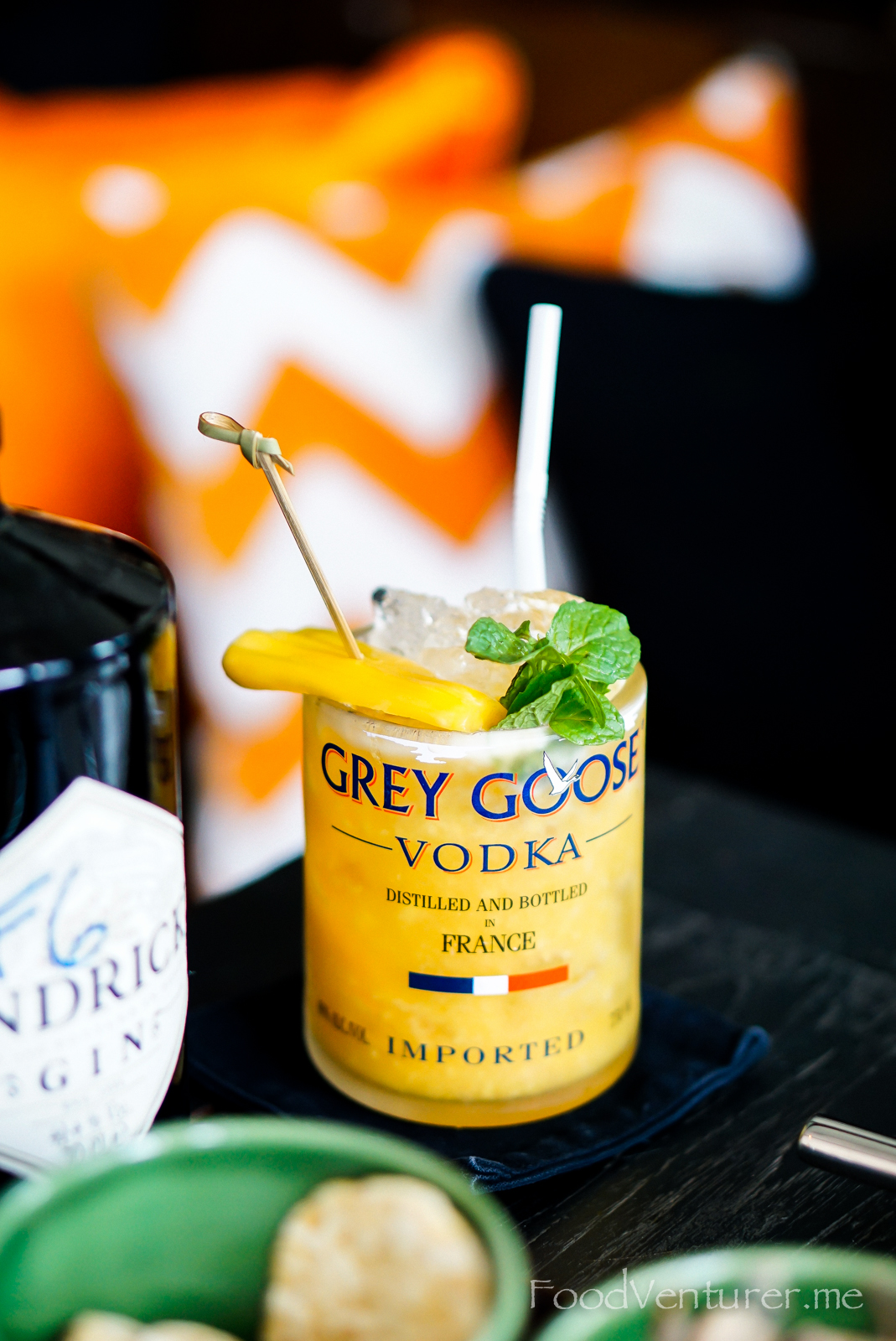 As a gastrobar that proudly uses local ingredients, Spice also focuses in making gorgeous drinks by blending in some unexpected local produce. The prime example is this Jackfruit Bourbon Cocktail. As you might have known it, I don't drink alcohol, but I was intrigued and tempted to taste how it turned out. It was apparently really refreshing, with distinctive jackfruit aroma. It somehow tasted like an alcohol version of Es Teler (an Indonesian ice dessert).
# Tuna Tataki, Sambal Kecicang, Tempe Crackers (IDR 95 k)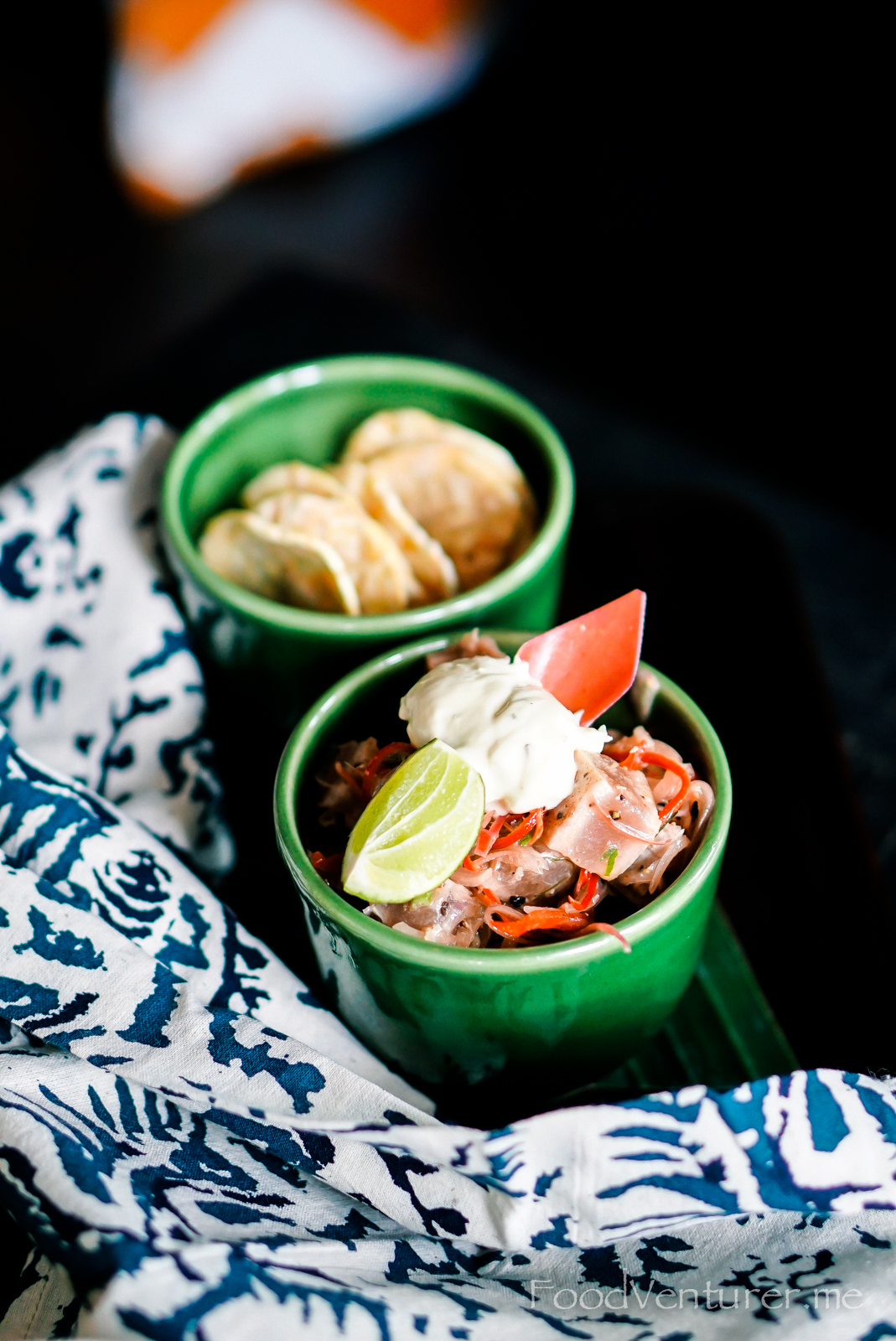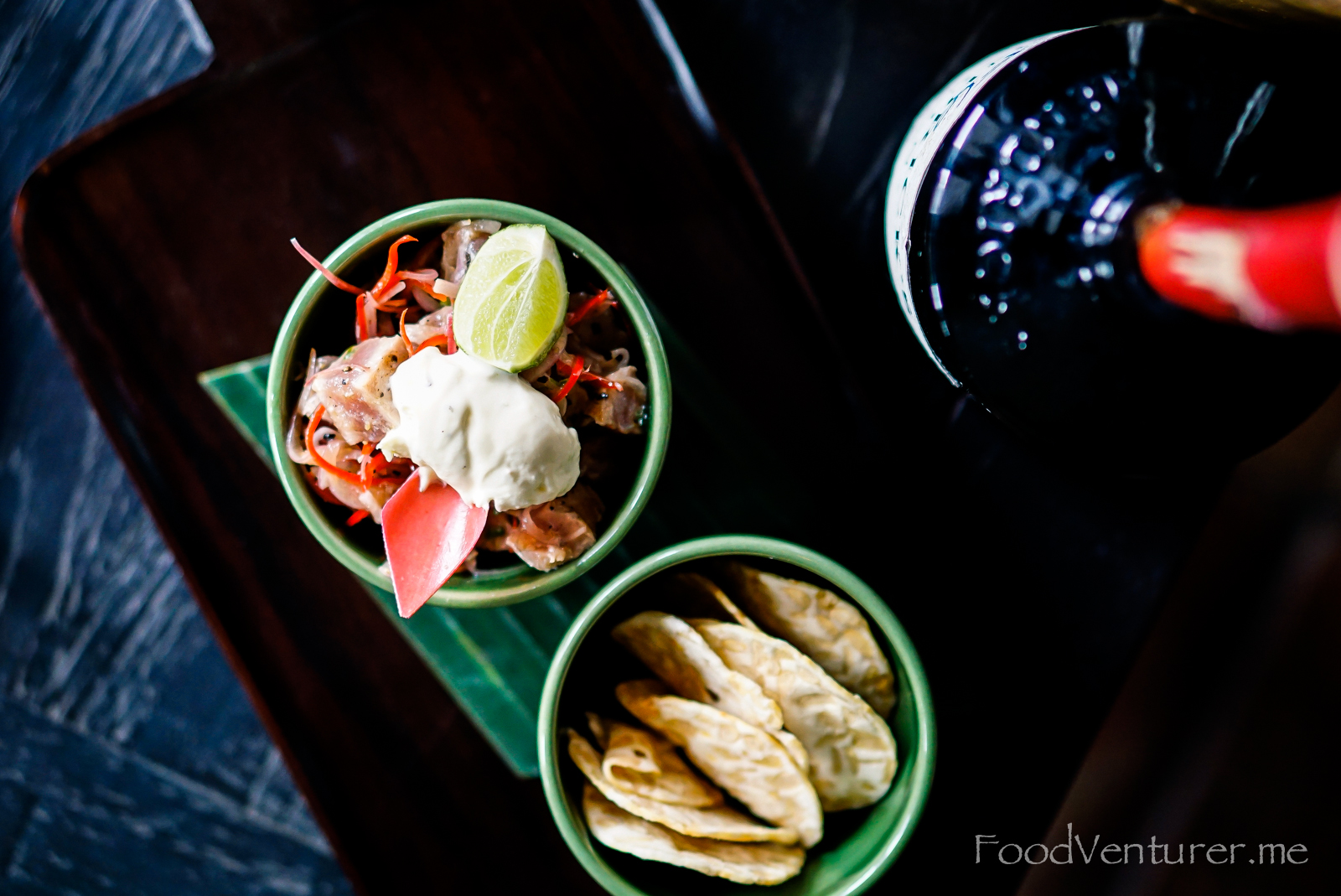 Our first course started really well with the recommended Tuna Tataki. The Tuna was slightly pan-seared for cooked outer layer and pinkish in the inside. The sambal kecicang and tempe crackers worked seamlessly to bring out the local flavours (and textures), and somehow, this combination successfully had me hooked.
# Crispy Pork Belly, Spice salt, Pickled Chili (IDR 95 k)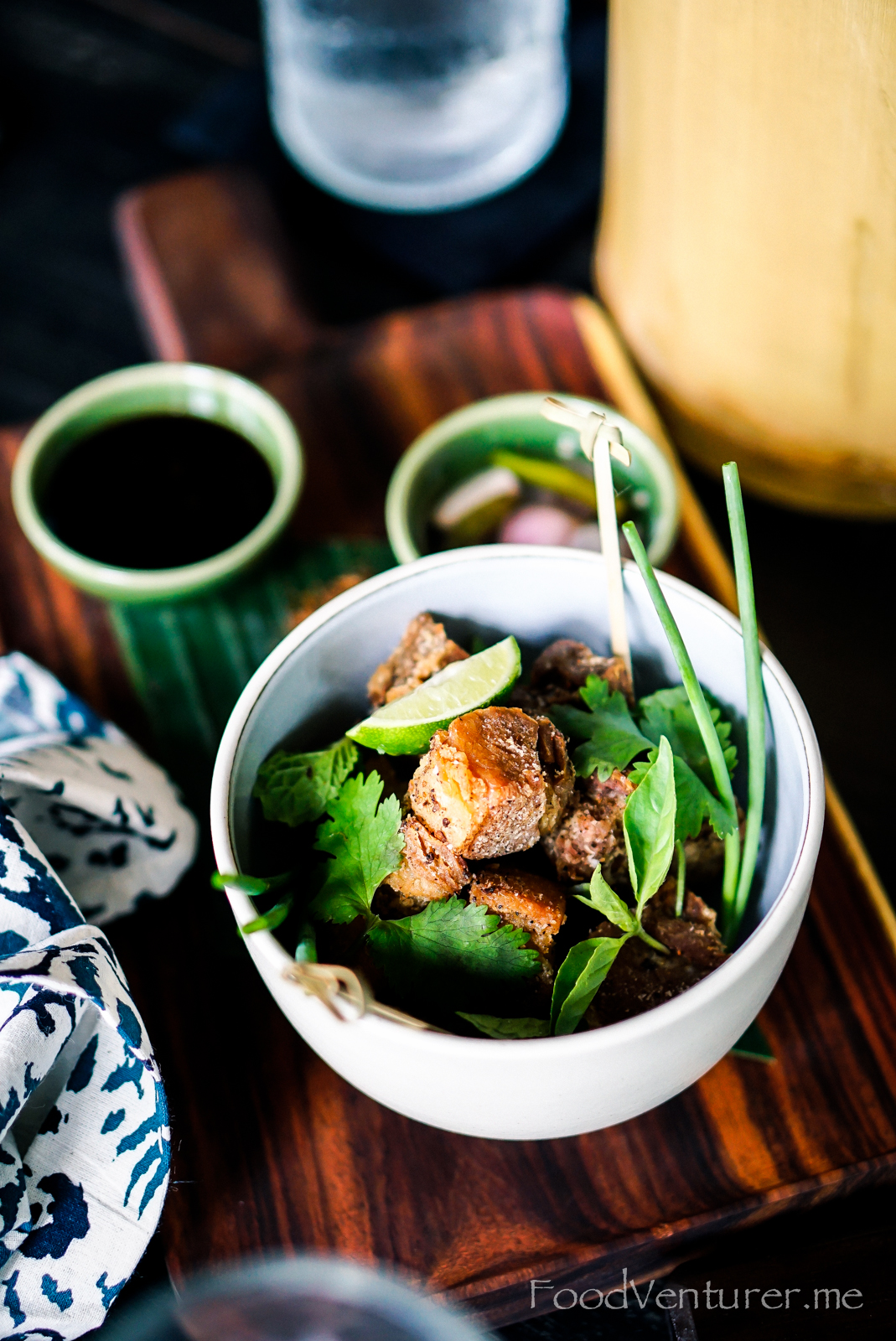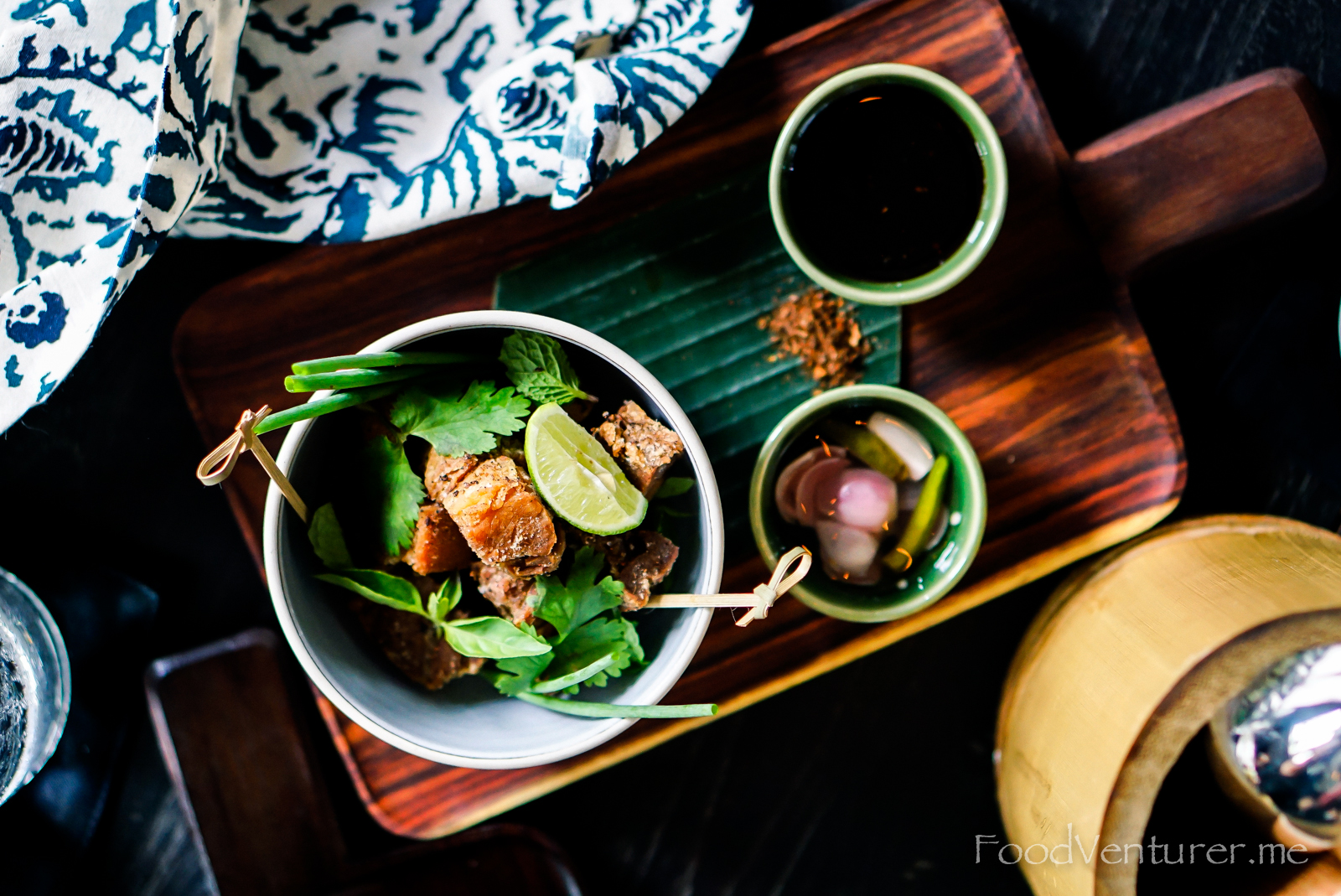 I am a sucker to pork belly and for this one, it's no different. Well, actually it is a bit different. The crispy pork belly is not the typical roasted pork belly, but it's more to the deep fried version. This technique is best to render off the excessive fat and reduce the pork belly to a dryer state. The result was undeniably crispy with less juice in the inside. For people who don't really enjoy pork fat, this version of pork belly is perfect. The condiments that come together with the pork belly chunks are pickled shallot & chili and spicy soy sauce. The condiments are paired with the pork belly to infuse some spicy and subtle sour characters to the crispy pork belly.
# Chicken Breast, Tomato Salad, Sambal Kecicang (IDR 125 k)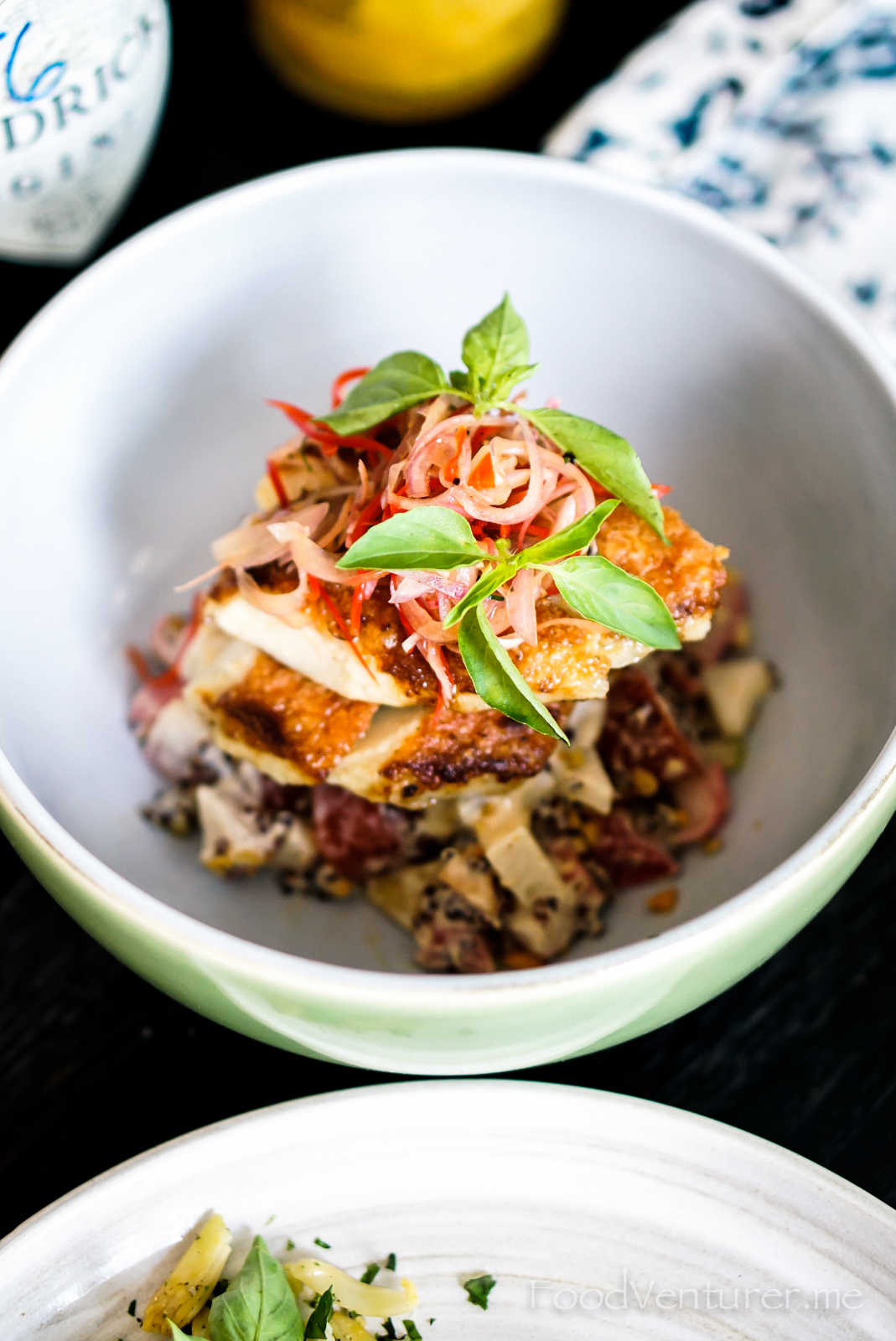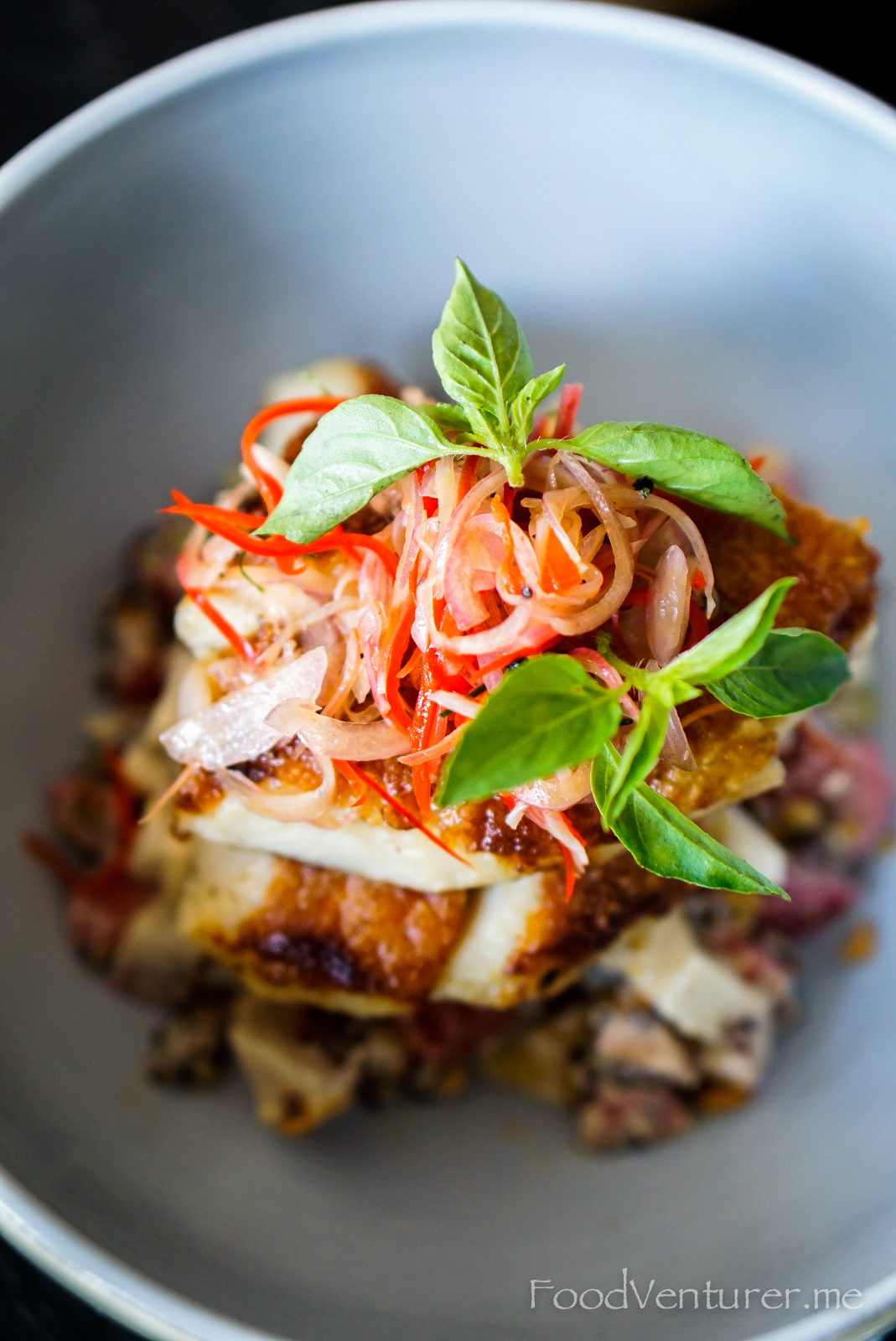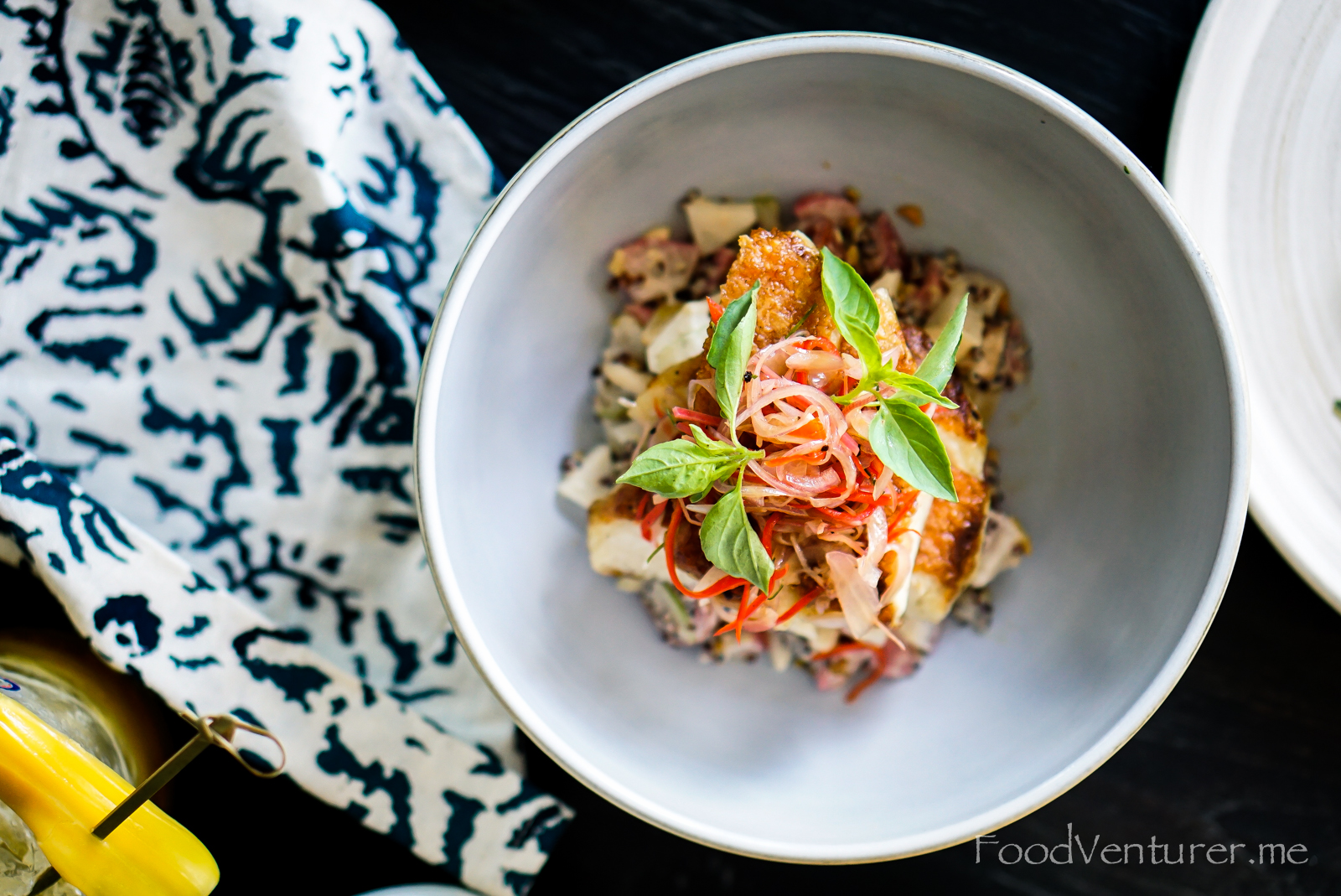 Going to our second course, we had this lovely seared chicken breast that is paired with tomato salad and sambal kecicang. The whole dish was amazing in its way, as it had this softer side of flavours, from the lightly seasoned chicken breast, with refreshing and juicy tomato salad. To counter the softer characters of those ingredients, sambal kecicang worked its magic to amuse my tastebuds with its fragrant flavor. Oh, quinoa played a good part too in bringing out crunchy texture. This actually proved how a simple dish like this, could actually be so good if combined with the right ingredients.
# Pan Seared Barramundi Fillet, Kemangi & Kenari Nuts (IDR 140 k)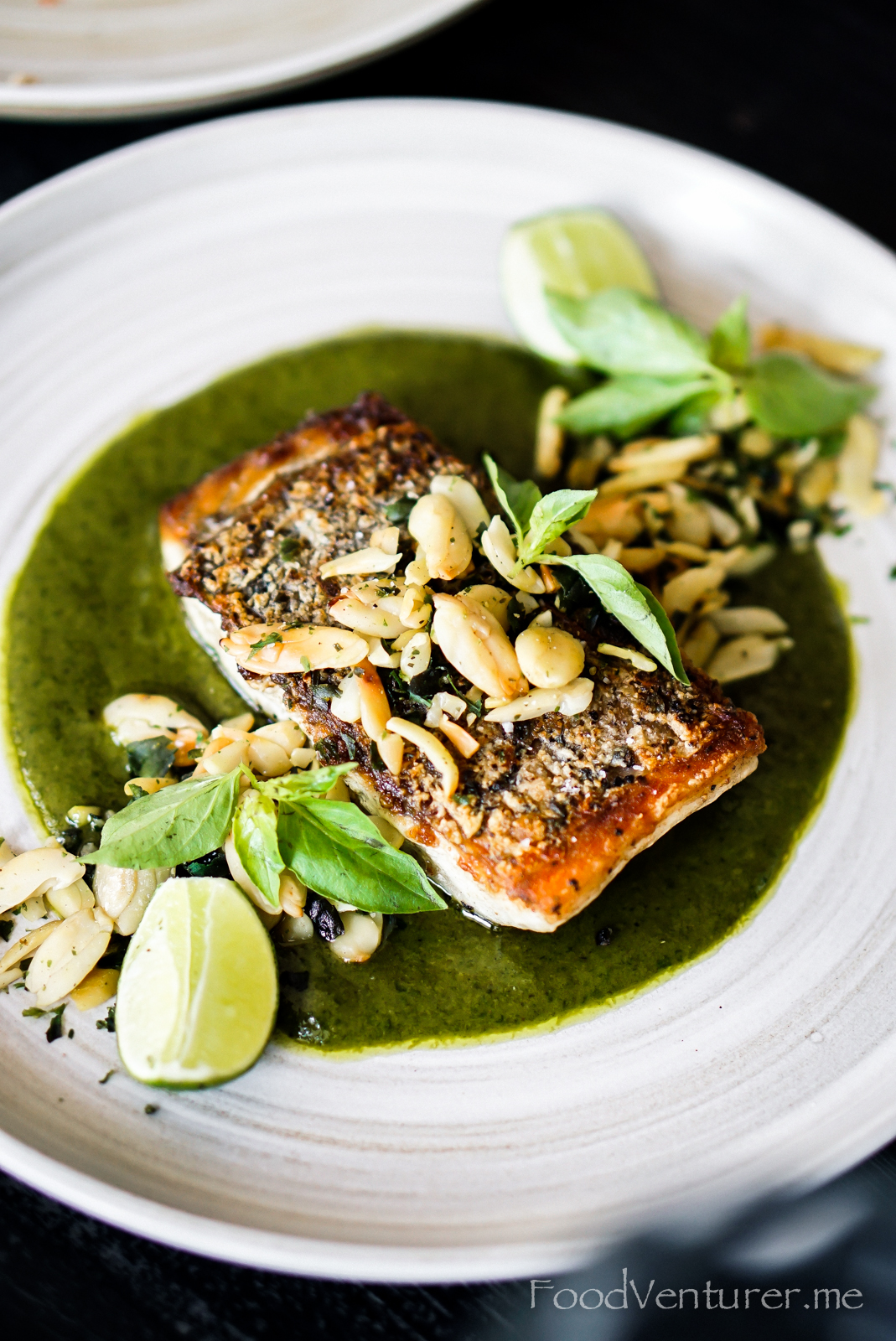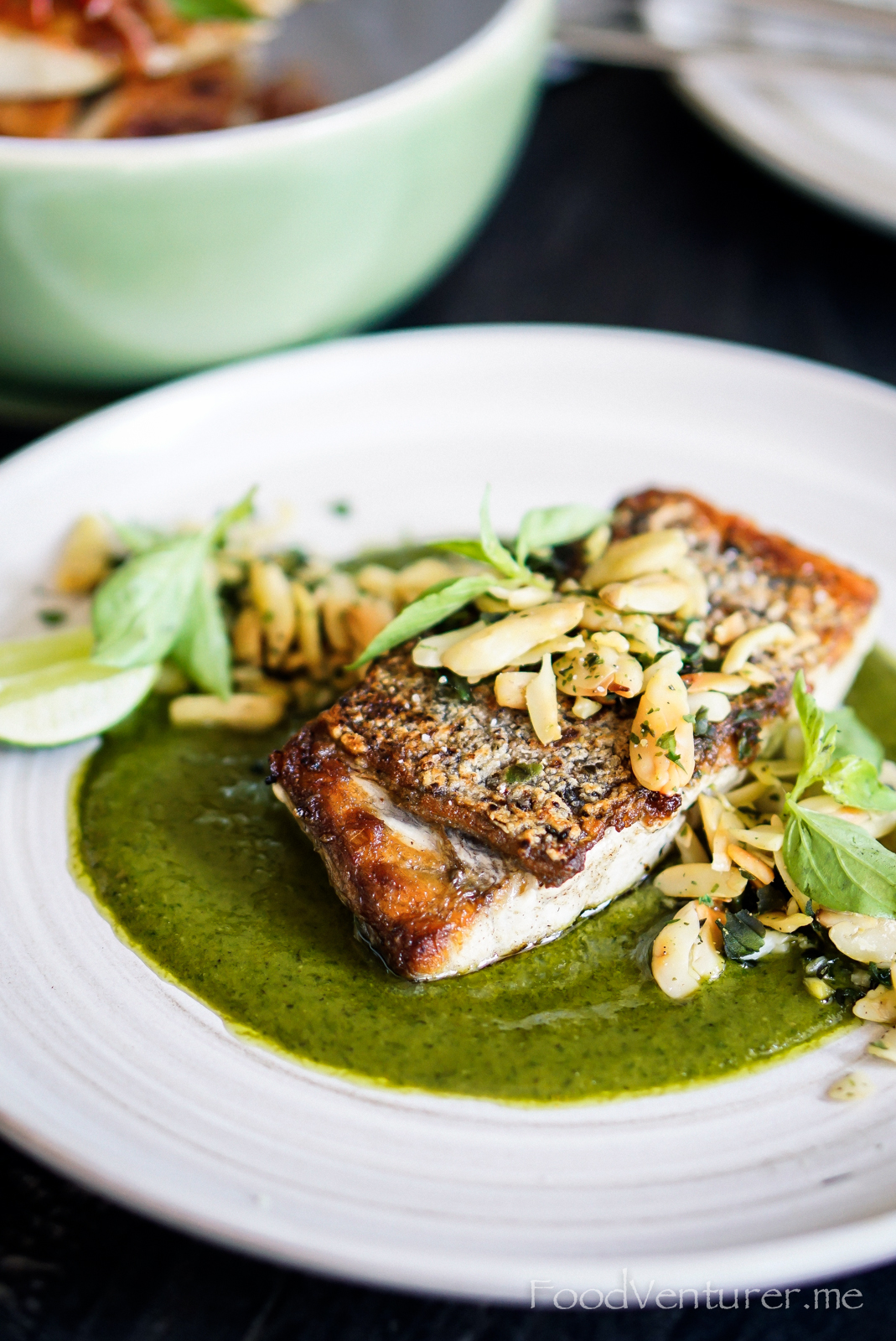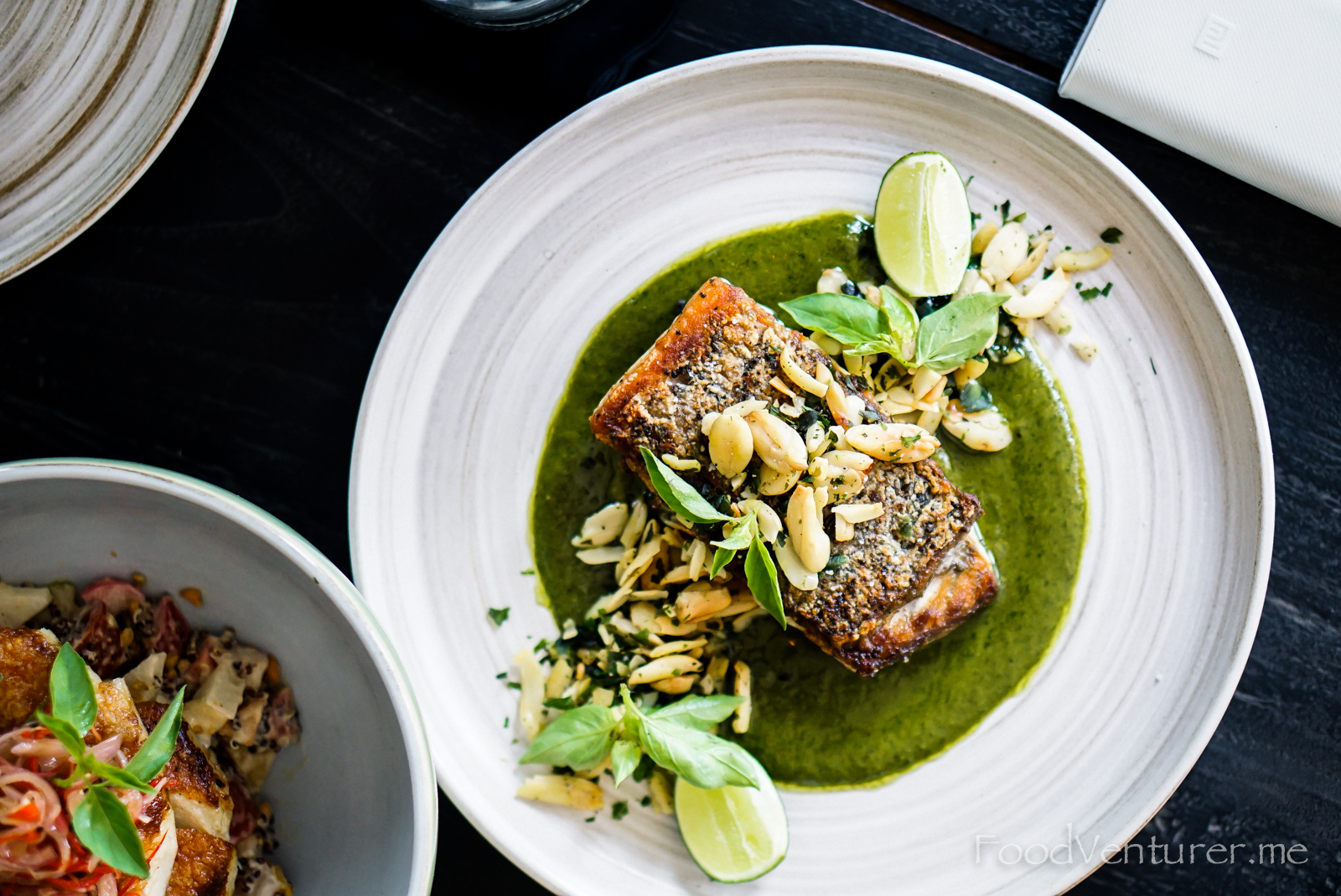 One of the healthiest options here at Spice and it didn't disappoint. I always love Barramundi because of its moist and flaky textures. Here, Spice pan sear the Barrmundi, cook the skin to a crispy state and match it with a creamy kemangi and kenari nuts pesto. The result was rather amusing. It was so seamless, so buttery with mellow and creamy characters. To counter the creamy nature, some kenari bits were put on top of the barrmundi. This worked fine to give some balance in the texture. As usual, Spice loves to focus on balancing between taste and flavour to every single dish.
# Chocolate Cake, Passionfruit Sorbet (IDR 55 k)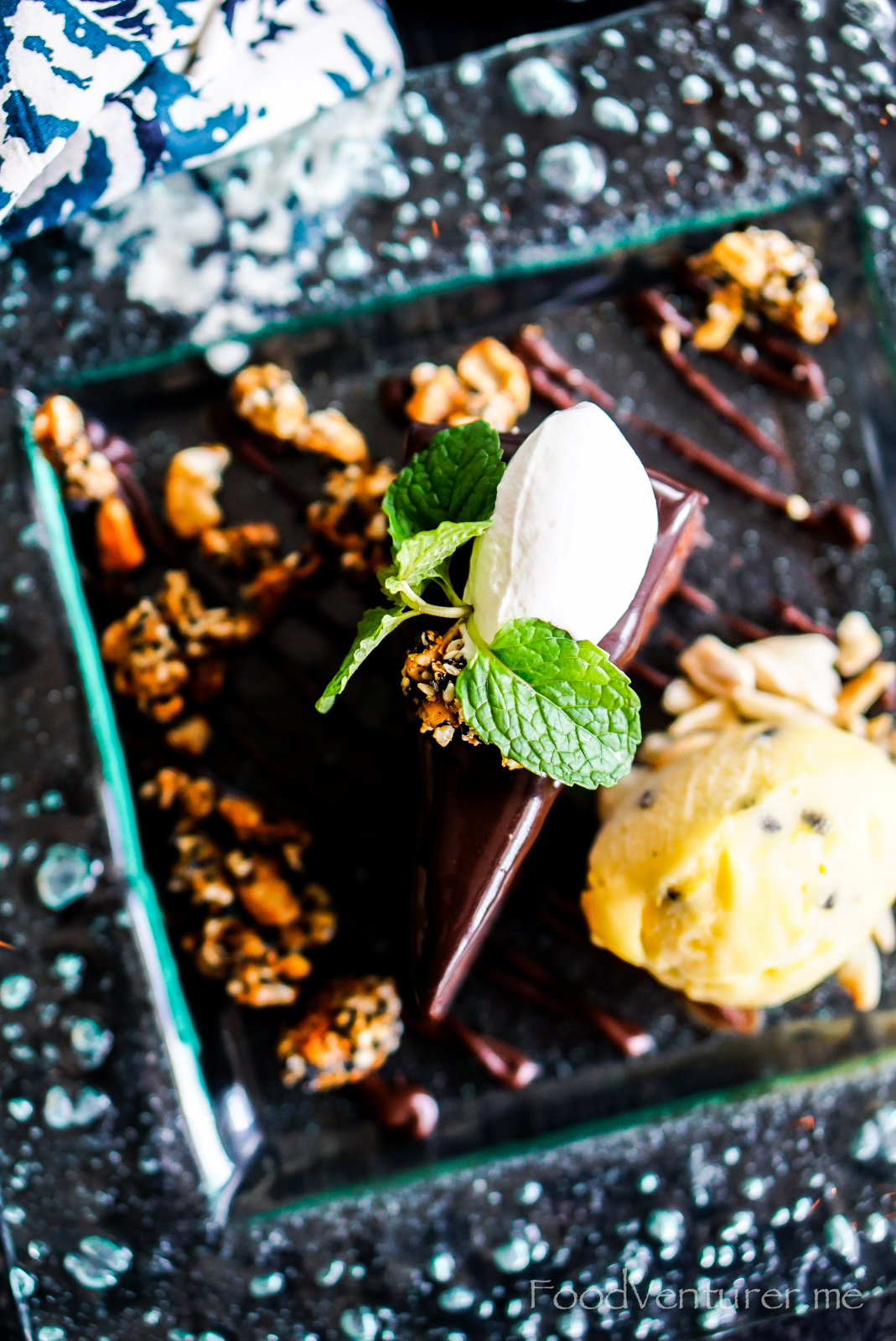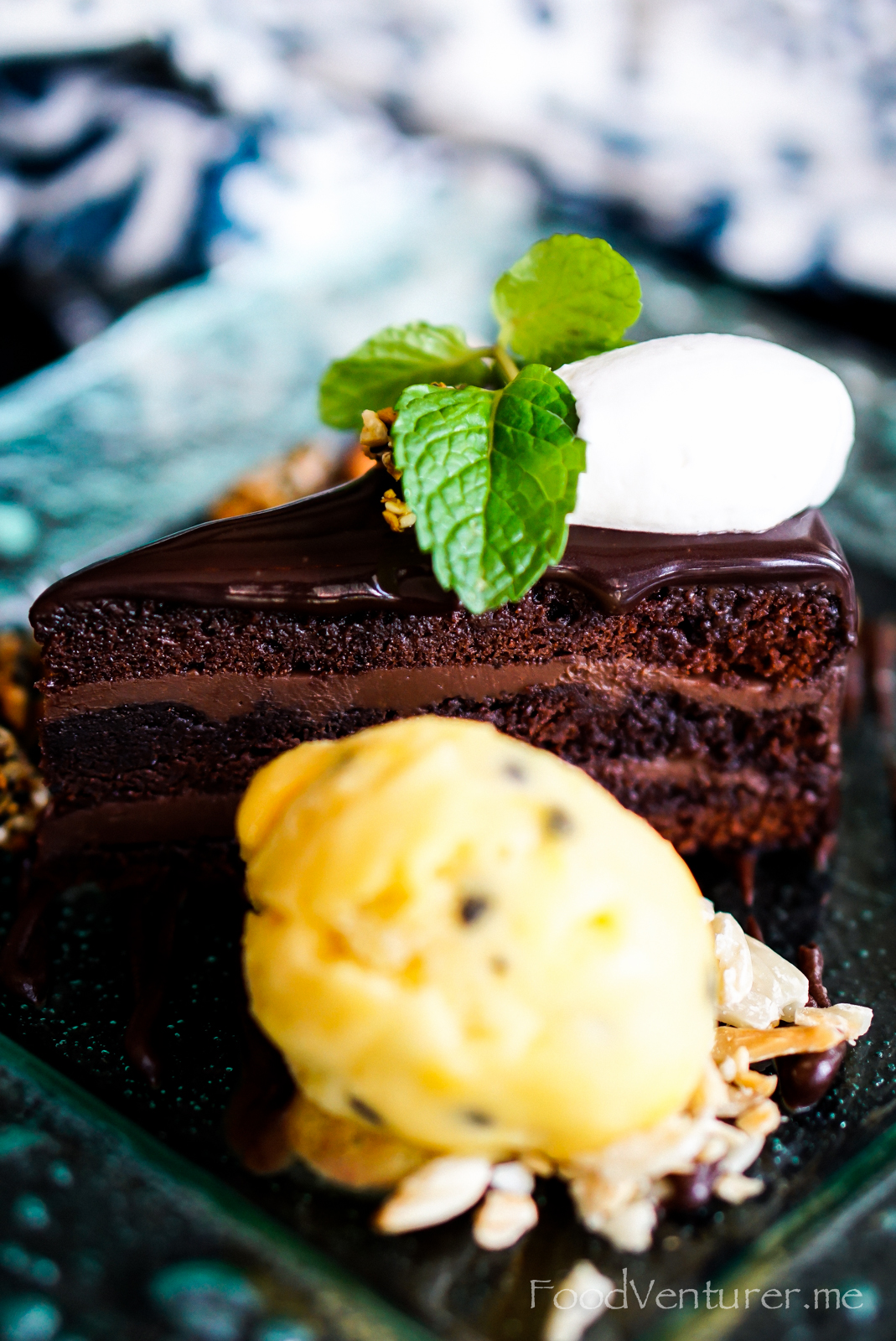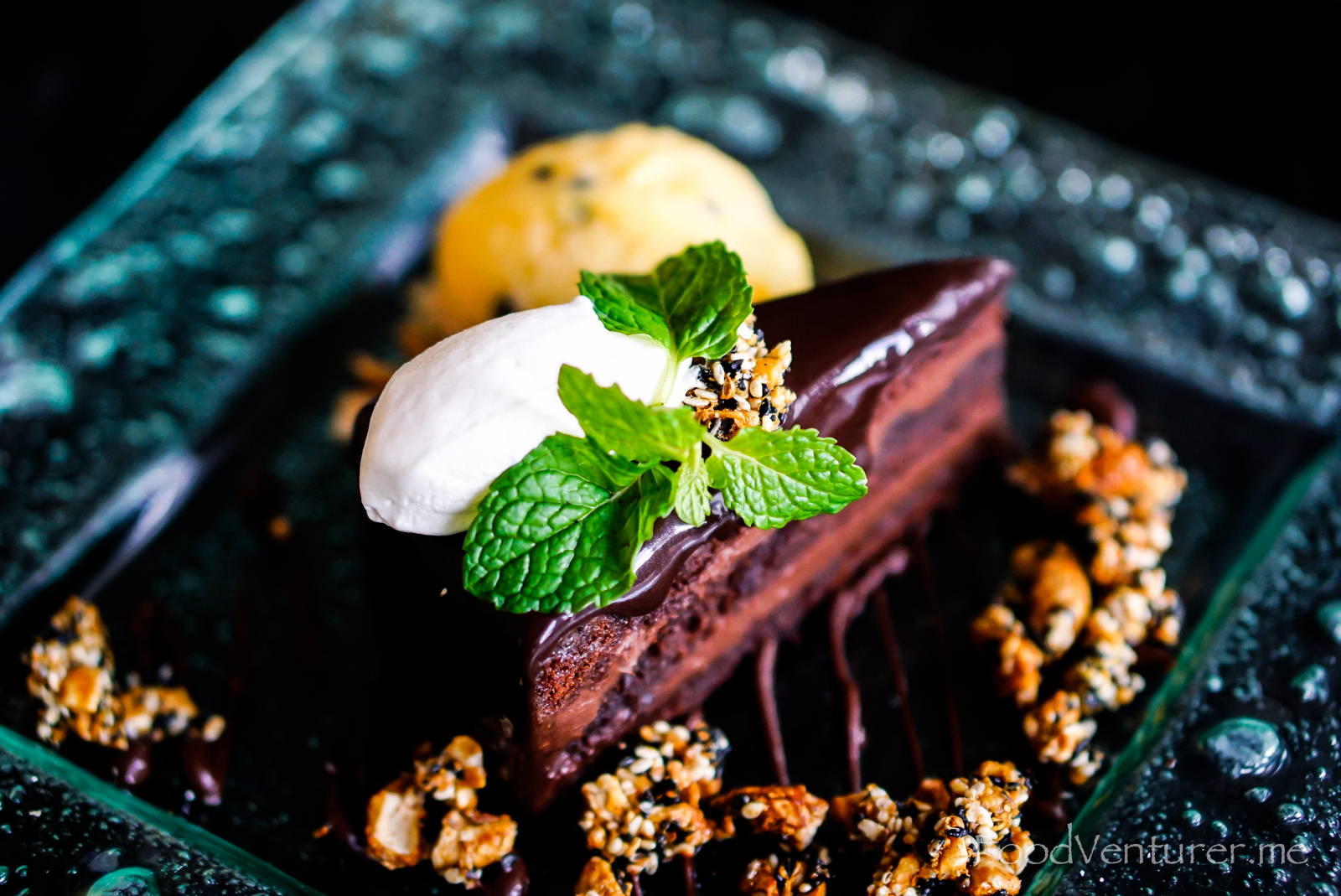 The sweet closure is important in every meal. Here we had the recommended Chocolate Cake with Passionfruit Sorbet. The passionfruit sorbet was actually not that great because it had this slightly bitter aftertaste, but the chocolate cake was already a star of its own. The chocolate cake was fluffy, rich and creamy. It easily defined lusciousness, and it spoiled my tastebuds in a very pleasant way.
The whole experience dining here at Spice was on par with its reputation. We were thoroughly satisfied and the ambiance worked so well in providing a casual relaxing vibe.
We met Chef Komang, the one in charge here, and he asked about inputs or suggestions. We told him everything honestly and he received it well. Well, it's really more about compliments anyway because he did a great job to ensure we had a great lunch.
Our lunch was made even better (if that's possible) with the company of Ms. Siti who really knows how to treat and communicate with us and the guests of Spice. She went through length to make sure we all had a good time here. Her recommendations for the food and cocktail were spot on. We would definitely miss her lovely presence.
All in all, as always, I blogged about this with my honest thought. Experience might vary due to many factors, but I really hope you would give Spice a visit and taste their scrumptious food and cocktails. If you happen to have any inputs or suggestions, you can feel free to inform them and I'm sure they will receive it well.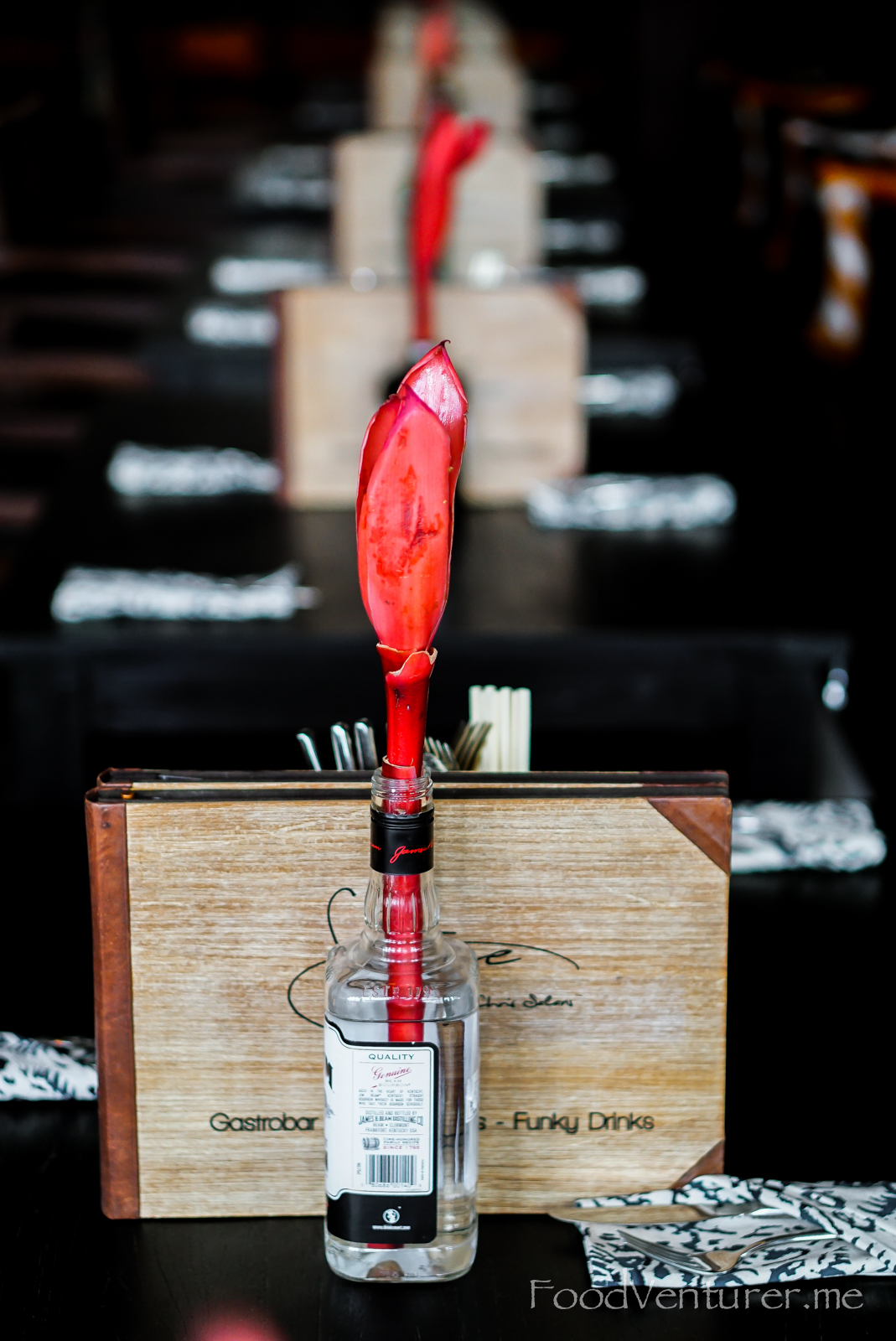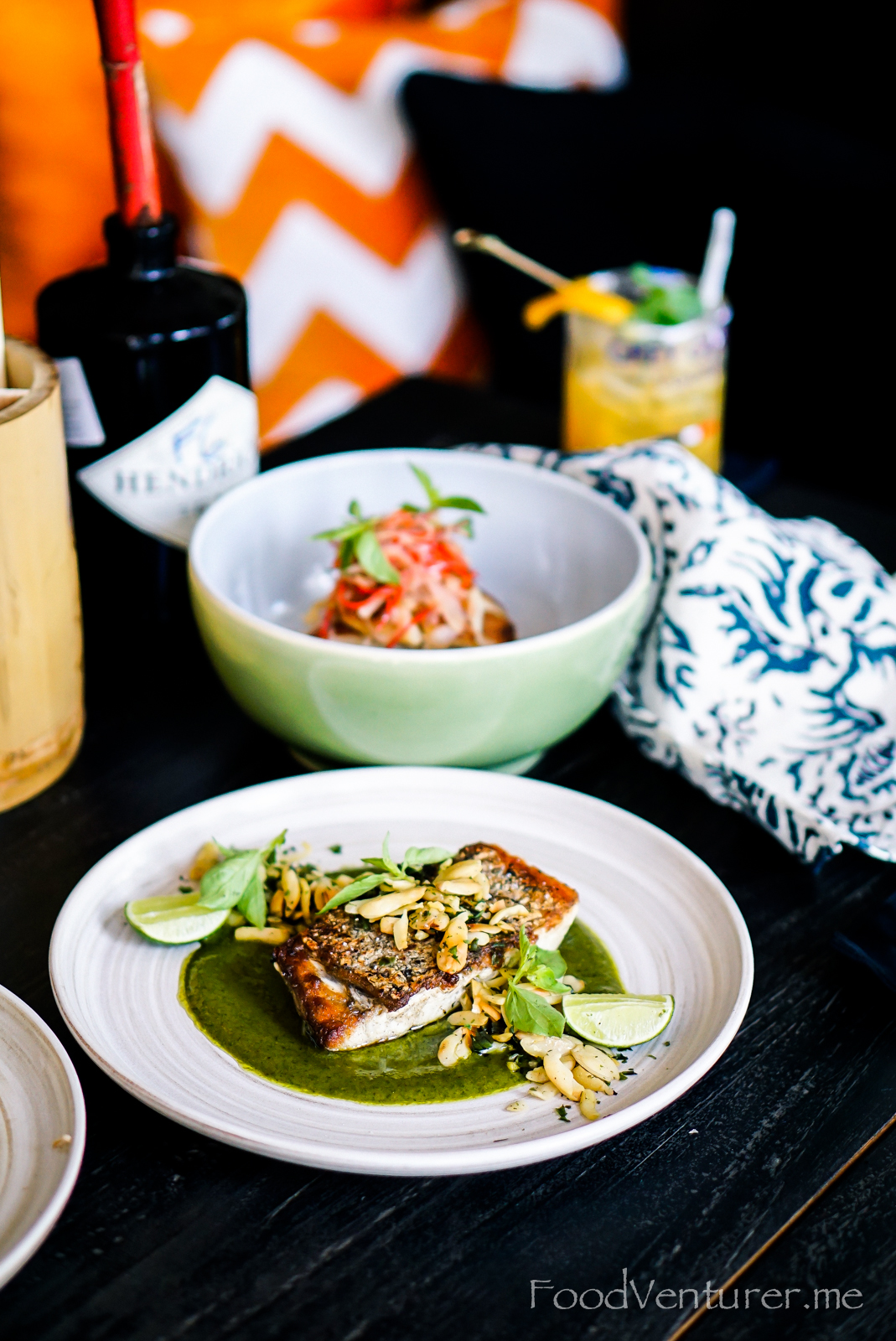 Oh, to close this post, don't forget that Chef Chris Salans is actually one of the 3 formidable Iron Chefs in Iron Chef Indonesia. Iron Chef Indonesia is a cooking TV show that highlights the battle of each Iron Chef with the Challenger Chef from various background. You can watch it on RCTI every Sunday at 4.00 PM Local Time!
SPICE By CHRIS SALANS | BALI
Jalan Batu Belig No.7
Kerobokan Kelod, Kuta Utara, Kabupaten Badung
Bali 80361, Indonesia
Phone: +62361-4732292
Website: http://spicebali.com/
Operational Hours:
Everyday, from 11.00 AM to 11.00 PM Local Time
Other Outlets:
– SPICE by Chris Salans – Ubud
Jalan Raya Ubud No 23
Ubud, Gianyar
Bali 80571
Indonesia
Phone: +62361-4792420
Ps. Open every day, from 08.00 AM to 11.00 PM
– SPICE by Chris Salans – Sanur
Jalan Danau Tamblingan – No 140
Sanur (right in front of Café BatuJimbar)
Bali – 80228
Indonesia
Phone: +62361-4490411
Ps. Open every day, from 08.00 AM to 11.00 PM