If you're looking for a beautiful villa with plenty of nature to offer, you should read further.
If you're looking for a villa with private pool, you should read further.
If you're looking for a beautiful villa with private pool, semi-outdoor bathroom, that values complete privacy, you MUST read this.
—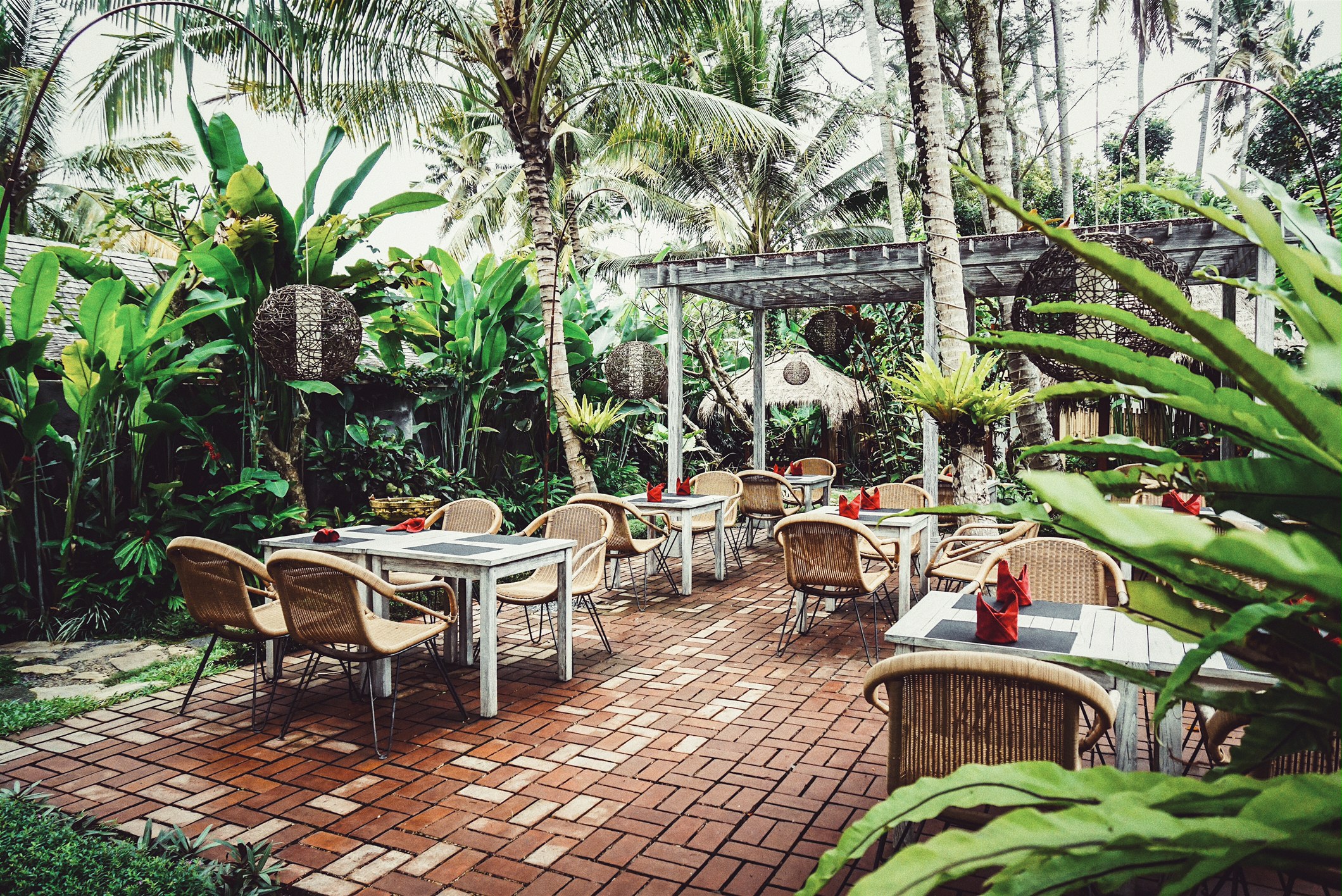 I stayed in Ubud Padi Villas last June and was completely satisfied having spent about ONLY USD 110 (booked via Agoda) for a gorgeous villa that offers everything I was looking for.
Air-conned Villa with gorgeous view (jungle view), a semi-outdoor bathroom, an outdoor private pool, a shady shack, and located away from the central of Ubud. Every single thing that I wanted, checked! Plus a lot of bonuses.
Let me show you some of the pictures I took for this property.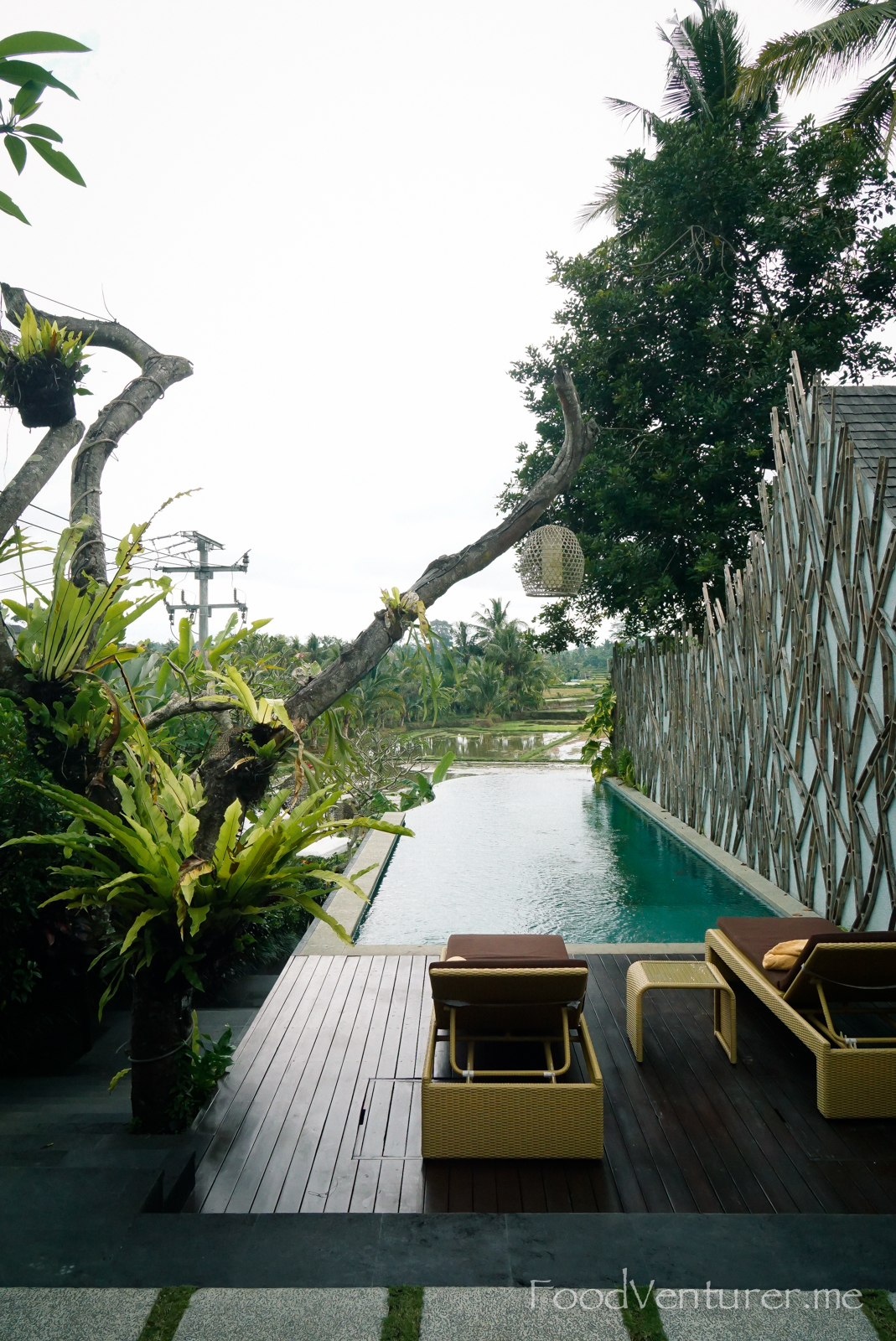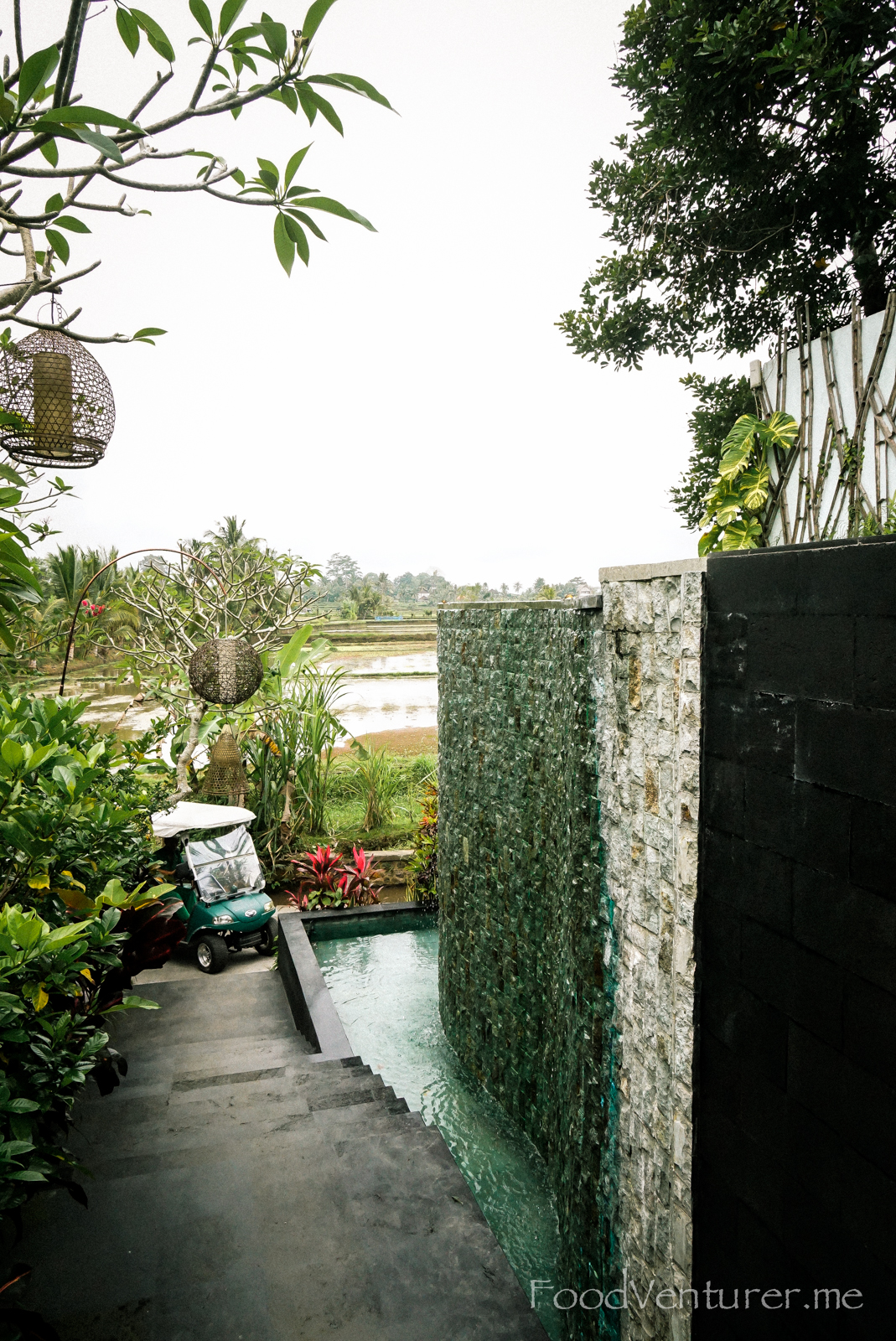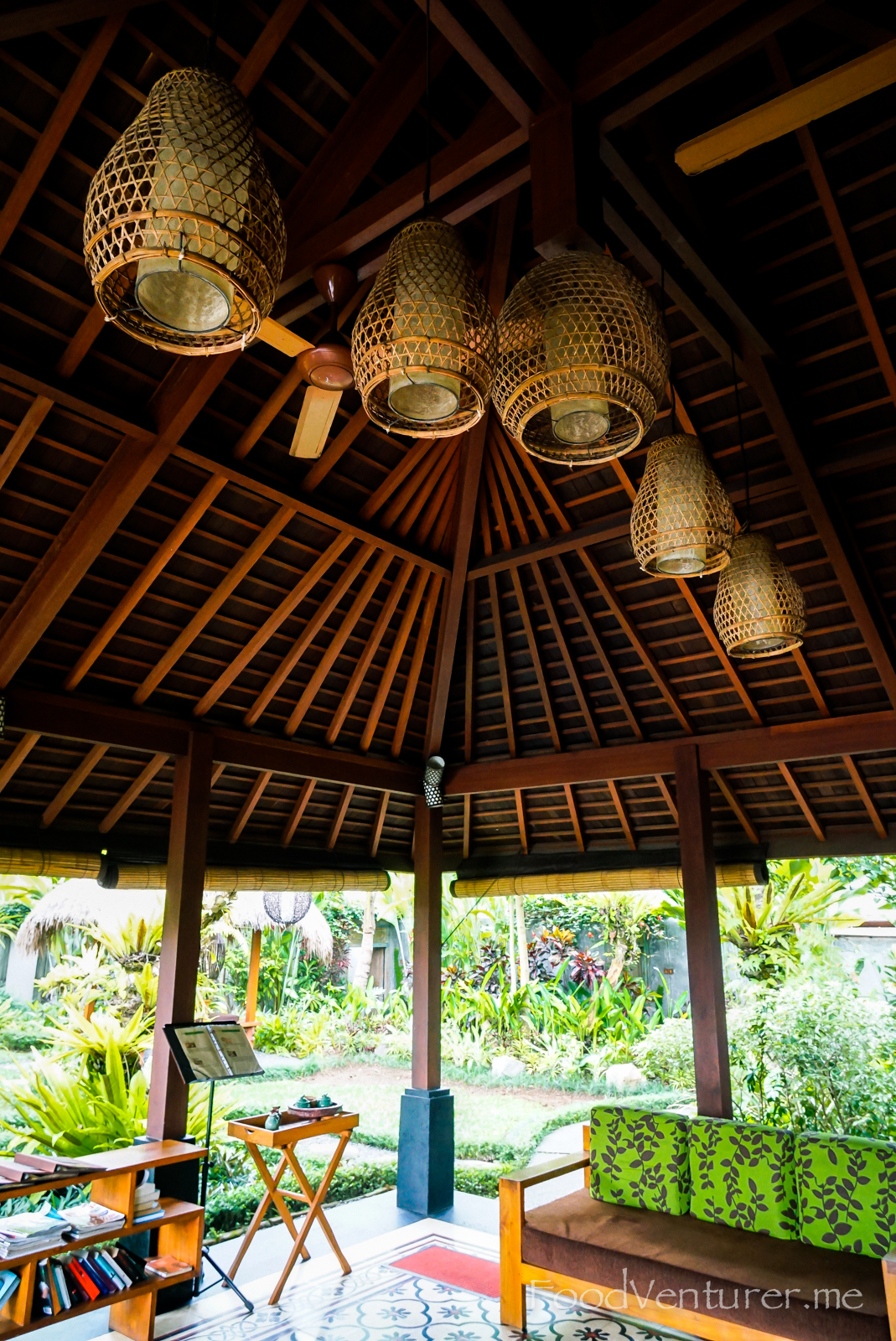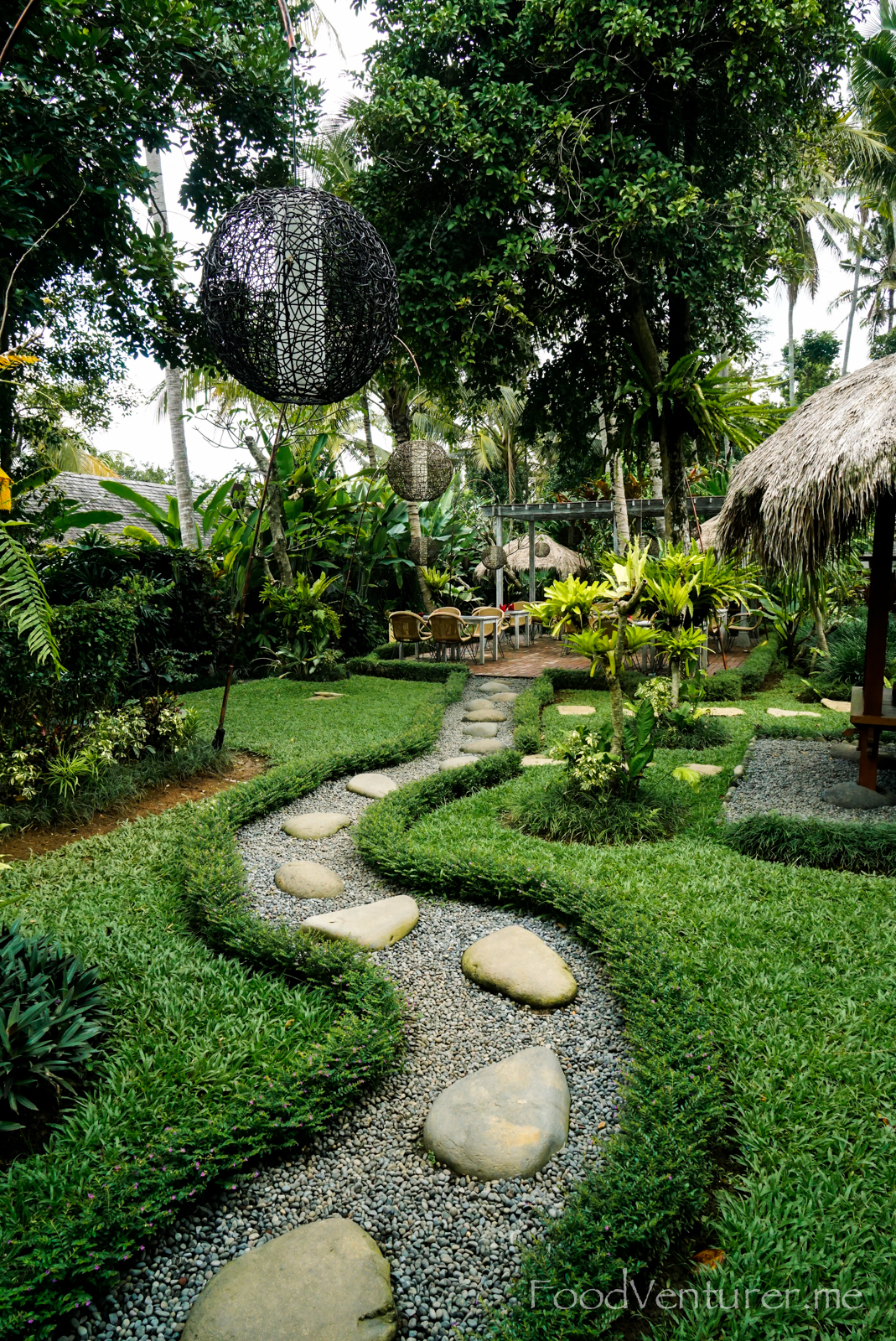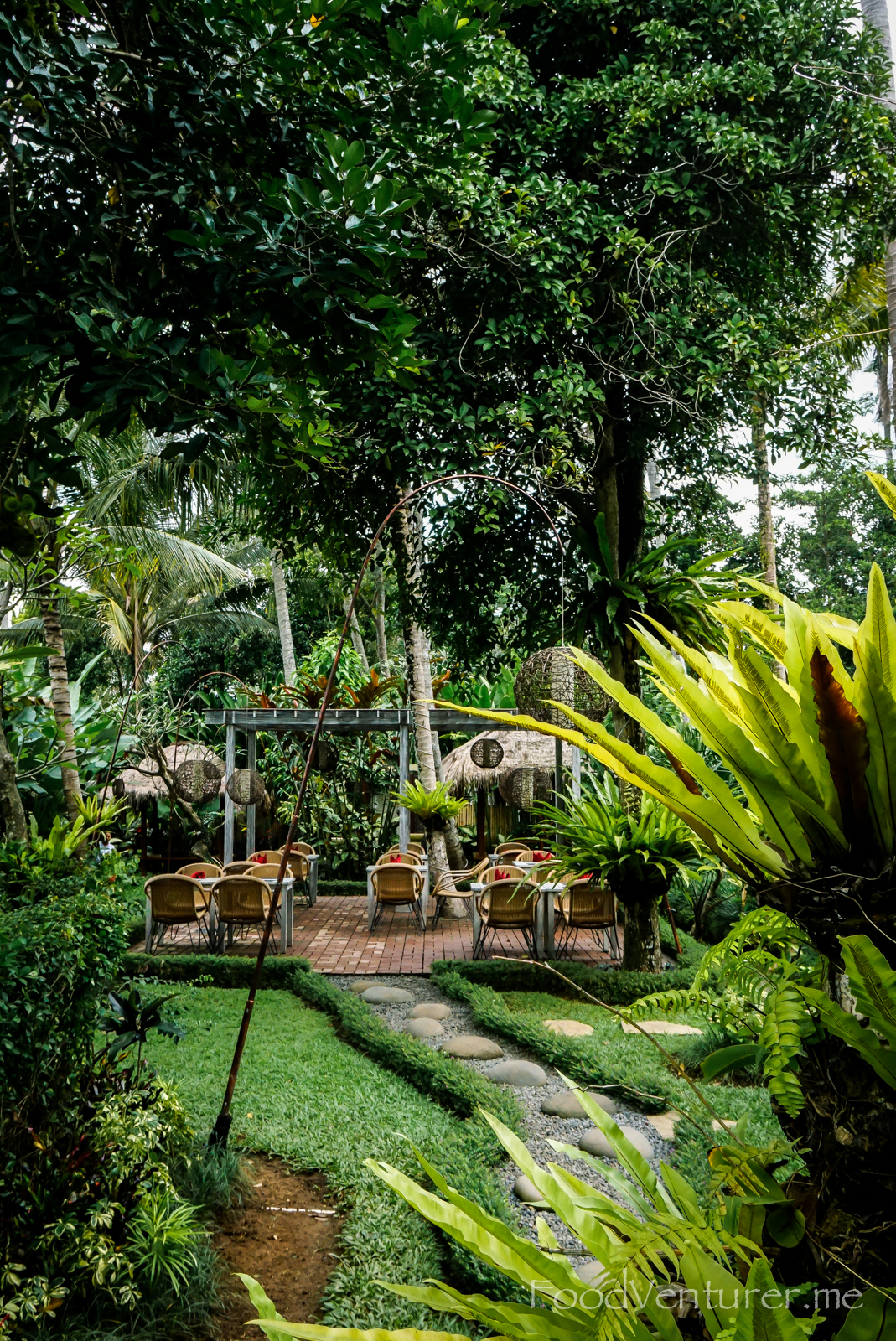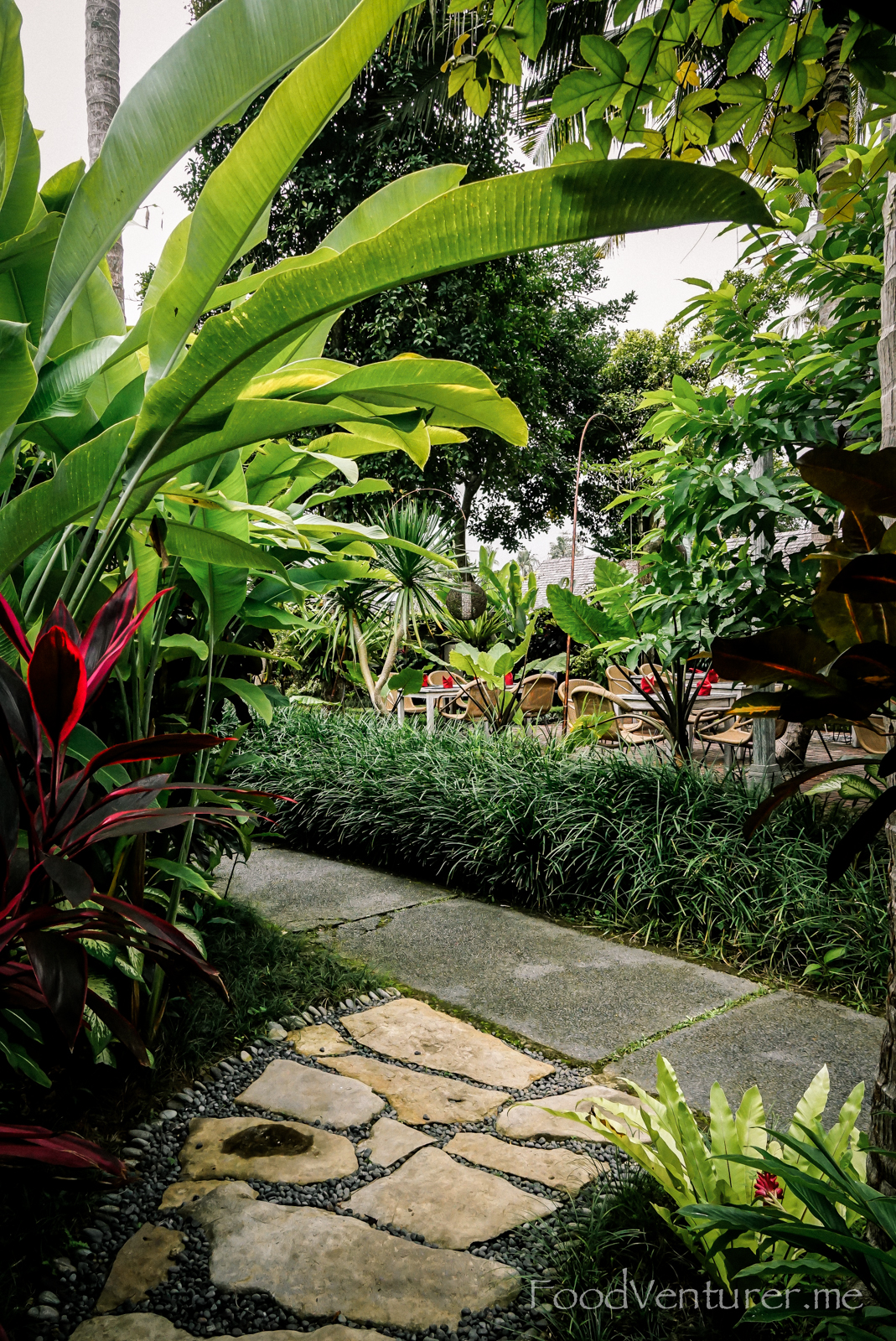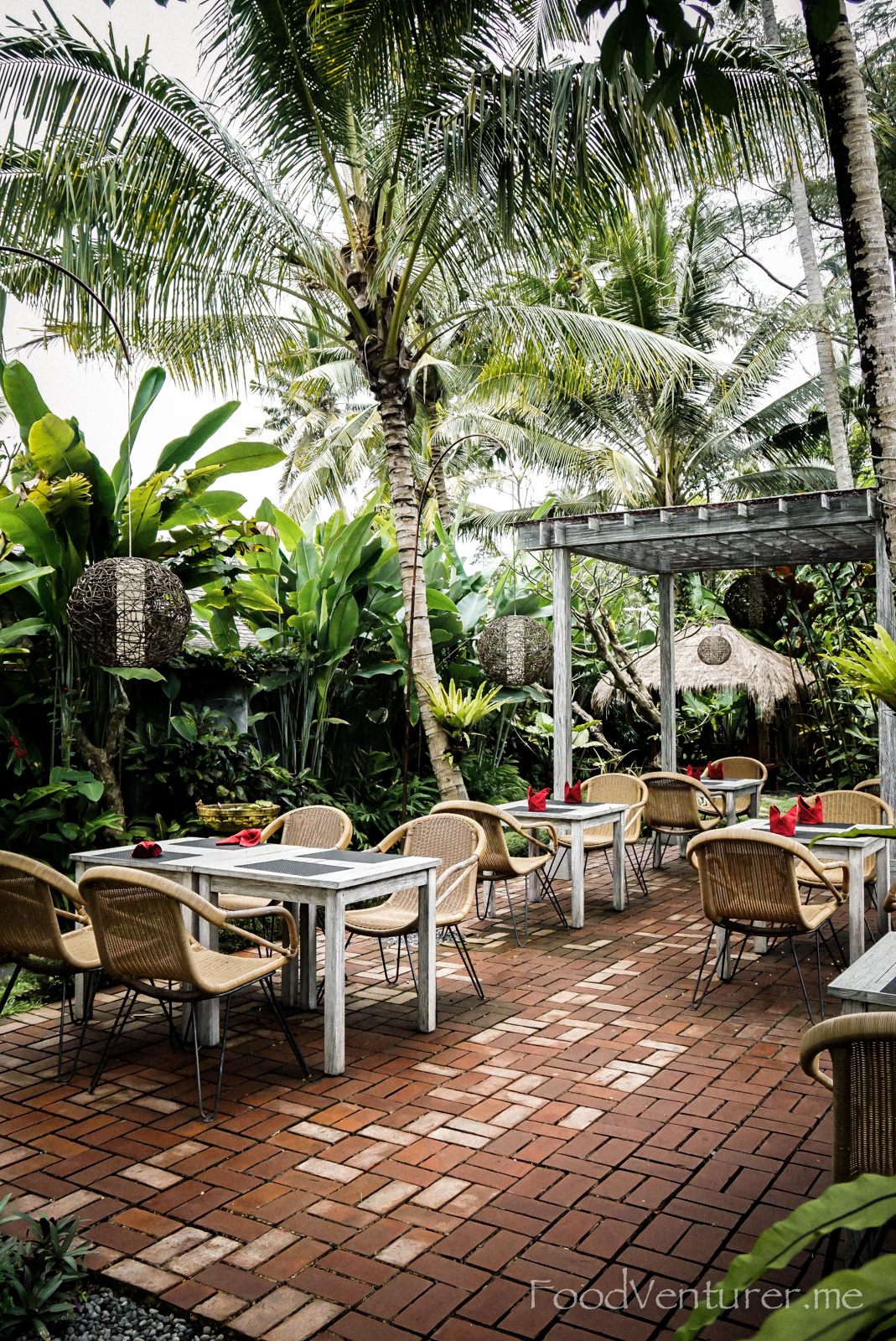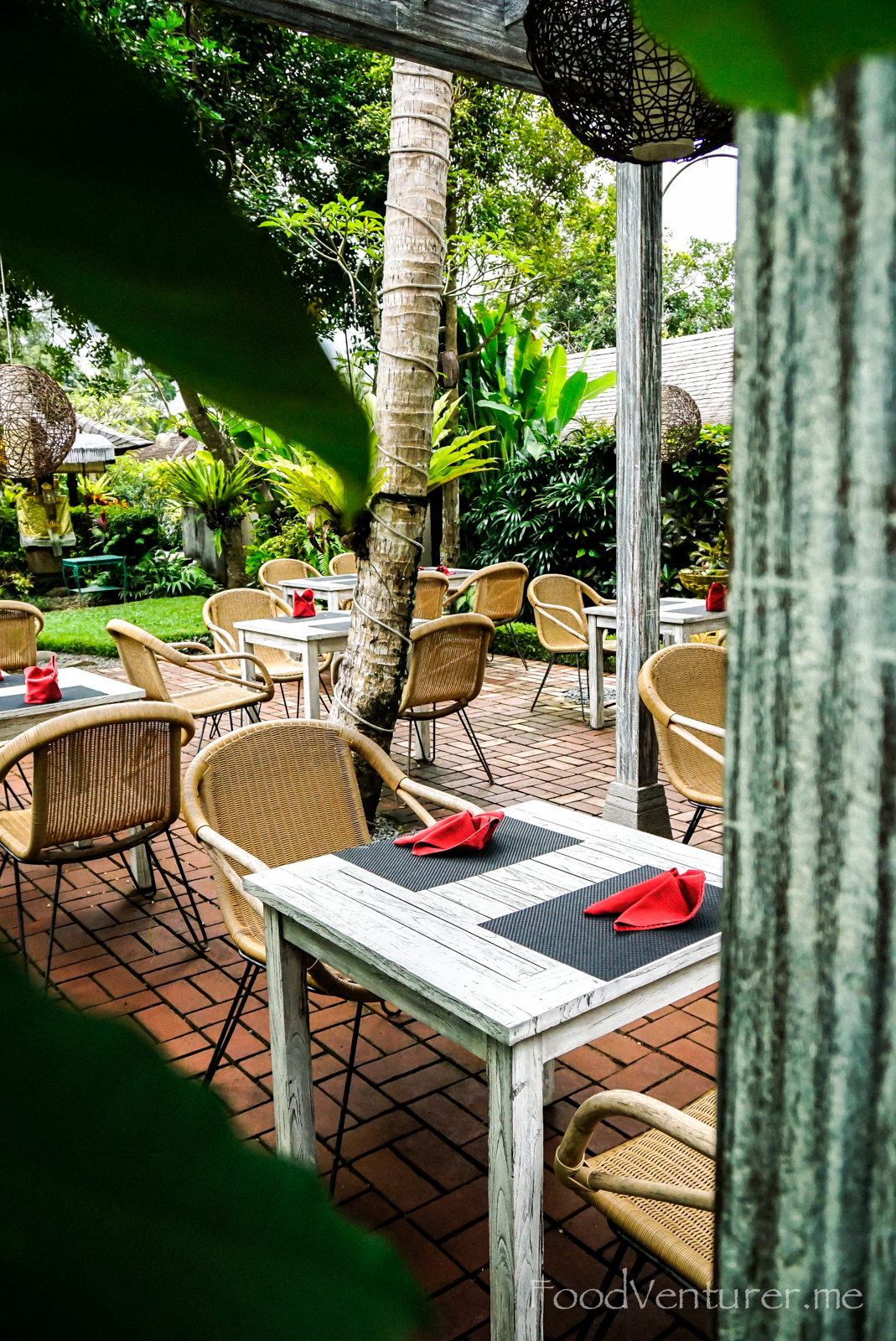 So, Ubud Padi Villas is a property with 1 common pool with Rice Field View, a beautiful garden and dining area, and a very limited number of villas.
There are only two types of villas, One Bedroom Private Pool Villa with Rice Field View and One Bedroom Private Pool Villa with Sacred Valley View.
So, every villa has one private pool and is basically the same in the interior design, with the main difference coming from the view it offers.
I specifically booked the Villa with Sacred Valley View because I wanted complete privacy. What I had in mind was a serene staycation without much activities outside of the villa, so yes, Sacred Valley View it was.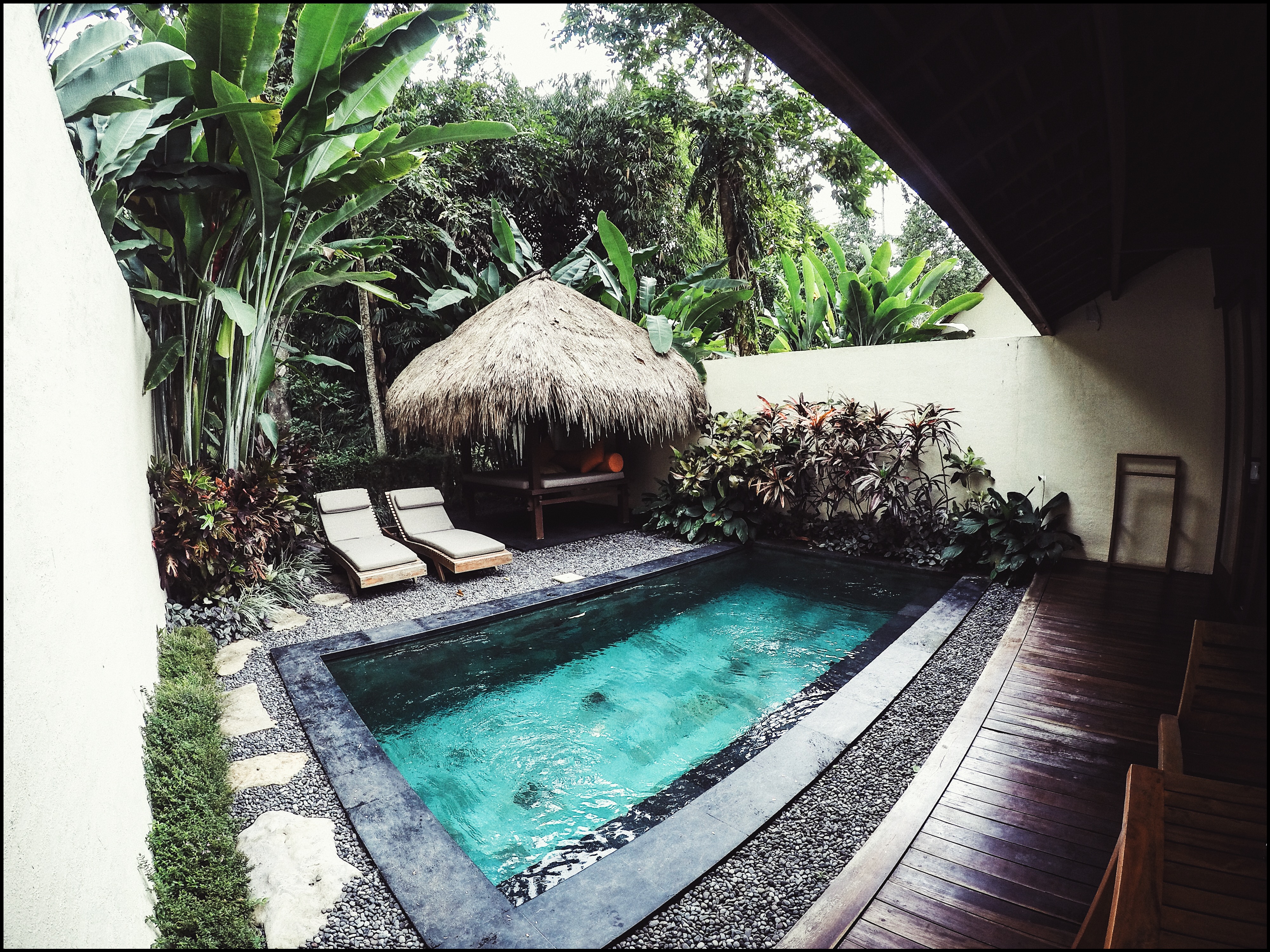 Afterall, booking a villa with the Rice Field feels like a game of drawing lots, because the rice is normally harvested at certain period (which is not very predictable), and when it actually happens during our stay, we will have nothing green to see except for the wet fields. But nonetheless, for those who seek to wake up with a view of rice field, the One Bedroom Private Pool Villa with Rice Field View would be perfect. Perhaps, you can ask the team here (by phone) about when the rice fields are usually harvested to avoid the disappointment.
Our One Bedroom Private Pool Villa with Sacred Valley View was gorgeous, even better than what we anticipated. The pictures on websites didn't do it justice. The villa we were staying was nearly impeccable and well-maintained. The bedroom was big (I thought it was small), the semi-outdoor bathroom was so nice with lovely bathtub, the private pool was quite big, very clean and inviting, and the Sacred Valley View was beautiful. It was like a part of jungle that belong to us for a full day.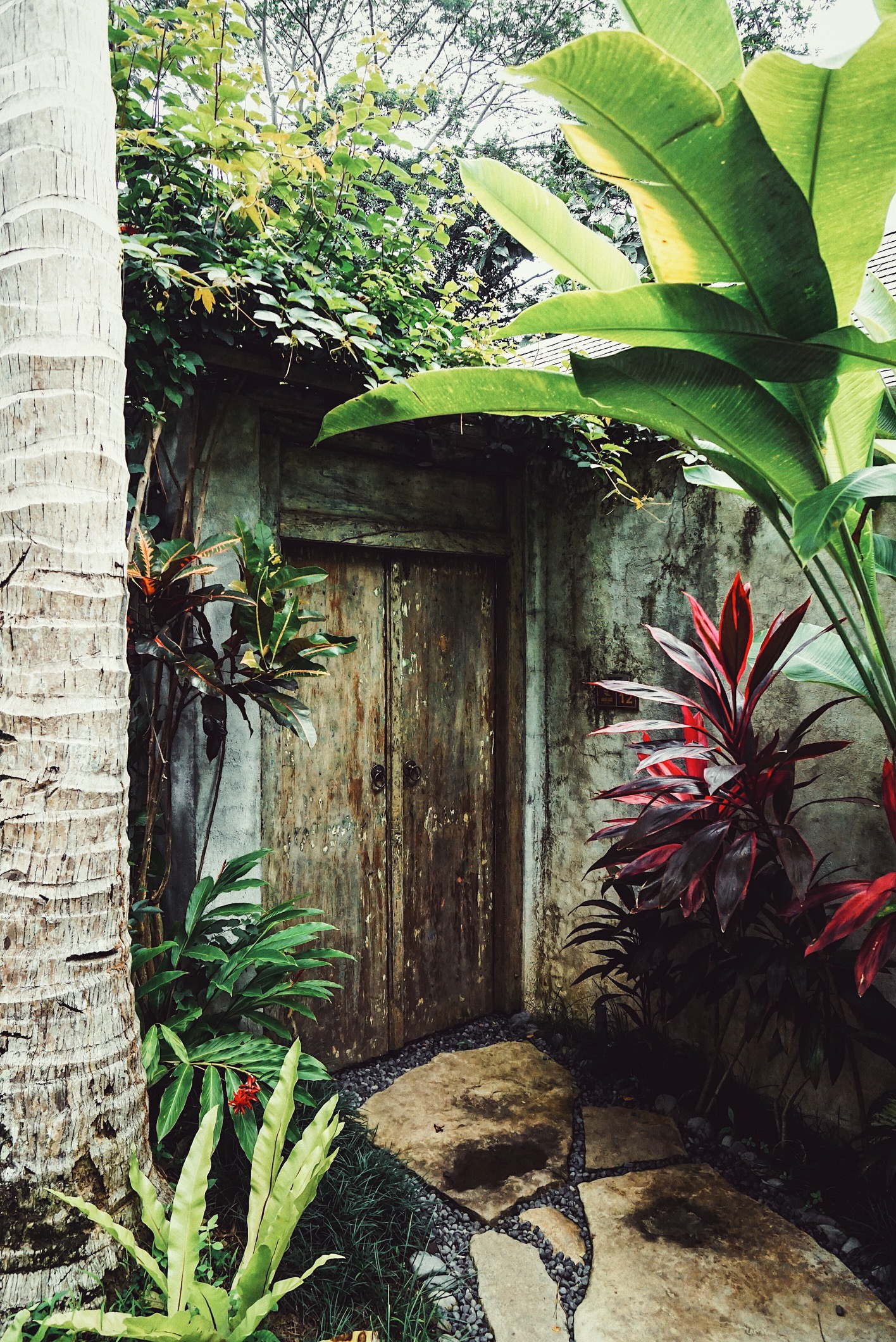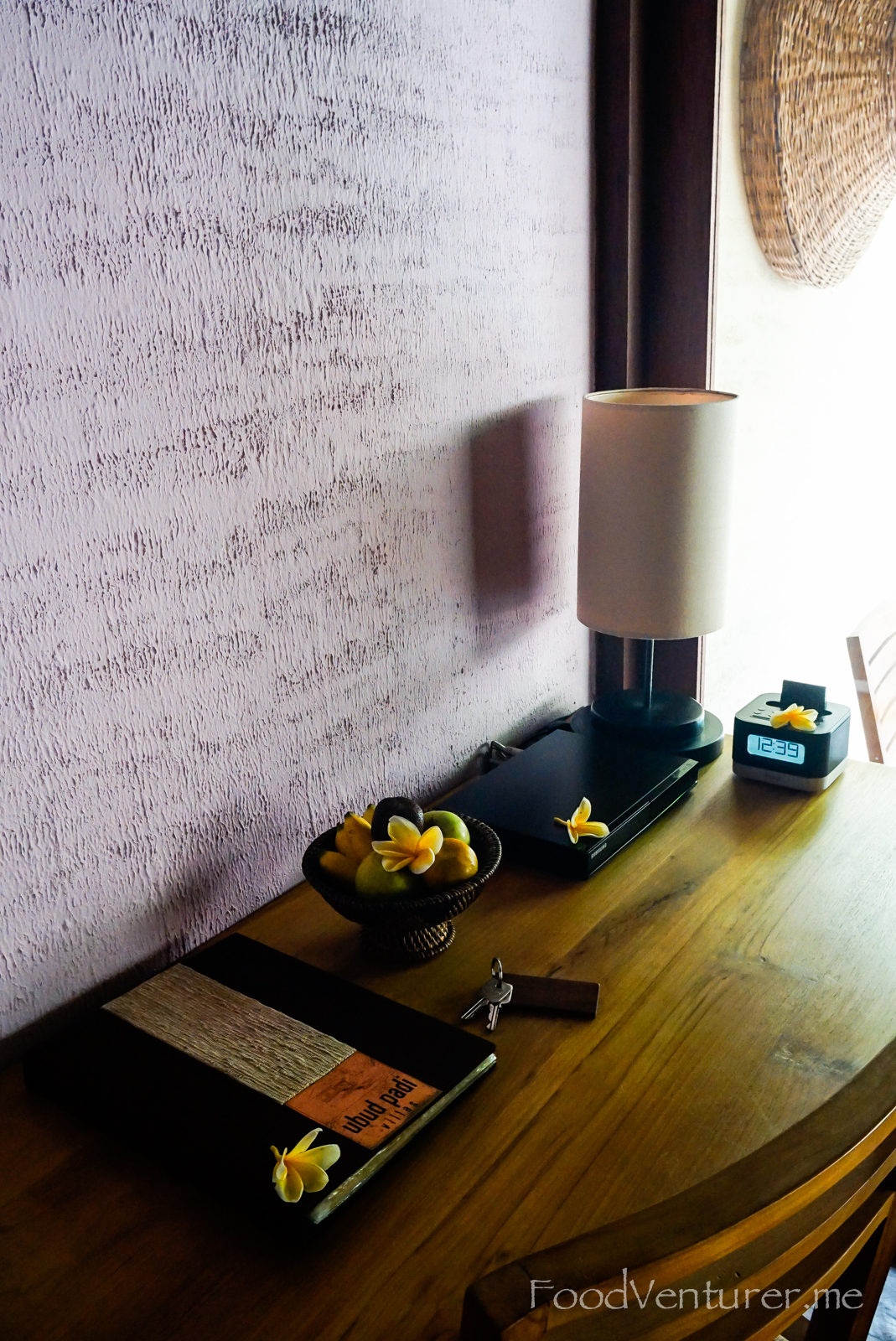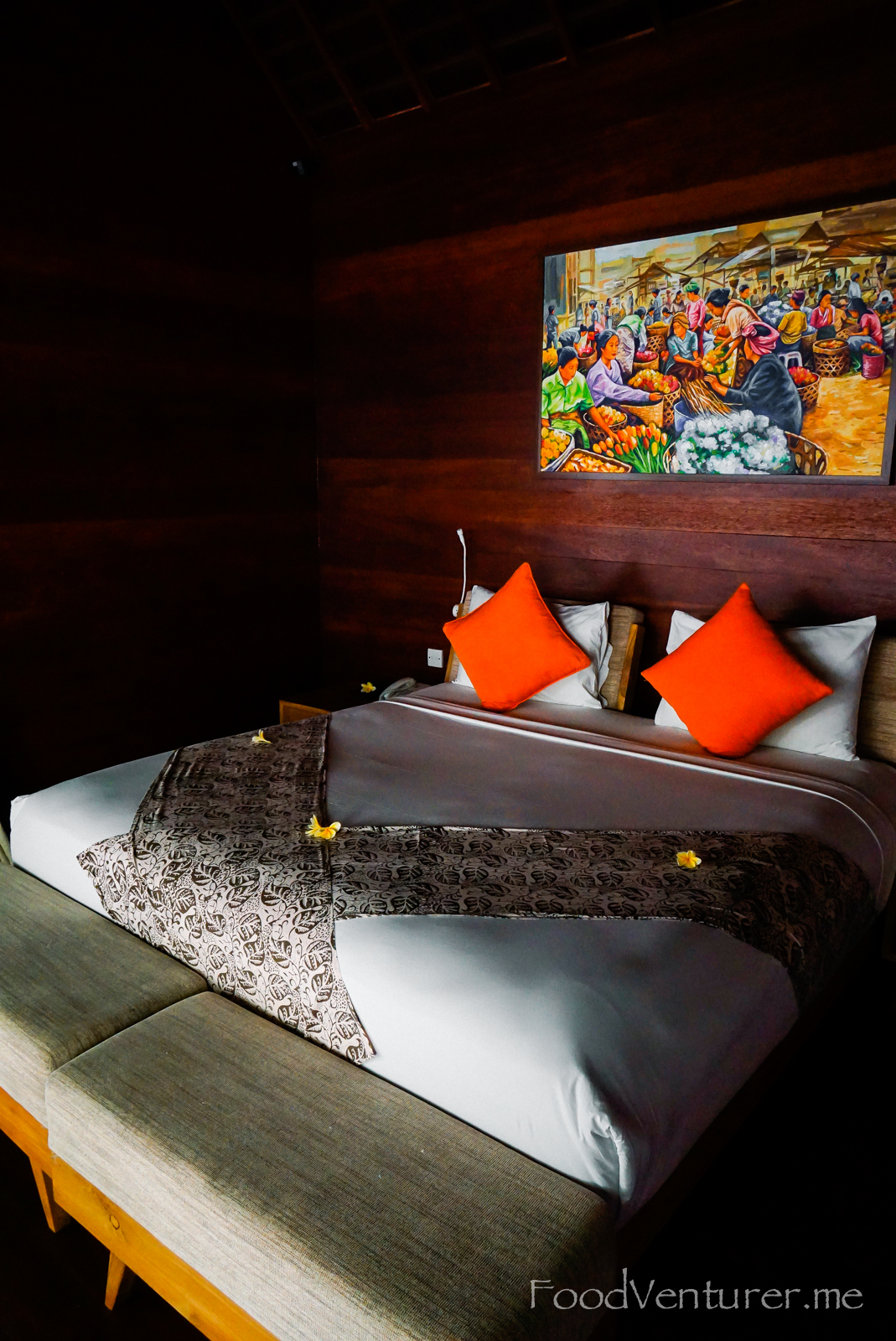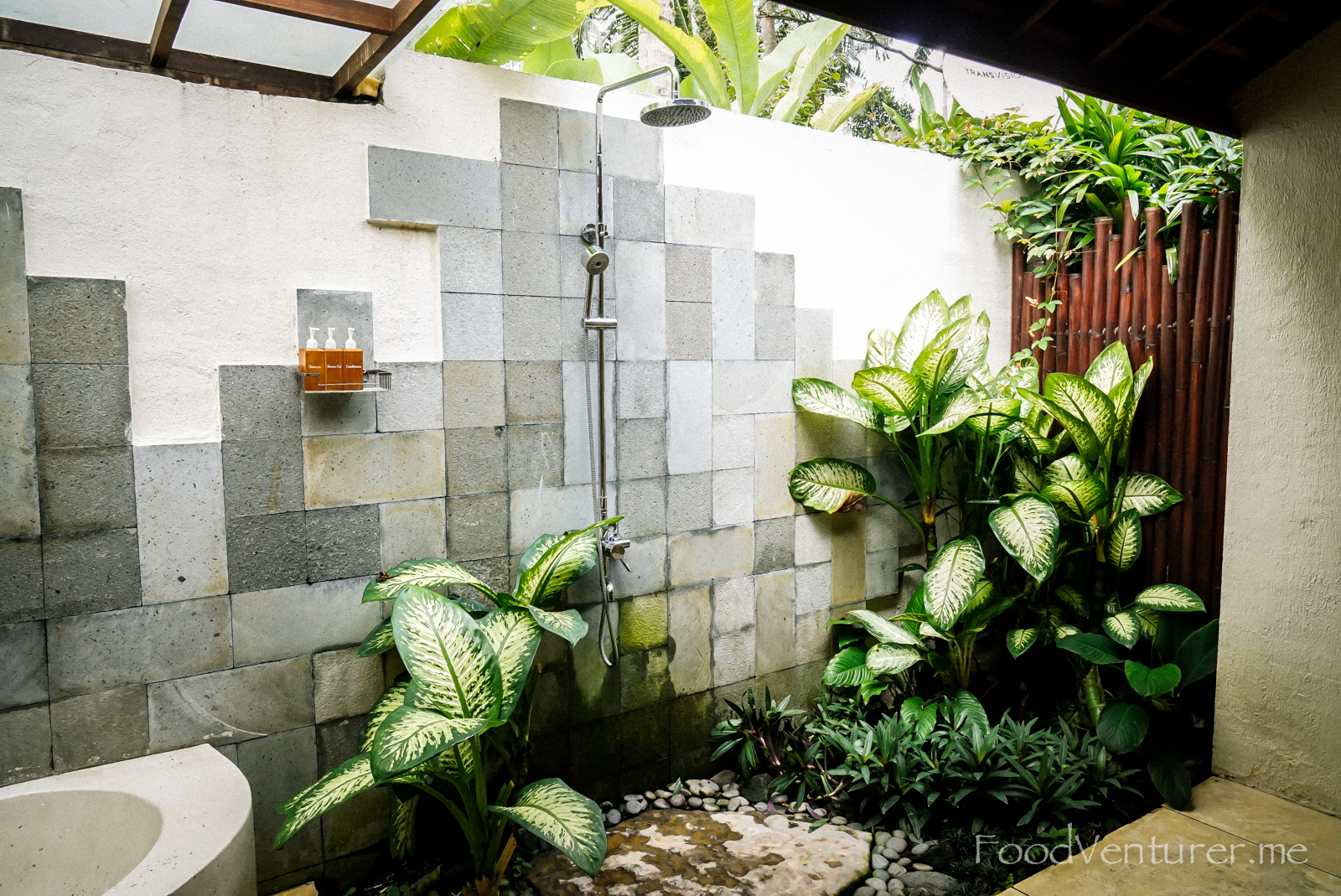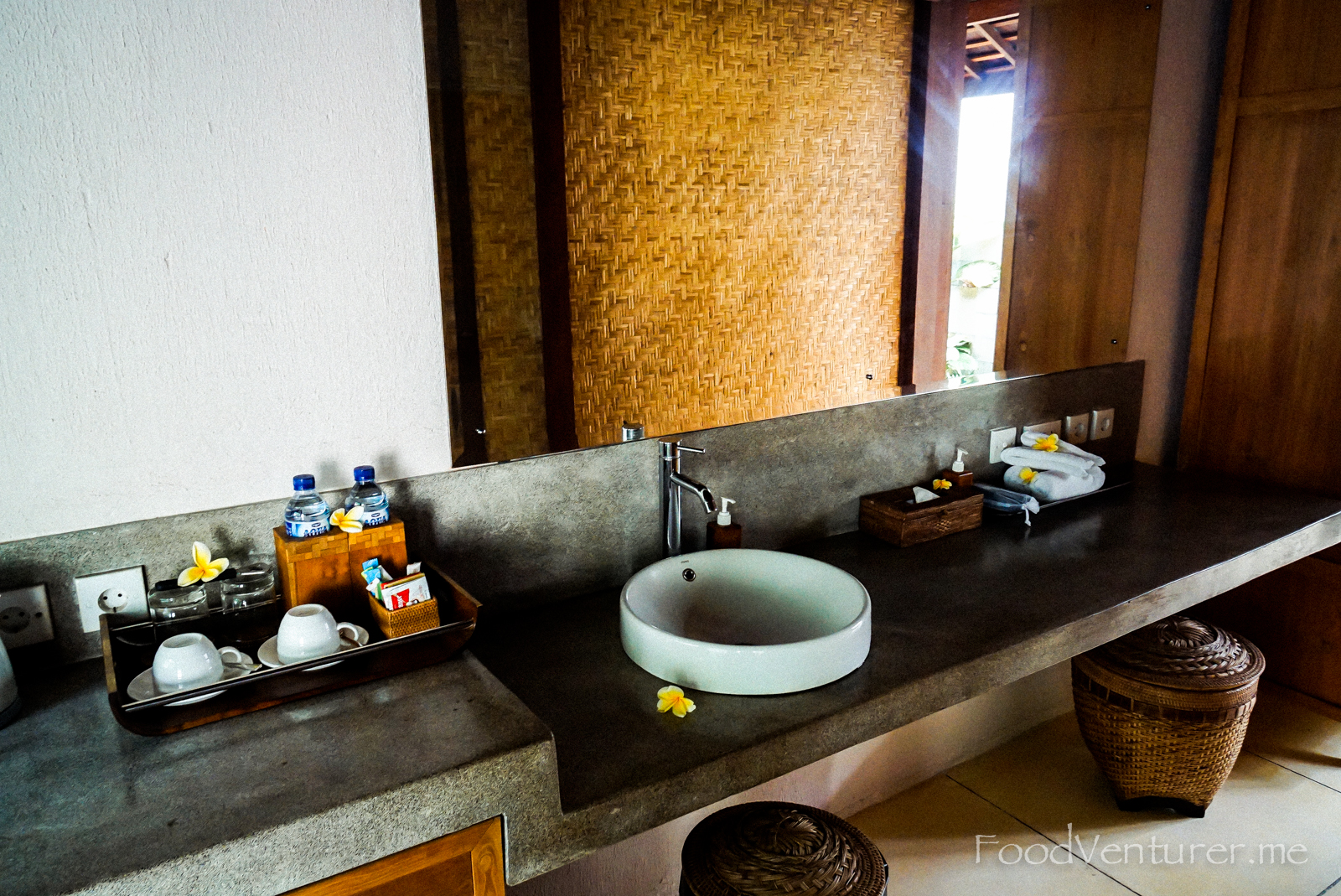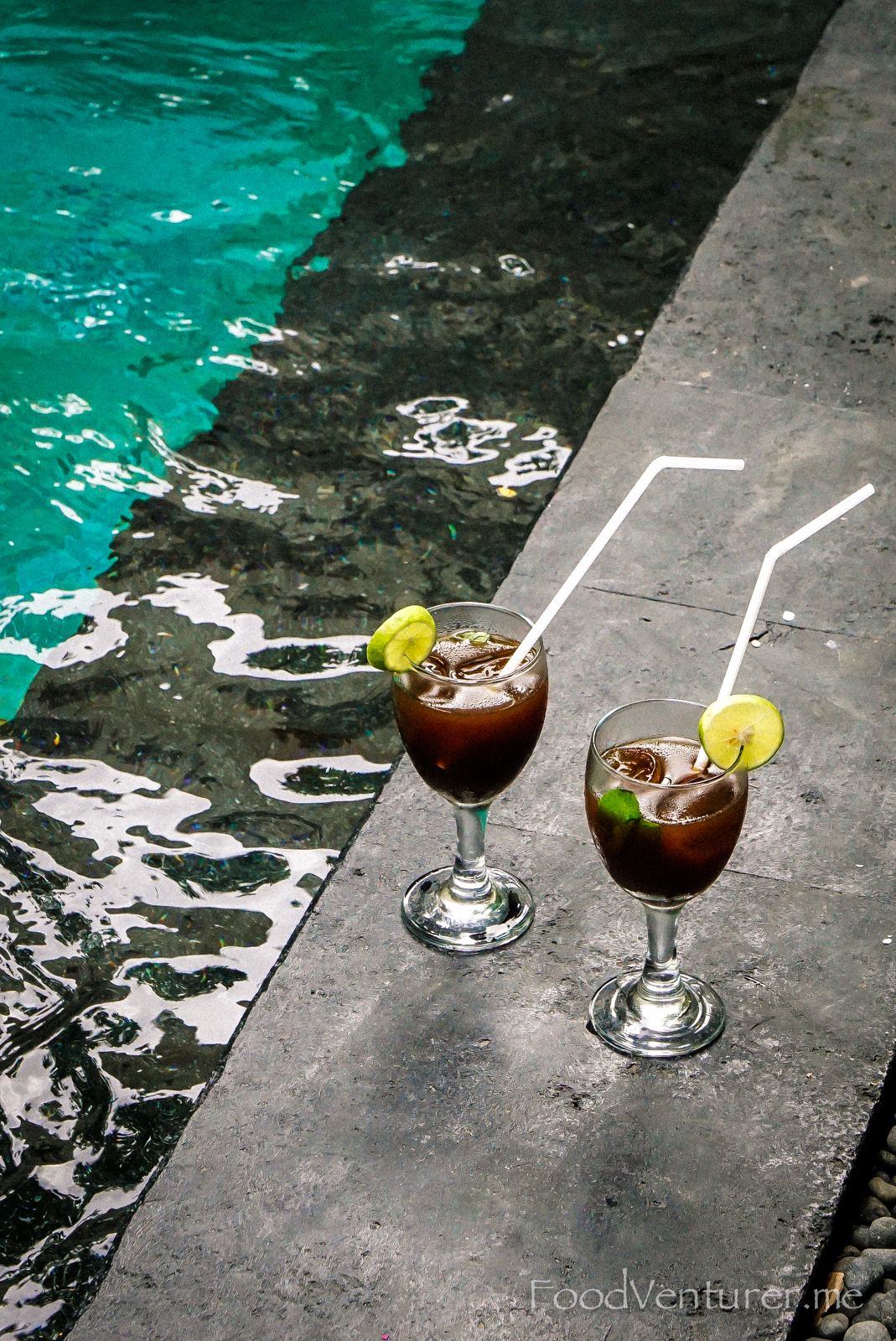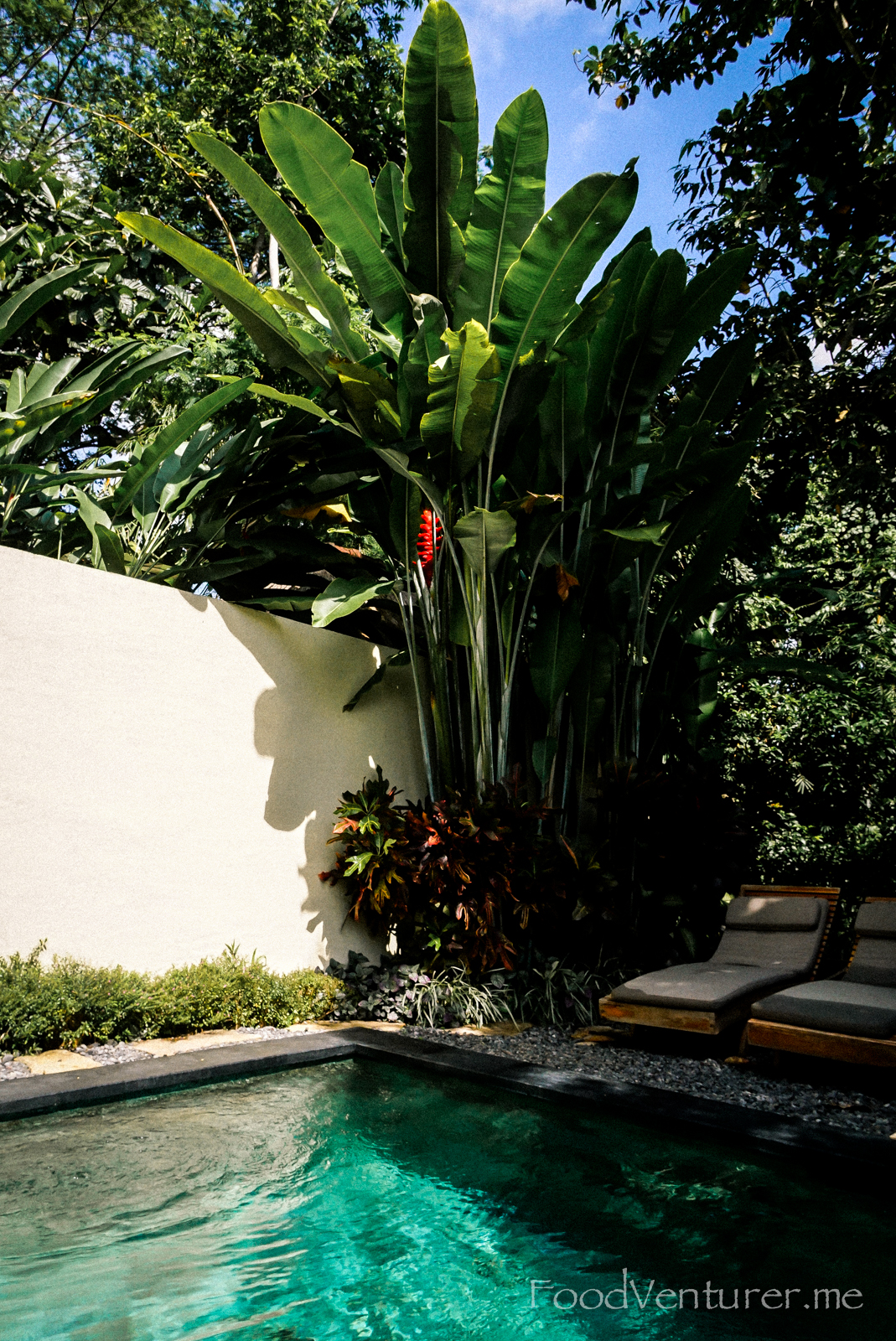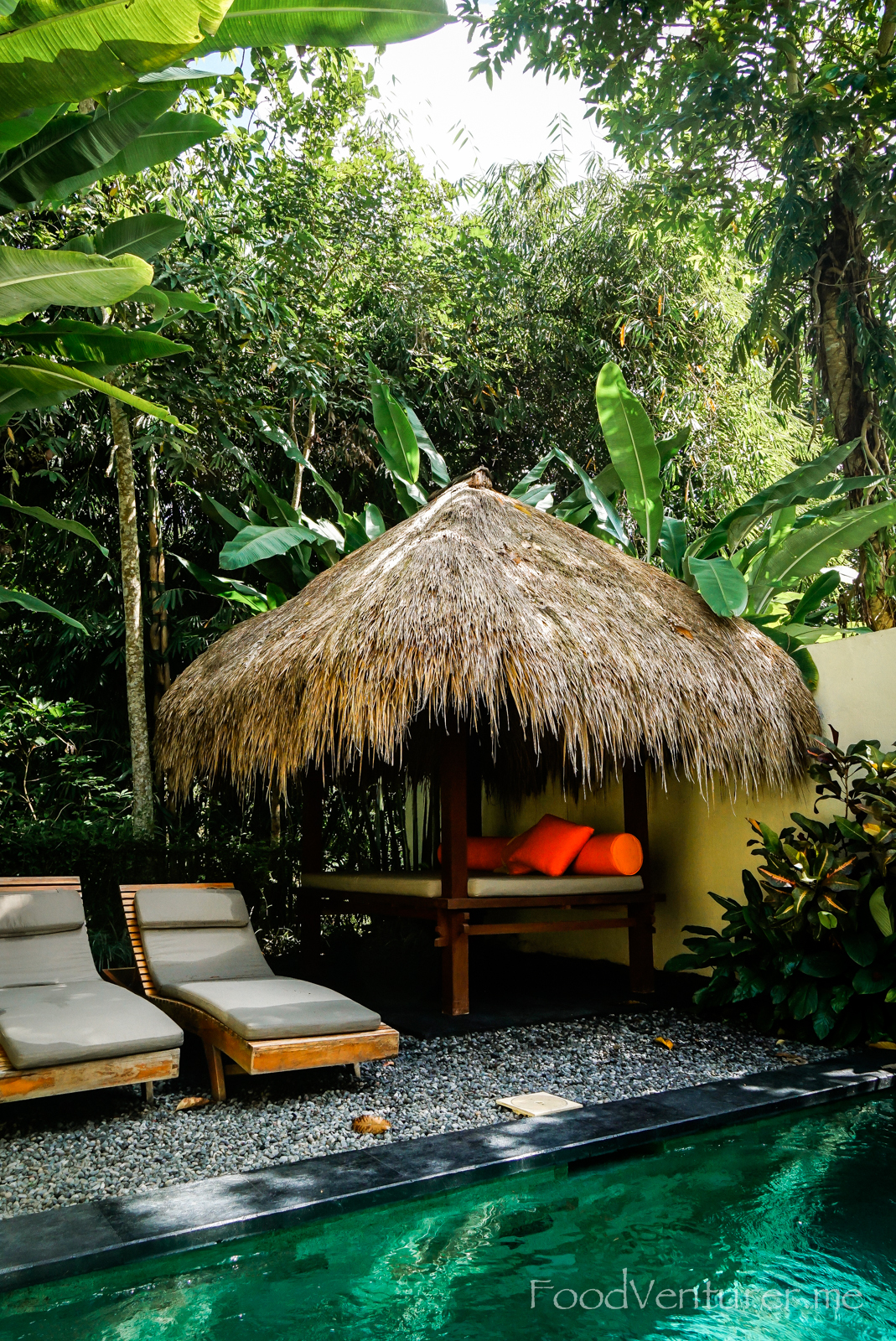 Activity that you can do here is basically countless.
You can read book here, enjoy in-house lunch/dinner, watch TV (which is pointless actually in a nature-surrounded place such as this), swim all day (skinny dipping! :P), sun-bathing, take a nap all-day, and simply enjoy the nature as it is!
The next morning, we had a great breakfast in our own room, by the pool. We actually had options for dining in the garden or having it by our own pool, but of course having breakfast by our own pool seemed to be an irresistible idea. We just had to tick some of the choices on their form, submit it to the front desk the day before, and voila, the breakfast was delivered exactly at the requested time.
See how nice our breakfast was.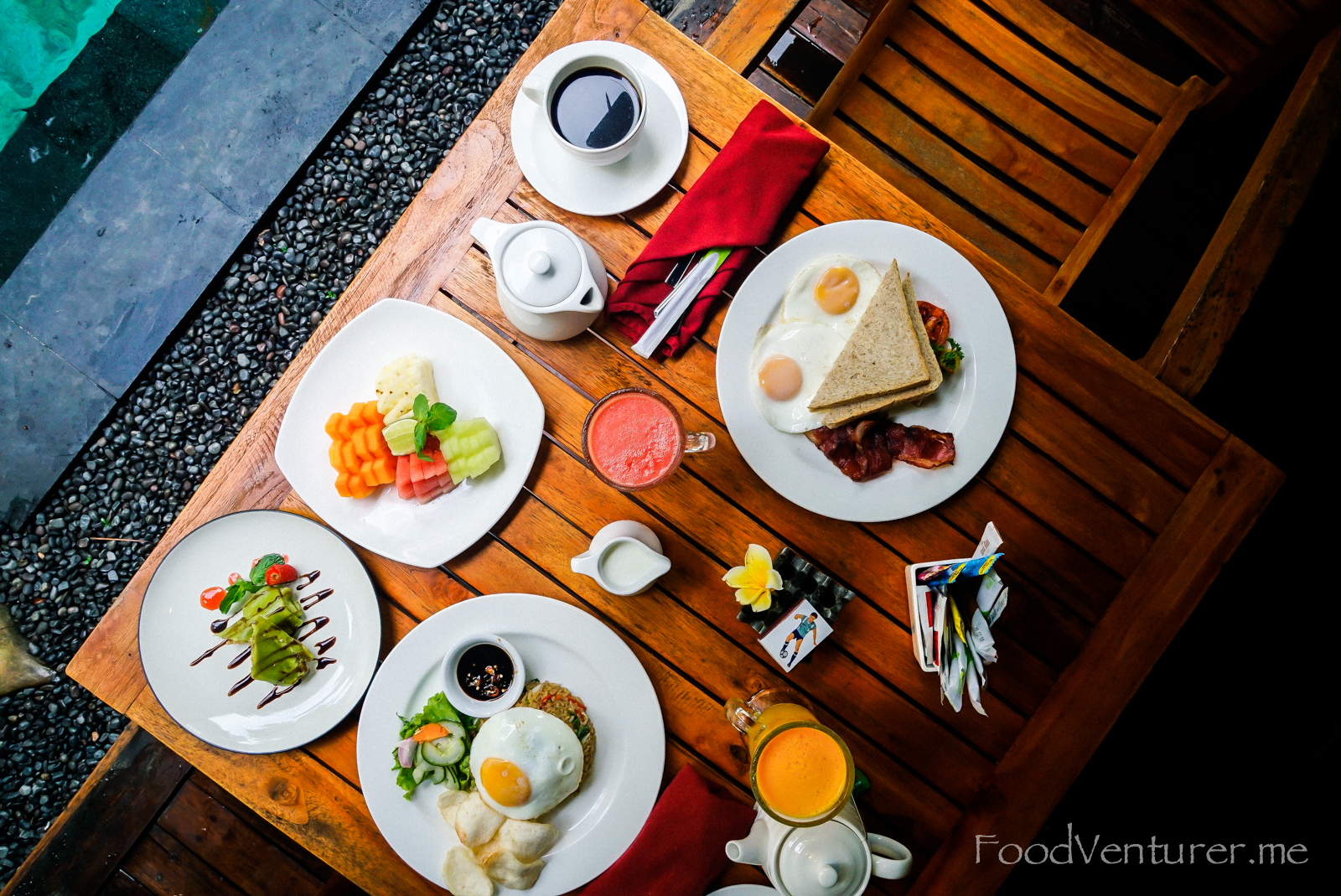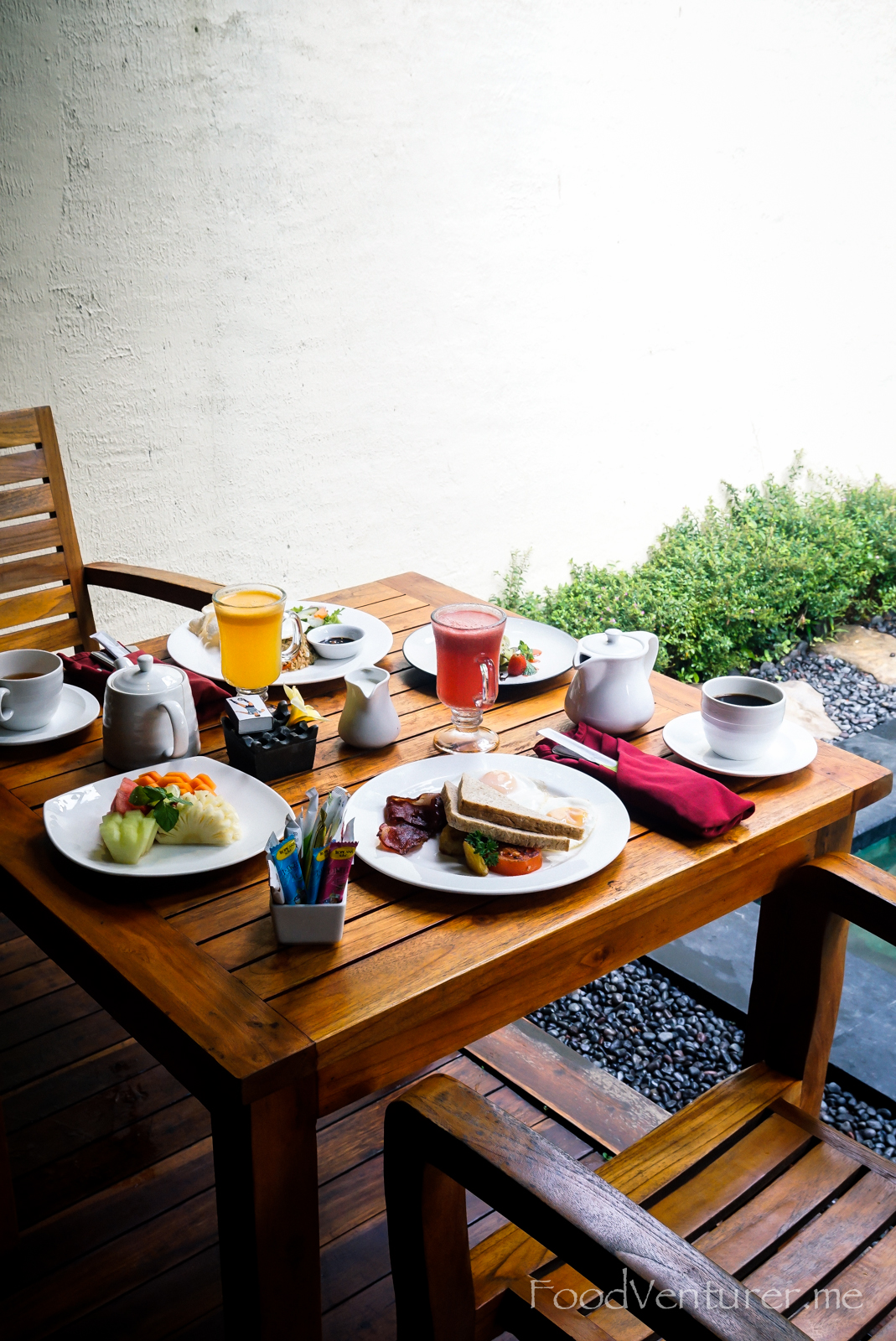 Surprisingly, every thing on the table tasted good! Well, except for the plates, cutleries and glasses.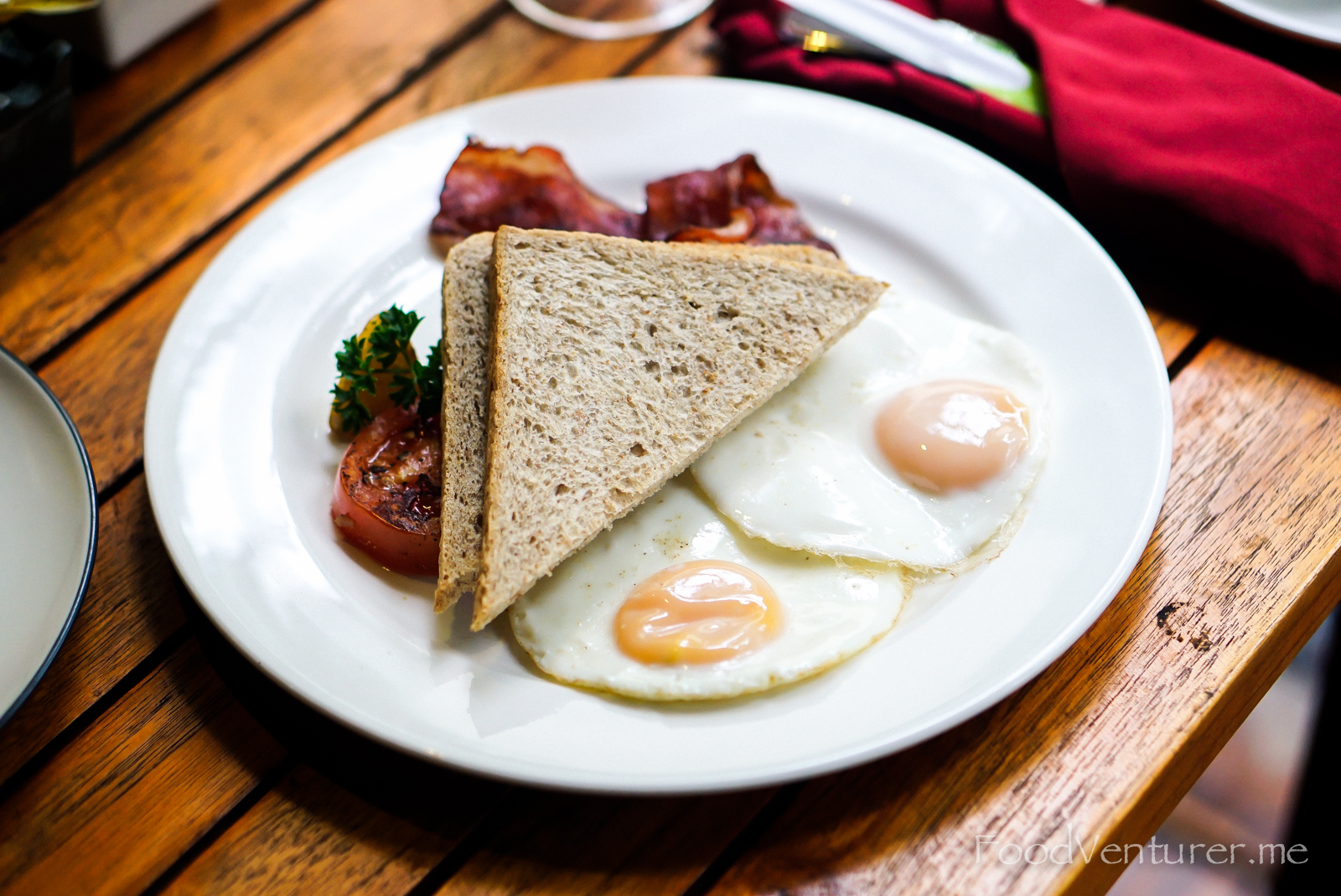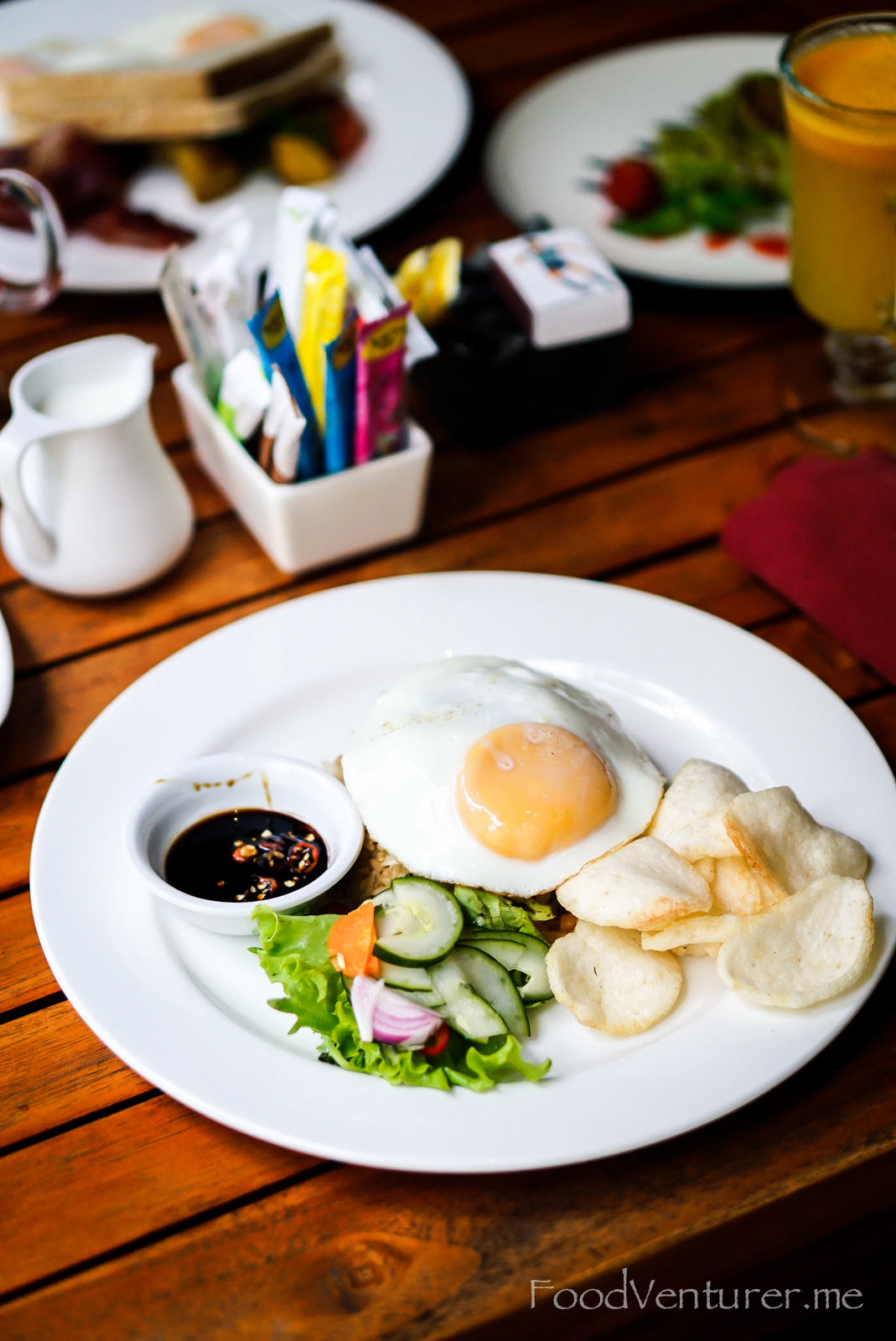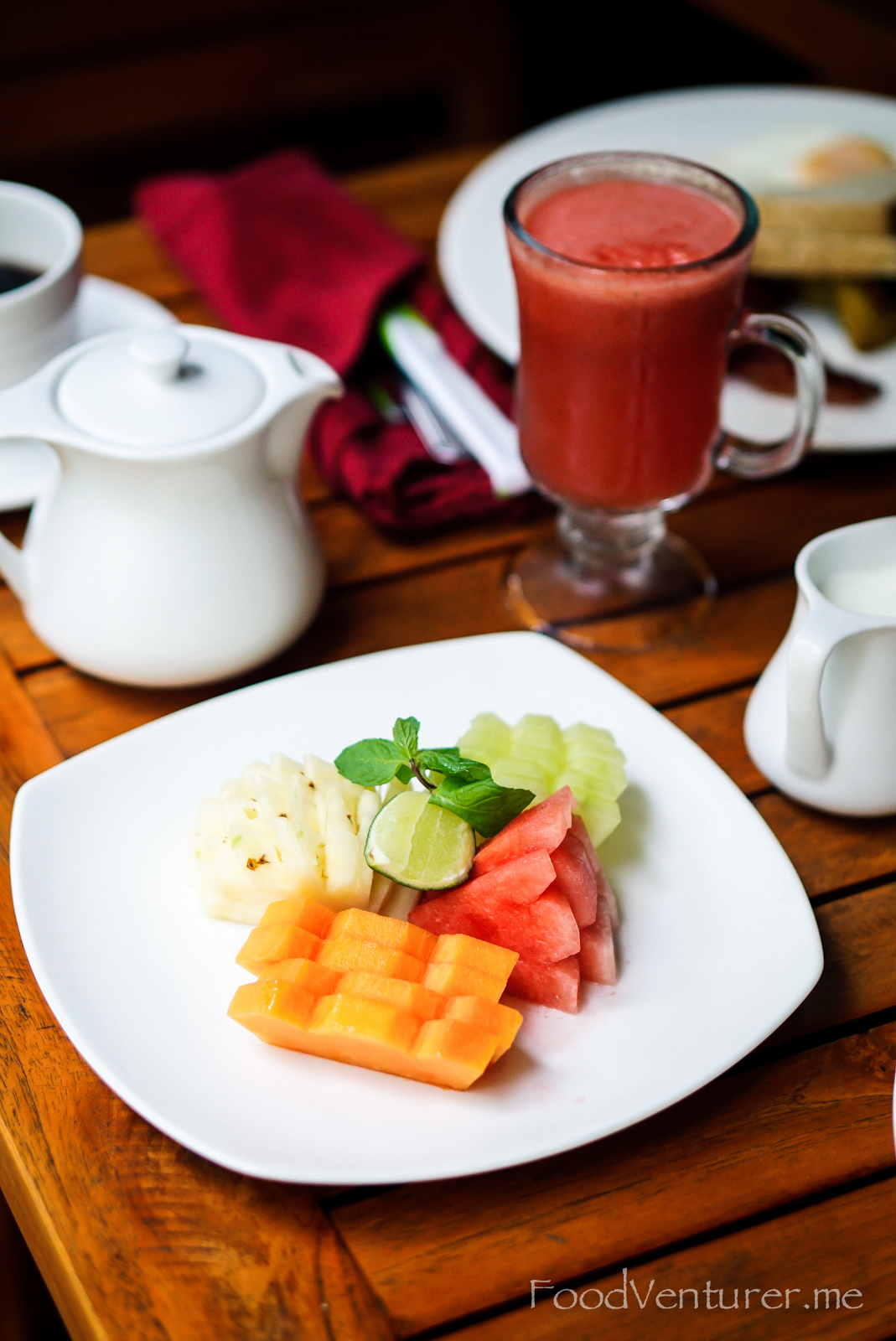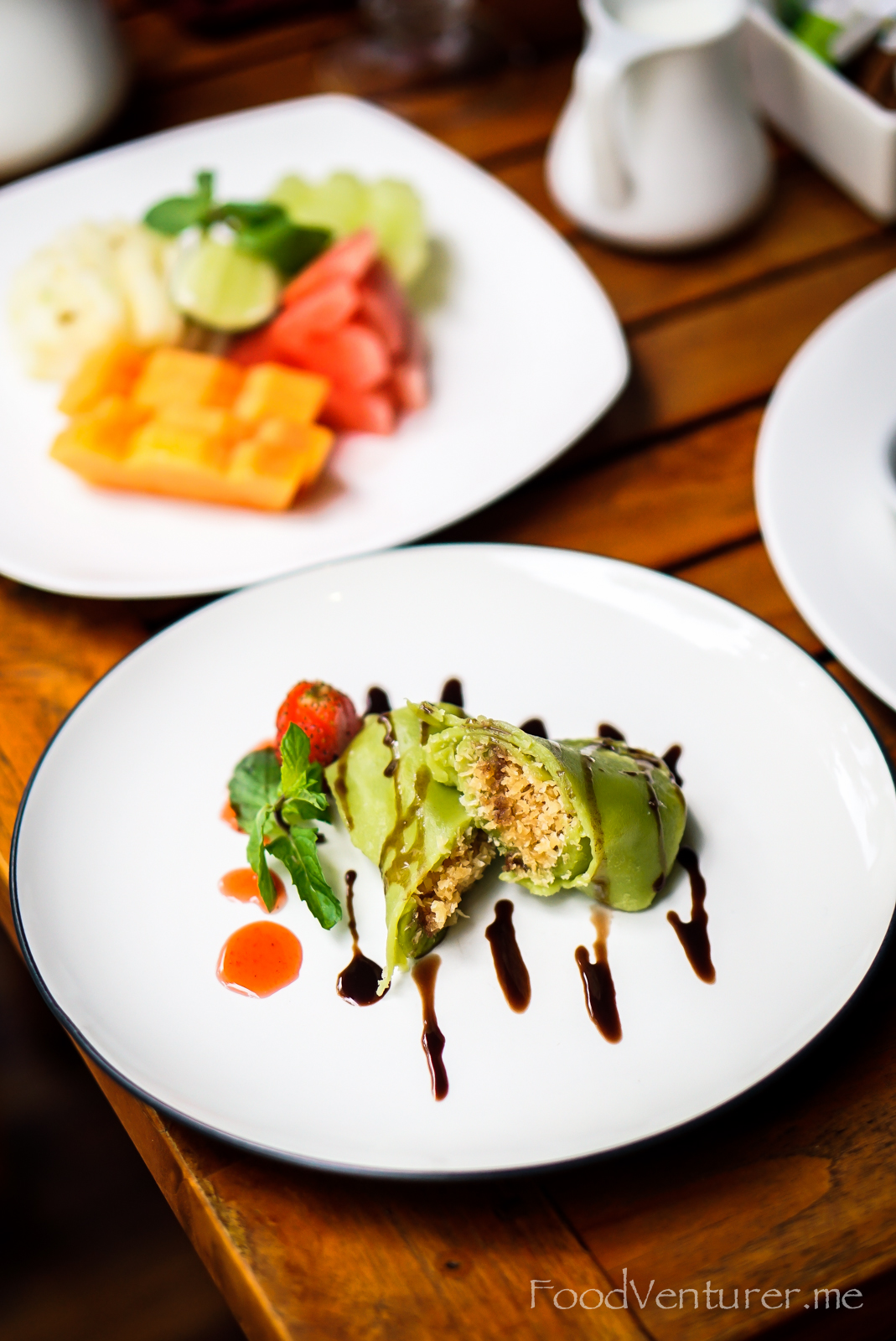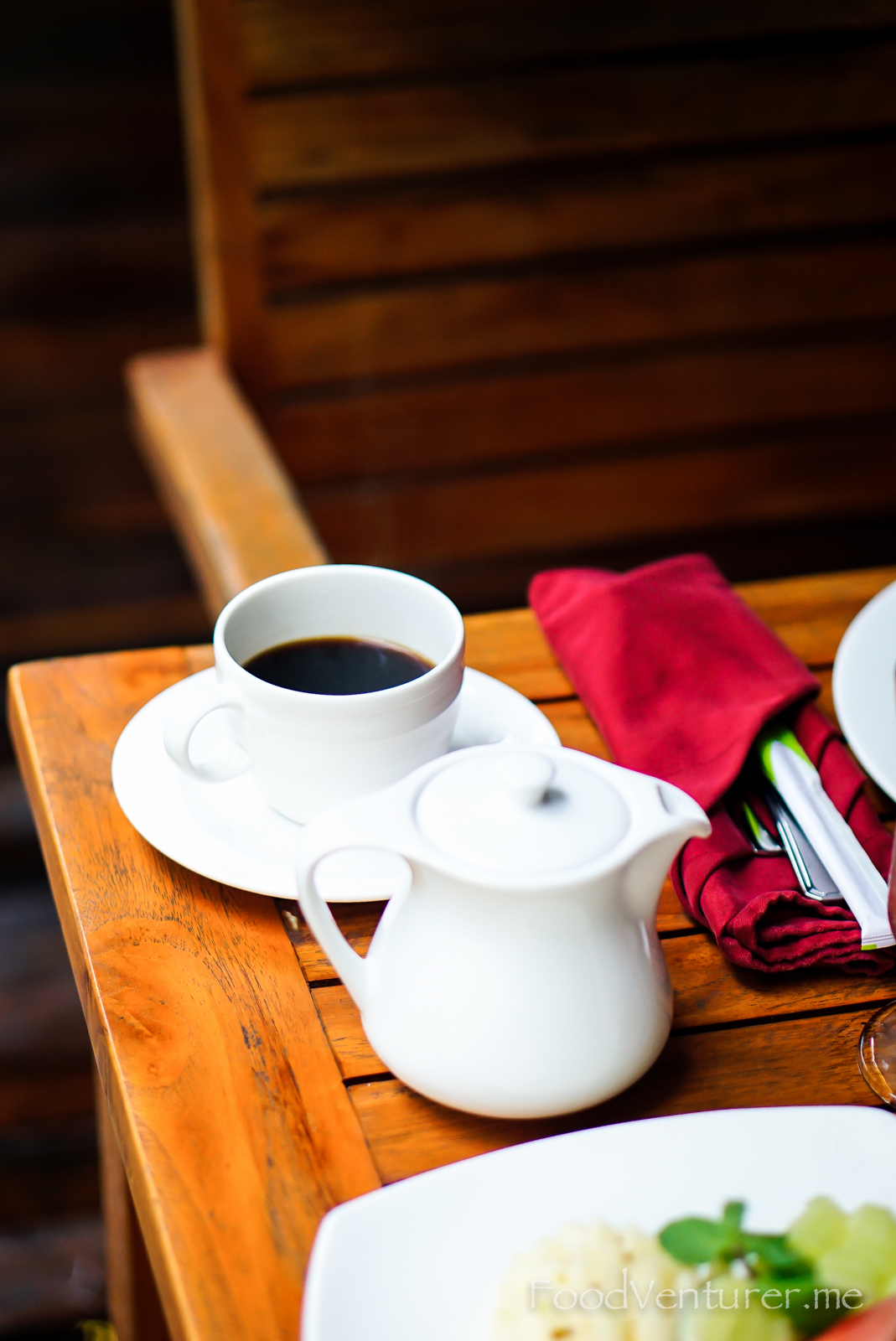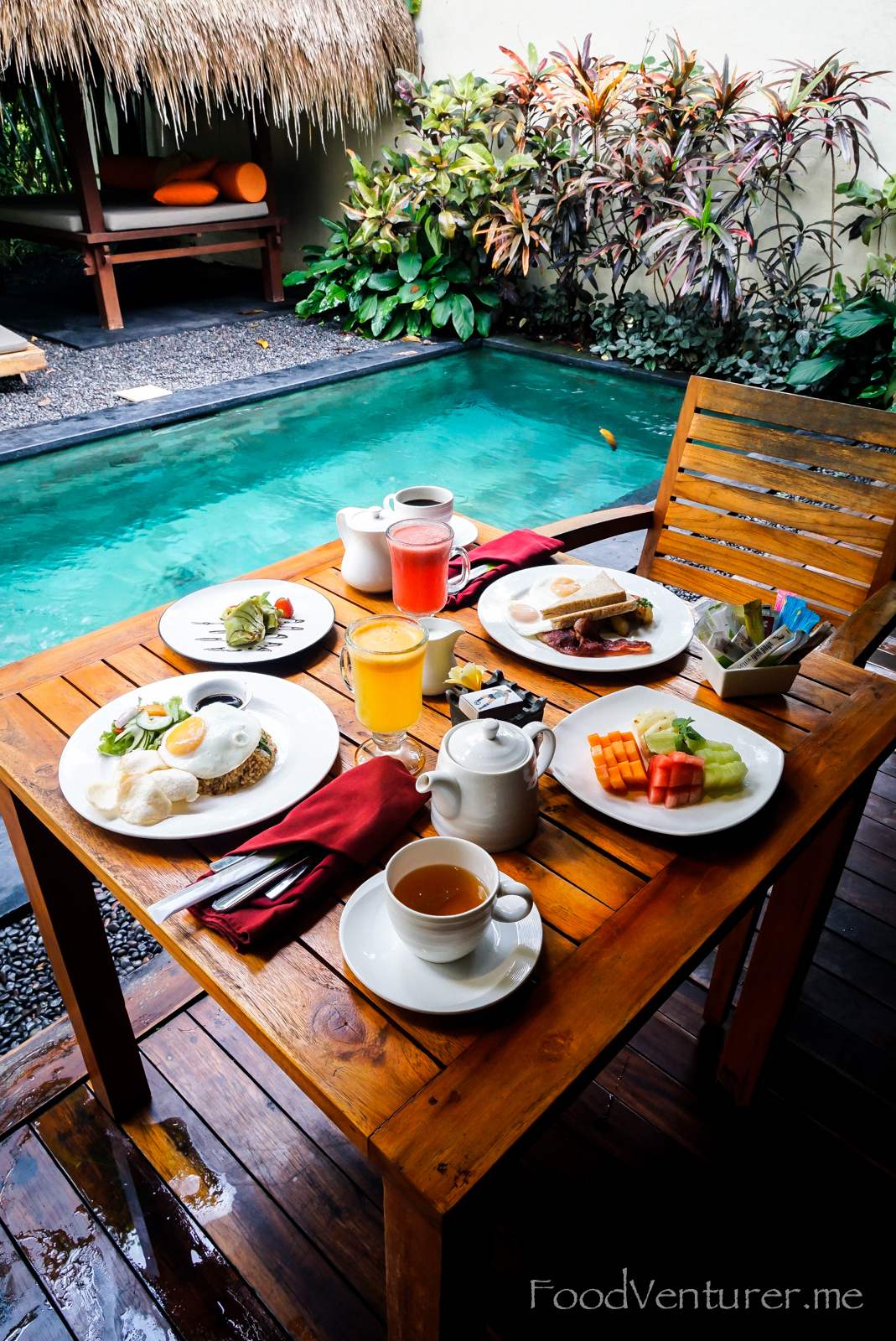 After breakfast, all I did was putting the blanket on me again and lay down on the big comfy bed doing nothing. Doing yoga would have been a brighter idea, but I was more of an expert in sleeping, so I chose sleeping.
If you choose to have breakfast in the garden, here is how it looks like.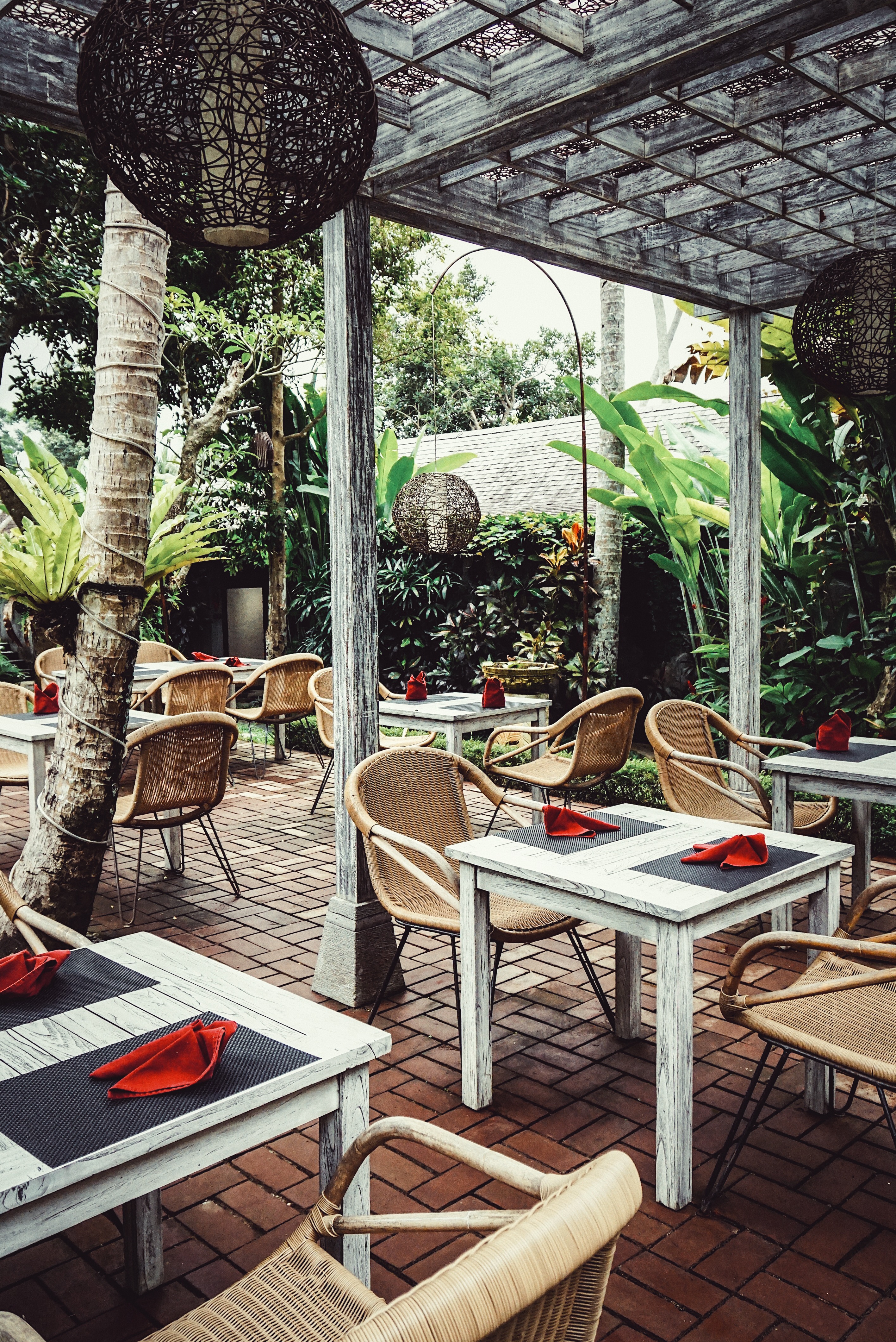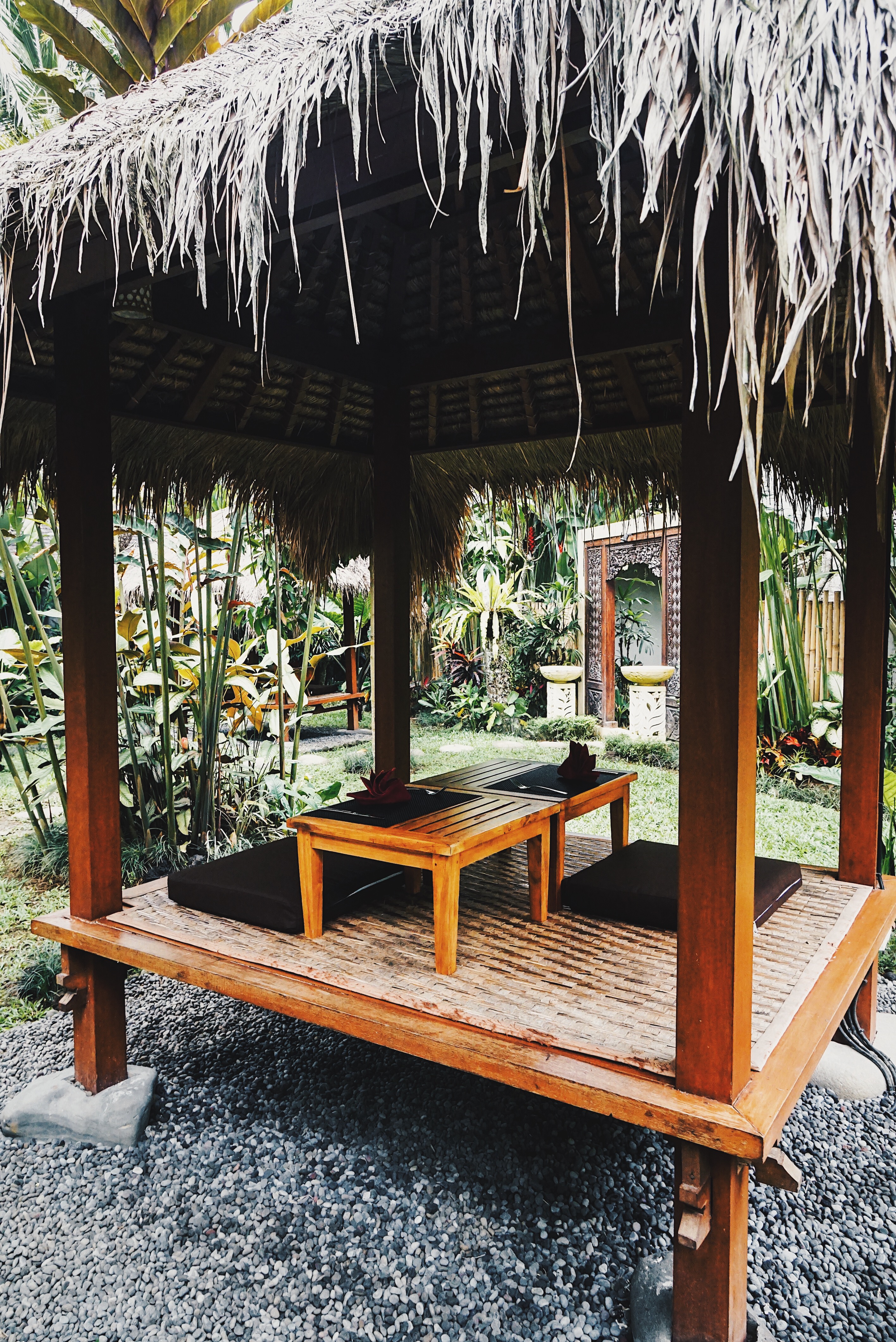 I couldn't actually explain to you all of the best things I experienced in this Villa, but in short, I was really satisfied with not a single complaint to think of. The villas here are mostly suitable for for couples and small family. It's perfect for honeymoon.
In-Room Facility that you can get here:
– TV (with International Channels)
– DVD Player
– Tea/Coffee Maker
– Wifi
– Air-Condition
– Semi-Outdoor Shower & Bathtub
– In-room Breakfast
– Private Pool
– Hut/Shack
– 2 Sunbeds
To Be Expected:
– Mosquitoes and bugs might be your friends here (seasonal), but during my visit, there weren't any weird bugs to see. There were only a few mosquitoes, which were easily repelled with the Mosquito Sprayer. Each villa is equipped with Mosquito Killer, both the sprayer and coil.
– The toilet here wasn't exactly sound proof. So every sound you make in the toilet might be reach the bedroom. 😉
– If you're using car around Bali, it might be difficult to park since the property here is located a bit away from the main road. The only vehicles that could get in the alleyway are buggy cars (they have buggy service here to pick up guests and luggages from/to the main road), motorbikes or bicycles.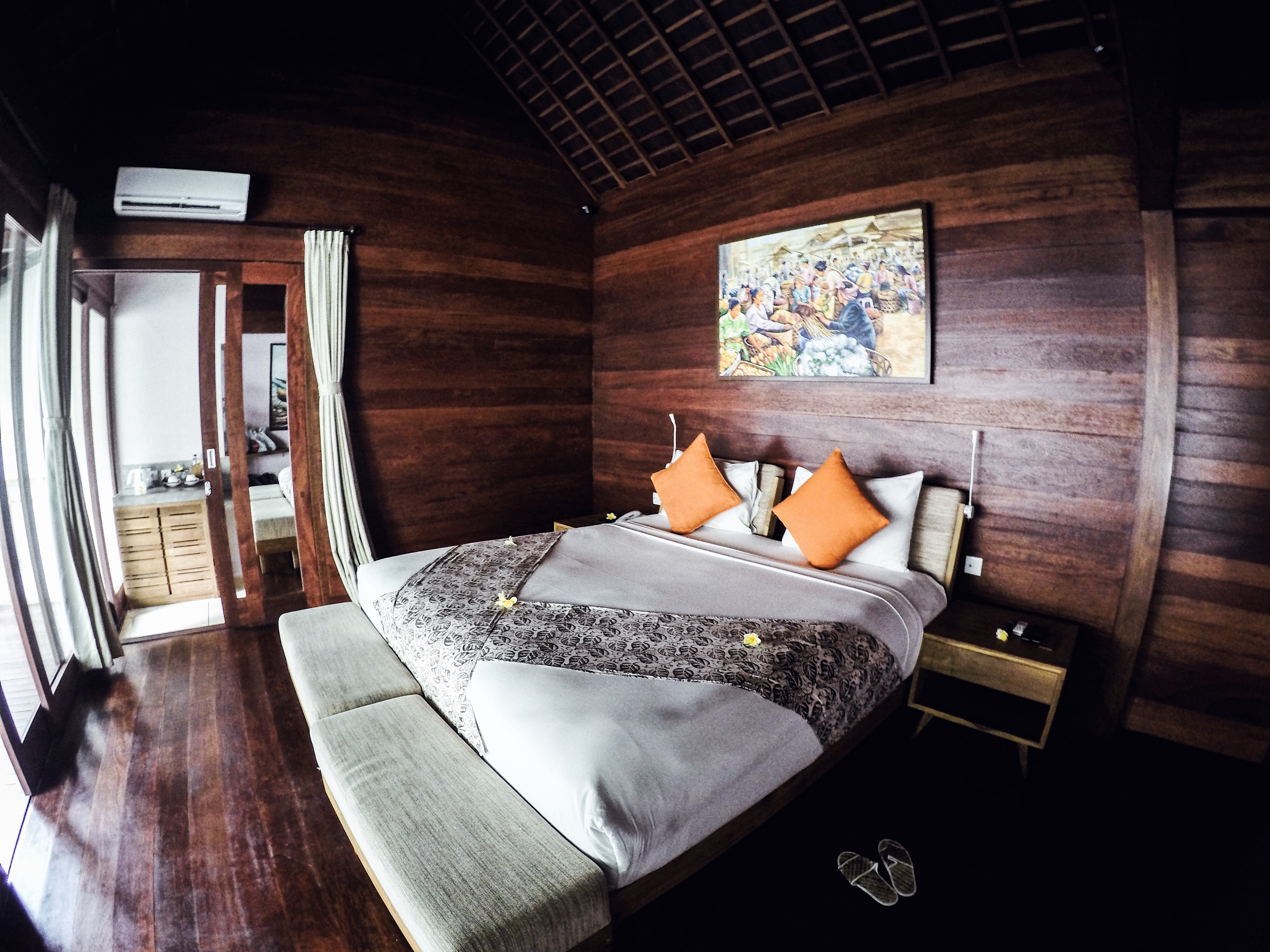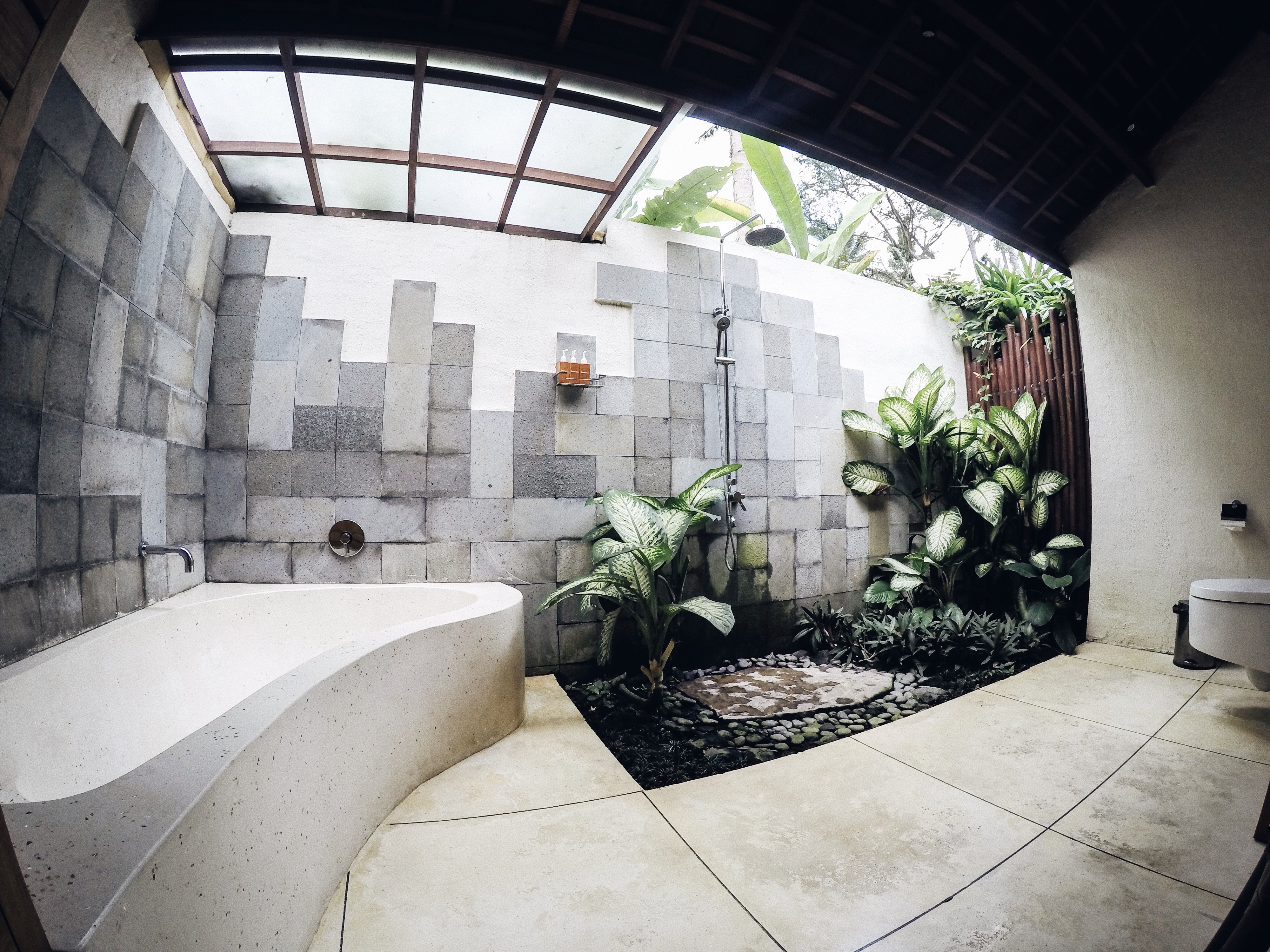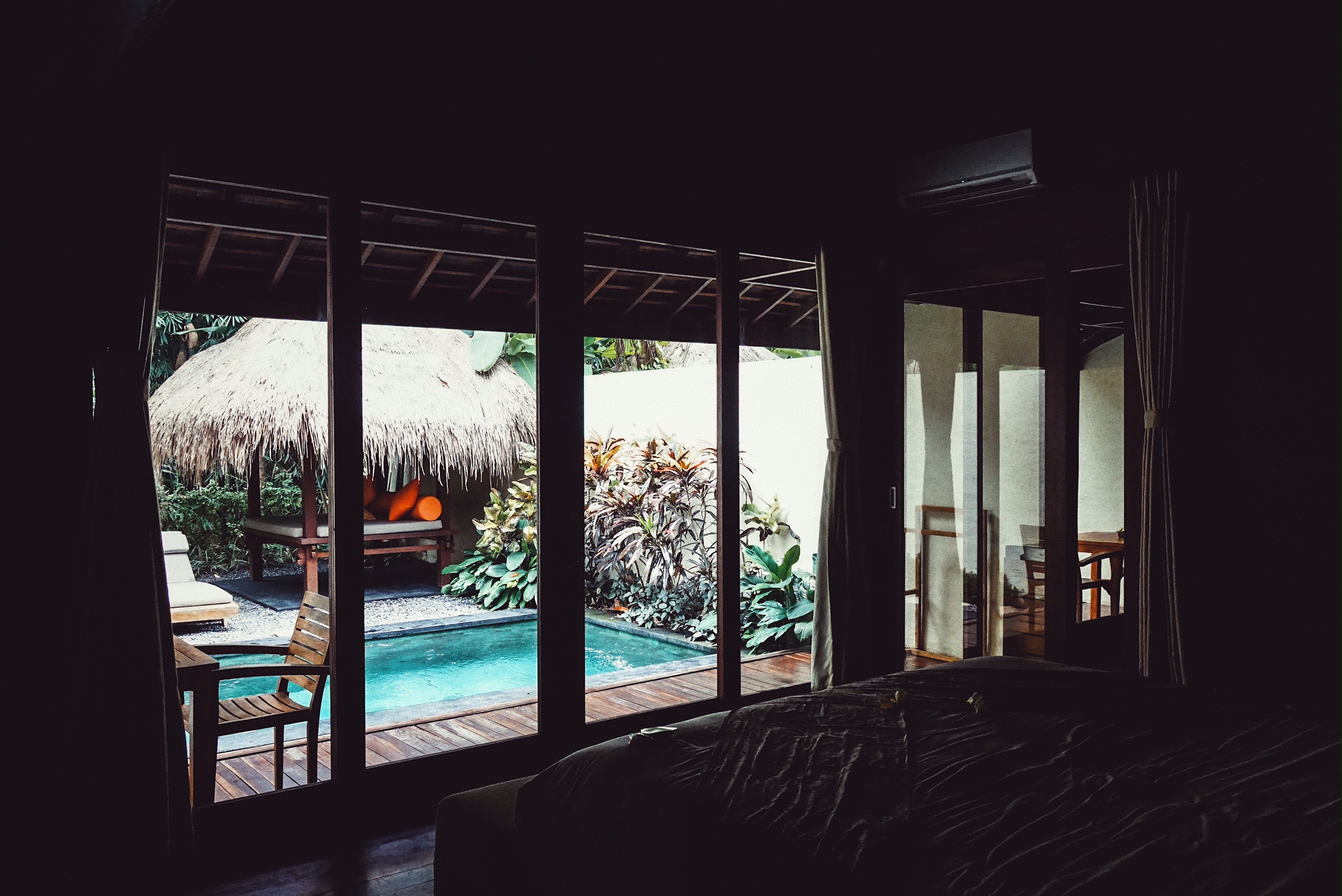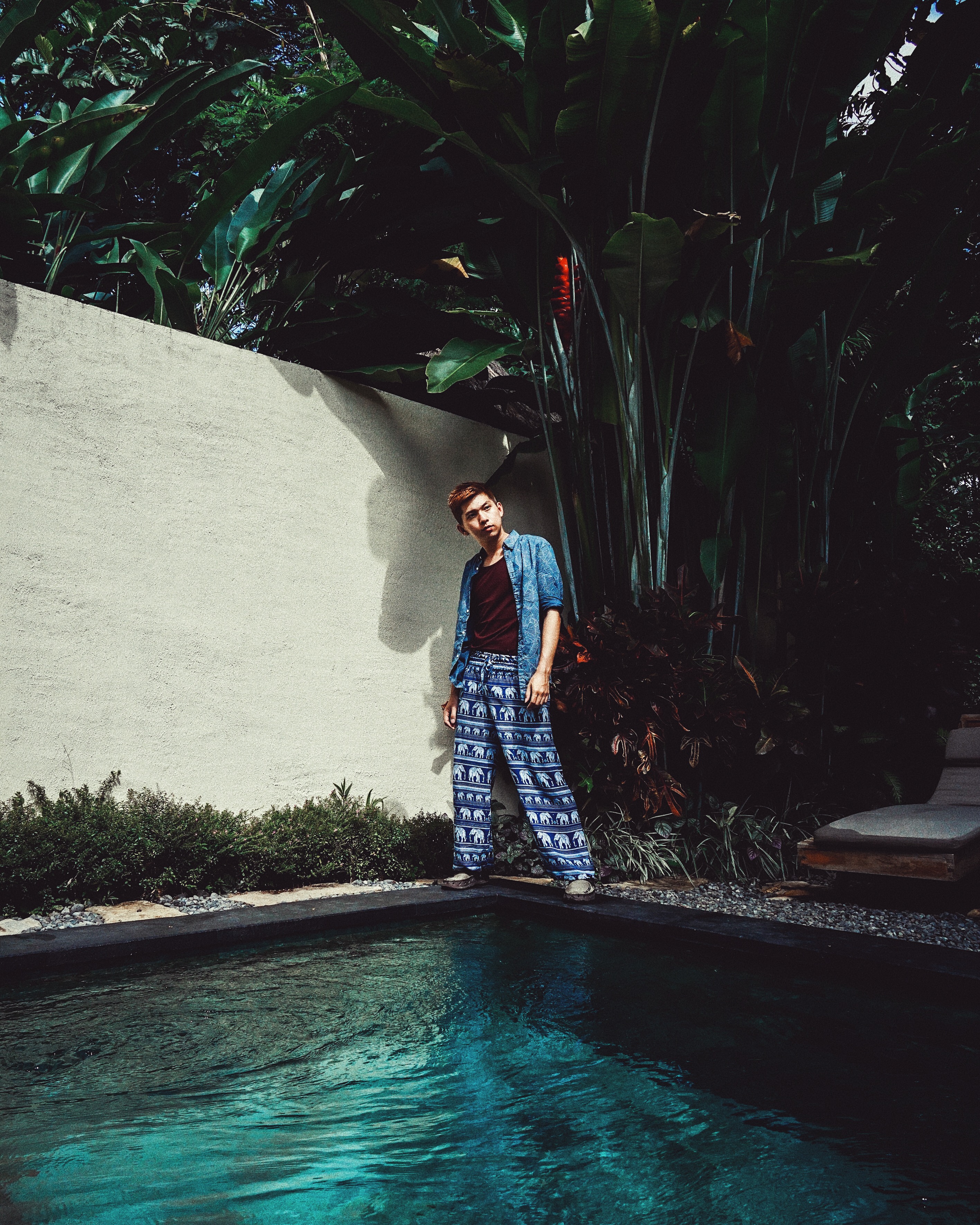 UBUD PADI VILLAS | BALI
Jl. Raya Lungsiakan, Kedewatan, Ubud
Kabupaten Gianyar, Bali 80571, Indonesia
Phone: +62813-3778-9064
Check rate by clicking here (via Agoda)